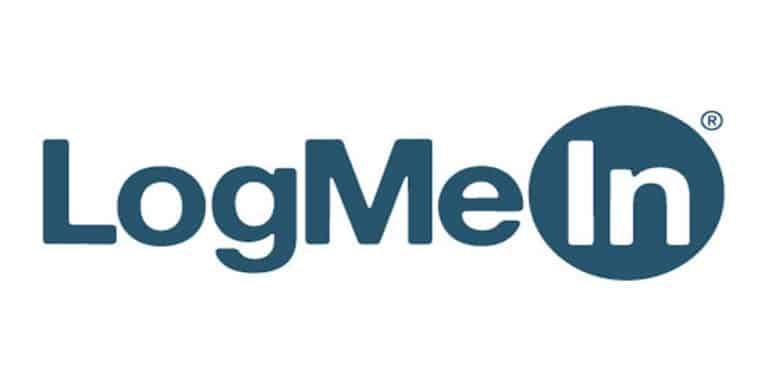 There are dozens of remote access solutions or techniques for consumers and businesses, including LogMeIn. Before choosing one of these services, let's first discuss each option's features and functionality below.
What Is LogMeIn?
LogMeIn provides remote access and remoe sutpport software aimed at small to medium-sized businesses. It lets users access computers from a desktop or mobile app remotely. With LogMeIn, users even receive 1TB of cloud storage. Moreover, LogMeIn has three membership options with annual billing. The cheapest plan enables remote access to two computers, while the most expensive option allows users access to up to ten networks.
All plans enable unlimited users, remote printing, and multi-monitor displays.
Along with remote access software, LogMeIn offers a range of enterprise-level services, including endpoint management, remote deployment, and remote monitoring.
What Are the Alternatives to LogMeIn?
There are numerous alternatives to LogMeIn. Some of these options are obtainable free of charge, allowing users to instantly set up remote access to a desktop PC for IT support or any other purpose.
Let's discuss the top-rated sites and tools similar to LogMeIn for folks looking for other popular software possibilities.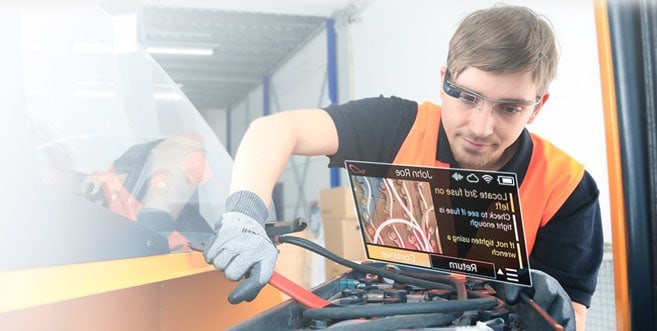 TeamViewer is one of the high and most downloaded remote desktop applications. While TeamViewer provides several paid membership options for businesses, free licenses are available for personal use. TeamViewer offers cross-platform access. With cross-platform access, users can control a computer with a mobile device or vice versa. The TeamViewer client works on Android devices, desktop computers, and Windows 10 mobile.
Moreover, for a secure remote connection, TeamViewer uses 256-bit AES encryption and two-factor authentication.
Users can also set up IP whitelists, allowing only the devices listed to establish a remote connection. Once connected, users can watch and control the other device, providing a simple solution for remote desktop support or access to a work PC from home.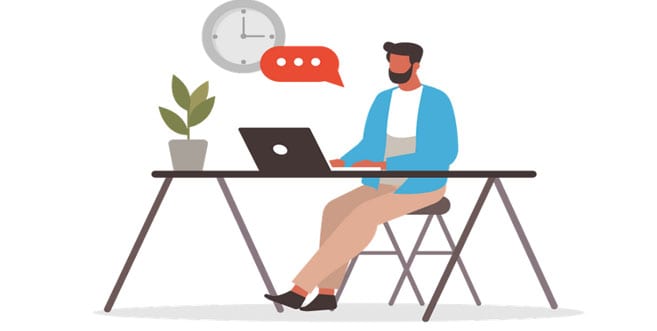 RemoteToPC provides remote desktop access for 10 to 500 computers, depending on the plan that users select. All plans let users transfer files and establish unlimited connections. Additionally, users can remotely access up to ten computers with the basic plan and monitor these workstations via a command center. Along with remote desktop access, RemoteToPC contains remote PC health monitoring. Furthermore, the software monitors the RAM, CPU, and Hard disk usage. When any of these resources are at its limit, the software instantly sends an email message to the registered users.
Connections are established with 256-bit coding and EV-SSL. Sessions even need double passwords for increased security. While the plans are more costly compared to LogMeIn, users can connect more devices with a RemoteToPC plan.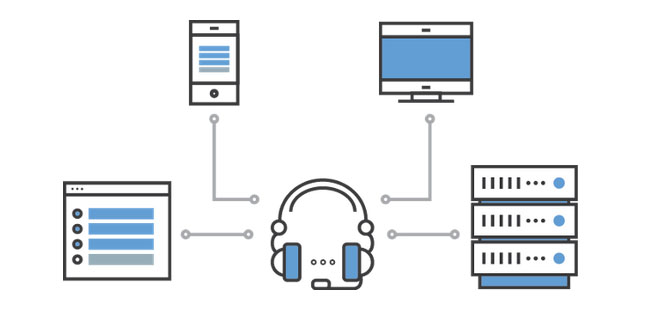 Splashtop provides remote desktop software for individuals, businesses, and IT support teams. It supports Windows PCs, Macs, iOS devices, and Android devices. You can get instant remote access, allowing you to transfer files, install applications, and ultimately control the connected devices. With Splashtop, users can also set up a group view. Multiple users can log-in and watch the same desktop in real-time, which can help when collaborating or getting a second opinion on an IT problem.
The pricing is remarkably affordable compared to LogMeIn. The basic plan starts at $5/month and allows access for to up to two computers. Users can watch multiple remote monitors and share a desktop via a web link with the pro plan.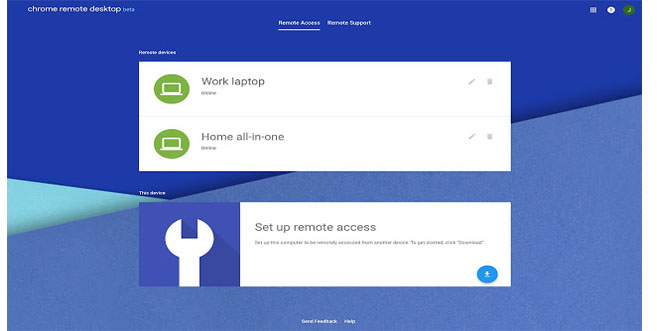 Chrome Remote Desktop is a straightforward remote desktop app available for almost any device. With the app installed on two machines, users can remotely access a device via the Chrome web browser or a Chromebook.
Chrome Remote Desktop provides cross-platform remote access. You can install this application on Windows, Mac, and Linux computers, along with Android devices. The main advantage of this software is that it is free to download. There are no membership plans. Users download the application on their devices to establish a secure remote connection via a web browser.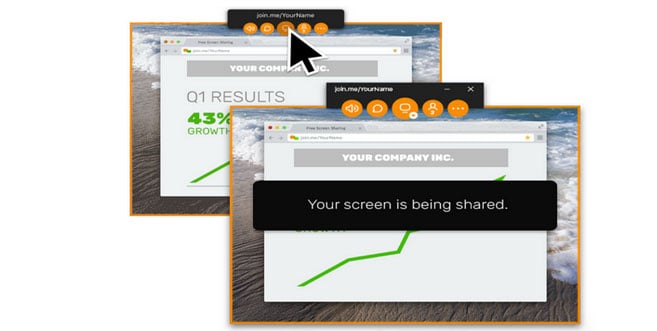 Join.me provides free screen sharing, video conferencing, and toll-free audio for individuals. Users can create a free account and promptly generate a custom URL that they can share with other users. With the Help of a custom URL, users can easily share screens and even chat. There're no downloads, as the software is entirely web-based.
Along with the free services provided to individual consumers, Join.me also gives business plans. Businesses interested in these services require to chat with the Join.me sales team to discuss pricing and implementation.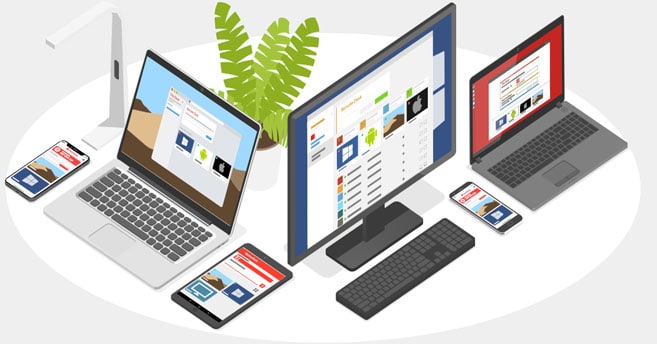 It is a small desktop program with both free of charge and paid versions. The free of cost version is obtainable for personal use and includes standard remote access features, including access to a remote screen. It functions on almost every device, including iOS and Android mobile devices. The interface is straightforward and easy for people without PC experience to install and operate.
For small to medium-sized businesses, AnyDesk provides Lite and Professional plans. These plans let multiple seats and customizable aliases. They also give enterprise-level plans with personalized options and pricing.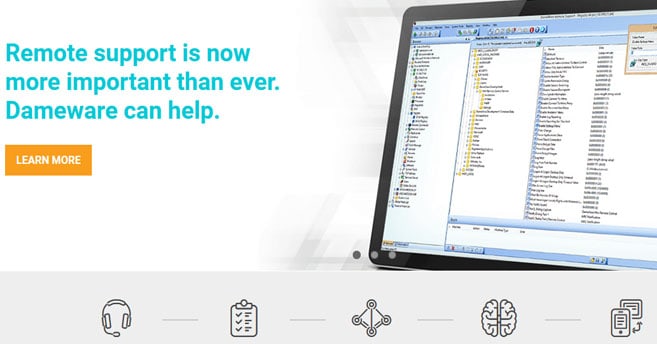 It is designed as a remote support solution for IT professionals and customer support. The software is obtainable as a one-time purchase. There're no monthly fees to continue using the software. There are two separate programs. The Dameware Mini Remote Control provides basic functionality at a lower price, while the Dameware Remote Support gives businesses robust administrative tools.
With the entire program, users can remotely manage Windows computers. They can start, stop, and restart processes with ease from any location. Furthermore, they even gain control over local groups and policies and registry settings. It's a comprehensive remote access solution intended for commercial use.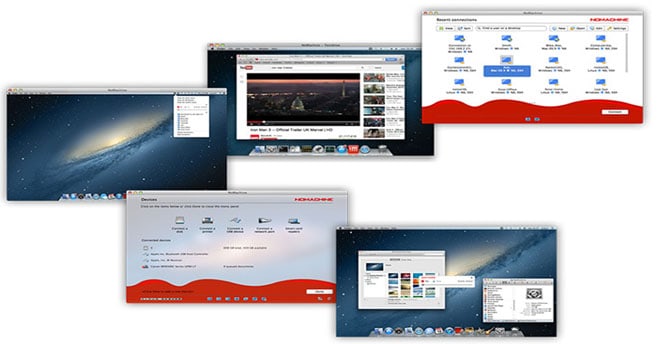 NoMachine is a free remote desktop app. Users install the application on their mobile devices or computers. Afterward, establish a secure connection and begin remotely controlling a device or PC. Furthermore, NoMachine claims to have the fastest remote connections, allow you to stream video and play games through the host computer.
NoMachine is free for personal use. Although they also provide custom business solutions. These solutions include terminal servers and cloud servers to increase the efficiency of remote connections between workstations and employee computers.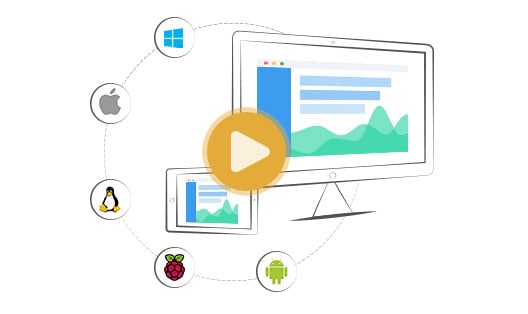 VNC Connect provides free and paid options. The free of charge remote desktop software is for non-commercial use and enables five simultaneous remote connections between three users.
Users are not allowed to transfer files, print documents, or chat with other users with the free of charge version. They get remote access to another PC. The paid versions enable these features, with more secure encryption.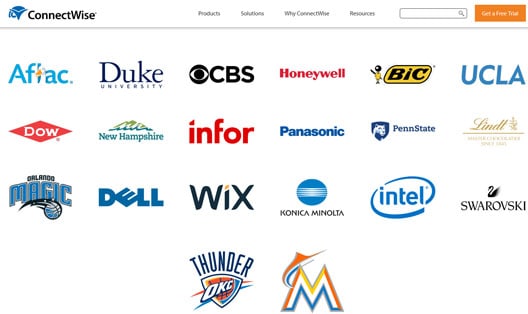 It is a new breed of remote support app that integrates smoothly with more than 100 3rd party services. If you already use Zendesk, Acronis, Freshdesk, or anyone of over 100 services already in your IT support capacity, ConnectWise Control provides you with even more robust control. Because it already integrates with these essential services, you do not have to change much of what you already do.
ConnectWise Control also provides smart monitoring that notifies you when a connected computer is offline for a specified amount of time. It lets your team get to work, getting that device back online and working rapidly.
Moreover, with SOS support, you can place a link on any remote user's desktop. If they have a tech problem, they can tap the link and open up a support ticket so that the problem can be identified and fixed. And if you require to have ConnectWise support a service that it already does not, you can even use the extension developer and extension templates modules to build support.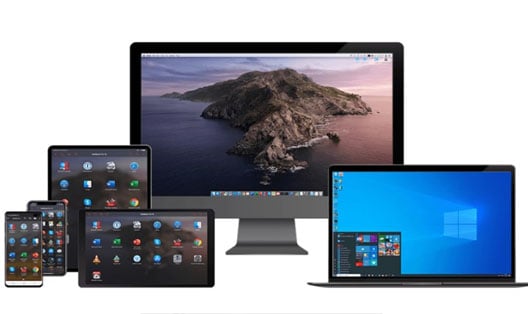 Do you want 24-hour-a-day remote access to your computer desktop? Do you require to access files and run applications remotely every week from your smartphone? Parallels Access provides you with the power to do this in a quite simple package that does what it promises to do. Other comparable packages make remote desktop control hard. There are the finger contortions that you require to deal with all the tiny icons that you need to click on your mobile phone screen.
With Parallels Access, you do not need to do that anymore. Just tap on the app, and it transports you right to your desktop.
You can navigate around easily because the app has been designed with mobile screen users in mind. Use finger lock technology to make clicking more comfortable and select and paste text with a magnifying glass view.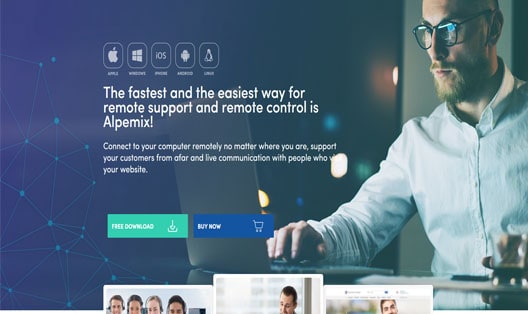 Available on Windows, Linux, Mac, Android, and iOS, Alpemix is a smart-looking remote support app that's fast and more comfortable to grips with. You can even connect from another desktop, your laptop, or your phone. Alpemix places no limits as long as you've got an Internet connection available.
Adequate security is essential, and Alpemix takes this very seriously. All remote connections are encrypted in real-time using 256-bit AES with 1024-bit AES used to transmit the secure key. Alpemix also supports clipboard transfer so you can easily copy and paste over the connection. Furthermore, there is no messy port forwarding required for setup (working behind firewalls), making Alpemix one of the most comfortable remote support and access applications available.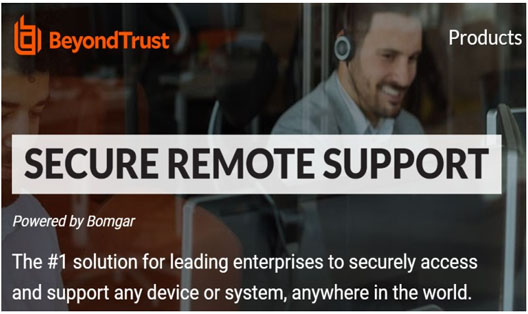 BeyondTrust Remote Support offers a single-point solution for remote support. If you need a scalable app that can connect anywhere in the universe and to almost any device and platform, BeyondTrust has you covered.
This app can scale to support thousands of users and remote endpoints. It means that a single IT team can remotely support disparate businesses and staff from across the universe under a single remote support umbrella.
Best-in-breed encryption, hidden plain text passwords, and rotating passwords make BeyondTrust a truly workable remote support solution for just about any company. And integrated tools like session recording, reporting, and video logs make it simple to audit and comply with standards and protocols.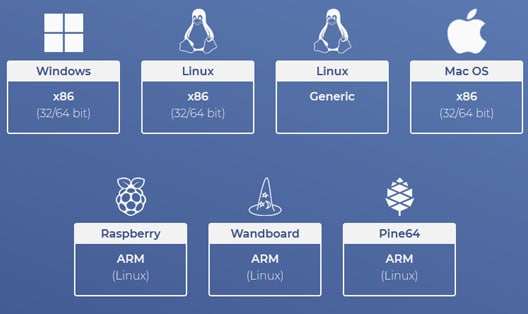 If you need a free of charge and open-source remote control solution, DWS Remote Control provides you access over a web browser. It supports Windows, Linus, Mac, and also Raspberry Pi platforms. DWS is perfect for folks who need to be able to access their home computers via web browser from wherever they're in the universe. You get entire control of your remote screen and can access files and folder. Using their cloud technology, you can also share your photos with 3rd parties, not on DWS.
DWS may not contain all of the scalability and features of more oversized packages. Still, the free price of admission and open-source backing makes this a desirable option for those who need occasional or also regular access to a single computer from afar.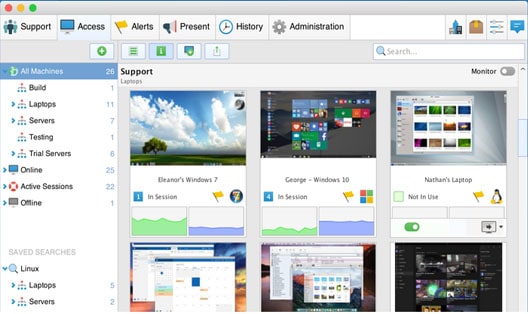 It is an intuitive remote support application that has an impressive interface and plenty of robust features.
Simple Help may look straightforward, but it can support thousands of remote users. It can also connect to multiple computers at the same time and place them in a virtual line for distribution to other technicians for support and maintenance. Monitor CPU and resource use from afar, access files and folders, and identify resource hogs remotely without starting a remote session. Everything is connected and lets you identify and fix potential issues before the worst happens.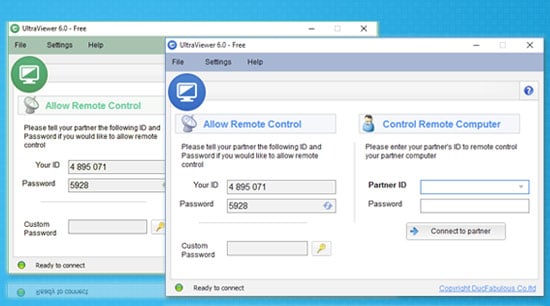 With over 12 million downloads, Ultraviewer is one perfect piece of freeware that makes it an effortless and comfortable to remotely support someone else, just as if you were sitting right here with her or him. If you are working in a Windows environment, Ultraviewer is worth a glance.
Furthermore, Ultraviewer has all of the basics and a little more. You can easily open a chat dialogue to offer remote support, you can share and receive files, and you can also open up support sessions with multiple computers remotely.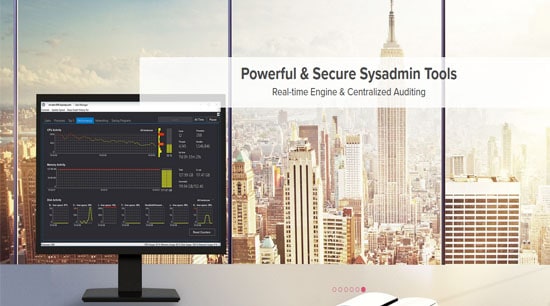 GoverLAN is speedy, is sophisticated, and offers a wealth of tools to IT support staff members. If you do not want to interrupt folks while they work, GoverLAN provides behind-the-scenes access for resource monitoring and files.
Computer processes can be operated and ended remotely without ever disturbing the end-user. All of this makes support seamless. One of the most exciting features is offering off-site support to those who are not part of the GoverLAN network.
All you require to do is email them a link to a GoverLAN agent app, and they're given a simple way to click and get the support they required.