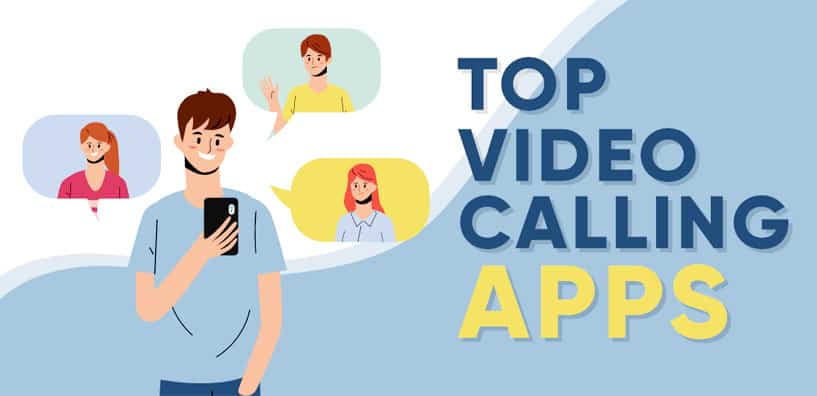 If you are quarantined at home and need to place a group video call from your Android urgently? Or, you are just bored and wish to video call your friends. Fine, you always have Skype for it, but that indeed is not the only choice out there. Apart from Skype, you have many other choices to connect with your friends, family, and loved ones. These apps let you even share screens, documents, videos, react to videos, record conversations, etc. So, here are some of the best group video calls for Android you must try.

Group Video Call Apps for Android
1. Skype
Maximum limit: 25 People
Let's start this list with Skype because it is undoubtedly the oldest app in the world to promote group video calls. Even before there were iOS and Android, Skype was available on Windows. What makes Skype famous is that it is available not only on mobile platforms but also on PC, browsers, Macs, and PlayStation. That makes it easier to connect with people who are using their laptops or tablets. A bigger screen means you can see more.
You can make a group video call with up to 10 people, but Skype says the number varies. In my experience, it is suitable for 3-5 people. According to FUP (Fair Usage Policy), you can video call for a maximum of 100 hours a month with a 10 hour a day limit. You can also share your screen.
The interface is not the most comfortable, and it works slow on my Android devices. On the positive side, you can share your screen and also document files. Skype permits you to call regular phone numbers too, which is also plus but for a fee. If the group call participants do not have Android or iOS with them, they also can chat from the Skype Web.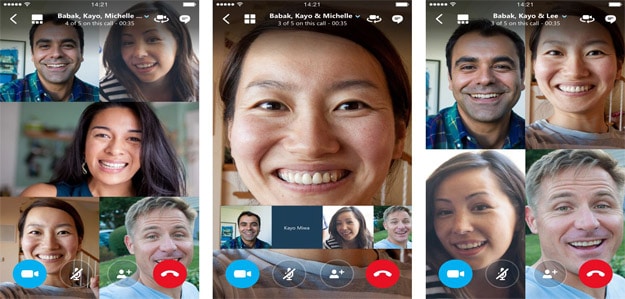 What's good?
A limit of 25 folks in a group video call
Cross-platform apps to connect from any device
Share-screen and files while on the video call
Record voice and video calls and share instantly.
What's not?
Video call limit of 10 hrs per day and 100 hours per month
Download Skype
2. Hangouts
Maximum limit: 25 People
Hangouts are Google's answer to Skype as a competitor. A free chat messaging app that allows group video calling on different devices and platforms, including Android. Like WhatsApp works on numbers saved on your phone, Hangouts has connected to your Gmail ID accordingly. You can connect and video call with up to 10 people at once.
Being a Google product, it plays smoothly with other Google services like Gmail, Drive, Maps, and Calendar. You can connect Hangouts with your existing Android or Gmail account. You are allowed to sharing docs, screens, and emoticons. However, here is where Hangouts unique; it has a Hangout Air option, which permits you to hold webinars. And same to every Google product, it's free and ad-supported. It comes in handy for teachers and experts.
Additionally, you can record your Hangouts group video calls and publish them directly on your YouTube channel. Like Skype, if the group participants do not have Android or iOS with them, they can even chat from the Hangout Web.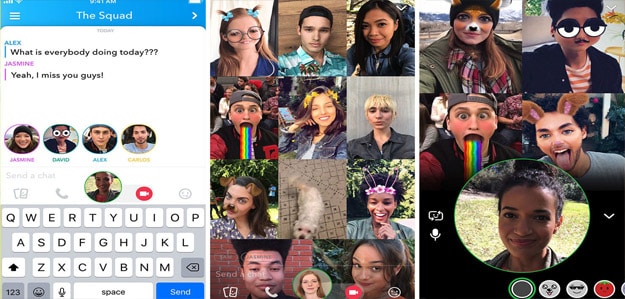 What's good?
Group video limit of 25 people
Easy to share screen & other google documents
Integrates well with Calendar, Google Drive, Gmail, Google Maps, etc
Option to hold webinars and invite attendees
Option to record group video calls and publish to YouTube
What's not?
Resource heavy, and the call quality is perfect on Android.
Download Hangouts
3. Houseparty
Maximum limit: 12 People
Because of the current lockdown, Google Duo has increased its group calling limit from 8 to 12. Houseparty is the today # 1 trending app with millions of downloads in several weeks, and it's entirely legitimate. The app mimics the house Party environment with many chat rooms. There are a maximum of 8 individuals in a single chat room, but you are free to connect with any good friend's chat room (If it is set to Private). Houseparty, on top of this, offers a lot of video games that can be played as long as you are in the group video chat. My choice was the "Heads Up," which is Dum Charades, however, on a video call. You likewise have three other Trivia, drawing games, etc.
Houseparty is a great way to pass the time and recently has seen a surge in users. It affects the volume on its servers, and you could feel connection drops occasionally in the video call. The app also has not been updated in almost a year.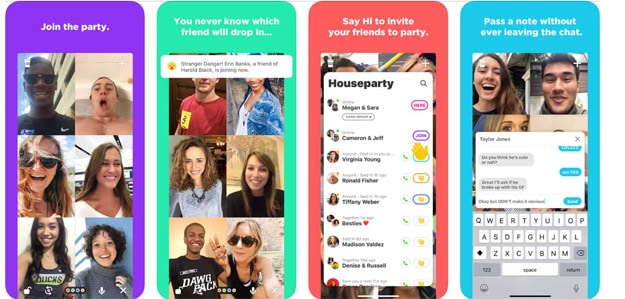 What's good?
Mimics is the theme of a real house party with various chatrooms.
Inbuilt games to play during group video calling
Send notes and video notes to friends.
Meet friends of friends in public chatrooms
What's not?
App has not been updated in over a year.
Occasional call drops even on WiFi.
Download Houseparty
4. Google Duo
Maximum Limit: 8 people
The Duo is Google's replacement for Hangouts, and it is the most seamless integrated video calling app. The Duo comes installed on your Android by default and can video call anyone directly from the Phone dialer. In Case to do a group video call, you will have to create a group and then make a group video call. The Duo contains a limit of up to 8 individuals. The best part about it is if you have an Android, Google ensures you are on the Duo app.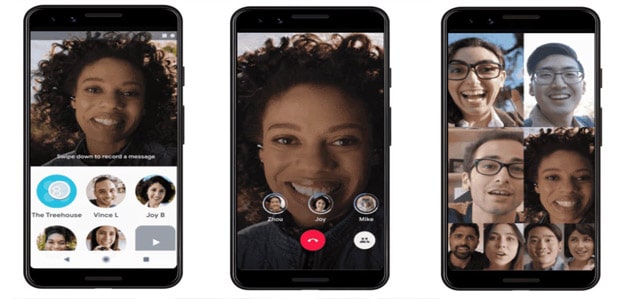 What's good?
Integrates best with the phone app and super intuitive
Every Android user is on Google Duo.
Works great in low network areas
Low-light mode, camera and face filters
What's not?
No option to share documents or screen
The app does not have any option except video calling.
5. WhatsApp
Maximum limit: 8 People
Today's one of the recent updates was group video calls on Android and iOS. The only issue is that the WhatsApp group call supports only four people. To begin a WhatsApp Video call, start a video with one of the contacts. Once the call is set, you will find a button at the top-right corner of the screen that will allow you to add another member to the call.
Whatsapp recently enhanced the maximum video call limit to 8 individuals. It is supported on version 2.20.50.25 on iOS and version 2.20.133 on Android.
You know everyone on WhatsApp, which makes it an ideal choice for making group video calls. It is also one of the simple video call app to use. Other than the four people limit, another limitation is WhatsApp video call is that it doesn't support group video call (or even standard video for that matter) on WhatsApp Web.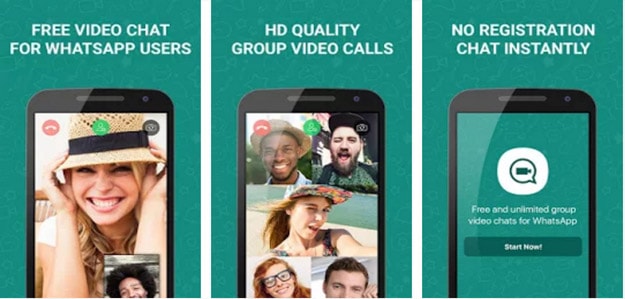 What's good?
Easy to add folks in a group video call
The highest number of user database compared to other apps.
What's not?
No supporting web variant
The limit of 4 people is relatively less
Download WhatsApp
6. FB Messenger
Maximum limit: 50 People
Facebook messenger has among the huge video chat limitations. It allows up to 50 people, which is an absurd number, in my viewpoint. How do you see numerous folks on your screen? On the other end, unlike some other group video apps, you've created a group and includes people in it before group video chat. That stated, not everyone needs to be online while you start the group chat. The included participant can sign up with the video chat later either from Facebook messenger or Facebook web.
Facebook Messenger Lite does not support group video call. Still, many people you know are already using the Facebook app, so you need not have to send any requests to people. The only point going in its favor is that it is free and integrates with Facebook. Messenger also uses the most likely the most comprehensive collection of in-app video games & live stickers.
Moreover, like WhatsApp, Facebook enjoys a large user base, which places Messenger perfectly. Regretfully, Messenger stops working to bring in the sort of love and attention it must have received. The application is a little slow and buggy. It has the power to slow your smartphone to the point where people often advise to uninstall it to enhance battery life. Plus, Facebook is known for gathering user data for all the wrong reasons.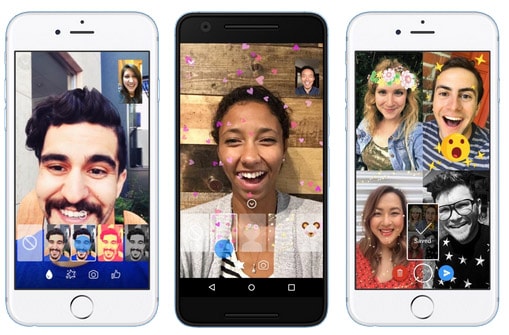 What's good?
Absurd limit of 50 folks in a group video call
Works across the Facebook web, Facebook app, & Messenger
Messenger has a vast collection of games and stickers.
What's not?
The liter version – Facebook Lite does not have a group video call option.
Giant resource hog and multiple unnecessary permissions
Download Messenger
7. Instagram
Maximum limit: 4 people
Like WhatsApp and Messenger, Instagram is another Facebook product that supports the feature of video calling. The group video call feature is not pretty evident because, hey, it's Instagram! So, if most of your buddies are on Instagram, you can quickly make a group video call through the DM section. You can only begin video calls with your followers. Moreover, there is an exciting option to preview your liked and saved posts during the group video call. It looks like it is designed to start a good gossip session over coffee. Aside from that, the video call options are quite limited, with a couple of options to change cameras and face filters.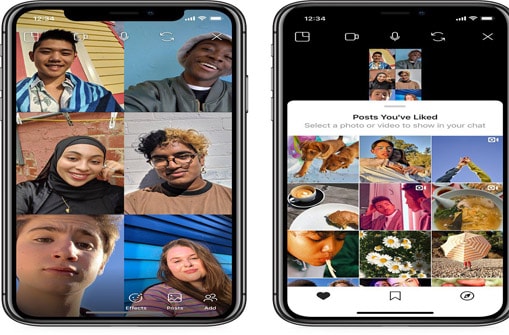 What's good?
Simple to engage with your followers without sharing private details
You can preview saved and liked Insta posts within the video chat window.
AR filter & third-party face filters
Button to go back and minimize the feed
What's not?
The group video call option is hidden in the DM section.
Not as many options as a full-fledged group video calling app
Download Instagram
8. JusTalk
Maximum limit: Not Available
JusTalk is relatively not so famous as some of the behemoths mentioned in this list, but that doesn't mean it isn't worth noticing. An app is an excellent option for making group video calls on Android devices. Like Skype, JusTalk permits you to record your video calls directly from within the application. It is useful if you are using it for essential discussions or lectures.
Apart from that, I like the doodle feature, which lets you create doodles on your face, or anything else on the screen, while you are live video chatting. It also comes with many themes and other personalization options like stickers and GIFs available as in-app purchases. The app is free of charge to use but ad-supported. JusTalk is available on Android and iOS only, but no other devices or browsers are supported.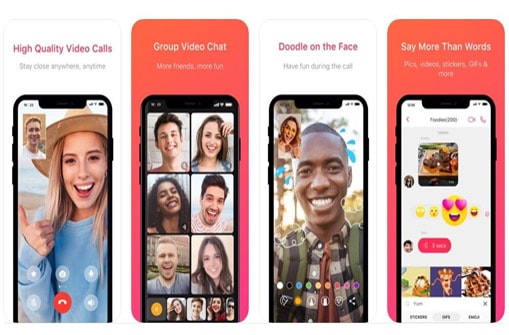 What's good?
Auto video recorder
Live button on faces during a video call
Various stickers, themes, and GIFs
What's not?
No presence on other platforms such as Windows, Web browsers, etc.
Download JusTalk
9. Line
Maximum limit: 4 People
The Line is another popular video call app available on the Android platform. Apart from all the usual features available on the other apps, Line also lets you create polls for feedback. It can be useful for weekly or monthly group video call meetings.
Like JusTalk, Line even allows you to use effects and filters live during video calls making the app more fun to use. The Line also allows you to follow public figures; although, you can't video chat with them. Similar to JusTalk, there are stickers and emoticons available as in-app purchases. Besides, the app is free to use but ad-supported.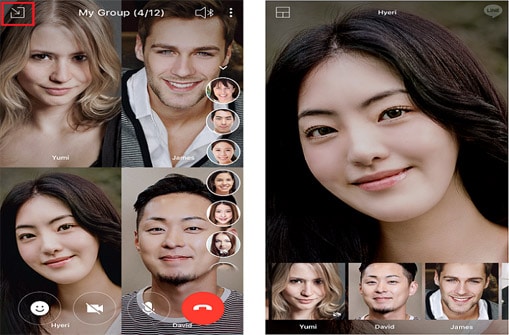 What's good?
Live polls during video calls
Camera filters and live face filters
Stickers and Emoticons via in-app purchases
What's not?
All the chat and social media stuff make the app a bit hoggy.
Download Line
10. Discord
Maximum limit: 10 People
Though Discord is not a dedicated group video call app, you can still use it. Discord functions somewhat similar to Reddit (but for gamers), where you can join multiple gaming servers (for instance, subreddits) and have a one-to-one chat. To create a group video call, the said folks need to add each other and be on a Discord server. Besides, you would have to form a channel or group to begin a group video calling. There's no limit to the number of messages and video calls on Discord. Unlike the desktop app, you do not have a screen sharing feature on the mobile application.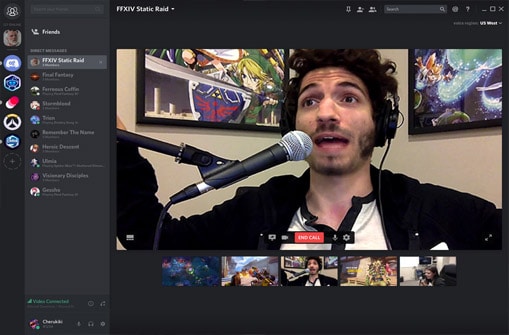 What's good?
A quick button to switch the audio output from the headphone to the speaker
Multiple apps for various platforms
Unlimited messaging and video calls
What's not?
Set up is quite a task if you're not already on the Discord app.
Download Discord
Wrapping Up:
If you're looking for an available app on pretty much every platform, you're looking for Skype. Not the very best but the oldest and most supported. If you're looking to record your video calls with ease, JusTalk has a better solution because they offer this feature right inside the app. No 3rd part integration is needed. If you want an app that works with 2G/3G data or you have a slow Internet connection, IMO is a better solution but with few features.
If you're working in an official environment and want to share screens, Hangouts is the best. WhatsApp video call and Google Duo are the easiest to use for a more informal setup based on the design and adaptability rate.