The new Windows Photo viewer has its troubles. If you click on the image, it takes time to load the image. Plus, it can only deal with JPEGs and RAW images; however, it has no idea of a PSD. It does have a couple of editing tools that work great, but it's rarely chosen anyway. Finally, there are a few better alternatives out there that trump Microsoft Photos. Check out my list for the best photo viewer for Windows 10.
How to set a default photo viewer
If you have installed many third-party photo viewer apps on your PC, you need to put your most favorite app as the default app. To do that on Windows 10, Go to the search bar and type Default. Next, go to Default Apps Settings > Photos. Now you can choose any Photo viewer as your default photo viewer.
Best Photo Viewer for Windows 10
1. Windows Photo Viewer
Windows Photo Viewer has been an element of the Windows family since Windows XP. Once, it was known as Windows Picture and Fax Viewer and afterward renamed to Windows Photo Viewer. In the case of Windows 10, Microsoft universally replaced it with its updated version Photos. The developers still have not removed it from the system, and it's still accessible within the files.
Anyhow, to make it work, you would have to change the registry keys. I would not suggest manually editing them, and hence you should download the .reg files app.
File formats: PNG, JPEG, TIFF,BMP etc.
Pros:
Simple User Interface with limited features
Cons:
Native editing reduces the image size.
Does not support GIFs
How to activate Windows Photo Viewer in Windows 10
If you have updated from a previous version to Windows 10, you would see the Windows Photo Viewer directly in the Default Apps menu under Settings. If you have installed fresh Windows 10, you have to follow these steps to activate it:
Windows photo viewer download registry files
Open and double click on the "Activate Windows Photo Viewer on Windows 10" file

Next, restart your computer, and your favorite Windows photo Viewer should be back. And if you want to deactivate it, just run the 'Deactivate Windows Photo Viewer on Windows 10' file and restart your system.
registry files to add windows photo viewer.
2. HoneyView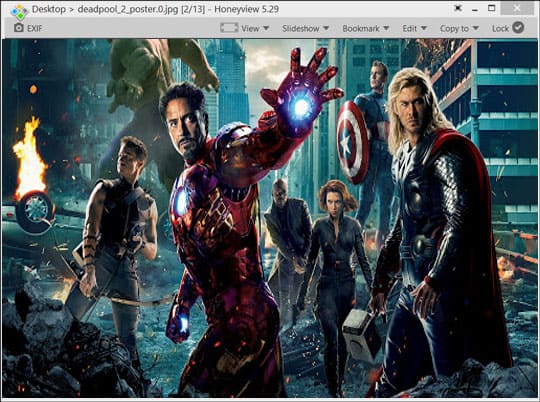 HoneyView is the most basic third-party photo viewer for Windows 10. It's almost comparable to Windows Photo Viewer in performance and features. It supports a couple of different image formats like PNG, GIF, and so on.
Honey view slideshow controls
Features:
It helps you to rotate images and perform simple resizing with it. Editing can be done by adding a link to either Paint or Photoshop. You can even bookmark images to use it in the future.
Format: JPG, PNG, BMP, GIF, and PSD.
Pros:
Simple to use and resemblance to the windows photo viewer
Cons:
No inbuilt editing tools
Download Honeyview: Windows 10
3. ImageGlass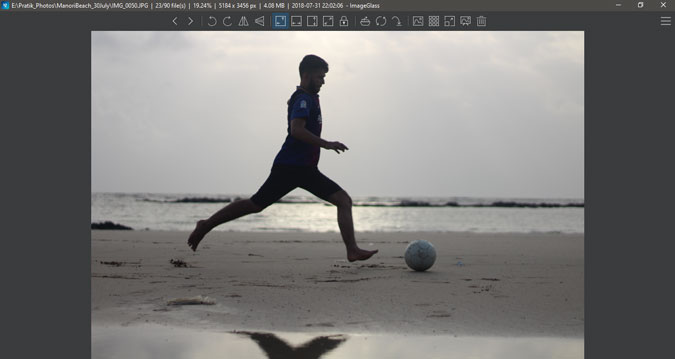 ImageGlass is another little photo viewer for Windows 10. But what stands out is the modern user interface of the tool compared to other photo view apps.
Features:
ImageGlass allows you to view a slideshow of all the images saved in a folder. Something so simple and helpful but still lacking in Windows Photo. You can link various image editors to different file formats. I can connect PSDs to Photoshop. Every time I select to edit a PSD, it will open in Photoshop only. It supports practically every file type under the sun.
Format: JPG, GIF, WEBP, BMP, TIFF, and 72+ image formats available.
Pros:
Slideshow of Photos
Cons:
Lacks inbuilt editing tools
Download ImageGlass: Windows 10
4. IrfanView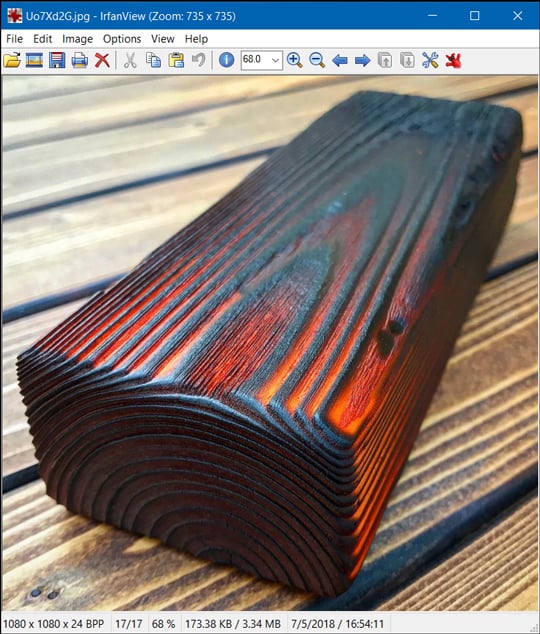 IrfanView is one of the most well-known third-party image viewing apps, and it is even our choice for the best picture viewer for Windows 10. The application is named after the creator Irfan Sklijan and is free to utilize. The application is pretty light, intuitive, and supports a large size graphics files format base.
Features:
IrfanView is improved to perform better and has a footprint of only 2MB. Apart from the photo viewing, it also has a few additional tools. For example, it supports OCR to read text on an image and export it to an editable format. You can also color decent photos, include watermarks, and a couple of different filters.
Format: BMP, GIF, JPEG, JP2 & JPM, PNG, PGM, TIFF, RAW, ECW, EMF, FSH, ICO, PCX, PBM, PDF, PPM, Flash, Ogg, TGA and text files.
Pros:
Easy to use and Lightweight
Many file format base and can easily handle substantial RAW images.
Supports more than 50 plugins
Cons:
Not the best User Interface
Although it can be managed in the settings option, scrolling through folders is difficult as Irfan View continually tries to open a non-image.
Download IrfanView: Windows 10
5. FastStone Image Viewer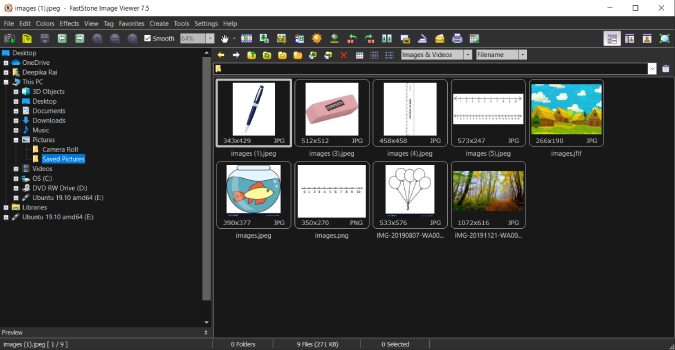 The FastStone photo viewer is still another lightweight image viewer for Windows 10 with several language support. It has a slideshow option with many appealing transition results.
Features:
First, it supports audio and video playback. It supports a multi-monitor setup, which would be found in handy if you deal with numerous images. It supports viewing, renaming, and converting files in batch. Also, you can use the portable version and, therefore, no need for installation.
Format: BMP, JPEG, RAW, JPEG 2000, GIF, PNG, MP4, PCX, TIFF, WMF, ICO, and TGA), MP3.
Pros:
Dark theme support to free Windows theme
Supports renaming, viewing, and converting files in batch
Support for audio and video playback
Sharing option for Email
Cons:
Slow thumbnail generation
Overall, scrolling is slow.
Download FastStone: Windows 10
6. XnView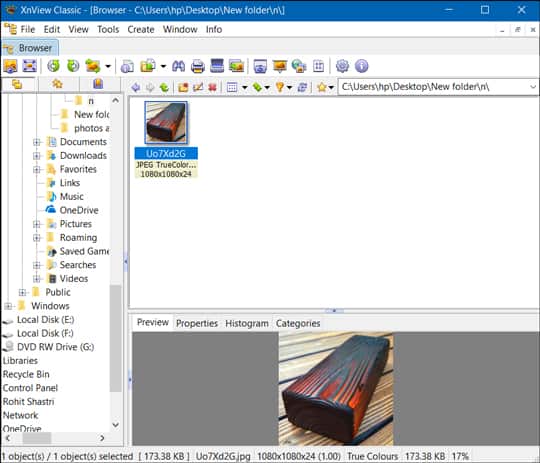 Earlier it only supports Unix Systems, Xnview is now available as a photo viewer for Windows 10. It is not only a photo viewer but a photo organizer and editor too. XnView is a robust software and supports several languages.
Features:
XnView supports not just 500+ image formats but also a couple of video and audio formats. It can also support scripting to rename a batch of files in a single stretch. On top of this, you can use necessary editing tools to resize, crop, rotate, and add many effects. You can modify Raster images, too, which is a unique feature.
Format: JPG, PNG, BMP, GIF, TIFF, Raster, and 500+ file formats.
Pros:
Supports large file format base
Scripting for basic tasks supported
Cons:
It is free only for private use.
Download XnView: Windows 10
7. FocusOn Image Viewer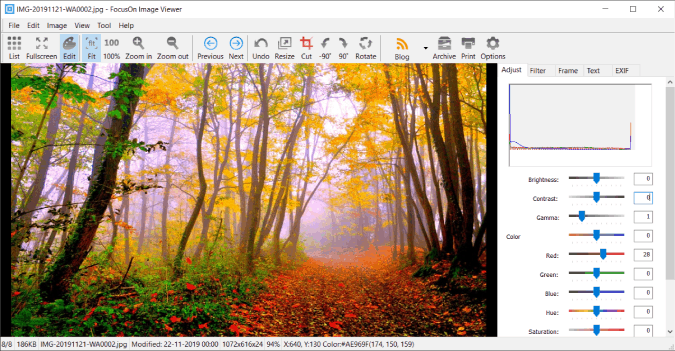 The only stand out feature of FocusOn Image Viewer is the inbuilt editor. If you have used Adobe Lightroom 2015, the editor matches the same layout. It has a histogram with different sliders to adjust Brightness, Contrast, RGB, values, Sharpness, etc.
Features:
FocusOn supports 100+ image file formats. You can likewise view and delete the EXIF data, rename batch files by a standard file naming format. It also has an integrated image editor.
Format: JPG, RAW, PNG, GIF, BMP, TIF, JP2, J2K, PSD, AI, EPS, CR2, NEF, ARW, DNG, and 120+ image formats
Pros:
Basic photo editor without damaging the original
Necessary sharing support to your Facebook, Blog, Twitter
Viewing and deleting EXIF data
Batch renaming of files
Sharing option on Email
Cons:
Cannot view photos in an archived folder
Download FocusOn Image Viewer: Window 10
8. JPEGView
JPEGView can be known as a free and open-source alternative for ACDSee. The primary focus of the tool fasts editing. Therefore, the preview bar comes loaded with brightness, contrast, and color correction sliders at the bottom.
Features:
It has an integrated image file browser. The editing tools are quite extensive and quickly available on the Preview page. You can likewise set up a slideshow of several images in a folder.
Pros:
A comprehensive set of editing tools
Allows renaming and converting in batch
Cons:
Lack of EXIF data and a print button
Download JPEGView: Window 10
9. QuickLook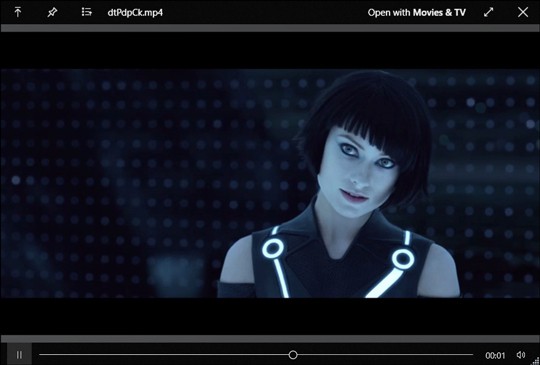 QuickLook is the best photo viewer for Windows 10 that was developed to replicate macOS's quick preview action. Its smooth loading user interface and quick response time bring it on par with Apple's QuickLook functions. Hence the name. If you have not used QuickLook on Mac, it works with a simple spacebar tap to preview the image and click to close it.
Features:
QuickLook quietly runs in the backend and listens for the hotkey's trigger. Some different hotkeys are offered to manage the environment of the file are available. It supports image to sneak peek and lets you view text files, PDF, PSDs, etc.
Format: text files, images, videos, PSD, and PDF
Pros:
Open source and free
Quick and responsive
Cons:
It doesn't have a choice to manipulate the files on its own
Download Quicklook: Window 10
10. Nomacs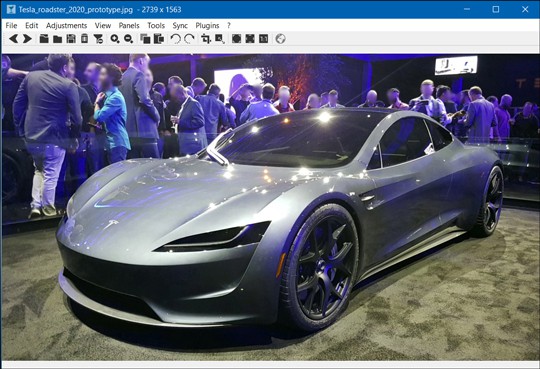 Nomacs is a free to use image viewer for Windows 10, which has many tricks up its sleeve.
nomacs image viewer editor
Features:
Nomacs provide mosaic generation by overlaying a database of images based on the same histograms. My preferred feature is the synchronization of several circumstances. This allows me to easily compare images by zooming in or panning in the very same position.
Nomacs can read images in the zip archives and also previews MS office documents. You can even add notes to images to keep track of their origin. Nomacs contain image manipulation methods for adjusting brightness, saturation, contrast, hue, exposure, and gamma.
You can activate the cache in the settings option and reduce image switch times.
Format: It supports all the famous image formats, including raw camera formats.
Pros:
Ease compare multiple images.
Cons:
Recent updates have made the app slow.
Download Nomacs: Window 10
11. 123 Photo Viewer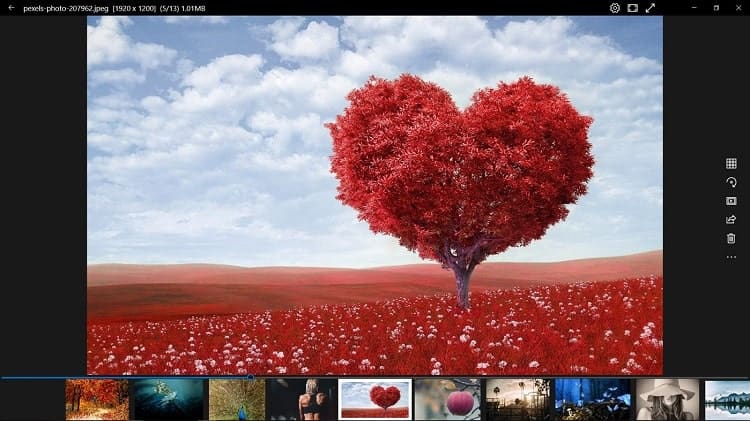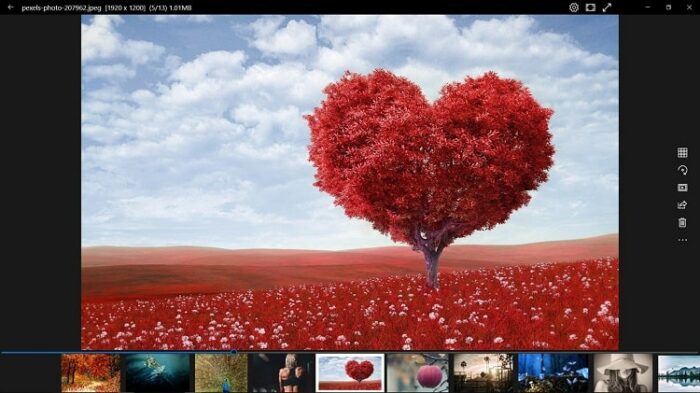 123 Photo Viewer is a light, smooth and fast photo viewer for Windows 10 with support for OneDrive.
123 photo viewer interface
Features:
The user interface is easy to navigate, and it comes with many filters and effects for basic editing. There is a slideshow viewer provided for reliving those memories. There is support for batch renaming and format changing.
Formats: PNG, JPEG, GIF, WEBP, etc.
Pros:
Supports OneDrive
Slideshow mode
Batch rename and format change
Cons:
Can not auto-scan and autodetect folders with images
Download 123 Photo Viewer: Window 10
12. Movavi Photo Manager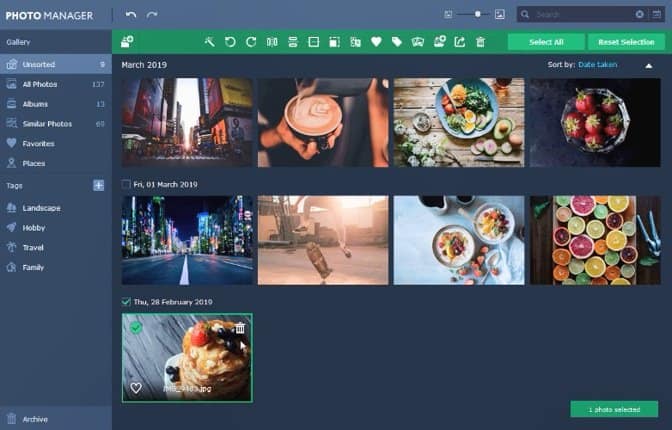 If you are keen for an advanced photo viewer, Movavi is cool. Face recognition is a built-in feature of Movavi (just like Google Photos), allowing it to group photos of the same person in the same folder. However, you have to add your image manually to make it work. It is convenient for the user.
The user interface is pretty, and you can sort images by date, geolocation, and other metadata. Beneficial for pictures taken on DSLR and smartphones. You can also use the search to sort pictures metadata.
Pros:
Album creation by face recognition
Search images by metadata
Can manage numerous images
Cons:
Images have to be uploaded to the application.
The search lacks contextual queries.
Download Movavi Photo Manager: Windows 10 ($8)
Final Thoughts of Best Image Viewer for Windows 10
Every software has its selling point, and we have listed some of them. Most of them are totally free, and some are open source. Irfanview takes the area because of its lightning-fast user interface. If you want app mobility, FastStone is something that you can continue a flash drive. Nomacs and Xnview are best for handling images in batch for either renaming them or transforming them into a more compatible image format.