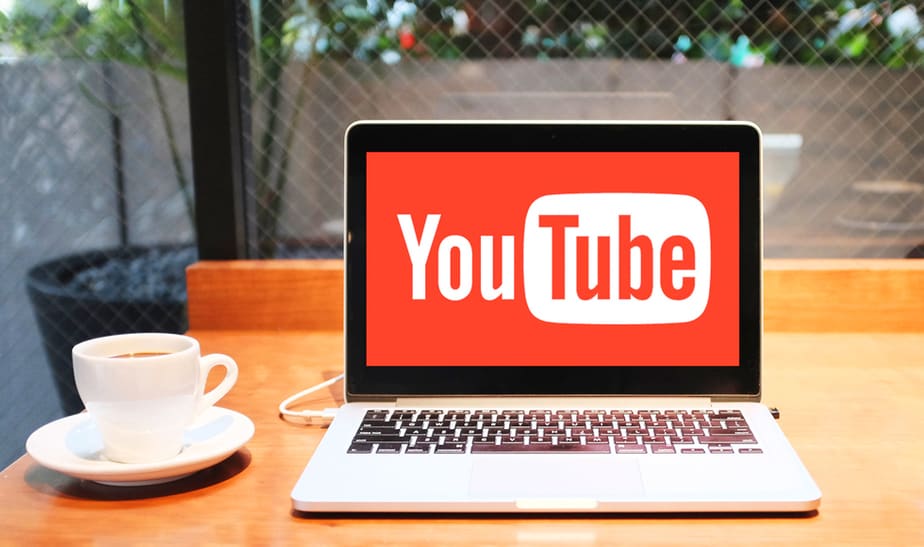 There's absolutely nothing much better than discovering an empty seat on the train after work and watching a new video from your favorite YouTuber. Well, up until the doors slam shut, the subway remove stakes off, and you lose both 4G and Wi-Fi internet access. To ensure that your commute from work will always go as you planned, you should learn how to download YouTube videos for offline playback.
In this article we discuss how to download your favorite Youtube videos and Is it legal to download them?
Is It Legal to Download YouTube Videos?
To accept YouTube's terms of service, you must agree not to access the content hosted on the site for any reason other than your personal, non-commercial use solely as intended through and permitted by the platform's standard functionality, and exclusively via streaming.
YouTube doesn't want you to download YouTube videos to your device for offline playback, and doing so opens you up to potential copyright infringement. Of course, no one will go after you download the latest meme compilation to your smartphone and watch it alone when you can't connect to the internet.
Virtually all popular content creators on YouTube have downloaded countless YouTube videos and reused parts of them to create new content. YouTube is aware of this, and they don't care all that much. What YouTube wants to keep the content YouTubes upload within the confines of its servers, accessible solely through its apps.
As long as you don't share the videos you download with anyone, you should be fine. That said, you should always keep in mind that downloading YouTube videos is against YouTube's terms of service and opens you up to potential copyright infringement.
1. Use an Online YouTube Downloader
Online YouTube downloaders allow you to download any YouTube video without leaving the web browser.
The world-famous leader is called https://ytmp3.cc. It has 600,000 daily visits and still online.
You can download any video in just 15 seconds, copy the youtube link and paste in the convert bar.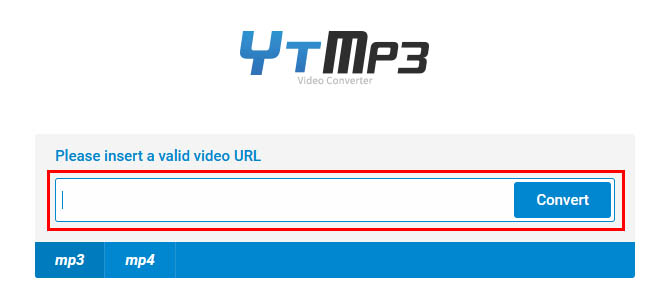 Cool, right?
The second popular online YouTube downloader is y2mate.com, and it could hardly be any simpler to download a YouTube video with it:
Open y2mate.com in a new tab.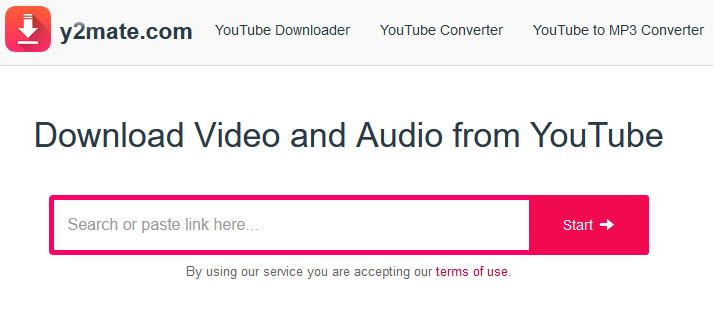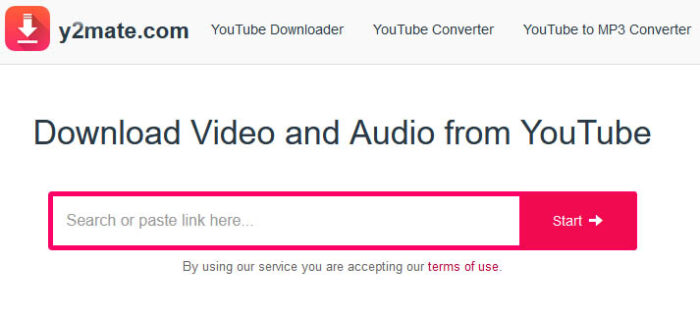 Copy the URL of the desired video you want to download and paste it into y2mate.com.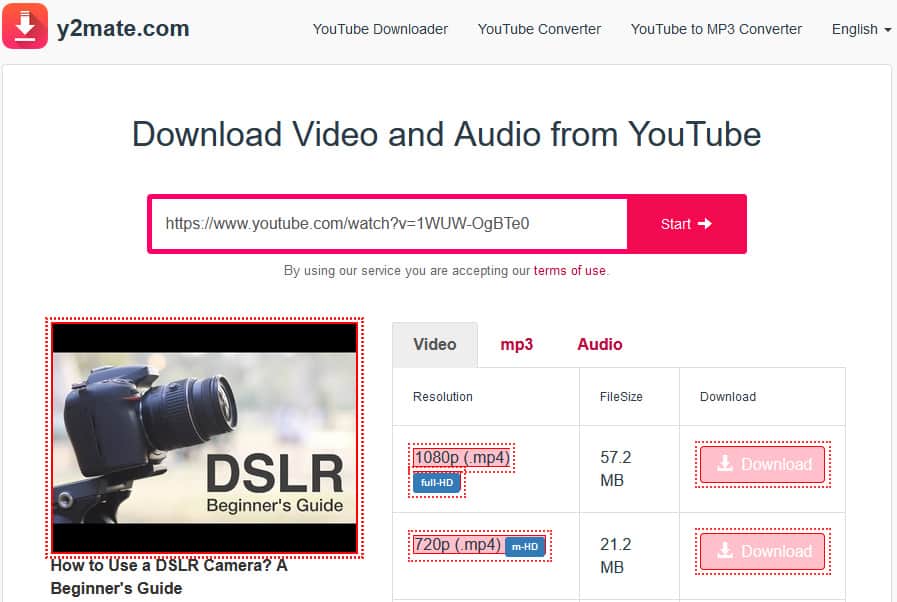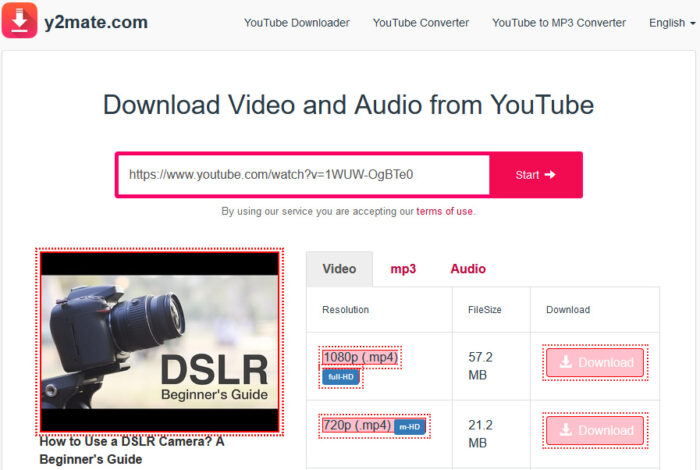 Click the Start button.
Choose the format you want and click the Download.
2. Use 4K Video Downloader
4K Video Downloader is a popular YouTube downloader for Windows, macOS, and Linux. The application permits you to download videos, playlists, and even channels from YouTube and several other popular video-sharing websites.
You can decide which resolution and quality to download. It can also obtain subtitles in the .srt format for each video. You can watch the downloaded videos on your computer, transfer them directly to iTunes with a single click, or play them in 3D to enjoy a more immersive experience.
Download and install 4K Video Downloader.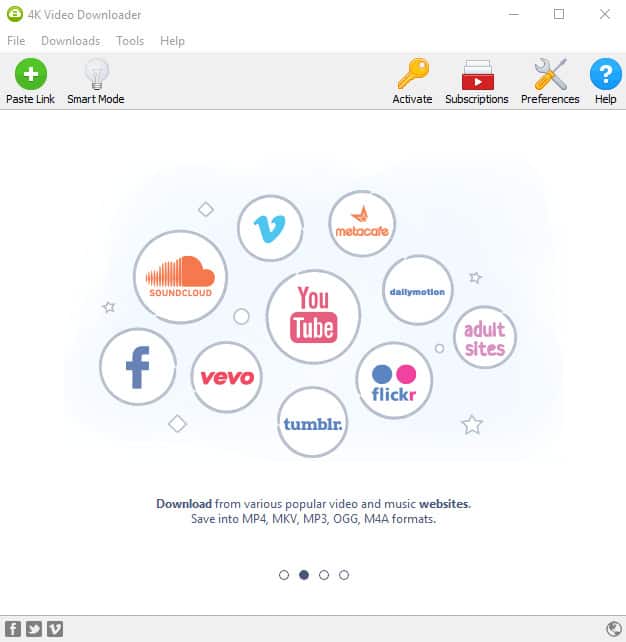 Copy the URL of the desired video you want to download.
Open 4K Video Downloader and click the Paste Link button in the top-left corner.
Choose the quality, format, language, and download location.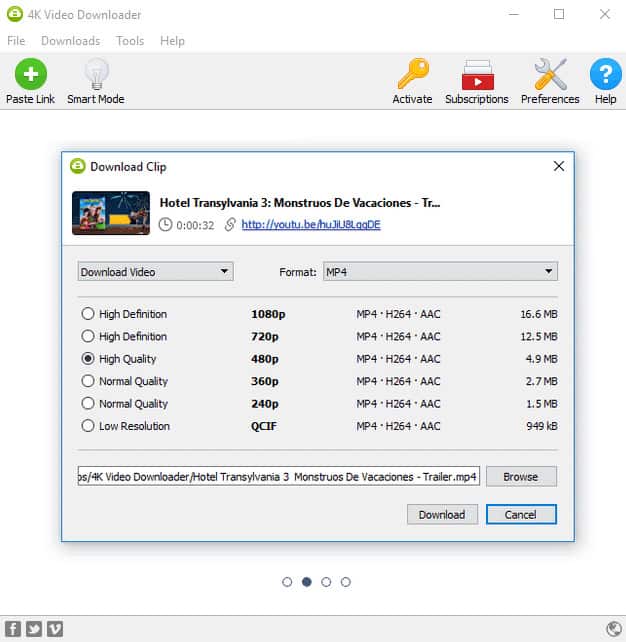 Click the Download button.
3. Use ClipGrab
Like 4K Video Downloader, ClipGrab makes it easy to save any video from YouTube and other video-sharing websites. The application is supported by third-party offers provided by installCore, a popular installation and content distribution platform. Its recommendations are displayed only during installation.
Download and install ClipGrab. The application is entirely free and available for Windows, macOS, and Linux.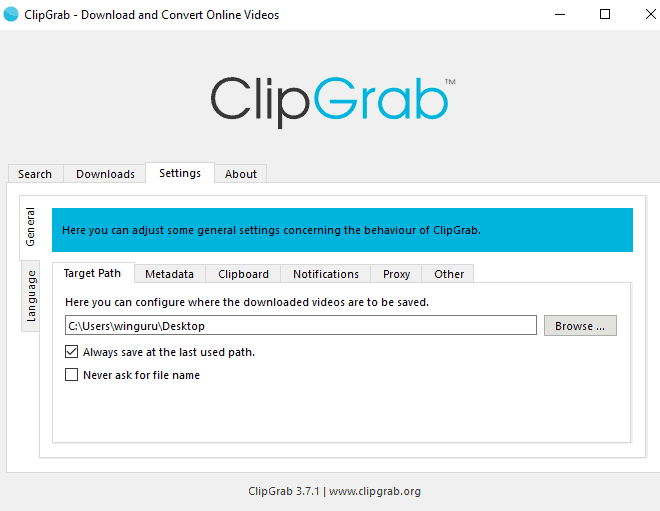 Copy the URL of the desired video you want to download.
After copying the URL, open ClipGrab and insert the copied link into the input field.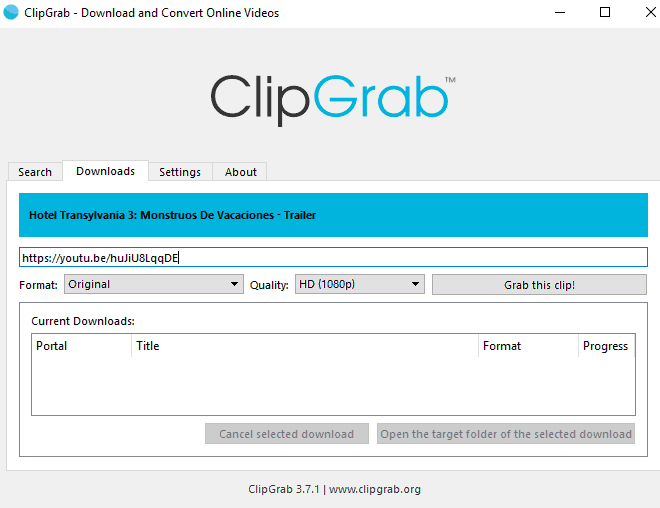 Select which quality and which output format you want to download.
Click the "Grab this clip!" button.
4. Use TubeMate on Android
TubeMate is a popular YouTube downloader app for Android. Because Google doesn't want people to download videos from YouTube using third-party apps, you won't find TubeMate on the Google Play Store. The application is only available from its official website, but installing it is easier than you might think.
Grab your smartphone and visit the following website: http://tubemate.net/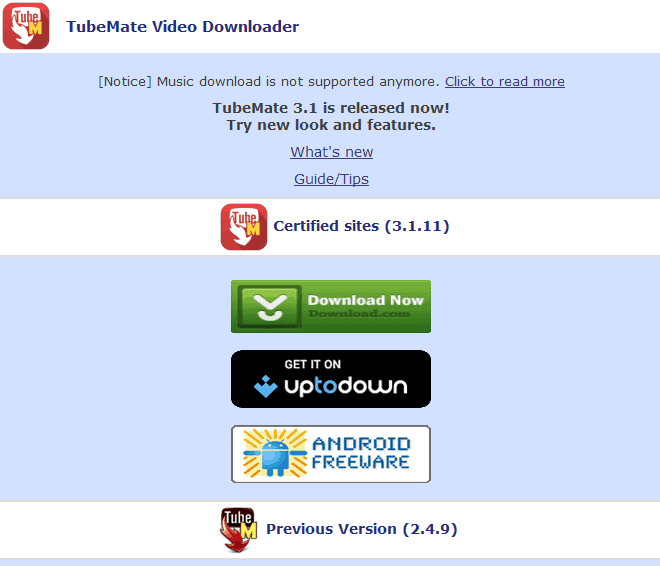 Using the provided download links, download the TubeMate .apk file to your smartphone.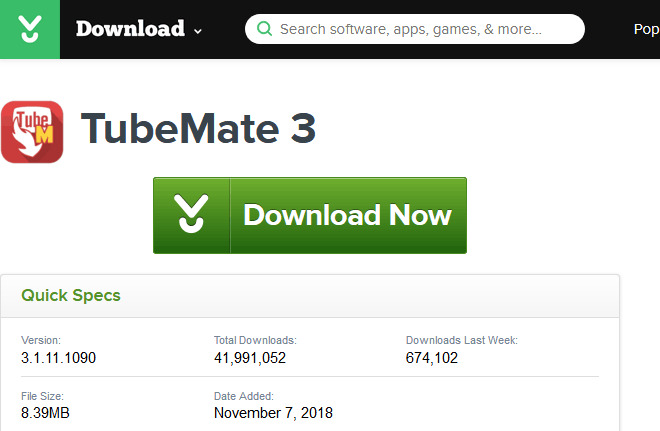 Open the Settings application and go to Security.
Scroll down next to where it says "Unknown sources," and tap the toggle to turn this setting on.
Open the downloaded .apk file to begin the installation process.
Open TubeMate and search for the video you want to download.
Tap the red Download button that appears at the bottom right.
Select the desired format and quality.
Tap the red Download button again. The video will download in the background.
Never download TubeMate from anywhere except for its official website. Many .apk files pretend to be TubeMate but are, in fact, malware.
5. Use Documents 6 on iOS
Documents 6 by Readdle is an iOS file manager that lets you open and view any document right on your iPhone and iPad. One of its many features permits you to download videos from different online services, including YouTube, to your device.
Download and launch Documents 6.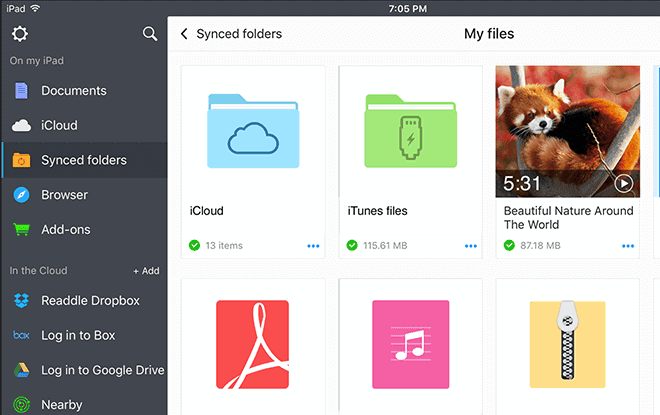 Tap the bottom-right icon that looks like the Safari icon.
A web browser will open, and you need to enter the URL of your favorite online YouTube downloader.
Copy the URL of the video you want to download.
Insert the URL into the online YouTube downloader.
Select the desired format and quality and initiate the download process.
Once done, you'll see the video in the Downloads folder of Documents 6.
You can now save the downloaded video to your iPhone or iPad's Camera Roll and play it just like any other video.
6. Use MacX YouTube Downloader on macOS
The most popular YouTube downloader on macOS is MacX YouTube Downloader (also available for Windows). This user-friendly application is capable of downloading all YouTube videos in whatever format or resolution. In addition to YouTube, MacX YouTube Downloader also supports Break, Facebook, Flickr, Metacafe, Veoh, ESPN, MTV, Audiomack, Vimeo, Liveleak,  Soundcloud, Lynda, BBC, Twitch, and more than 300 other video sites.
Download and install MacX YouTube Downloader.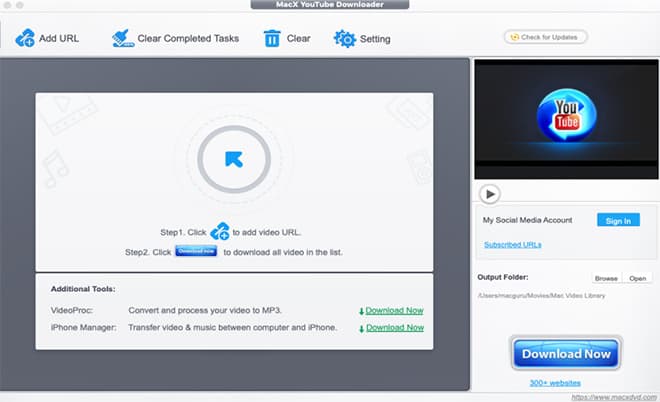 Click the "Add YouTube URL" button.
Copy the URL of the video you need to download.
Paste the URL into MacX YouTube Downloader and click Analyze.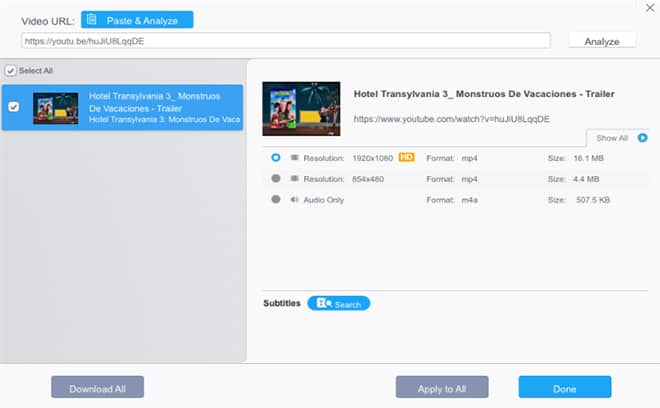 Choose the desired format and resolution.
Click the Download Now button.
7. Purchase YouTube Premium
YouTube is aware of the massive demand for offline video playback, which is why it has included the ability to download videos with its YouTube Premium subscription.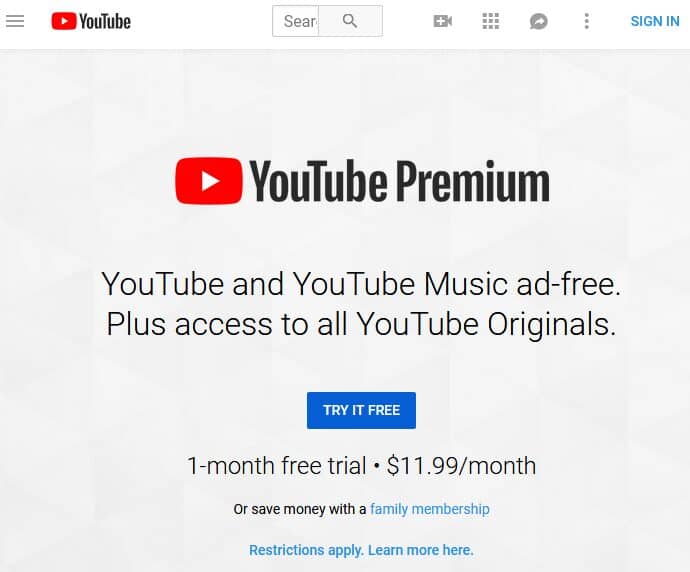 YouTube Premium For $11.99 per month, YouTube Premium lets you watch videos without ads, play videos in the background, download videos for offline use, and access all YouTube Originals. Downloading videos with YouTube Premium is simple: start watching a video and tap the Download button under it.
Conclusion
You can watch your favorite YouTubers everywhere you go—it just takes some preparation and the ability to download YouTube videos for offline playback. In this article, we've introduced seven ways how to download YouTube videos to just about any device there is, and it's now up to you to decide which method to use. Note that downloading YouTube videos for offline playback is against YouTube's terms of service and carefully determine if you're willing to face the potential consequences.
If you would rather stay safe, maybe you need to think about utilizing an alternative video-sharing website that enables you to download videos without third-party applications. An excellent example of a similar website is Vimeo, which focuses on short films and movies. You can always pay for YouTube Premium and enjoy no ads, downloads, and background play on YouTube and YouTube Music.