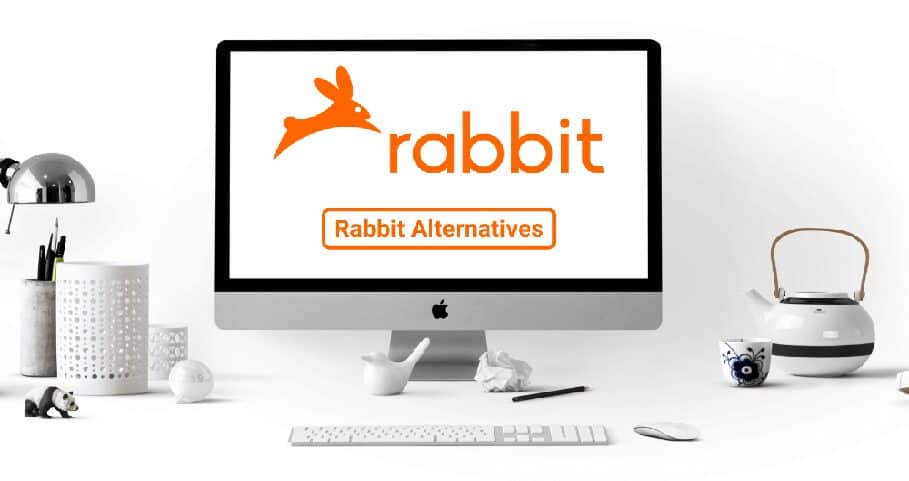 The Rabbit was a popular platform that allowed users to stream, interact, and watch content with friends and family in real-time. It was indeed a dream of co-watching becoming a reality. However, due to a shortage of funding, Rabbit ceased operations, and now its million-plus users are in a difficult situation. Besides, Rabbit sold all its assets to Kast, a rival streaming service. While Kast has promised that it will bring all the Rabbit features on its forum, it's taking a painfully long time. Recently, Kast added some new features, but it is not looking good enough so far.
12 Best Rabbit Alternatives You Should Use in 2022
We have gathered a list of best Rabbit alternatives that have the same set of features. Let's review the list and find a suitable Rabbit alternative.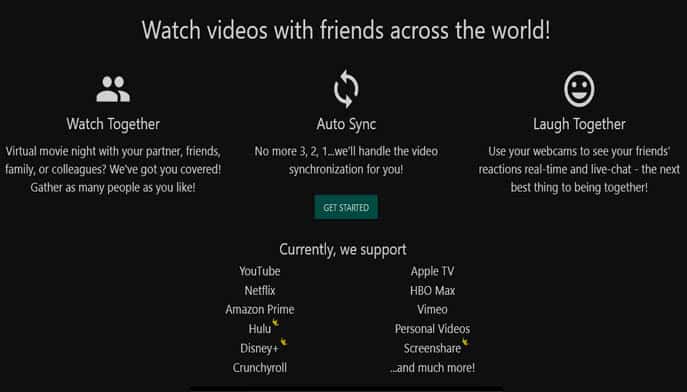 Twoseven is a LIVE video sharing platform where you can watch video content with your friends and family and communicate with them using the chat feature. White Rabbit was a full-fledged app with support for the live audio commentary; Twoseven does not have that. However, it emphasizes three things: live reaction using a webcam, support for top video streaming services, and real-time experience without any waiting time. Twoseven has support for Amazon Prime Video, Netflix, YouTube, Hulu, and more. It also provides a Chrome extension, which lets you stream a video from any website. Put, if you are searching for a Rabbit alternative that supports unlimited streaming platforms without affecting the live watching experience, then Twoseven is the best selection.
Pros
Supports unlimited video streaming platforms including YouTube, Netflix, Hulu, and more
Chat with your friends and family
Live reaction with webcam
Excellent performance without any latency
Cons
No support for audio messages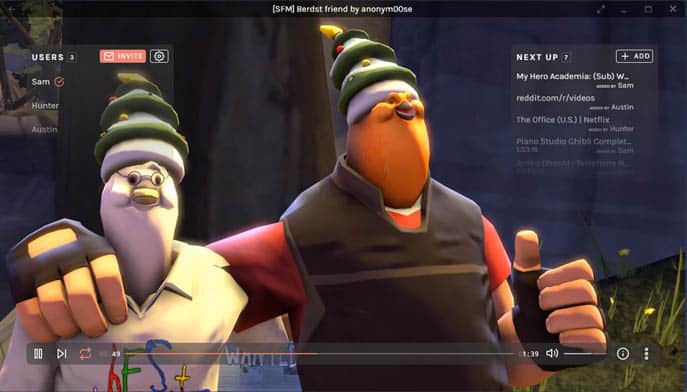 Metastream is our next choice for Rabbit alternative because of its supreme live synchronization playback. It uses its proprietary technology to make enhanced live streaming to many people and with almost zero latency. Besides that, Metastream looks excellent with on-screen chat, video queuing, and quick user management. Further, it supports all primary streaming services like Netflix, YouTube, Prime Video, etc. It does not have prominent Rabbit features like streaming downloaded webcam, media, and audio support. If you want to live with that, Metastream is an excellent choice for streaming watch parties.
Pros
Superior live synchronization playback
Minimal interface
Supports major streaming services
Chat with friends and family
Cons
No webcam or audio message support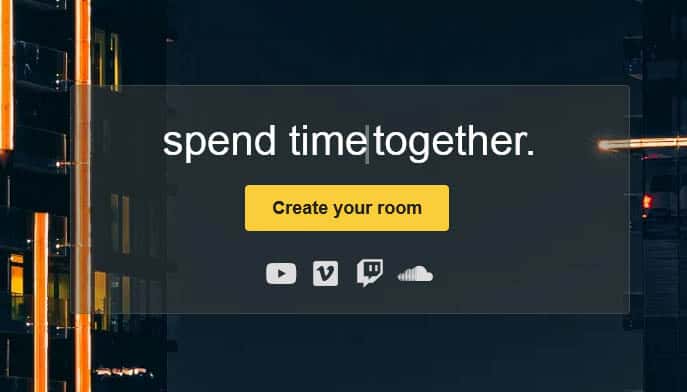 Watch2gether is another popular Rabbit alternative that you can use to watch videos, listen to music, or go shopping on Amazon combined. The live sync playback is pretty cool, and you won't find any lack while streaming movies or shows. But remember, Watch2gether does not deploy an online virtual machine like Rabbit. So, make sure to stream video content that has the fastest upload speed. It will induce the LIVE watching experience much improved. Apart from that, you have a chat feature with GIF support, which is incredible. All in all, Watch2gether is a great forum to make video watching a social experience.
Pros
Listen to music, watch videos and go shopping all together
Supports Amazon, YouTube, and SoundCloud
Great LIVE playback
GIF images support in chat
Cons
Does not allow webcam or audio message
Does not allow Netflix and other popular streaming services
Ad banners in the free version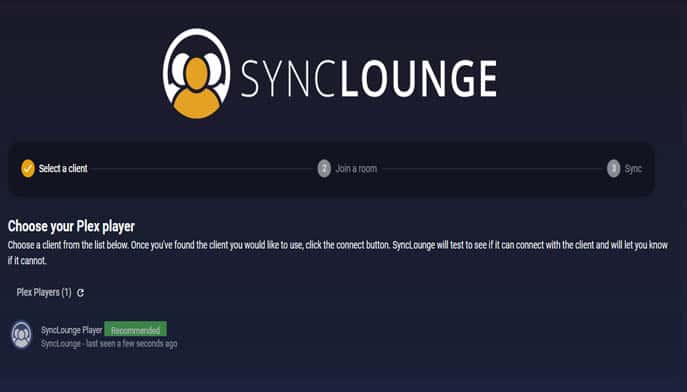 If you are a Plex user, SyncLounge offers a great solution that allows you to play synchronized media perfectly. It may not be a perfect Rabbit alternative, but if you want a dedicated co-watching app for Plex, it does a terrific job and excels at it. You are allowed to connect your Plex library with SyncLounge and make a private room with your friends and family. The synchronized playback is quite reasonable given SyncLounge uses its server, instead of Plex servers, to pass data to multiple people. Like Rabbit, it also lets you chat with other members, making the video watching experience entirely social and interactive. Post, if you want to enjoy watching your Plex content with Friends and family, SyncLounge will take you the right way.
Pros
Perfect for Plex users
Stream Plex library and watch videos together with your close ones
Has chat support
Great synchronization playback
Cons
No webcam or audio message support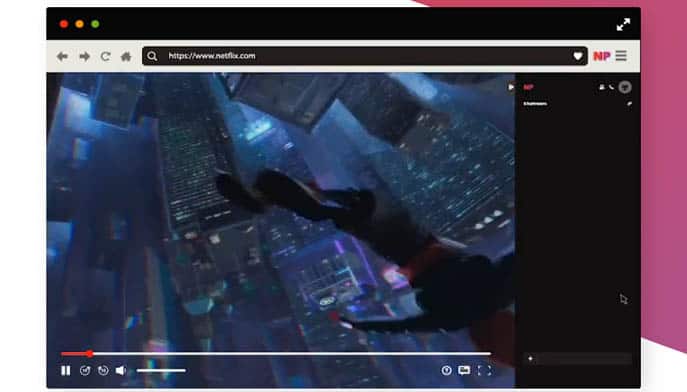 Netflix Party is a popular co-watching platform and alternative to Rabbit in terms of features and streaming Netflix content only. It allows you to watch Netflix along with your friends and family in synchronized video playback. There is an option of group chat, which you can use for interaction while watching shows and movies in real-time. The chat feature also supports GIFs, emojis, and typing indicators, so that is cool. The best thing about Netflix Party is that you need not install heavy software as it only runs on web browsers. Although, make it clear that it does not have features like audio commentary or webcam. In short, Netflix Party is a perfect choice for those people who want to watch Netflix together.
Pros
Perfect sync playback for Netflix users
Supports GIFs, emojis, and group chat
Cons
Limited to Netflix only
No webcam or audio support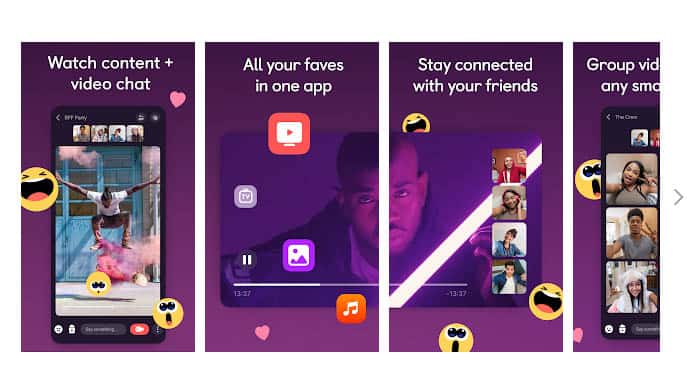 If you search for a Rabbit alternative that works seamlessly on smartphones, there is no best app than Airtime. With Airtime, you can listen to music, watch YouTube videos together, group chat using animated stickers, send sound reactions, GIFs, and many more. Airtime allows up to 10 users in a single room, so that should be more than enough. Airtime's great thing is that it allows the user to audio commentary and media playback simultaneously, a notable Rabbit feature. Besides that, you can send texts, short video clips, photos all while watching videos. Airtime is the best app for streaming watch parties on mobile phones and a perfect replacement for Rabbit in terms of features.
Pros
Perfect Rabbit alternative for smartphones
Listen to music, watch videos, including YouTube, together with friends and family
Share stickers, audio message, and GIFs in LIVE
Supports audio commentary
Cons
A tad slow on Android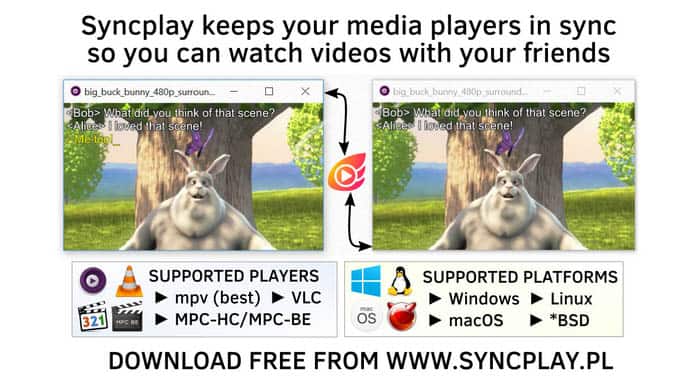 Syncplay is an exceptional app in this list because it allows you to co-play downloaded content on your PC. It' is available for all major operating systems, including Windows, macOS, and Linux. You can play any offline media using MPV, VLC, Media Player Classic, and Syncplay will broadcast your playback in a private room. You can even share the private room with your friends and family to watch the content together. In several ways, Syncplay is much similar to Rabbit, but it does not have any interactive features like audio messages or chat. It has only one objective: sync the media player across users and devices, and it does a perfect job at that. In short, if you are searching for a simple program that can keep your media player in sync, Syncplay is a fantastic utility.
Pros
Best for watching downloaded content together
Available for Windows, macOS, and Linux
Supports significant media players like Media Player Classic and VLC
Performance is pretty good
Cons
Does not have a chat or any interactive feature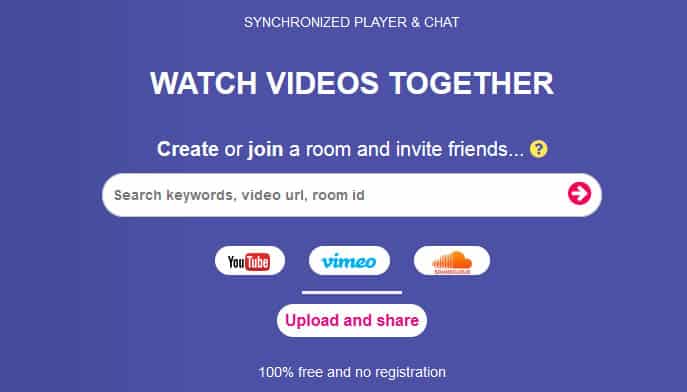 my circle.tv is undoubtedly among the best Rabbit alternatives as it permits you to watch videos together in a consistent manner. It has inclusive various video streaming platforms like YouTube, Dailymotion, and Vimeo under its portal. You can play videos on the website right away, and other members in your room can watch videos in complete sync. You can also be allowed to share URLs from other websites and watch video content together in no time. On the interactivity front, you have a chat feature with emoji support, so that is good. However, you don't get a webcam or audio support so keep that in mind. All in all, my circle.tv is a promising platform for watching content together, and you should try it.
Pros
Integrated YouTube, Dailymotion, and Vimeo
Discover videos and watch together on its website
Sync playback is pretty good
Has chat support
Cons
No webcam or audio support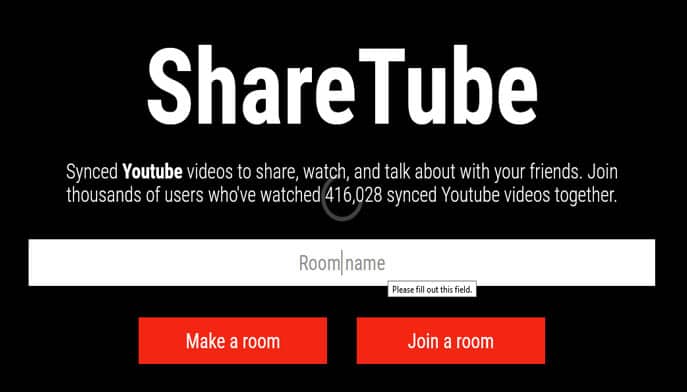 ShareTube is a simple service that lets you watch YouTube videos with your close ones straightforwardly. You have to create a room and share a YouTube URL to play the content in sync with other members. A group chat option can bring some extent of interaction among the users in your room. It does not bring several prominent Rabbit features, but ShareTube does what it is assumed to do. I would recommend ShareTube if you want the practical experience of watching YouTube videos with your friends and family quickly.
Pros
Best for watching YouTube videos together
Simple and straightforward
Sync playback is pretty good
Has chat support
Cons
Limited to YouTube only
No webcam or audio support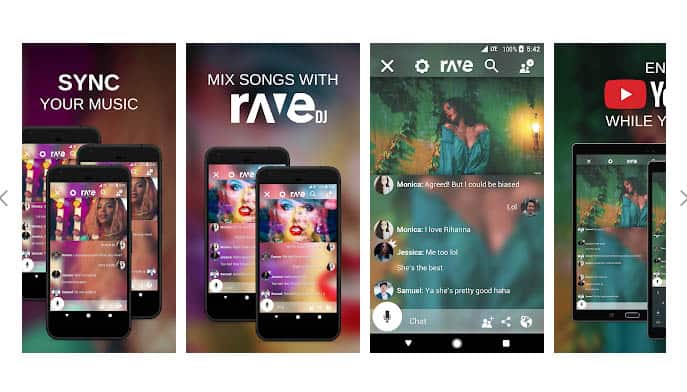 Rave is one more Rabbit alternative for smartphones, which surprisingly works excellent. It has all the standard elements, like watching Netflix together and interacting simultaneously. Like Rabbit, you can watch content from Vimeo, Google Drive, Dailymotion, and more. The sync playback is perfect and works without any problems. There is also an ability for voice chat, but you can't video chat while watching video content. The best thing about Rave is that you can play music and sync with other smartphones to create a powerful speaker. All in all, Rave is an excellent app for watching media content with close ones on smartphones and ranks among the best Rabbit alternatives.
Pros
One of the foremost Rabbit alternatives for mobile phones
Watch video content together from YouTube, Netflix, Google Drive, and more
Text, voice chat, and play music altogether
Cons
No, allow video chat while watching content.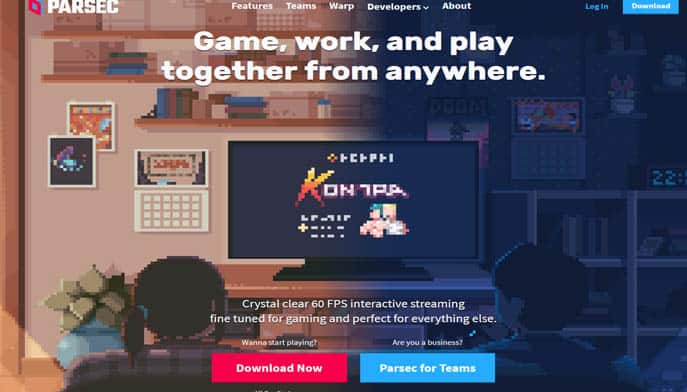 Parsec is a game streaming site, but you can utilize it to stream video content as well. You can also invite friends to your video stream, and they can watch LIVE content and without any latency problems. Just like game streaming, your friends can also comment in real-time, and you can interact with them while enjoying movies and shows. Of course, Parsec is not made for streaming video content, and also, other members can not manage the playback. However, it does bring outstanding synced playback, and that is the essential feature of Rabbit. Meanwhile, Parsec can be pretty useful if you are content with synced playback and one-directional control.
Pros
Stream content and watch together
Great sync playback
Group chat
Cons
Dedicated for game streaming
One-way control
No webcam or audio support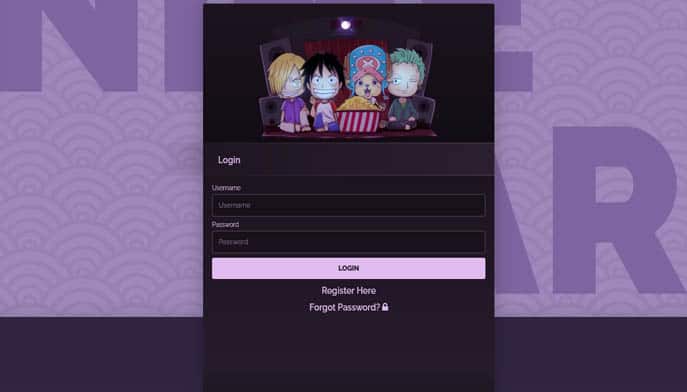 AnimeParty is our closing Rabbit alternative in this list, dedicated only to streaming and watching Anime content together. It's a no-frills website that lets you create a private room and allows you to share the room with your friends. You can search for Anime content from its library and can start watching directly. It also has a great group chat feature, and sync playback is pretty good. You would not find significant problems while streaming videos. If you love to watch Anime and search for a Rabbit like a co-watching platform, AnimeParty is a solid choice.
Pros
Best for watching Anime content together
Has its library of Anime content
Great synced playback
Has group chat
Cons
Limited to Anime content
No webcam or audio support