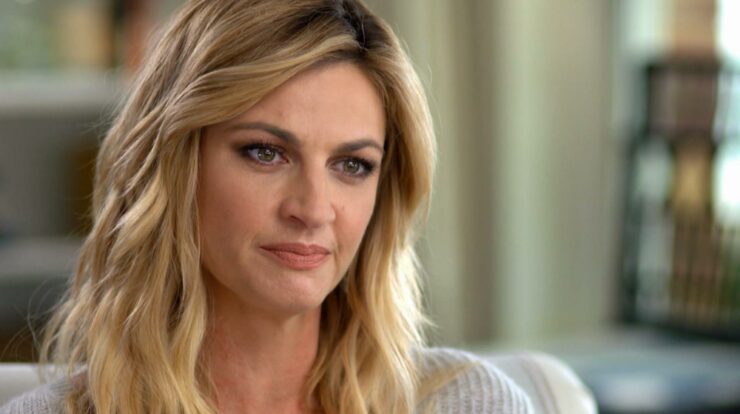 Erin Jill Andrews is a sportscaster and television personality from the United States. She is working as a sideline reporter for Fox NFL. She is a well-known former Dancing with the Stars co-host. Erin Andrew was also named America's prettiest sportscaster by Playboy magazine twice, in 2007 and 2008. She also appeared as receptionist Randall Morgan in the 2012 film That's My Boy. She is a very active social media user with a large number of social media followers.
Instagram: She has 1.6 million Instagram followers.
Facebook: She has around 850k Facebook followers.
Twitter: She has 2.7 million followers on her Twitter accounts.
Here are some of Erin Andrew's brief facts:
Name: Erin Andrew
Born on: May 04, 1978
Born In: Lewiston, Maine, United States
Age: 44 years old
Birthplace: Lewiston, USA
Height: 5 Feet 10 Inches
Occupation: Sportscaster, host, television personality,
Also Known As Erin Jill Andrews
Net worth: $30 million
Erin Andrew's Professional Career
Well, Erin Andrews began her career as a studio host and reporter for Turner South network in Atlanta, where she covered local sports teams after working for Fox Sports Florida. She started her career with ESPN in April 2004, covering the National Hockey League for 'ESPN National Hockey Night.' She worked as a reporter for the 'College World Series,' 'Little League World Series,' and 'Great Outdoor Games.' In 2008 and 2010, she was also the ESPN and ABC reporter covering the annual Scripps National Spelling Bee live event.
Erin secured a large advertising agreement with Reebok in January 2011. Erin made a statement associating Texas Christian University Horned Frogs football players falling on the field with their Nike shoes. As a result, ESPN set stricter endorsement standards for its workers, eventually compelling her to quit the arrangement within a year. Andrews departed ESPN in June 2012 to go for Fox Sports, where he became the inaugural host of Fox College Football's Studio program. Later, as commentators, Eddie George and Joey Harrington joined her at the table. Following the debut of Fox Sports 1, she also worked as a guest host on 'Fox College Football Kickoff' and 'Fox College Saturday.'
She started reporting on Fox's primary NFL broadcasting team from the sidelines, taking over for Pam Oliver. In 2014, she debuted as a contestant on the tenth season of 'Dancing with the Stars,' finishing third with her partner Maksim Chmerkovskiy out of 11 couples. Andrews took over as co-host of the show from Brooke Burke-Charvet at the start of the 18th season in February 2014.
Social Works
As one of Kraft Foods' spokespersons in 2010, Erin Andrews took part in the 'Huddle to Fight Hunger' campaign. The campaign's objective was to raise $2.86 million for Feeding America. In May 2011, Erin Andrews co-hosted the 'Music Buildsm The CMT Disaster Relief Fund' with HLN's Robin Meade and comedian Ron White. The concert featured performances by Hank Williams Jr, Alabama, Keith Urban, and Trace Adkins, among others, to benefit Oklahoma's victims of the April 27 storms. The concert's proceeds were donated entirely to the Red Cross Relief Fund. Her desire to help other women enjoy and enjoy their love of sports led to her cooperation with StubHub, the world's biggest online ticket seller, to launch a new nationwide campaign called 'Girls Night Out' in October 2011.
Personal Life Of Erin Andrew
In December 2012, Erin Andrews started dating professional hockey player Jarret Stoll. The pair were engaged after four years and married on June 24, 2017, in an intimate sunset ceremony in Montana. She used to live in Atlanta, Georgia, but now she resides in Los Angeles, California. Erin Andrew was diagnosed with cervical cancer in September 2016 and underwent surgery on October 11. She was back at work after two weeks. Her doctor informed her on November 17 that the margins were clean and that no radiation or chemotherapy would be necessary.
Controversy Of Erin Andrew
Michael David Barrett, a former Chicago-area insurance executive, covertly filmed Andrews through a hole at the Nashville Marriott near Vanderbilt University in 2008 and again at the Radisson Airport Hotel in Milwaukee, Wisconsin. On July 16, 2009, one of those recordings, in which she was seen naked in her hotel room, was uploaded online. The FBI arrested Barrett on October 2 after the video went viral. On December 15, he was found guilty of domestic stalking charges. Officials discovered another video on Barrett's hard drive that was never made public. Barrett was sentenced to thirty months in prison on March 15, 2010, three years of supervised release, $5,000 in fines, and $7,366 in restitution by US District Judge Manuel Real.
Andrews filed a $75 million civil complaint against Barrett and the Nashville Marriott in October 2015. The trial started in late February 2016 and concluded on March 7, 2016, with the jury awarding her $55 million in damages. This biography of a prominent sportscaster and media personality will be the ideal motivation for people struggling in their careers, not only because she is doing well in her job but also because of how she fought her condition and recovered.
Also, Check: