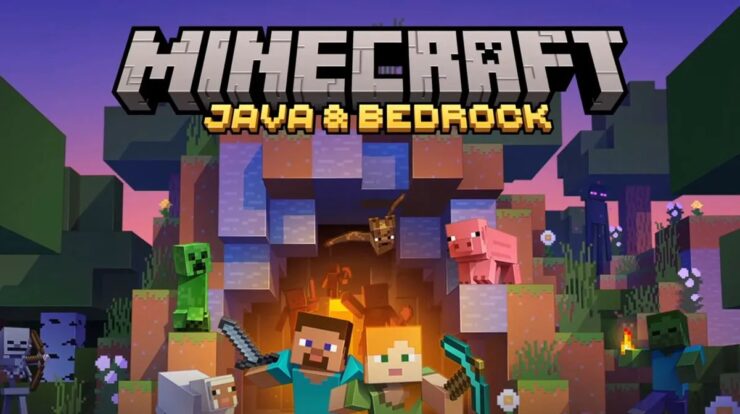 Minecraft Bedrock and Minecraft Java editions will be bundled and sold together on PC starting today. If you possess one edition but not the other, don't worry: Mojang has assured users that they will gain free access to the edition they don't have in the coming days.
The Minecraft unblocked launcher may be used to access both editions. They'll keep their individual characteristics and remain distinct from one another. Minecraft maker Mojang Studios has launched the Minecraft Java & Minecraft Bedrock Edition for PC, which includes both versions of the game in one package.
Even better, those who already own either the Minecraft Java or Minecraft Bedrock editions of Minecraft will receive the other for free. For those new to the game, the Minecraft Java Edition is the "old" version for Windows, macOS, and Linux, whereas Minecraft Bedrock is the cross-platform version for PC, mobile devices, and consoles. The two versions of the game are currently marketed as a bundle on PC, and they share the same launcher.
Minecraft Bedrock and Java Edition
The official Minecraft website is where you can buy the Minecraft Java & Bedrock Edition for $30.If you already have the Java Edition or Bedrock Edition on PC, the Minecraft developers warned that it could take up to three days for the other edition you'll get for free to show up in the Minecraft game launcher. To be clear, Java and Bedrock will continue to exist as independent games with distinct features.
The only change is that when you buy Minecraft unblocked for your Windows PC, you now receive both by default, and you can access them both from the same launcher, "the Minecraft team noted." The Wild Update, which adds two new biomes, four new monsters, and three new block types to all versions of Minecraft, is also available today. This free update also includes two free character creation items for the Bedrock Edition of Minecraft.
Minecraft Bedrock and Java Editions On PC

The Minecraft Java Edition and the Minecraft Bedrock Edition for PC have typically been offered for download in two different editions. That will change on June 7, when the two versions will be marketed as a bundle on PCs. You might be curious as to what this implies for you. It's just a little adjustment.
Both editions of the game will now be included in a single purchase. This also implies that there is now only one vanilla version of Minecraft available for Windows. There's no need to be concerned if you already possess the Bedrock or Java editions. Mojang says that anyone who has either the Java Edition or the Minecraft Bedrock Edition can get the other edition for free through the Minecraft Launcher.
However, it might take up to three days for this to appear. Java and Bedrock will be their own games in the future, with their own features. There have been no changes to the features. The main difference is that when you buy Minecraft for your Windows PC, you'll receive both versions by default, with both versions in the same launcher.
While Java is only accessible on PCs, Macs, and Linux platforms, the Bedrock Edition is available on PC, mobile (Android, iOS, and Windows 10 mobile), and a variety of consoles such as the Xbox One, PlayStation 4, Nintendo Switch, and others.
Java is the most flexible version of Minecraft for PC when it comes to mods, but it does not support cross-platform play.The Java Edition also has a greater performance ceiling and looks better on higher-end gaming PCs, whilst the Bedrock Edition is meant to play seamlessly and has faster load times.
Which is Better: Bedrock or Java?
The Bedrock Edition of Minecraft is the best option for most casual gamers. It's more reliable and easier to use than the Java Edition. It also enables you to play on different platforms, which is a significant benefit. Java Edition is the best choice if you're a dedicated Minecraft player who wants to mess about with the game's innards or view in-development features before the rest of the world.
Minecraft Bedrock Edition vs. Minecraft Java Edition: What's the Difference?
On the surface, Bedrock Edition and Java Edition appear to be quite similar, but the reality is rather different. The various code bases result in diverse development environments. As a content creator, it's important to know the main differences between things. This course shows you how.
You will learn the following in this tutorial:
The Java Edition and Bedrock Edition have a brief history.
What do the differences between the two editions signify for content creation?
Minecraft is available in two different versions.
Minecraft: Bedrock Edition
Bedrock Edition was published on September 20, 2017 and was based on the 2011 version of Minecraft: Pocket Edition. It put the code for nine important device platforms into what is called the Bedrock Engine.This was a complete redesign of Minecraft from the ground up. It brought big changes to the platform and made way for a new, active community of developers. Simply Bedrock is the name given to this version.
Minecraft: Java Edition
This version was first published in 2009. This version was previously known as "Minecraft" until September 2017, when it was renamed "Minecraft: Java Edition." It's written in Java, as the name says, and it's mostly incompatible with the current version of Minecraft. Java is the most prevalent name for this iteration.