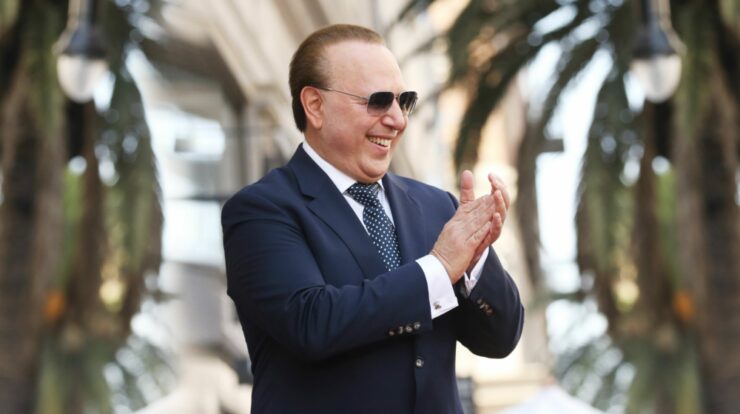 Tommy Mottola, original name Thomas Daniel Mottola, is a record executive, producer, and author who was born on July 14, 1949. Mottola is currently the Chairman of Mottola Media Group after serving as the Chairman and CEO of Sony Music Entertainment, the parent company of the Columbia record label, for over 15 years.
Early Life Struggles
Tommy Mottola was reared in a middle-class home and through numerous struggles as a child. He was born in The Bronx to an Italian-American family. Mottola graduated from Iona Grammar School with honours in 1962, and he appears to have completed his education at Iona Prep in 1966. He spent some time at a military school before going on to high school, where Mottola hoped to pursue a career in music. He learnt to play the guitar in high school. Tommy continued his music career as a singer with The Exotics, an R&B cover band, after dropping out of Hofstra University on Long Island. His parents expected him to become a doctor or run his father's business. Both of those ideas were repulsive to him. Tommy Mottola grew up expecting to work in the music industry in some capacity. Mottola, on the other hand, had taken acting classes and appeared as an extra in a few small films.
Career
Mottola made his debut in the music industry as a CBS Records recording artist under the stage name "T.D. Valentine" in the mid-1960s. Despite his failed effort to become a music sensation, Mottola moved to work for publishing behemoth Chappell Publishing before establishing Champion Entertainment Organization, which is now his own management firm. Mottola's job at Chappell exposed him to a diverse spectrum of musicians, and he rapidly landed his first successful management clients, Daryl Hall and John Oates. He also helped Hall and Oates land a record deal and a number of high-profile endorsements. He was well-known for using new media to efficiently promote the black rock band Xavion, such as music videos and corporate sponsorship of music tours.
In 1988, Walter Yetnikoff appointed Mottola to supervise Sony Music (previously CBS RecordsUS )'s operations. In 1990, he succeeded Yetnikoff as Chairman and CEO of the newly renamed Sony Music. During his time at Sony, Mottola transformed the company into one of the world's most successful music companies, expanding operations to over 60 countries and assembling one of the industry's best management teams. Mottola is most recognised for signing notable performers to his record label. He excelled in nurturing and launching the careers of Celine Dion, Mariah Carey, Destiny's Child, Jessica Simpson, and Shakira. He also pioneered the concept of digitally remastering CDs of classic albums like Bruce Springsteen, Billy Joel, Andy Williams, and Pink Floyd, to name a few. In the late 1990s, Mottola assisted Sony artists such as Ricky Martin, Jennifer Lopez, and Marc Anthony in achieving success.
Michael Jackson's Allegations Against Mottola
Tommy Mottola also worked with Michael Jackson beginning with the making of his Dangerous album. They were almost pals when something happened that ruined their entire relationship. Jackson later claimed that his relationship with Mottola terminated owing to corruption in Mottola's business operations, and he accused him of being a "racist who exploited black talent" in 2001. It happened during the promotional tour for Michael Jackson's album Invincible. When Jackson was there, Tommy was calling a well-known black singer the n-word. "The record industry truly, truly collude against the musicians," Jackson allegedly stated. In response to what happened between him and Mottola, Michael Jackson terminated his Sony contract in 2003 and refused to tour with Sony to promote his album, Invincible.
Marriages
Mottola has been married three times. He converted to Judaism after marrying Lisa Clark, the daughter of ABC Records CEO Sam Clark, in 1971. The pair decided to discontinue their relationship and filed for divorce in 1990. The couple's two children are Michael and Sarah. Michael Paul Mottola was born on July 20, 1980, and Sarah Lisa Mottola was born on June 25, 1982.
The Second Marriage
On June 5, 1993, Mottola married Mariah Carey, who was his second wife. At a party in 1988, Carey's untitled demo cassette was delivered to Mottola, then-CEO of Columbia Records. While Carey was simply an 18-year-old bashful and wide-eyed girl with big dreams. In his book, Hitmaker: The Man and His Music, Mottola recalls hearing her voice for the first time on his walk home. He spent many weeks seeking for her, according to the article. This was problematic not only because of the age difference, but also because the music executive was already in a relationship with Clark and had two children. In 1990, Mottola signed Carey to a recording deal and announced his divorce from Lisa Clark, his then-wife of 19 years. Following his divorce, Carey and Mottola walked down the aisle before exchanging wedding vows in 1993. Their work link became stronger as their personal bond grew stronger. They generously spent millions on their wedding and invited every notable celebrity.
Mariah Carey's Problematic Relationship
The dispute emerged when Mottola was 43 years old and she was 23 years old at the time of their marriage. The couple's age gap became a huge subject that year. Shortly after their marriage, they began to experience troubles in their relationship and grew apart to give each other more time to work out whatever was hurting them. Unfortunately, the couple parted up in 1998 and formally divorced. In their books and memoirs, both have accused the other of being poisonous and dominating. In interviews, they have spoken openly about their problematic and violent relationship.
The Third Marriage
Mottola made the decision to marry for the third time. He was dating Thalia at the time, and when he proposed, Thalia consented. The pair married on December 2, 2000, at St. Patrick's Cathedral in New York City. They have two children together. Their daughter, Sabrina Saka Mottola, was born in October 2007, and their son, Matthew Alejandro Mottola, was born in June 2011.
Tommy Mottola Net Worth
Tommy Mottola is the current Chairman of Mottola Media Group and formerly spent as the Chairman and CEO of Sony Music Entertainment, the parent company of the Columbia label, for over 15 years. Mottola is now happily married to Thalia, a Mexican actress and singer. The net worth of this wealthy American music producer is $540 million dollars.
Also, Check: