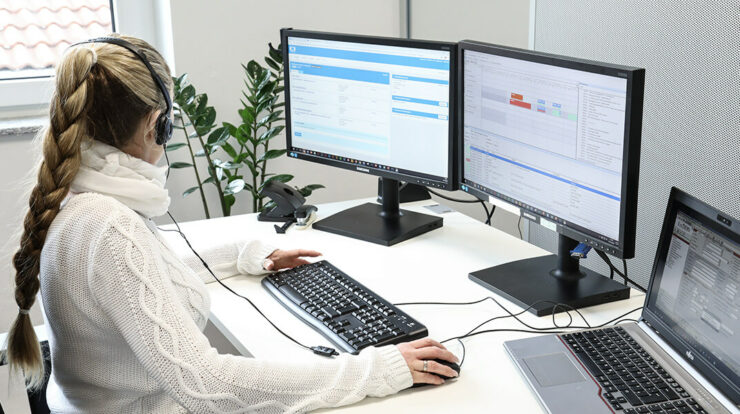 Field service management is the system for coordinating operations in the field. At its most basic, this means scheduling work orders, sending out service technicians, keeping track of labor hours and job status, and billing for the finished job. But field service management goes even further because it includes every part of service delivery and takes care of the people and processes that make a field service business run smoothly. This includes actions like:
Quoting

Customer portals

Integrated invoicing

Workforce management

Reporting and analytics

Resource routing optimization

Parts and inventory management

Service scheduling and dispatching

Installation projects and job costing

Advanced checklists for service technicians

Preventative maintenance contract management
Field service is complex because it depends on so many different things. Creating, logging, monitoring, and controlling service technicians took a lot of time because they had to be done by hand. Because most of the work was done by hand, miscommunication, delays in service, and lack of information were unavoidable in the industry as a whole. Customers' expectations started to change, and they started asking their service providers for more technology and better service. So, people no longer had to do things by hand. In its place, technology for field service management took over. 
Why Use Field Service Management Software?
So, Field service management software is a complete management solution for anyone in the field service business. With cloud-based software, technicians, dispatchers, and managers work from the same portal. Field service management is the tool to give excellent service and have a whole experience from start to finish.
As customer needs change, it's hard for any service-based business to determine how to meet those needs. Likewise, it takes work to deliver excellent service to your customers. So, many leaders started looking for software that could handle all aspects of field service management in one cloud-based system.
Field service management software is made to do what it says on the box: manage field service. This includes everything, from the work orders your technicians fill out to the contracts you sign and the bills that go out the door. And because of the advances in cloud-based technology, it's now accessible to everyone in the business from any location, giving the same access to vital service information to technicians, dispatchers, and managers. 
Use software for field service management
Many challenges come with managing a whole service team. It takes a lot of time and works for a service delivery organization to become efficient. On the other hand, field service management software gives field service businesses the tools they need to manage the many people who work for them and the expectations of their clients.
In addition, with real-time data business, managers of field service businesses today have more information than ever to help them make decisions. Field service management software allows a service department to do everything it needs to do well in one place. It's a mobile, integrated, and very flexible way to make your service delivery team as efficient as possible.
Why is Field Service Management Important?
Now that you know what field service management is, you might wonder why it should be a top priority for your business. If you want to keep track of your team of service technicians well, you can rely on something other than old, error-prone methods. Because this process is so complicated, mistakes in communication and unplanned delays can ruin a project or a relationship with a customer.
Since your customers want cutting-edge tech solutions, it makes sense to put an improved field service management strategy at the top of your order so you can meet (or even exceed) their expectations. If you can't keep track of your technicians and the jobs they're supposed to do, your brand's reputation and ability to maintain customer promises will be at risk.
In addition, since cloud-based software is now easier to use, everyone on your team will be on the same page and be better able to give your customers what they need. Your business needs a reliable way to manage everything about service work, from work orders to changes made on-site. Old ways of doing things won't work anymore. With the help of the field service management software, you can ensure that important information is shared immediately. This will help your team do their jobs better and improve your customer service and make customers more likely to stick with you over time.