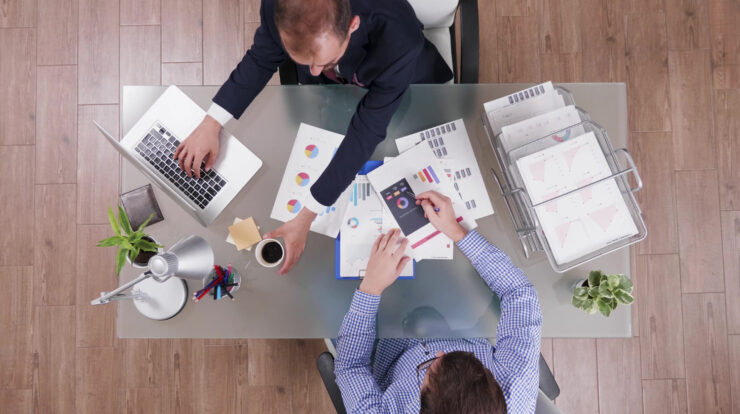 Prospecting is essential, when it comes to B2B sales, however, it's also considered to be one of
the most complex processes of sales. It takes a lot of time and effort to find the right potential
customers and then to close a sale. According to Hubspot's research, more than 40% of
salespeople say prospecting is the most challenging part of the sales process.
That's why there is a great variety of B2B prospecting tools available on the market to help
professionals with B2B data management and other aspects of prospecting. These tools offer a
variety of different functions, which allow sales professionals to leverage technology to the
fullest and make processes easier and faster.
In this article, we will explore what B2B prospecting tools are and which tools are currently the
best on the market.
What is a B2B Prospecting Tool?
A B2B prospecting tool is software, which is used by salespeople to research, qualify, and then
eventually contact potential customers. At first, they were created to solve a problem that most
salespeople struggled with a lot: the lack of data to connect with decision-makers and make a
pitch. This data includes information like company size, revenue, industry, job roles, corporate
culture, and more.
With the right prospecting tools, sales professionals can make better decisions, contact the
needed prospects quickly and make better connections. Now it's nearly impossible to get the
right contact fast and make good prospecting decisions when qualifying leads without the use of
technology.
The main Types of B2B Prospecting Tools
The main categories of B2B prospecting tools usually include the following:
Sales Cadence Tools
Sales cadence is the set of certain actions you have to complete when you want to close
successfully a sale. It's the combination of sales activities, which convert a potential customer
into a buyer. These activities include the cold and warm calls, email campaigns, and social
media marketing that you have to go through as you're trying to secure business.
Dialing Tools
These are designed to help with your cold calling and improve your prospecting process.
According to recent studies, 41.2% of salespeople said their phone is the most effective sales
tool that they have. There are several types of dialing tools available, which allow you to
automate the process: the first is call automation and the other one is multi-dialing services that
automate things even further. Also, it's good to know that 50% of buyers like getting a phone
call, compared to 70% of reps.
Contact Guessers
This type of tool helps you to ensure the contact information you have about your prospects is
correct and relevant. Contact guesser helps you get a more accurate database of potential
leads, which will make the whole process much easier and more successful.
Contact Database
Databases help you manage all contact information in one place. A contact database is a
centralized collection of your prospecting contacts. With the help of various filters and tags, you
can quickly find which prospects to contact and when. You can also find information such as
their workplace, the industry they're in, and more.
It's good to know that the part of managing a successful contact database is being able to
organize it correctly in the first place. First, you'll need to capture all of the essential data about
your prospects, including their name, position in the company, phone number, and email
address. Then, you can start adding some more details for more context.
The benefits of using B2B prospecting tools
Here are a few main benefits that come with choosing the right B2B prospecting tool for your
business:
● More leads. B2B prospecting tools are usually much more effective than any manual
labor. It's not only because you have accurate data on qualified leads, but it's also the
ability to reach out to them in just a few clicks
● Boosted team's efficiency. Many of the B2B prospecting tools are specifically designed
to be intuitive and easy to use. You can be sure that they will be effective for anyone
using them, even complete beginners. Instead of learning complex software, you'll be
able to start working with these tools immediately and have more time to focus on
important tasks.
● Better pipeline. By using prospecting tools efficiently, providing qualified leads, you can
be sure that your sales pipeline is as effective as possible.
Conclusion
All great B2B prospecting tools have their drawbacks and disadvantages, however, the benefit
and opportunities they bring to the company overweigh all minuses. The best software on the
market will give you exactly what you're looking for in an intuitive way.
The right prospecting tools will supplement important business processes and allow you to grow
your strategy over time. Using B2B prospecting tools can help you in your efforts and make
them more successful. There is more likely that you will get your expected results when using
the right technology.