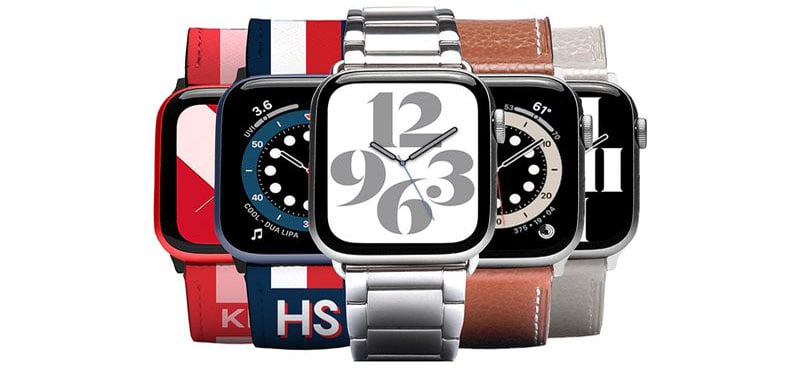 The significant part about owning an Apple Watch is that even if you upgrade, you can still use your best-loved straps with the newer version. However, thousands of third-party straps are available on the market, making it challenging to choose from.
Best Apple Watch Straps on Amazon
I have listed some best and top-notch Apple Watch Straps that I recommend. Let's get started.
1. Kraftychix Elastic Watch Band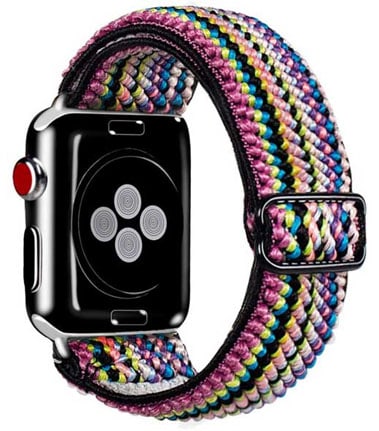 I've never been a fan of silicone straps as it tends to trap sweat underneath. This polyester-based woven design provides an elastic band that fits snuggly on your wrist without causing too much sweat. Besides, the woven pattern gives it both elasticity and a soft finish, making it perfect for workouts. Furthermore, it has an adjustable strap, which makes it a one-size-fits-all ranging from 4.5″ to 9″ wrist size. You can quickly get this Watch Strap for $9.99 in a few different colors & patterns.
Buy Kraftchix Elastic Watch Band for just 9.99 dollars (40mm | 44mm)
2. Adepoy Fabric Watch Band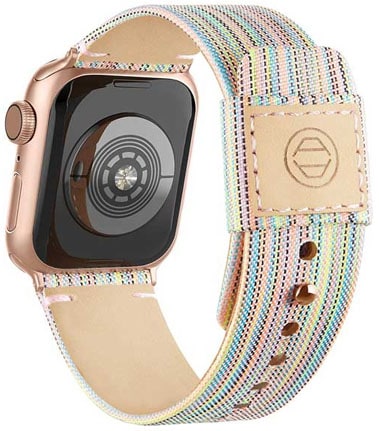 Like Canvas shoes, cloth fabric-based Watch bands are also incredibly comfortable, and this watch band by Adepoy is also fashionable. It is made with soft fabric, and a suede leather lining on the underside adds a striking contrast to the band, making it a comfortable fit for most people. Besides, it uses the snap button to fasten the strap to your wrist and can be easily adjusted to wrists 5.9″ to 8.9″ in size. The Watch Band is available in six different styles, and you can get it for $10.99 on Amazon.
Buy Adepoy Fabric Watch Band for just 10.99 dollars (40mm | 44mm)
3. Yoswan Stretchy Loop Watch Band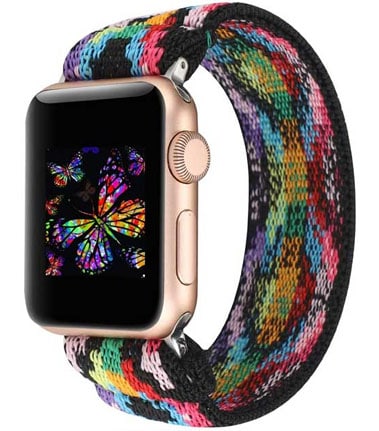 If clasps & buckles are not your preferred choices in a Watchband, then you would love this Solo Loop style woven band. It is made with skin-friendly material, including a blend of Nylon & cotton; the Watchband is breathable and fits on your wrist correctly, ranging from 5.7″ to 10.2″. Moreover, the band is available in 11 different designs & colors for $8.98 on Amazon.
Buy Yoswan Stretchy Loop Watch Band for just 8.98 dollars (40mm | 44mm)
4. Genuine Leather Watch Band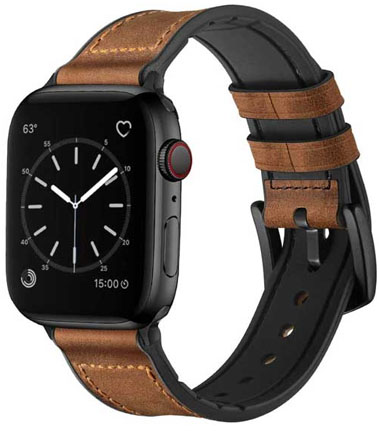 This next beautiful band sports genuine leather with a soft silicone underneath woven together to offer a fusion of comfort and style towards more traditional watch straps. The stitching adds to the aesthetic, and the strength of the band and the old-school buckle style fastener is an all-time best-loved. Also, you can get this Watchband in 20 different color combinations for $13.99 on Amazon.
Buy OUHENG Genuine Leather Band for just 13.99 dollars (40mm | 44mm)
5. Stainless Steel Watch Band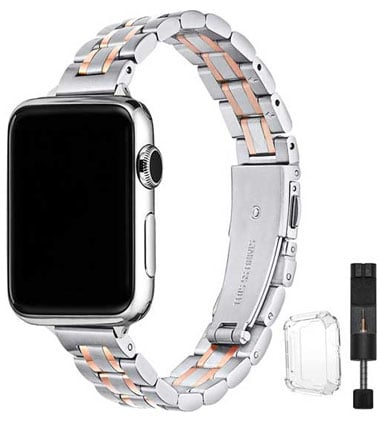 The Stainless Steel Watches go well with almost everything from Casual to Business attire, and if you have got a Stainless Steel body Apple Watch, you can check this Stainless steel band. This traditional Oyster bracelet with a metal band clasp provides a healthy balance of technology & tradition on your wrist. The wrist band even comes with a removal tool that would easily adjust the Band's length. Also, you can get this beautiful band on Amazon for $18.99
Buy STIROLL Stainless Steel Watch Band for just 18.99 dollars (40mm | 44mm)
6. Magnetic Watch Strap for Apple Watch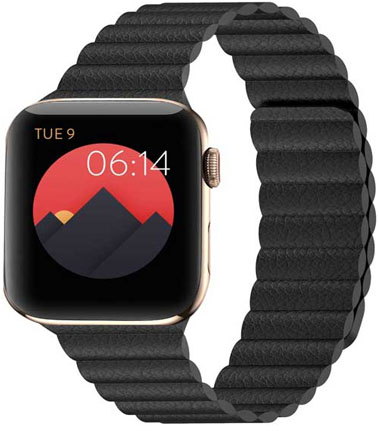 Using magnets is the most convenient and best way to secure accessories, and this Watch strap makes it a functional fastener. It is made with faux leather with metallic pieces embedded inside the strap itself; the watch strap provides a comfortable fit, powered by magnets. Moreover, as much as this watch strap is convenient or suited to put on your wrist, it is as easy to lose as you can inadvertently unbuckle your Apple Watch. So, I would recommend not getting this if you go outdoors a lot. Also, this classy watch strap is available for $17.99 on Amazon.
Buy Magnetic Watch Strap for Apple Watch for just 17.99 dollars (40mm | 44mm)
7. Milanese Bracelet for Apple Watch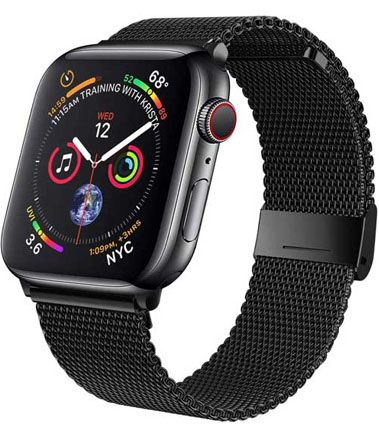 This Watch strap is undoubtedly one of my best-loved designs, and it has the functionality of magnets that don't fail that often. The Milanese strap, more commonly known as the mesh bracelet, is made out of stainless steel, and even the clasp goes over itself, securing the Watch firmly on your wrist. The great part of this strap is that you can adjust the fit correctly as you will get a virtually unlimited number of positions to clasp the strap. Also, you can get the strap in 11 different colors on Amazon for 7.99 dollars.
Note: All the magnetic Watch Straps interfere with the Apple Watch's internal compass and will not accurately show the directions. If you choose a magnetic strap, must enure to remove the strap entirely while using the Compass or use your iPhone.
Buy Milanese Bracelet for Apple Watch for just 7.99 dollars (40mm | 44mm)
Closing Words
Dear Readers, these were some of the best and top-rated Apple Watch straps that I recommend you get. Each of the watch bands provides a unique style and functionality, and this guide would have helped you decide which one most suited for you. And if you have a better recommendation, let me know in the comments section below.