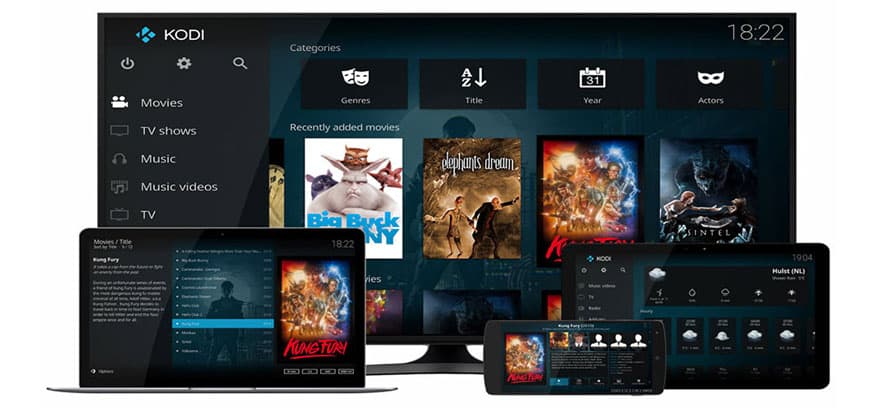 In many ways, Kodi is a unique app, so talking about Kodi alternatives does not come easy. After all, you can use it to store your media library, expand its features through add-ons, and also watch live TV. And all of that comes free. So, naturally, the excellent alternative to Kodi needs to tick all the right boxes.
This article will talk about Kodi alternatives as better solutions for specific purposes, such as media streaming or files organization.
No matter why you are looking for an alternative to Kodi, it would help focus on your priorities. I have done the hard work of trying out dozens of solutions, and I will present only the most interesting ones. Each of the following listed options does certain things differently than Kodi – improving upon the original, so to say.
Best Kodi Alternatives
So without waste any more of your time – let's jump to what you want to know.
1. Plex – Best All-Around Kodi Alternative

Plex is almost as good as Kodi. It comes loaded with enormous features, while the platform's client-server architecture makes it the right foil to stream media on various devices. It enables the same content to stream on all your supported devices seamlessly, including computers, media streaming devices, mobile devices, and more.
Moreover, Plex mimics quite a lot of Kodi features when it comes to the types of media supported. You're free to add your movies, photos, and music – all of which can be organized in more ways than one. Besides, Plex downloads the required metadata automatically, filling out plenty of useful info. In turn, this offers you many ways to filter your content.
Let's not mention that Plex has a rich subscription-based model, whose pricing starts at $4.99 per month. Without paying, you can easily watch a selection of free TV channels, also a friendly group of on-demand movies and TV shows. Getting a subscription to assist you in adding more than 80+ commercial TV channels, you can subscribe to TIDAL Music, and many more – all within Plex's interface.
Pros: Intuitive UI; Great platform compatibility; Can be used free; Many freshly released features; Includes free live TV; Supports podcasts.
Cons: Limited user interface customization; The initial set-up might be confusing.
2. Emby – Best Kodi Look-Alike Alternative

It calls itself the 'Open Media Solution,' and I agree there. It features much like Plex, minus the risk of proprietary software. Being an open-source platform, Emby even uses the client-server mechanism, which comes with enormous benefits attached.
For one, Emby makes it easy to stream media to all connected devices. There's also a bit of live TV functionality in Emby that enables you to play with DVR recordings. Then, parental control is a tactical element that sets Emby apart from other platforms. Additionally, Emby is also pretty smart. It recognizes the hardware abilities of different devices & adjusts media components accordingly.
We collectively like the neat and clean organization of media that Emby does. When connected, it notifies users of important events based on their activity on the platform. The premium feature enables you to access back-ups and the apps' Cinema Mode. Overall, the app comes quite polished, and it's easy to see why Emby is one of the excellent Kodi alternatives right now.
Pros: Can integrate with Kodi (for a more accessible switch); Open source; Supports plugins (limited); Parental controls available free.
Cons: A small userbase; You required to pay to unlock all of its functions.
3. Media Portal – Best Kodi Alternative for Windows PCs

Not numerous have heard about Media Portal because it is relatively new to the scene. Additionally, it is not as feature-rich as Plex or Kodi. Some apps often appear to be built around particular functionalities that the app they are trying to beat lacks. And this is exactly where Media Portal comes into play.
Moreover, the USP of Media Portal is Digital Video Recording (DVR). It is a feature that enables you to record, schedule, or watch live TV. At the same time, Kodi does support live TV. With Media Portal, you have a vast range of hardware & software components to choose from, giving you plenty of customization along the way.
Of course, you're always welcome to use Media Portal for playing music, videos, & Blu-Ray discs. The app is further accentuated with the availability of plugins. These let you do everything, right from watching YouTube to tracking the latest scores. The one serious drawback is that Media Portal is presently available for Windows only. Even the remote control apps for iOS & Android are defunct.
Pros: Comes free; Great for former Media Center users (on Windows); Beneficial for organizing a content library locally; Modern UI.
Cons: Available on Windows merely; Not as frequently updated.
4. Stremio – Best Streamlined Kodi Alternative

Like Kodi, Stremio enables you to enjoy TV shows and movies on different platforms, primarily from a single screen. The best thing about using Stremio is that you'll always find the best quality of content regardless of which medium you view it on.
The platform enables you to create a personal library to store all your content & collections. The service works fine across various devices. Besides, syncing the library in one place syncs it with the other places without any problem.
An additional feature called the Linvo database always makes sure that the data is adequately arranged on each device. There's a unique notification setting that tells you if your most-liked show has a new episode. The recommendation engine also offers you plenty of hints of new shows that you may like to watch.
Pros: An intuitive UI; Integrates plenty of media file types; Plays online media; Not as frequent, but useful updates.
Cons: Cannot expand through third-party addons (in terms of core functionalities).
5. Serviio – Best (Affordable) Premium Kodi Alternative

Serviio is a media server that appears to have been modeled after Plex. It enables you to stream various media files, including games, music, and videos to devices such as Bluray players, game consoles, TV sets, or even mobile devices. After Serviio gets connected to a home network, doing all that is possible.
For one, Serviio is entirely on top of the line as far as multi-device compatibility is concerned. It also streams media to the Xbox 360. It even supports individual device profiles so that it's easier to play the best quality for each gadget.
Because Serviio has been built with Java technology, it tends to run fine on most platforms, including Mac, Linux, and Windows. You can select whether you wish to stream video & audio just in Standard Definition or in true High Definition. Serviio allows you to stream content from online resources like live video and audio streams, RSS feeds, or Web pages.
Pros: Ample ways of organizing files; Plays even "exotic" file types; Cross-platform; Works with subtitles; Highly functional free version.
Cons: Needs a subscription to unlock the app fully; No mobile application.
6. OSMC – Best Kodi Alternative for Raspberry Pi

OSMC abbreviation stands for Open Source Media Center. New & raring, the first thing that anyone notices about OSMC is the remarkably simple UI. The design's charity runs as an undercurrent in all its operations – local network, attached storage, & internet media play.
The exciting part is that even OSMC is built on the Kodi model. Or, you probably call it Kodi's very own Linux version. With this said, it is no doubt OSMC is mainly built for Raspberry Pi computers. Whereas how lightweight it is, you can count on the app performing admirably – even with sizeable content libraries.
Apart from ordinary things, OSMC is supportive of a range of Wi-Fi adapters & TV tuners. The Web-based user interface and support for desktop environments show that the platform is here to stay. So much so, OSMC has even launched its flagship device, the VERO 4K. The device comes with support for 4K video, HD audio, and 10-bit content.
Pros: Incredibly polished UI; Really lightweight (in terms of performance); Highly suitable for Raspberry Pi set-ups; Free.
Cons: Not as broad platform compatibility.
7. Universal Media Server – Best Kodi Alternative for Desktop Servers

Universal Media Server is the best hassle-free media streaming platform that is even DLNA compliant. Initially, a PS3 media server fork, USM, makes it possible to stream media files to multiple devices, including Blu-ray players, TVs, smartphones, and even game consoles.
The user interface is amazingly simple and can be set up very quickly, as well. The media player can transcode, stream, and play audio, video, & image in several formats. And features of the players include bit-rate adjustment and DLNA support.
Furthermore, the Universal Media Players is also a classic because it is Java-based. Besides, there are quite a few plugins that come built-in the platform. Additionally, you can even install a few plugins on your own. If that is not enough, you can also get extended info on movies from IMDB & merge MediaMonkey's music database into it. UMS is not exactly Kodi; it certainly has a stream of functionalities of its own.
Pros: Highly beneficial, if you put effort into it, expand via extensions; Open source; Free; Best for advanced users.
Cons: Can be confusing for newbies; Limited platform support.
8. JRiver – Best Kodi Alternative for Advanced Users

It has been designed along the lines of Kodi. It is meant to be where you'll find all your media playing needs to be addressed. Although, keep in mind that JRiver is designed for Windows primarily, even though you will also find versions for Windows, macOS, & Linux.
As you can see, this app does not fully imitate Kodi, especially since it's made for desktop operating systems. It is a good thing (if you are wondering about a media player for your PC) since its interface comes optimized for keyboard-and-mouse input. As we know, Kodi is available on TVs & touchscreen devices, so it brings a UI that can sometimes be hard to interact with on computers.
We should also note that JRiver's interface is not the most polished one. Luckily, there is a 'Theater Mode, ' which transforms this app into something that resembles Kodi in a big way. And the great thing is that you can use many different remotes to interact with this mode, especially if you connect your PC to your TV or a projector.
Pros: Highly helpful for organizing your media library; Supports many file types; Much useful support documentation; An active user forum.
Cons: Does not come free of charge; Somewhat obsolete UI.
9. SPMC – Best Direct Kodi Fork Alternative

Note: SPMC is no longer under active advancement. Although, you can still download it from the official website and use it without any limitations.
If you're an Android user and wish for something that looks & behaves just like Kodi, this is it. SPMC stands for Semper Media Center. Besides, it has been developed by a former Android manager for Kodi and provides you the same overall aesthetics. It also means that any add-on that is compatible with Kodi even works well on SPMC.
Moreover, as the maker himself calls it, SPMC is the 'Android-minded fork' for Kodi. As such, it is clear that this is one of the excellent Kodi alternatives when it comes to Android tablets, phones, and smart TVs. It also means you will not find it available on other desktop or mobile platforms, except for Amazon's Fire OS.
As noted above, just keep in mind that SPMC is no longer under active development. Right now, this is not a major obstacle since SPMC is still fully functional. It comes with a polished design, plays all sorts of media files, works with some older Kodi addons, and has no errors or performance issues. In short, it should still meet the requirements of the majority of Kodi users, wondering for an alternative.
Pros: Very identical to how Kodi works; Incredibly fluid performance; Free; Many options for choosing how to install the software.
Cons: Primarily optimized for Android TV; Limited platforms compatibility; No longer under active developments.
What Should You Look For in a Kodi Alternative?
I am here to help you approach your search for a Kodi alternative in a smart way. It means thinking about your needs & priorities and coming up with a list of options you care about primarily, as follows:
Platform/Device Compatibility: One of Kodi's best things is its platform compatibility, as you can use it on just about any device. There's no right alternative here that runs on all those platforms. It means you need to think about which tools you wish your new home theater software to cover and start from there.
Maintenance and Updates: Just like Kodi, its alternatives are also made by independent developers & volunteers (in most cases). You can hope for occasional updates, but these typically do not come per a predefined schedule. If you care about getting new features & bug fixes, using a commercial Kodi alternative is the way to go.
Media Files Organization and Playback: One of the reasons behind Kodi's popularity is its ability to import and store a media library. You will want an alternative that supports photos, videos, and music – while allowing you to sort & filter those files.
Online Services Integration: This is where we come to the most significant limitation of Kodi alternatives. They typically do not have a rich library of official and unofficial add-ons. Some of them include third-party services, allowing you to import cloud libraries with ease, access media streaming platforms, etc.
Extra Features: Finally, think about any additional features that interest you. For instance, is there something that you miss when using Kodi? Even though this is a powerful app, individual users have their individual needs. So, if Kodi fails to meet your needs, make a list of features you'd like to have to access.
In case you have any recommendations, I would love to hear them! Feel free to post your comments below, and I will respond as soon as possible.