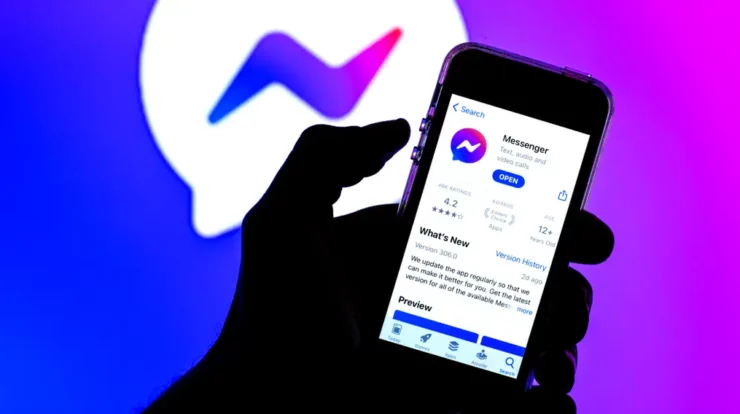 Being used by more than a billion people daily, Facebook Messenger is now one of the most famous instant chat apps. This app has a lot of features. People can share photos, videos, stories, GIFs, and more. All of that does cost something, though. It's a mess inside the Messenger app that Facebook made to try to be a flexible chat app.
On top of that, Facebook Messenger can affect other apps on your phone and drastically cut down on battery life. Thanks to good options, several Facebook Messenger apps work. Here's a list of our picks for the best Facebook Messenger options.
Top 5 Working Apps Like Facebook Messenger in 2023
The apps listed below are all good and can work well as an alternative to Facebook Messenger. So, take your time reading their descriptions and choose the one that works best for you.
1. Disa
Disa is the most useful option because it combines several chat apps into one. Each app uses a third-party open-source plugin to make it function. After downloading the app, you will need to add Facebook Messenger as a plugin. This will be done from a different source.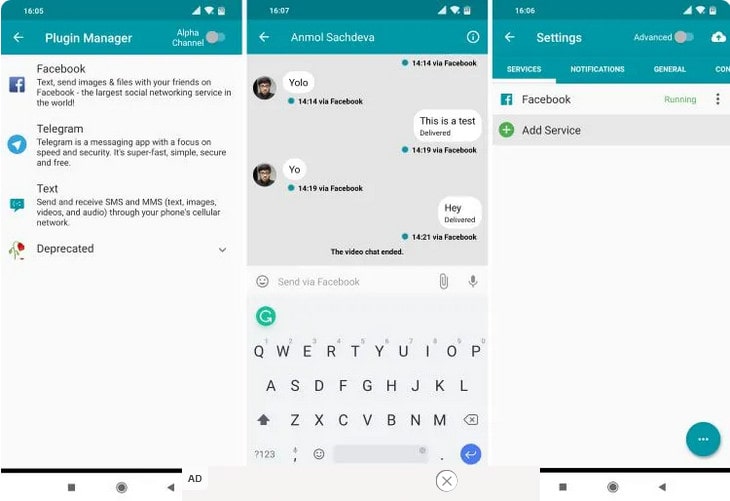 After that, Disa will ask you to use your Facebook details to log in. That's it. The list of your friends will be shown to you, and you can start talking to them immediately. That being said, it's important to note that Disa doesn't have many features.
Only sending and getting messages will be possible. Other options, like sending GIFs and stickers, are not available. You can still send photos and videos, though. Unlike Facebook Messenger Lite, you also won't be able to make or receive calls. Disa is a basic Facebook Messenger app that does its job. In addition to Facebook, you can add and manage your Telegram account and send and receive SMS with Disa.
Download Disa (Free)
2. Facebook Messenger Lite
Facebook Messenger Lite is a stripped-down form of the Messenger app, just like Facebook Lite. When it comes to people in poor countries with slow internet, this app is mostly made for them. It can be used by anyone who wants to eliminate Facebook Messenger features they don't want, like Stories or online games. Messenger Lite would be a great alternative to Facebook Messenger if that's something you want.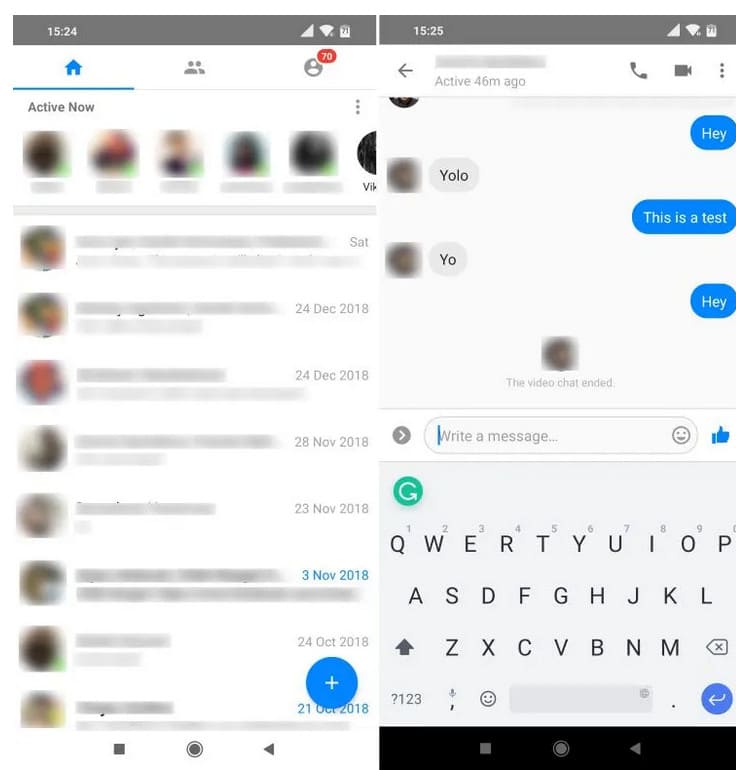 The app includes all of Messenger's essential features, such as sending and getting messages, stickers, sharing pictures and links, etc. For different things, each of the app's three tabs is responsible. The chats will take place in the first tab. It's a place where you can see all of your chats. You'll see a list of your current friends on the next tab. They're easy to talk to or pick up where you left off… tap on them. The last tab has a place just for Facebook Messenger settings. You can also connect the Facebook button to access the main Facebook app.
Despite being a stripped-down form of the main app, Facebook Messenger Lite lets you make and receive voice and video calls. Therefore, Facebook Messenger Lite is a good alternative to the Messenger app if you want to use a Lite app without having to worry about speed problems.
Download Facebook Messenger Lite (Free)
3. Swipe for Facebook
You can't use Swipe as an alternative to Facebook Messenger on its own, but it combines Facebook and Messenger into a single app. The News Feed will get in the way of your Facebook messages less when you open them in a different window. The best thing about Swipe is that it doesn't remove any of your Facebook Messenger features, like Chat heads, real-time notifications, sharing media, and more. You're also getting a great experience because the app lets you stop all Facebook ads immediately.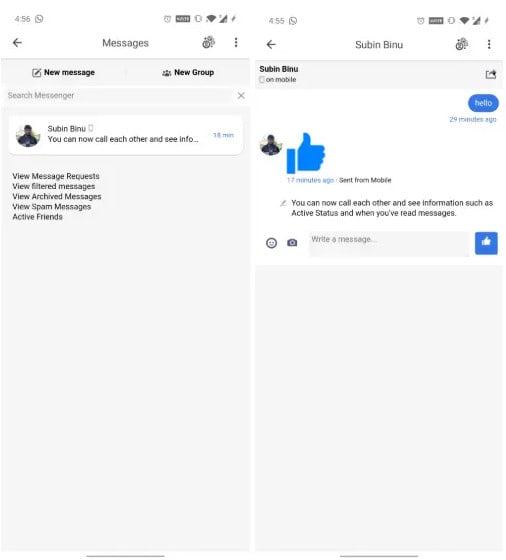 Other than that, the app is small, doesn't have a lot of extra stuff, and doesn't ask for any permissions. Swipe is the best app to use if you're looking for an alternative to Facebook Messenger for safety reasons. Not to mention, the app has a ton of customization options, including schedule in dark mode, DND, fingerprint lock, and more. Swipe is one of the best options for Messenger on this list.
Download Swipe (Free, Offers in-app purchases)
4. Friendly
The Friendly app is a great alternative to Facebook Messenger. You can use Facebook and Messenger from the same place using the app. You'll go right to your News Feed after installing the app and logging in to your Facebook account. This is where you can decide to use it as the Facebook app or wipe on the Messenger button to chat with your Facebook friends through Messenger.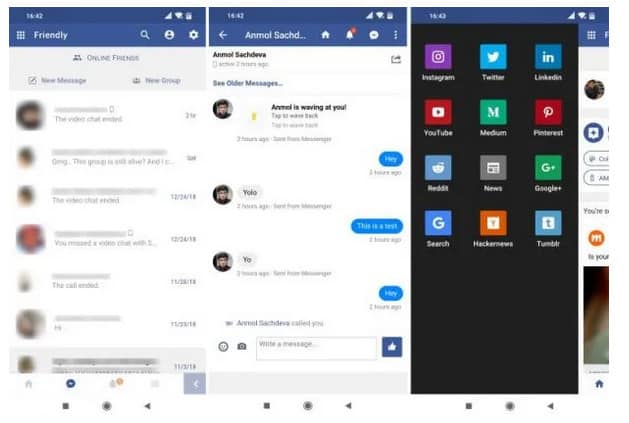 You can send and receive messages, share photos, videos, emojis, stickers, and more with Messenger. Again, the only thing that needs to be added is the ability to make calls. That means you'll still need to use the Messenger Lite app. Friendly is a great alternative to the Messenger app other than that.
Friendly can be used to manage other social media sites besides Facebook besides Instagram, Twitter, LinkedIn, and more. This tool is very useful, as Friendly can be your only app for all your social media needs. Not only is the app free, but it also works well.
Download Friendly (Free)
5. Folio for Facebook & Messenger
Another Facebook Messenger app alternative is Folio. It's quick, reliable, and safe for your privacy, and it does everything you'd expect from a Messenger app. The app shows your Facebook News Feed, but all your messages are shown in a different area. To answer your question, how does it work? It uses the Facebook Lite wrapper to make a single place for all your messages and other stuff.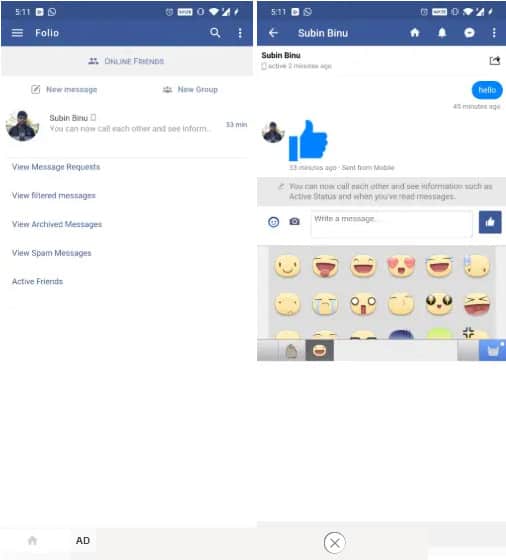 Besides that, I like this app because it's small and light, which means it lasts a long time on a single charge. It usually works well and doesn't drain your power like Facebook Messenger does. In addition, Folio can be locked with a 4-digit PIN, and it can also be used in night mode. Overall, Folio is a good app to pick if you want an alternative to Facebook Messenger that only takes up a little space or constantly drains your battery.
Download Folio (Free, Offers in-app purchases)
The Best Facebook Messenger Apps in 2023
There you have it. Those are some of the best Facebook Messenger options that you can use to stay in touch with your Facebook friends. We suggest you use Facebook Messenger Lite because it works well for most people and is a first-party app. But the third-party apps have some cool features (like stopping ads) that make them worth a try. Try these apps out, and let us know which ones you like best in the comments.