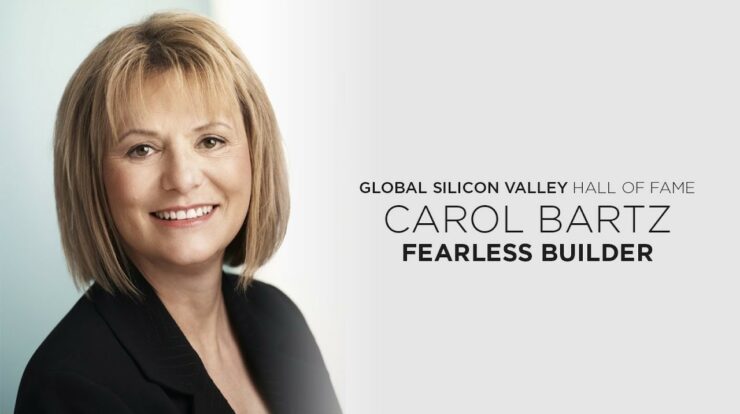 Well, Carol Ann Bartz, born August 28, 1948, is a business leader from the United States. She is the former president and CEO of the internet services company Yahoo! and the former chairman, president, and CEO of the architectural and engineering design software company Autodesk.
Carol Bartz's Childhood And Education
Carol Bartz was born in the Minnesota town of Winona. Well, Shirley Ann (née Giese) and Virgil Julius Bartz are her parents. But unfortunately, Carol's mother died when she was eight years old. So, after a few years, Bartz and her younger brother, Jim, relocated from Minnesota to the dairy farm of their grandmother, Alice, in Alma, Wisconsin.
Bartz was a homecoming queen and an exceptional math student in high school. She began her undergraduate career at William Woods University in Fulton, Missouri, then transferred to the University of Wisconsin-Madison, where she earned a bachelor's degree in computer science in 1971. She worked on her studies by working as a cocktail server while in college. Bartz has two half-brothers and two half-sisters who live in Wisconsin and Minnesota, respectively.
She was also awarded an Honorary Doctorate of Humane Letters from New Jersey Institute of Technology in 2002, an Honorary Doctor of Science from Worcester Polytechnic Institute, and an Honorary Doctor of Letters from William Woods University.
Carol Bartz's Career
Carol Bartz joined the manufacturing conglomerate 3M in 1976 but resigned after her request to relocate to the headquarters was denied. Instead, Bartz moved on to the computer business, where he worked for Digital Equipment Corporation and Sun Microsystems.
Carol Bartz As Autodesk CEO
In 1992, she was named CEO of Autodesk. According to Forbes, Bartz "turned Autodesk from a haphazard manufacturer of PC software into a leader in computer-aided design software aimed at architects and builders." In addition, she is credited with implementing and pushing Autodesk's "3F" or "fail to fast-forward" idea, which entails a company risking failure in some objectives but remaining resilient and moving on promptly if a failure occurs. In 2006, she stepped down as CEO to become the board's executive chairman.
During her 14-year tenure as CEO, Autodesk's net sales climbed significantly, and year-end revenue increased from $300 million to $1.5 billion, with the stock price increasing by an average of 20% each year. In addition, Carol Bartz worked on the boards of directors of various companies, including Intel, Cisco Systems, Autodesk, BEA Systems, Network Appliance, and the Foundation for National Medals of Science. She has also served on the United States President's Council of Advisors on Science and Technology.
Carol Bartz As Yahoo! CEO
Bartz succeeded co-founder Jerry Yang as CEO of Yahoo!, the Internet services company that became the fourth most-visited Web domain name in the world, on January 13, 2009. Later that month, on a conference call with financial analysts, she proclaimed her intention to give Yahoo! "some frickin' breathing room" so the company could "kick some butt." However, business Week's Rob Hof was unconvinced that Bartz or anybody else could save the company: "… it's not yet obvious if Bartz can turn Yahoo around, no matter how good she is."
According to Reuters, she had already "worked through an impressive checklist" at her new company, including "updating the organizational structure, changing leaders, and slashing costs, including 675 positions, or 5% of the workforce." Analysts justified her efforts as just what the company needs, but as writer Alexei Oreskovic pointed out:
The promise Bartz conveys is increasingly tinged with dread and uncertainty for Yahoo's ranks, which are still reeling from massive layoffs in 2008, including 1,600 job cutbacks. Yet, despite the harsh language, canceled Christmas parties, and forced vacations that have come to define her reign, Bartz retains widespread popularity.
With a fresh round of layoffs and the disappearance of multiple Yahoo! sites, "concern among the ranks has been heightened by what some claim is a rising feeling of secrecy," for which Bartz is well-known: "The casual flow of information that was formerly prevalent within the company has come to a standstill." According to Bartz, employees who leak to the press will be "drop-kicked to fucking Mars." "We all want to believe in her because we genuinely want to see Yahoo! turned around, but it still doesn't make it any less worrisome when you don't know what's coming up," Oreskovic reported, a scared unnamed source as saying. So everything is restricted to those who need to know."
"It was a little rougher internally than I believe I had anticipated," Bartz said of her first year at Yahoo in January 2010: "It was tougher internally than I think I had anticipated." I moved quickly, yet this is a tremendous job." Others in the media, however, thought her job was more important given the difficulties she faced.
When Yahoo hired Bartz in early 2009, her annual basic compensation was $1 million. In addition, she was eligible for a 400% yearly bonus. She earned 5,000,000 shares in addition to an $18 million equity grant to compensate for the forfeiture of the value of equity awards and post-employment medical coverage from her prior company. Glass-Lewis named Bartz the "most overpaid" CEO in 2010 after she received $47.2 million in compensation.
On September 6, 2011, Bartz was fired from Yahoo! (by a phone call from Yahoo Chairman Roy Bostock), and CFO Tim Morse was appointed as Interim CEO. Roy was physically twenty minutes away from her when she was dismissed, according to Bartz, because "he didn't have the guts to see [her] face to face," and he subsequently remarked that the board "fucked me over." Bartz expressed her wish to remain on the Board of Directors. Nevertheless, on September 9, 2011, Bartz resigned from the company's Board of Directors.
Carol Bartz's Personal Life
She is a breast cancer survivor. She married Bill Marr, a former Data General and Sun Microsystems executive. Bill, Meredith, and Layne are their three children. Golf, tennis, and gardening are among her interests. "I have a notion that life isn't about balance because balance implies perfection," Bartz says of balancing a career and a family. It's more about catching the ball before it reaches the ground."
Carol Bartz Entrepreneurial Inspirational Quotes
1 – I was promoted from inside the sales team to become a sales manager at Digital Equipment. My coworkers were disappointed that I had received the job, especially one of my male coworkers, who said he would never work for a woman.
2 – Google is a formidable rival. I wish I were worth a billion bucks; that would be wonderful. They're a tough opponent with good search capabilities. They're pretty good with their globe map stuff.
3 – It is extremely difficult to influence culture. And you may be surprised to discover that you are further along the path of change than you are because, frankly, most of us prefer the way things are.
4 – When adversity comes, as it inevitably does – terrible economy, a bad quarter, activists, takeover – those board members who don't understand or aren't dedicated aren't helpful.
5 – Any leader must always be interested in what is happening and be ready to change, even when things are going well.
6 – If I had my way, I would not do annual evaluations if I believed that everyone would be more forthcoming with good and negative input along the way. The annual review method is outdated.
Also, Check:
Conclusion:
Carol Bartz's story is inspiring. She managed to keep her head up and shoulders high in the face of harsh criticism from the Internet's most powerful voices. She is surely an inspiration to many aspiring entrepreneurs, and her life may serve as a model for others.