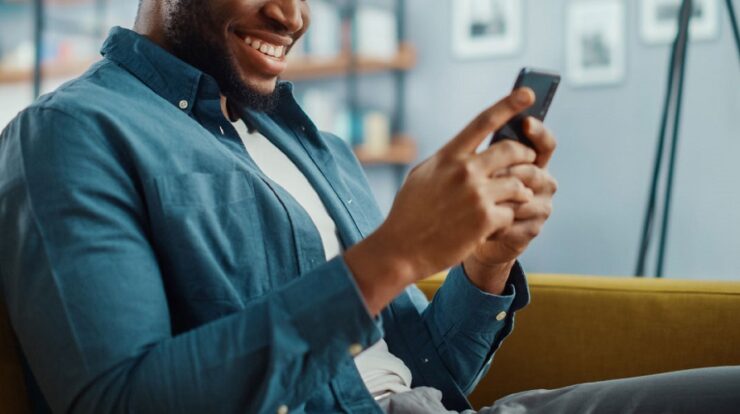 Messaging apps are the obvious location for users to connect safely. However, most apps need to provide users with more security or privacy. There are a few options if you want an encrypted messaging app with end-to-end encryption. Fortunately, the industry is rapidly evolving, and more developers are regularly working on secure and private messengers. These apps hide your messages from third parties, such as advertising and hackers. This post offers the top encrypted messaging apps for Android to keep your chats private.
What Does An End-To-End Encryption Mean?
End-to-end encryption is a message security protocol that assures a communication's contents may only be read by the sender and intended recipient. This encryption method employs a unique key known only to the sender and receiver, making it nearly impossible for anybody else to decrypt and read the message. For example, when you send an SMS using an app, the message's code is processed by a sophisticated algorithm that follows AES principles (Advanced Encryption Standard). AES, sometimes known as Rijndael, was established in 2001 by the National Institute of Standards and Technology of the United States (NIST).
The most prevalent encryption schemes are 128-bit, 192-bit, and 256-bit encryption. Among these, 256-bit end-to-end encryption is almost impossible for hackers or fast computers to crack. The phrase "256-bit encryption" refers to the magnitude of the encryption technique used to secure a file or stream of data. For example, a message protected by a 256-bit encrypted key would need a hacker or computer 2256 distinct permutations to decrypt, making it almost impossible. Now that we've covered the basics of secure/encrypted messaging let's look at the list of encrypted messaging apps.
Top Encrypted Messaging Apps For Android To Try
Here's a list of the best Encrypted Messaging Apps for Android.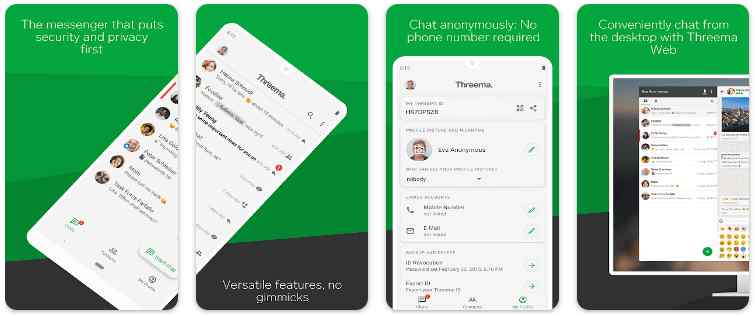 Threema is an encrypted messaging app that attempts to prevent governments and corporations from accessing your data. The app allows anonymous users and provides high encryption for phone conversations and messaging. Threema, unlike other secure messaging apps, is not free. A one-time fee of $3.99 is required to use it.
Features: 
Scan a contact's special QR code to verify their identity.

There is no need to sign in with a personal email address or other information.

Using the solid NaCl protocol, all messages are encrypted.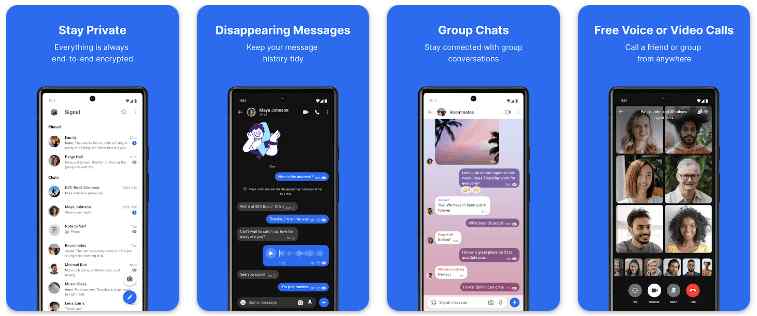 Signal is the best and most popular encrypted messaging app for Android devices. On Signal, all communication, including text, voicemail, and video calling, is end-to-end encrypted. It also has the option of self-destructing messages as well as encryption. Signal is popular because of its ease of use and robust, open source, continually verified encryption.
Features: 
The end-to-end encryption algorithm is cutting-edge.

A non-profit organization governs the organization.

Routine security checks.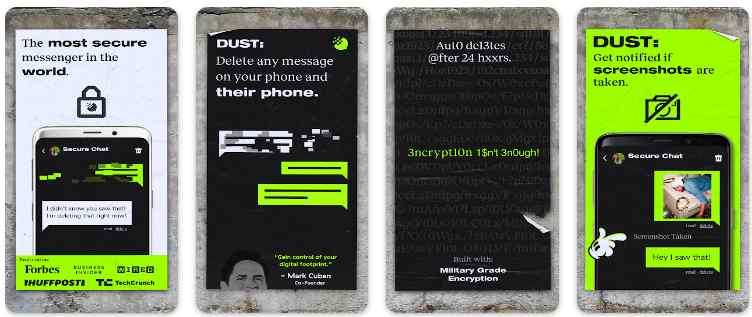 Dust is a clandestine messaging app that allows you to send contacts short "Dust," or private messages, images, and videos (no voice or video conversations), which disappear after reading. It uses RSA and 128-bit encryption to protect all messages. Messages are deleted 100 seconds after being read or, if unread, 24 hours later.
Features: 
Dust messages are delivered across RAM-based servers; therefore, they are only saved for a while.

When a screenshot is taken, it detects it and notifies you.

Allows for anonymous messaging.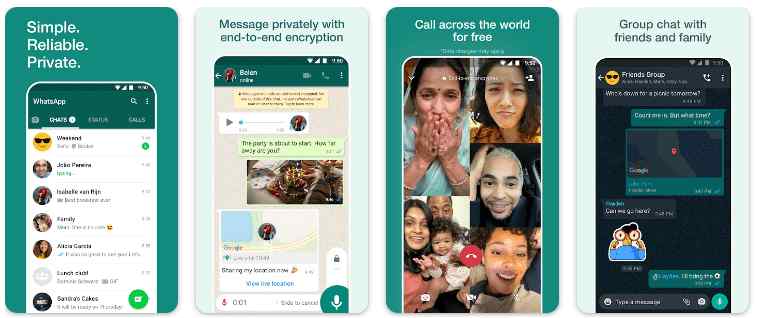 In 2016, WhatsApp, the world's most popular standalone chat and phone app, began adopting Signal's end-to-end encryption technology for all communications. WhatsApp is capable of almost everything. Along with standard text-based communication, it also offers group chats, video calls, location sharing, payments, money transfers, and other file transfers.
Features: 
Excellent end-to-end encryption.

The most popular messaging app on the planet.

You may send money or make payments to your friends and relatives.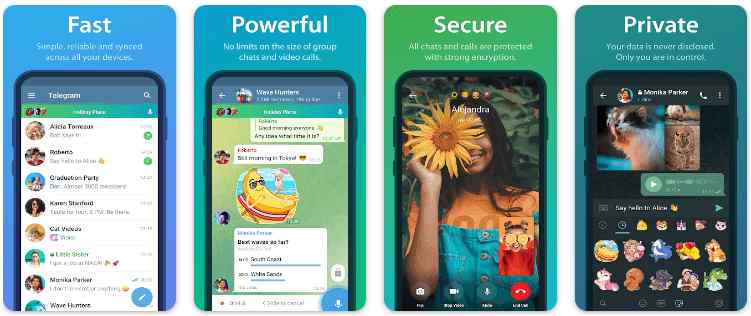 In recent years, Telegram has emerged as the preferred messaging tool for users wishing to interact with large groups. However, because the data must be stored somewhere on Telegram's servers, end-to-end encryption is not available in regular chats. Regardless, the company's "Secret Chats" feature features robust encryption equivalent to WhatsApp and Signal.
Features: 
A simple and intuitive user interface.

Encrypted group talks with up to 200,000 participants are possible.

Telegram accounts are also promptly deleted after six months of inactivity.
Conclusion:
That was a quick overview of end-to-end encryption in messaging apps and a list of the top encrypted messaging apps for Android. I'm sure you're already using at least one of the items on our list; tell us which one. Also, please leave any recommendations or queries in the comments section below.