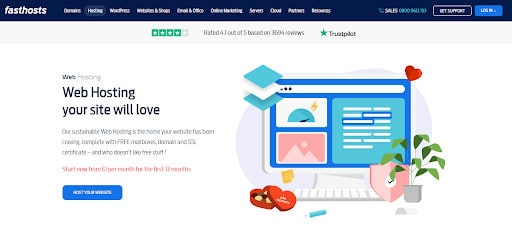 Fasthosts is a UK-based web hosting firm (headquarters is at Gloucester Quays, South West, England). It was founded by Andrew Michael in 1999, and it continues to thrive (and develop) every day. It now hosts over 1 million domains not only in the UK but all over the world, thanks to data centres in the country.
We're talking about a multi-award-winning UK web hosting firm. The following are few of the accolades and awards it has received:
In 2003, Deloitte & Touche ranked the company as Europe's 10th fastest growing corporation.
Fasthosts was named one of the top 50 firms in the UK by Business XL magazine, and was named the world's top Windows 2003 web hosting company by Netcraft (an internet specialist).
Fasthosts provides a variety of hosting services, including shared, cloud, and dedicated. They also manage business-class e-mails and register domain names. We're going to look at their shared hosting plans in this article.
Pricing
1. Ignite
The introductory pricing for this plan is simply GBP 2.50 per month (its regular price is GBP 5.00 per month). It permits you to host one website & includes 10GB of SSD storage and unlimited bandwidth. When you buy this package, you'll also get some basic SEO tools.
2. Momentum
If you order this package now, it will cost you GBP 5.00 per month as Fasthosts' mid-range hosting plan (regular price is GBP 10.00 per month). It comes with three websites, 20GB of SSD storage, and unrestricted bandwidth. It also includes extensive SEO tools to assist you in ranking your site on search engines.
3. Ultimate
This is Fasthosts' top-of-the-line (and most expensive) option, which is currently available at only GBP 10.00 (normal price is $20 per month). It permits you to host up to 100 websites and comes with 120GB of SSD storage and limitless bandwidth. It also comes with advanced SEO tools to help you improve your site's ranks.

Here are some things to keep in mind about Fasthosts' pricing structure:
They're presently running a 50% off sale on all of their shared hosting options.
When you join up for one of their hosting plans as a new customer, you'll be asked to sign a one-year contract. You'll also have to renew at their regular costs after the first year.
You must still pay 20% VAT because it is not included in their pricing.
The features of their Ignite package (their cheapest plan) are fairly limited. It only permits you to host one website and only includes basic SEO tools.
Take note of how much more strong their Momentum plan is than their Ignite plan. It not only allows you to host more websites, but it also provides double the storage capacity.
Fasthosts' Ultimate plan is far more powerful than their other plans put together. It comes with a plethora of other websites and storage space.
All of their plans offer a free one-year domain – this is a great way to save money because some hosting companies charge for this.
WordPress, Drupal, Joomla, and PrestaShop are among the prominent CMS platforms supported by Fasthosts. These may be installed with a single click.
Keep in mind that Fasthosts stores data on SSDs (Solid State Drives). This is significantly faster than standard drives, resulting in speedier loading sites (and pages).
Support
Customers of Fasthosts have a variety of help options, including live chat, phone, support page, support community, system status page, and more.
You can also easily use their live chat option by logging in to your account (you need to be logged in).
Their phone help is available 24 hours a day, 7 days a week, 365 days a year.
On Fasthosts' help website, you'll find a wealth of information on a variety of issues. They even have PDF guides available for download.
Their support community works similarly to a forum. You'll be able to ask inquiries of other users once you make an account there. Of course, you can also choose to share your knowledge with them (forums like this operate on a give-and-take basis, after all).
Their System Status page is also very valuable to us. It's where they post system faults, maintenance schedules, and other information. You can check this page to see what's going on with them on a regular basis (as this will affect your site).
Isn't it true that Fasthosts has a good customer service format? Unfortunately, we cannot vouch for their abilities (in reality). Their users have mixed feelings about this feature of their service (which is a big turn off for us). While some reviews claim that well-trained employees respond quickly, others claim that certain problems require more than two ticket submissions to be resolved. Worse, it has been reported that their staff takes more than a few days to react to questions and difficulties.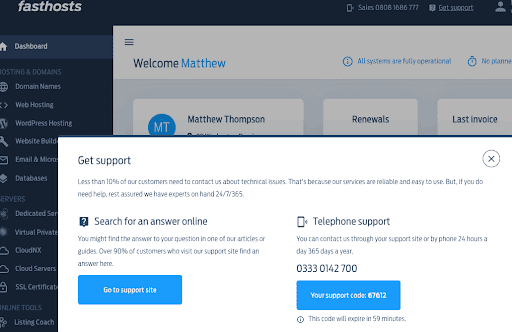 Pros
1. Their cheapest package includes unlimited features.
Yes, you read that correctly. Fasthosts is one of the few web hosting businesses that offers unlimited bandwidth as part of their most basic package. Although it does not have infinite storage, the 10GB SSD space is sufficient for small websites' fundamental storage requirements.
2. SEO tools that are completely free
Fasthosts' plans all include free SEO tools. Basic SEO tools are included in the cheapest plan, while advanced SEO tools are included in the other two options. These free tools will undoubtedly assist you in your SEO endeavours.
3. Obtain a free domain
When you sign up for any of their services, you can save a year's worth of domain fees.
4. Support for multiple CMS apps
You can run your site on any of the prominent CMS platforms available today (WordPress, Drupal, Joomla, PrestaShop, etc.). These apps can be installed with a single click from your account's control panel.
5. They employ solid-state discs (SSD).
SSD drives will improve the overall speed of your website. Because of this functionality, expect sites to load quickly.
Cons
1. There are no free SSL certificates offered.
We're very upset with this one because it's a service that most web hosting plans today have. Fasthosts didn't even bother to add the free Let's Encrypt SSL in their system (which won't cost them anything). In today's world, having an SSL certificate is a requirement, as it is critical for both security and SEO. As a result, this will be an additional expense to you.
2. No CDN feature.
Fasthosts' servers are based in the United Kingdom, as previously stated. As a result, in other countries, your site may appear to be slow. Fasthosts should, at the at least, provide a CDN option to help speed up data transfers to other countries as a result of this. They don't have this, either — not even CloudFlare (which, again, will not cost them anything to include in their system). It would have been a no-cost option for their clients. If you have consumers outside of the UK, you'll have to get CDN on your own to fix the problem.
3. Inconsistent client service
Because of the varied evaluations we've seen about Fasthosts' customer support, we can claim that this component of their service isn't very reliable. It's important to remember that when running a website, you'll need a strong customer support system because difficulties are unavoidable in the online world.
Conclusion
To be honest, we're not really impressed with Fasthosts. It's adequate, but there are better web hosting services available.
If you're still considering Fasthosts, keep in mind the drawbacks we discussed in this review, particularly the lack of SSL certificates and the lack of a CDN (as these can cost you additional expenses). Furthermore, their customer care personnel may not be available when you require assistance. Customer service is really crucial in web hosting, so this is a deal breaker for us.
Related Search Keyword: Fasthosts wordpress hosting services, Fasthosts service, Fasthosts hosting services