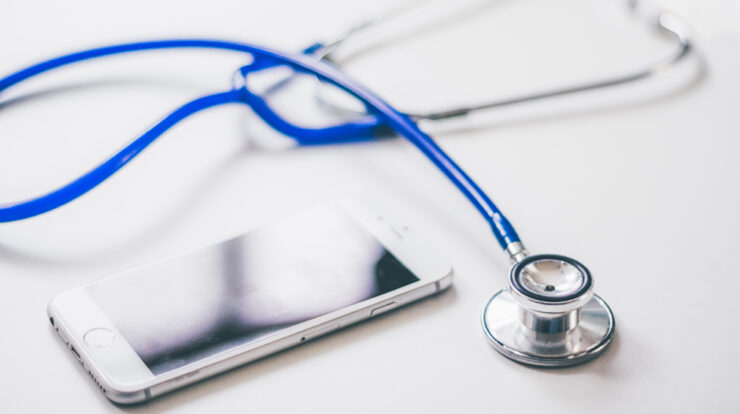 Well, the COVID-19 outbreak has focused attention on the healthcare industry. With the growth of technology, this expanding industry sector continues to evolve. One of the most visible technological trends is telemedicine. It enables doctors to diagnose and treat patients remotely. To improve services, these technology advancements may be integrated into healthcare apps. However, creating a healthcare app is not straightforward. There are approximately 400,000 healthcare apps accessible in app stores today, yet most have fewer than 10,000 downloads based on app use. Nevertheless, some technological trends can be critical in assisting an app's technology and bringing about favorable improvements in the sector. These 8+ best healthcare app development trends will dominate by 2022 and beyond.
8+ Best Healthcare App Development Trends
Here are the Best Healthcare App Development Trends.
1. Internet of Things (IoT)
It's no wonder that the IoT healthcare industry is expected to grow to $158 billion in the age of wearables. IoT is a paradigm changer in healthcare, and by incorporating IoT breakthroughs, mHealth technologies might reach new heights. An IoT-based healthcare app can assist the industry in enhancing patient health, raising preventative care awareness, and managing advanced care. There are several apps for IoT integration in healthcare. Examples include fitness and activity monitors, ingestible sensors, linked lenses, and ingestible sensors. In addition, IoT healthcare apps may give consumers total control and allow them to communicate important data with doctors in real-time.
2. Artificial Intelligence (AI)
It is hard to rule out the presence of AI in any industry sector. AI is a major trend in healthcare app development. The use of AI in healthcare is not restricted to administrative chores. AI will soon be able to undertake clinical activities on patients' behalf via an app. The apps of AI in healthcare are limitless; whether it's robot-assisted surgery or telemedicine (or virtual nursing assistant), AI-powered healthcare apps can link machines and automate picture analysis. They also help doctors make preliminary diagnoses. The AI market share for healthcare is expected to hit $6.6 billion by 2021. This is an intriguing trend to watch.
3. Big Data
The healthcare sector has witnessed increasing adoption of Big Data because it can play a key role in boosting mobile healthcare. Big Data technology is already ingrained in the EHR realm (Electronic Health Records). It can significantly contribute to developing healthcare apps in 2022 and beyond. Big Data was designed to increase data security and provide consumers with easy access to company data. This notion can now play a larger role in healthcare by increasing patient safety and quality.
4. Telemedicine
Although this is not a new concept in healthcare, it has yet to be completely implemented in the healthcare app development process. In recent years, telemedicine has been a significant component of the healthcare trend landscape. However, incorporating the mobile app is making it more widely available. Telemedicine is growing in popularity because it allows hospitals to diagnose and treat patients at a lower cost remotely. Because of the app's installation, the healthcare industry will have new prospects in the future.
5. Cloud Services
The healthcare sector stands to benefit greatly from cloud computing. Cloud computing is essential in all industries, including healthcare. SaaS, PaaS, and IaaS models can assist the healthcare sector. Doctors may rapidly access patient health records using the cloud-based app solution anytime they need them. Incorporating the cloud into the healthcare app will alter the industry's fate and future.
6. AR/VR Technologies
In healthcare app development, augmented reality (AR) and virtual reality (VR) are far ahead. According to an official estimate, AR and VR ideas will have a $5.1 billion market share in healthcare by 2025. Healthcare apps can potentially have a huge influence on AR and VR. Virtual reality can assist patients in overcoming trauma. AR and VR technology have therapy, training, rehabilitation, and diagnostics apps.
7. Gamification
Although this is not a new field for mobile app development, it is gaining traction in the healthcare sector. The healthcare sector is considering gamification as a way to improve healthcare services. With fitness games, medical training, and health awareness games, gamification can open up new paths in the healthcare sector.
8. Voice assistant
Google Assistant is an excellent example. It's an excellent approach for patients to express their symptoms and circumstances to doctors worldwide. In addition, voice commands can be used to find a doctor near you. To improve the patient experience, several hospitals increasingly use speech technology-based gadgets. In healthcare apps, voice technology may enhance search results and patient answers. In addition, hospitals and doctors can utilize this technology to market their services.
9. Blockchain
This technology is already well-known in the financial services industry. Developers frequently use this technology in mobile apps to secure private financial and business information. Blockchain technology may now be used to safeguard medical records for patients. This technology may be used to make patient information in healthcare apps very secure. These technological trends will aid in the evolution of the Healthcare app development industry. Thanks to advanced healthcare apps, patients can access more personalized and integrated healthcare services regardless of where they live. It will be fascinating to observe how these top trends affect the healthcare industry in the next years.
10. Chatbots
The Chatbots have revolutionized the eCommerce and retail industries. Chatbots have already raised the bar in customer assistance and service. They are now prepared to provide customized and immediate experiences for healthcare patients via their apps. The healthcare chatbot industry is expected to grow at a 20% annual pace by 2030. This will soon be visible in mHealth apps, and we will witness enhanced patient care through apps.
Conclusion: Healthcare App Development Trends
This brings my post on Healthcare App Development Trends to a close. Thank you for your time! I hope you found this useful.