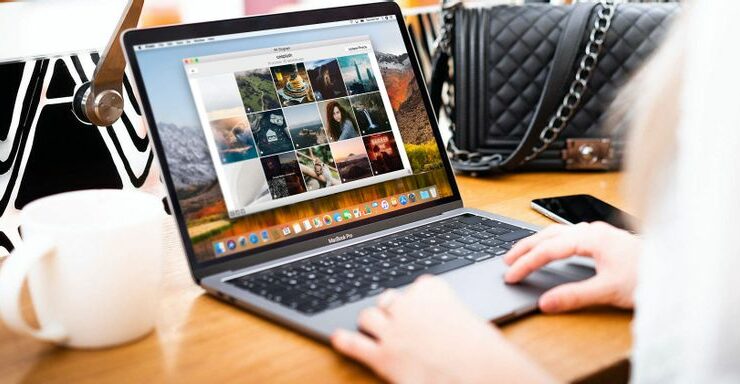 Have you ever wondered how to Download Instagram photos and videos on your Mac or PC? Instagram has become one of the top social networks thanks to its features and amount of entertaining content. It is owned by Facebook and has a modern, friendly, and easy-to-use interface for anyone.
Instagram offers special features to share photos, videos, live videos, stories, and reels. However, Instagram still does not allow the download of other users' videos, photos, and stories.
Instagram currently only allows you to share the link of a post, and it is not convenient because if the account is private, your friends will not be able to see the photo or video. If you want to download some funny photos or videos and have them on your computer and then share them with your friends, you need to use external tools or programs.
Currently, there are many tools available that allow you to do this task. One of the popular tools is the 4K Stogram.
4K Stogram is free software that will allow you to download Instagram photos, stories, or videos, both from private and public accounts, to your PC or Mac. Below you will learn more about this amazing program and how to use it effectively.
What is a 4K Stogram?
4K Stogram is a high-quality tool that allows you to Download Instagram videos, photos, and stories of any user. An Instagram downloader allows you to back up your profile and import your Instagram subscription list.
If you want to start enjoying all the benefits of this software, you should Download Instagram
This downloader will allow you to download all Instagram photos and videos to your PC or Mac. 4K Stogram will also allow you to follow trends with hashtags, subscribe to unlimited user accounts, etc. More than 11 million users have already been able to use this popular software and recommend it because they have been able to get good results.
It is a nifty tool that will allow you to view Instagram stories anonymously. Instagram users can see who has viewed their stories, but with a 4K Stogram, you'll be able to browse stories without the user knowing.
Special Features of 4K Stogram Downloader
4K Stogram is a reliable and secure viewing software that allows you to enjoy various special features. With this tool, you will get the following features:
Download Instagram photos, videos, and stories from private accounts of friends and family to your PC or Mac for a specified time.
High-quality and personalized Instagram viewing experience.
Download Instagram photos by hashtag.
Powerful filters and classifications.
Custom update period.
Save private Instagram photos.
View stories anonymously.
The ability to run a 4K Stogram in the background when closed.
Backup of your Instagram account.
Pin Instagram feeds to the top.
Export and import subscribers.
How to Set up And Use a 4K Stogram to Download Instagram Photos and Videos to your PC or Mac?
As mentioned above, 4K Stogram is an easy-to-use tool, and you can set it up in a few minutes. It is available for Mac, Windows, and Linux, and if you want to configure it, you have to follow the following steps:
The first thing you need to do is download and install the 4K Stogram software. You can use the link above to access the official website. You will be calm because you will not download viruses or malware that may affect your computer.
Run the installation file and accept the user license agreement so that the installation can begin.
When the 4K Stogram software is already installed, you will need to log in with your Instagram details. The tool will use your information to be able to download photos, videos, and user stories from your account.
Use the search bar to enter your Instagram username, location, or hashtag. It will show you the possible results you are looking for, and you will have to select the corresponding hashtag or account.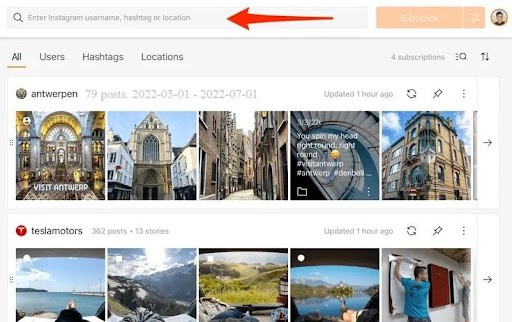 Then click subscribe, and you can start downloading content. It is important that before you hit the subscribe button, you go to the Advanced Download Options menu and set your download options.
In Advanced Download Options, you can set the download period for a hashtag or account. You can also skip stories, videos, and photos from the download menu with this option.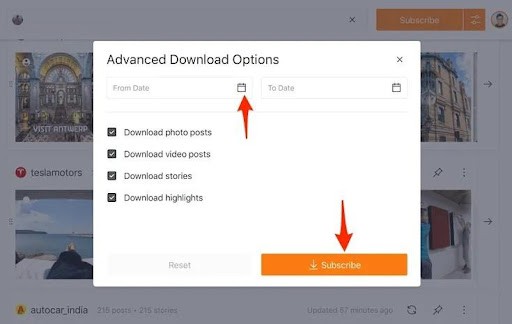 When you are satisfied with the changes, you can press the subscribe button. The 4K Stogram software will display the Instagram feed in the horizontal feed bar.
The number 1 tool on the market will download all the videos and photos associated with this hashtag or Instagram account.
If you want to change the default download location, go to Account Preferences > Then go to General > Find Output Folder > Browse and select the new location for Instagram media.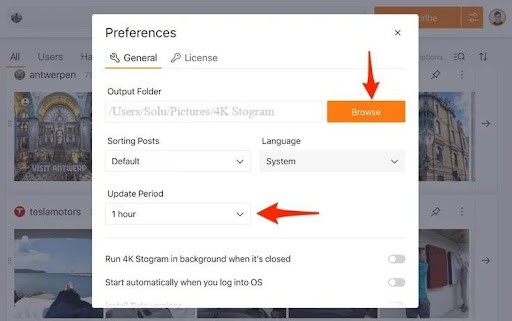 As you can see, it's a quick and easy process, and you don't need to be a computer expert to set it up. With a 4K Stogram, you will be able to add subscriptions from Instagram to the software quickly, with just one click. Yes, To subscribe to your account, you must follow these steps: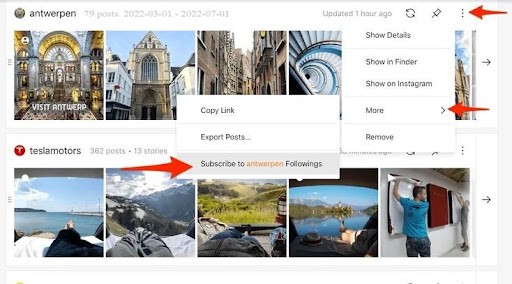 Go to account details
Look for the "More" option
Then select Subscribe to user's followers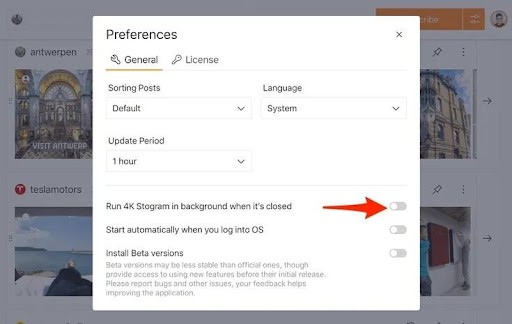 You will see all the accounts you follow on Instagram in the 4K Stogram program in a few minutes. This option will save you much time because you will be able to see all the posts of each user who is still offline. When you sign up for an Instagram account using this tool, the software will start downloading all users' videos or images.
Other 4K Stogram Features
Being in the preference menu, you will also be able to set the 4K Stogram tool to run in the background. Adding many hashtags, Instagram accounts, or locations in the app can be difficult for first-time users. To avoid these inconveniences and facilitate access, 4K Stogram allows you to pin certain accounts.
Also, the program will continue to fetch new posts from Instagram depending on the update period. This software will also allow you to share such posts on Twitter and Facebook and export posts, amazing filters, etc.
There are plenty of useful features to enjoy and play as you like with Instagram content.
Price and availability
4K Stogram is an Instagram viewer and downloader available for Mac, Windows, and Linux (Ubuntu). A free version is a great option, but it is limited to a finite number of publication downloads and subscriptions.
If you want to download unlimited videos, photos, and stories, you will need to get the paid version, and you can get the 4K Stogram personal license for just $10. While the professional license of 4K Stogram, called 4K Stogram Pro, costs $30.
It is an easy and fast way to download all the content from Instagram and save it on your PC or Mac. To download videos from Tiktok, Facebook, or Youtube, you can also check out 4K Video Downloader, another effective tool from the company.