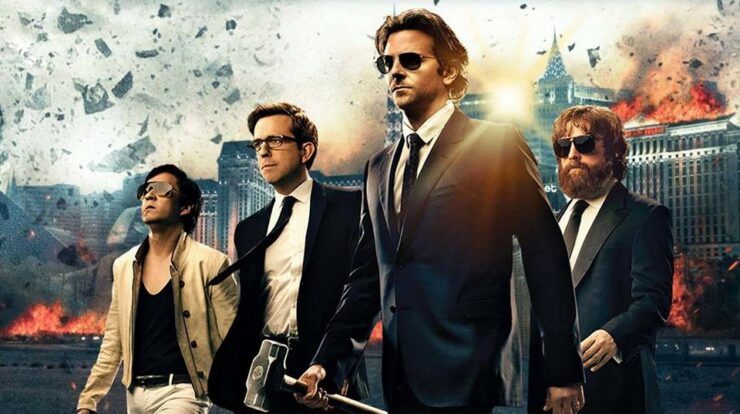 The joys of excess and The Hangover aftermath have long been popular with stoners and filmmakers alike. Hangovers have fascinated us for centuries and throughout cultures as to what occurs to us during the limbo when we don't care about anything but ourselves. 'The Hangover (2009)' was one of the first films to tickle our funny bone on the issue, but it wasn't the last. The humor that results from forgetting and the accompanying comedy of blunders is uncommon yet enjoyable.
Movies like 'The Hangover' center on a group of misfits, individuals who despise each other but remain friends, one overweight man with a beard, movies about memory loss, or movies about a morally upright guy attempting to mend things. Sometimes the humor and pun come from a planned wedding or party, including drugs, sexy ladies, infants wearing sunglasses, vacationing in exotic locations, or missing persons. With this list, we present you some rib-tickling, extremely enjoyable movies like 'The Hangover,' and who knows, you may not want to miss the movie trilogy once again. Psst. Seth Rogen appears in almost all of them. Here is a list of movies that we think are comparable to The Hangover.

Best Movies Like The Hangover You Must Watch
Some of these movies, such as The Hangover, are available on Netflix, Hulu, or Amazon Prime. So you can Watch anytime and at Aanywhere.

Joshy (2016)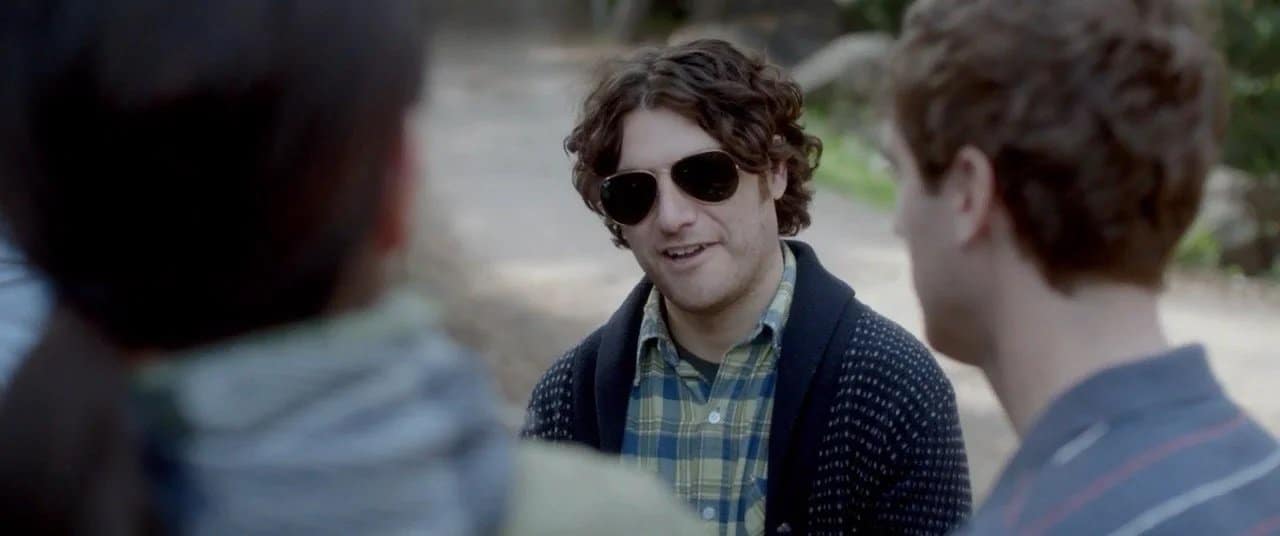 I suppose 'Joshy' is a close relative of 'The Hangover,' but with an underappreciated star cast and performances that basically went undetected. The movie revolves around Josh on a delayed weekend bachelor party trip to a ranch with his group of four. As the story develops and more tragic information about each of their lives is revealed, drugs and booze stream in, along with sex workers, Josh's deceased fiance's parents, emotional admissions, and a lot of funny moments. 'Joshy' is a toned-down version of 'The Hangover,' with more friends and no Zach Galifianakis.
Rough Night (2017)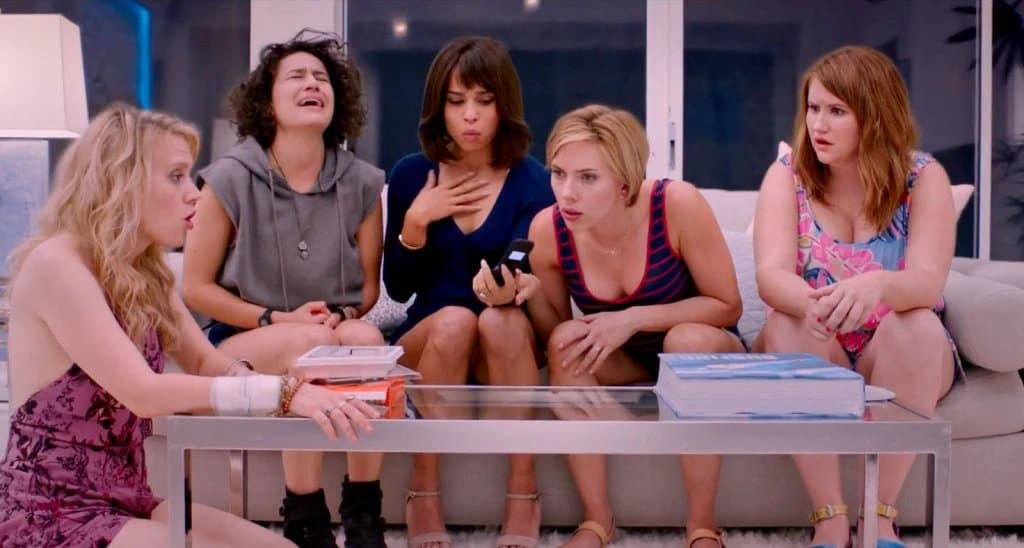 Though 'Rough Night' has certain similarities with 'The Hangover,' there are also significant variances, making it considerably less touted and one of the most overrated movies of the previous year. The film depicts a ladies' Night out gone wrong, complete with a deceased male dancer, a gang of criminals dressed as cops, and a kidnapping-like event at the end. Though it has the vibes of 'The Hangover,' the distinction is in the female protagonists, the pending closure, and Scarlett Johansson. Only watch it for her, and only if you can!
Bad Moms (2016)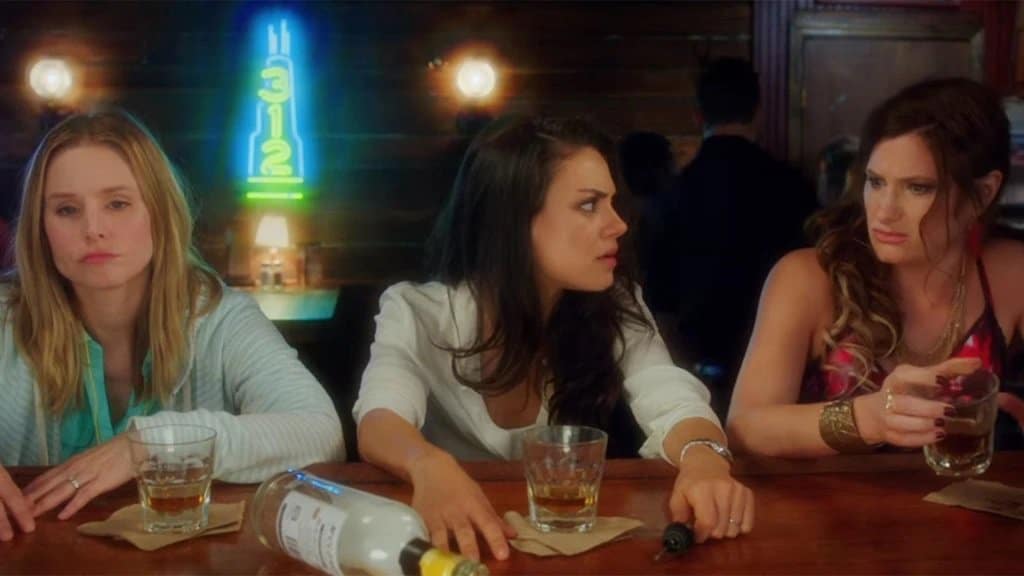 We're talking about a stunner and a box office smash with 'Bad Moms.' With a sequel, 'Bad Women Christmas,' and a strong cast including Mila Kunis, Kristen Bell, and Kathryn Hahn, to name a few, 'Bad Moms focuses on a bunch of three moms who are overloaded with their daily routines and decide to take a break with a night of self-indulgence and extravagance. While bachelorette parties and amusing happenstances arising from The Hangover are commonplace in many films, what makes this one unique and a touch disappointing is the underused star cast as well as the underdeveloped narrative, which leaves many open ends. Bad Moms' is a stunner in terms of humor and pun, but it falls flat in the end and largely amounts to nothing. Only Mila Kunis seemed to bear the weight of the whole movie on her shoulders.
The Night Before (2015)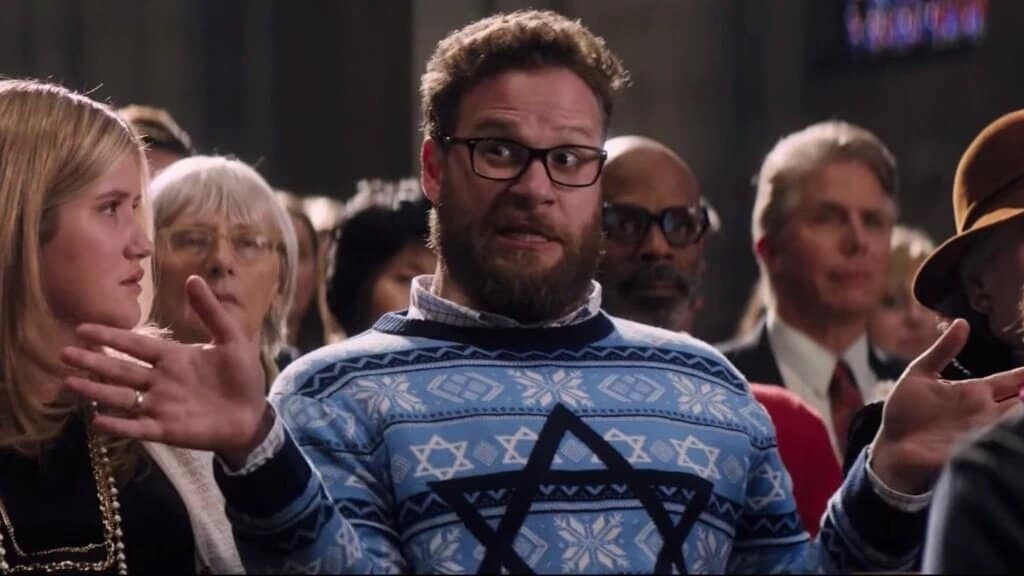 'The Night Before' grows hilarious with each passing instant as it revolves around 'Nutcracker Ball,' an out-of-the-ordinary celebration and three friends attempting to explore and exploit their ways out of it. Perhaps one of the finest comedies centered around Christmas parties, drugs, and over-complicated grown-ups, 'The Night Before' also stars Joseph Gordon-Levitt and Seth Rogen, among others. This R-rated comedy may include the finest farewell kiss between the trio of three friends throwing amazing Christmas parties every year and everything that could go wrong with their final one. Watch it before the Night is out.
Also Check : Best Movies Like Inception You Must Watch
Hall Pass (2011)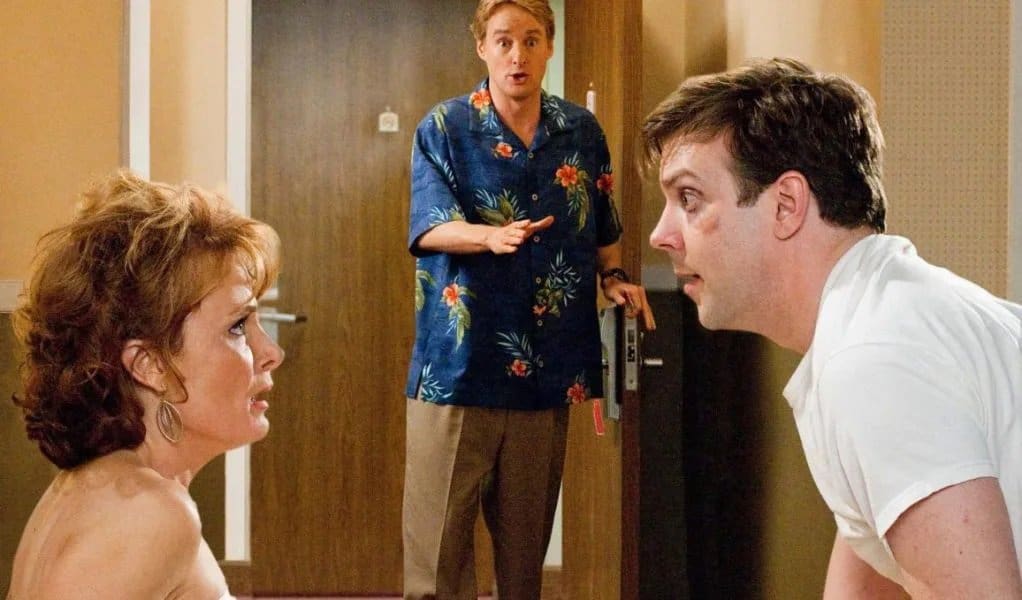 'Hall Pass,' starring Owen Wilson, is another tongue-in-cheek humor about two spouses who have been granted a free pass by their wives for a week to do anything they want. The husband-wife quarrels for the couples (and now the single husbands for a week) have to be quenched by having sexual interactions, which is the basis for the Hall Pass. Rick and Fred's bromance takes them back to their bachelor days, along with their spouses Grace and Maggie, who also wish to be free birds for a time. There are some amusing moments, but they are brief and fleeting. 'Hall Pass' entertains in sections, but the lack of known characters and the distinctiveness are the standouts.
21 & Over (2013)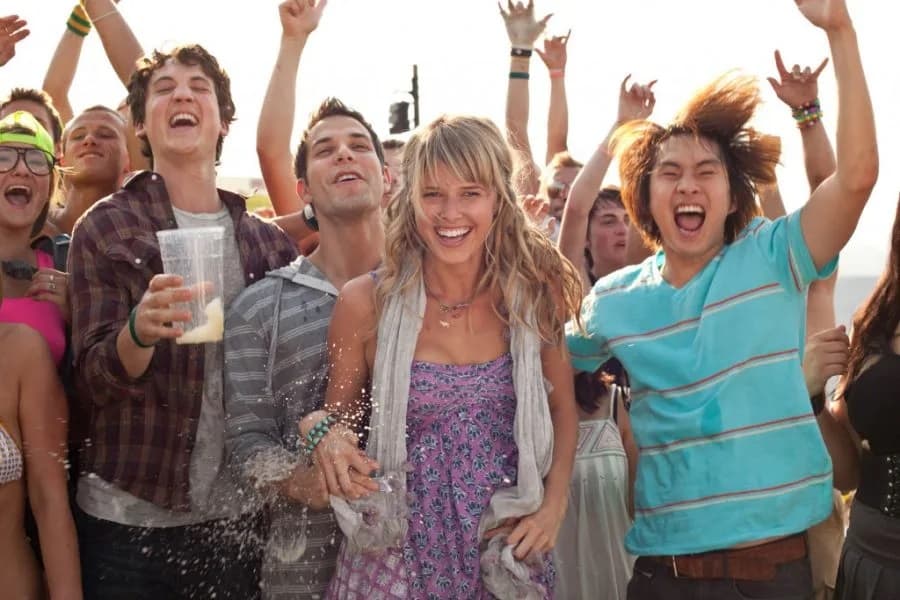 In so many respects, '21 & Over' is similar to 'The Hangover' – the drunken pandemonium, delirium, a terrible blowout before a huge event, wild night-outs with friends, and sexual innuendos. Though the cast and narrative might have been stronger, the performances take over the plot in the film's latter half. Although the film falls flat and lacks any depth or character development, the story of Chang, Miller, and Casey is rather enjoyable. Watch it at your own peril – too many expectations might drown you out.
Last Vegas (2013)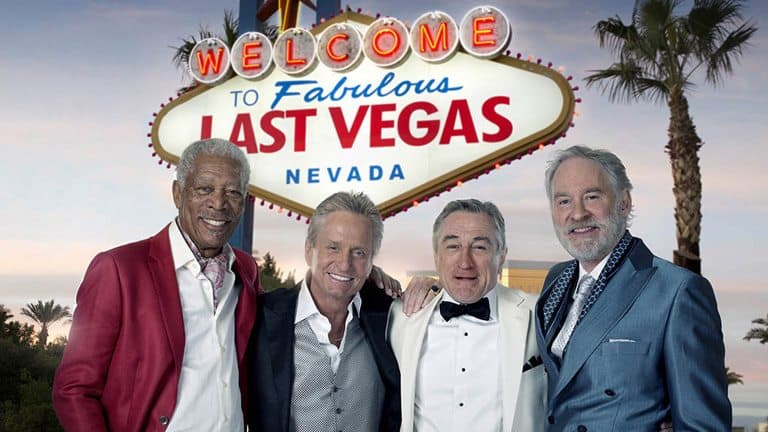 'Final Vegas,' possibly the only movie in its "niche" sector, revolves around a group of four senior friends — Billy, Archie, Sam, and Paddy – on their "last" trip to Vegas, as Billy has chosen to end his decades-long bachelorhood and marry. If nothing else, the movie may be described as a re-enactment of 'The Hangover' with older actors. Unfortunately, Vegas isn't what it used to be, which puts their patience and friendship relationships to the test. Given that we've seen 'The Hangover numerous times, this Vegas-themed event is a one-time watch.
Get Him to The Greek (2010)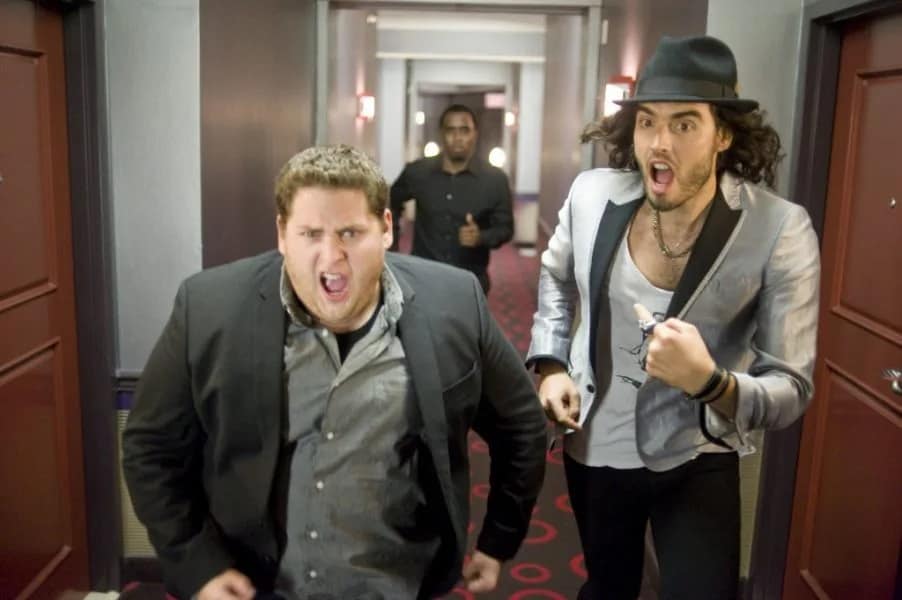 Officially a spin-off of 'Forgetting Sarah Marshall,' 'Get Him to The Greek' is predominantly a Russell Brand program, with him repeating his role as a rebellious rock-star Aldous Snow, whose career seems to be on the wane after his time with his former, Sarah Marshall (Kristen Bell). Notably, Bell repeated her role in this movie by appearing in a cameo. Aaron (Jonah Hill), who works at a record label, is tasked with giving Aldous one final break at performing something noteworthy by accompanying him to Los Angeles, only to fall into the trap of drugs, attempted threesomes, and so on. When Aldous' dream of performing at the Greek Theatre is realized, the bromance between Aldous and Aaron begins to blossom. The performances and funny slapstick moments are plentiful, and you won't be able to snooze throughout the film even if you wanted to.
Also Check : Best Movies Like RRR You Must Watch
EuroTrip (2004)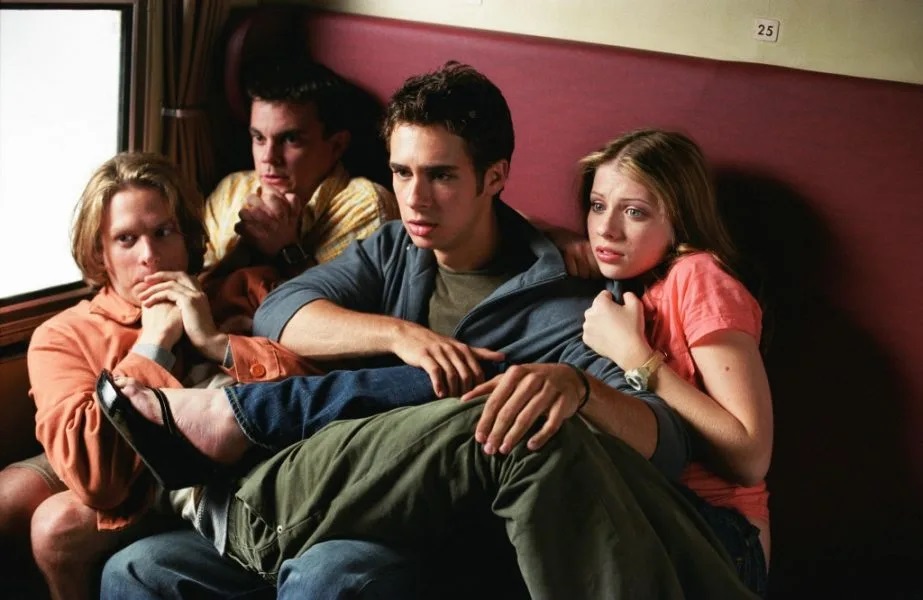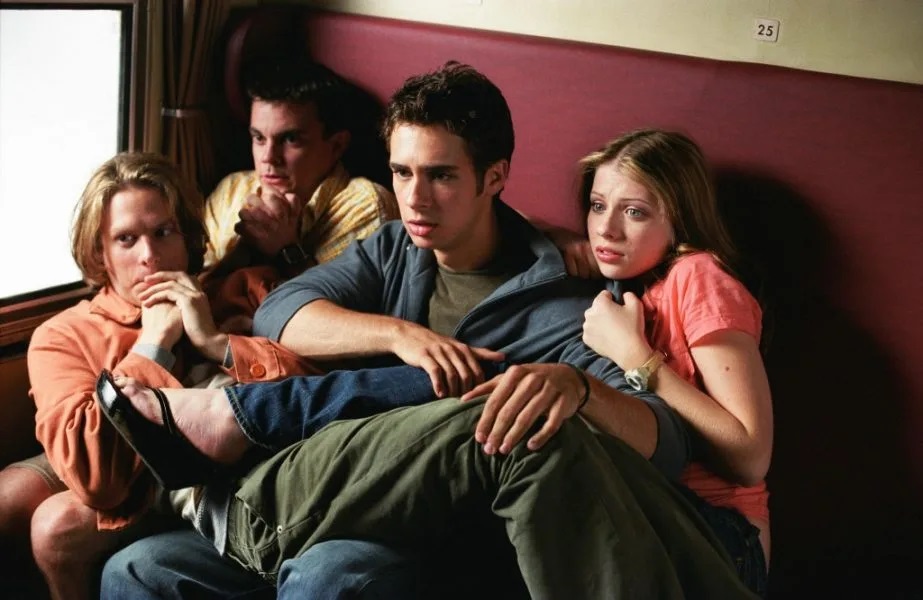 Among the movies with similarities to 'The Hangover' or 'American Pie' series, 'EuroTrip,' which we may have seen at least a million times, requires no introduction. Despite the sexual innuendos, excessive nudity, and inconsistent plot, 'EuroTrip' has become one of the most "wanted" movies for any reason — good or bad. The movie revolves around the lives of a bunch of youngsters traveling to Europe in pursuit of one of their pen friends and finding themselves on a trip at every turn. Unfortunately, 'EuroTrip,' although funny and full of awkward situations, is also ridiculous and confusing in its own right.
Due Date (2010)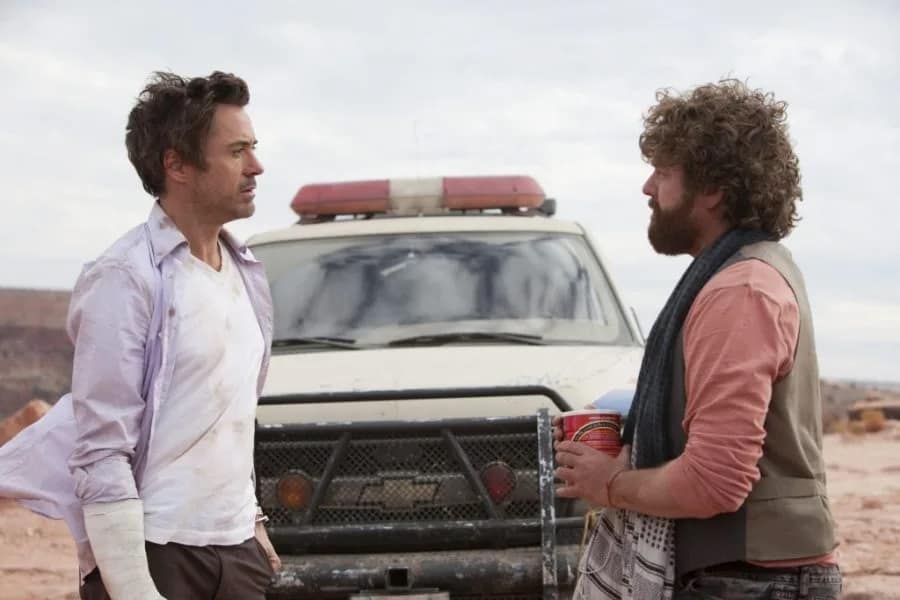 The aggravation, along with a series of misinterpretations and bad luck, caused Peter Highman to miss his flight and be placed to the no-fly list, all because he was on his phone prior to take-off and one of his "friends," Ethan Tremblay, had him say the word "bomb" loudly. So Such as The Hangover, while Peter wants to get to LA before his wife Sara gives birth, Ethan volunteers to accompany him on a wild ride across half the nation, only to end up losing and regaining Peter's "friendship" along the way and making some noteworthy revelations in the process. 'Due Date,' maybe one of the funniest movies of its time, cannot be missed or postponed, owing to Zach Galifianakis' immaculate timing and RDJ's faultless performance. Go watch it right now!
This is the End (2013)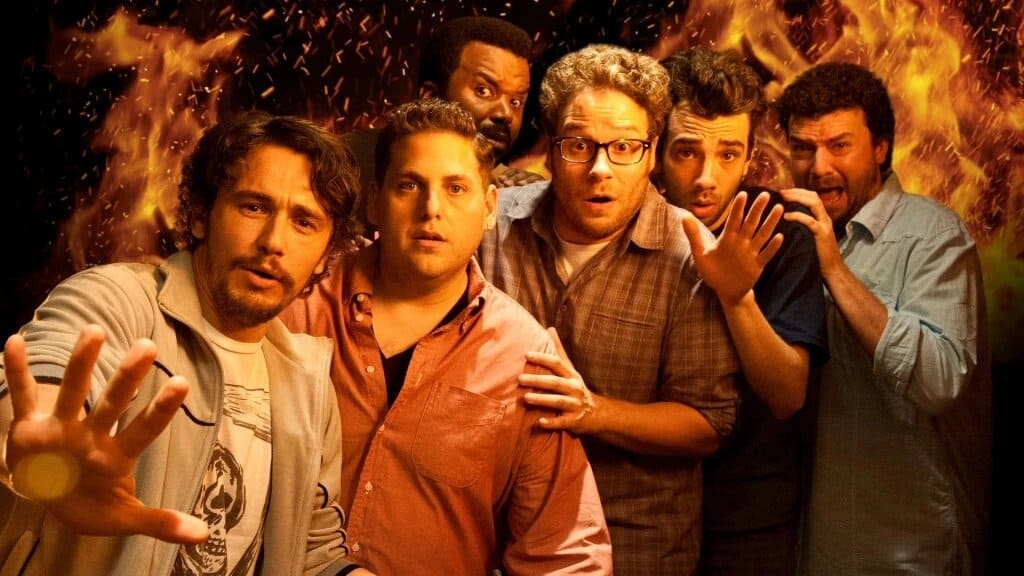 Fearless and audacious are terms that adequately define this very funny movie, in which several major stars portray themselves in the aftermath of a party, followed by an apocalyptic "end of the world" occurrence. In a packed party at Franco's home with James Franco, Seth Rogen, Emma Watson, Jay Baruchel, Jonah Hill, and others, the aftermath includes a lethal earthquake, when everyone's survival instinct kicks in, and time is the final test for them amidst a shortage of supplies. The movie's basic elements include stoned celebrities, booze, destroying stuff, insanity, and minor language. Like The Hangover, Of course, adding Channing Tatum to the mix makes it much more enticing. 'This is the End' is simply the beginning of a fascinating experience for those who watch it.
Pineapple Express (2008)
Another Seth Rogen and James Franco collaboration in a movie of a similar sub-genre, 'Pineapple Express,' climbs a few notches higher in terms of violence, criminality, and drugs. Dale Delton is a stoner who sees a murder while on a high-potency marijuana trail known as Pineapple Express, and the whole story revolves around him attempting to get away from heated pursuers, unscrupulous police, and psychotic drug lords. Saul Silver, portrayed by James Franco, is the drug dealer who sells Pineapple Express to Dale Denton. Pineapple Express is a genuine cannabis strain, precisely like the "roofies" from 'The Hangover,' which induce temporary memory loss. With a terrific story and equally outstanding performances, 'Pineapple Express' might be one of the overlooked movies.
Knocked Up (2007)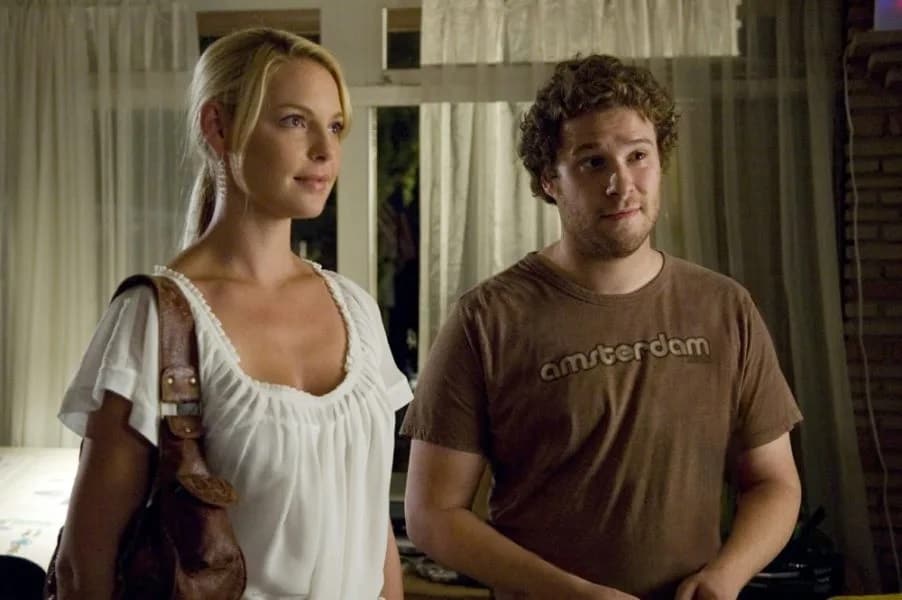 Knocked Up,' another Judd Apatow production starring Seth Rogen and James Franco, as well as Jason Segel and Paul Rudd, is over the top and shockingly funny, with a reasonable premise but a very predictable finale. Seth Rogen plays Ben Stone, a sedentary man whose life is turned upside down after having a one-night encounter with Alison and becoming pregnant. What follows is a love-hate relationship between the two as Alison chooses to keep the baby and Ben embarks on a wild road trip with Alison's sister Debbie's husband Pete (Paul Rudd). 'Knocked Up' is a tremendous triumph in terms of performances and writing, with Seth Rogen as a stoner nailing his class act once again. This will undoubtedly get you knocked pregnant without the use of any drugs.
We're the Millers (2013)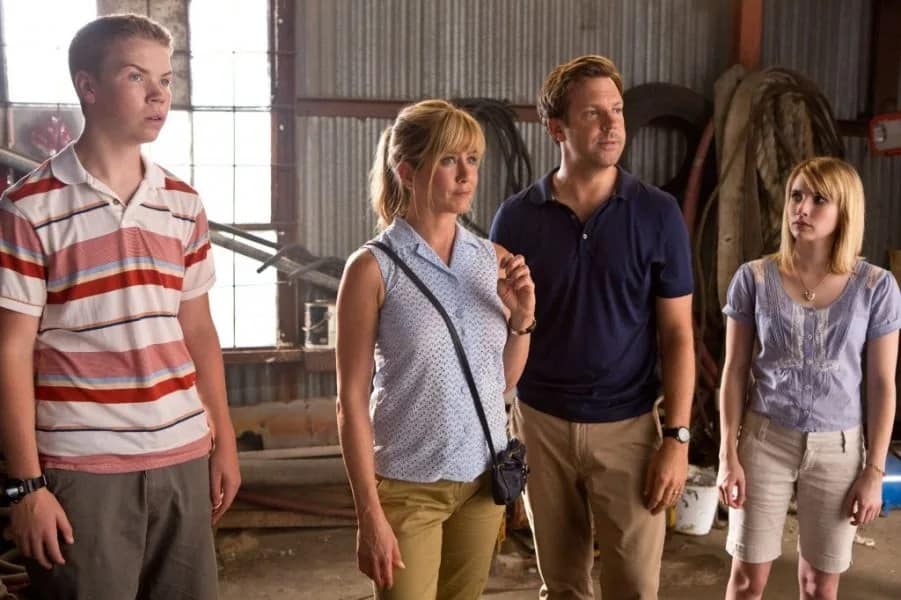 For David Clark, also known as Googling the difference between a drug dealer and a drug smuggler, does not end well, David Miller, nor does his and his "family's" transition into one. He accepts the big assignment from his overlord by agreeing to "smuggle" drugs out of Mexico in a caravan with a phony family, the Millers, which includes Sarah Miller, a small-time and now jobless stripper as his wife, Kenny, David's neighbor as his "acting" son, and Casey, a runaway girl as his "acting" daughter. The mistakes, together with Jeniffer Aniston's sultriness, produce a subtle comedy of errors that is very enjoyable. Furthermore, the closure and the rib-tickling exchanges are not to be missed. Easily Jason Sudeikis' greatest movie performance.
Superbad (2007)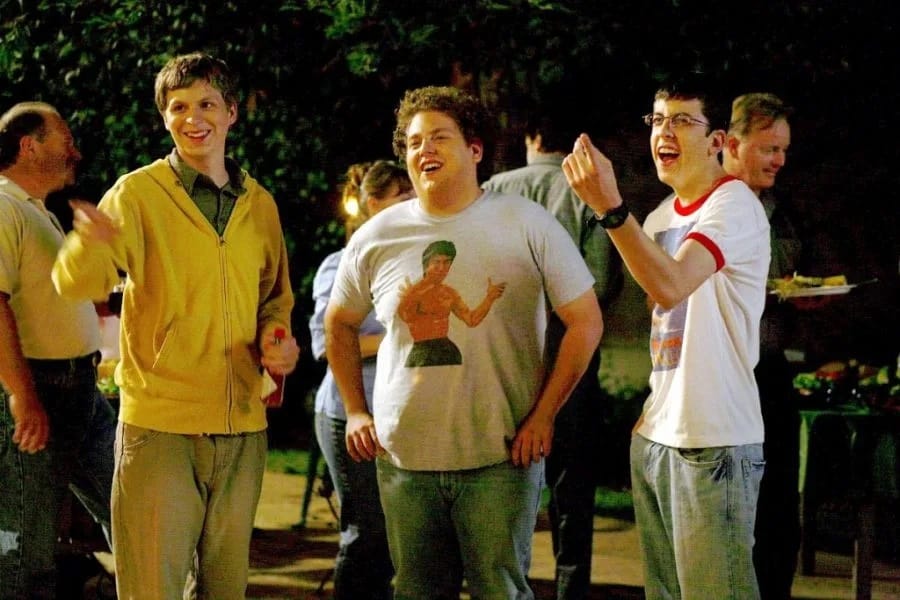 Perhaps Judd Apatow's best work to date and the undisputed king of movies about drunk kids, drugs, booze, and anticipatory sex, 'Superbad,' starring Jonah Hill and Michael Cera, is the classic example of want tobes and friends and their attempts at having a booze-soaked night with the girls they like. Jonah Hill has always excelled at his comedy punches and exquisite timing, which is reflected in his portrayal in the film. And Michael Cera fits into his role like any other adolescent, although in a boring manner. As the movie proceeds, the duo gets into difficulty with the police, and their intentions for uninitiated sex seem to go astray, finally leading to their reunion. 'Superbad' may be the most realistic of all the high-school afterparty and friendship movies out there, and the funny moments add to its fervor. 
Dude, Where's my Car? (2000)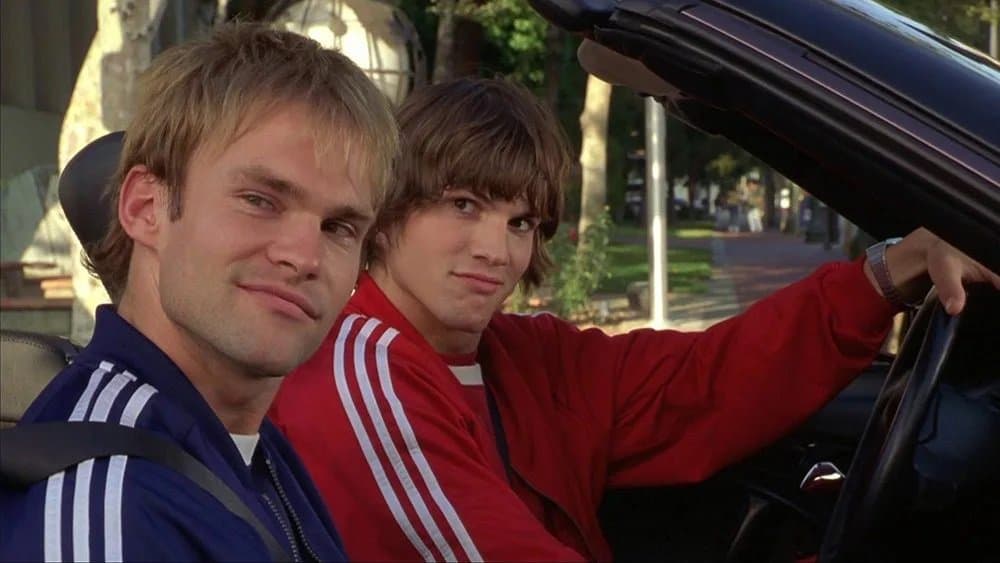 It will not be a mistake to refer to 'Dude, Where's My Car?' as a cult movie and a forerunner to 'The Hangover.' In fact, one of the sequences in which the characters wake up with no recollection of the previous events, in the middle of nowhere, with ignored voice messages, and a missing car, is reminiscent of 'The Hangover' in every way. The movie revolves around the duo's search for their car, with references to UFOs, aliens, strange riddles, funny-looking pets, and inebriated issues. Unfortunately, 'Dude, Where's My Car?' has the vibe of a TV show more than a movie, which might be owing to Ashton Kutcher's presence in it or the fact that we've become used to seeing him in different sitcoms, or it could be because the movie as a whole is very overrated. It's a shambles, but it's an enjoyable but forgettable shambles.