Pushpa: The Rise Movie: It begins with a climax (not really, but that's what the background narration says) when we learn about the Japanese tradition of newly married men giving their wives extravagant gifts. One of the gifts displayed is a musical instrument made of Red sandalwood to pull us into the story of how it is smuggled from India. Well, Back home, we have Pushpa (Allu Arjun), a laborer who has the ego of a mad monarch and works as a laborer to extract Red Sandalwood. Like our other heroes, Pushpa aspires to be a big shot in the future.
Pushpa has joins the gang of Konda Reddy (Ajay Ghosh) to prove his worth, following his dream with gifted guts and a tilted shoulder. He climbs the popularity and prosperity ladder by attracting far too many people's attention, including the cops'. Pushpa strives to undercut the existing crime lords to get to the kingpin. Along the way, he meets Bhanwar Singh Shekhawat (Fahadh Faasil), an equally insane IPS officer, and what occurs next is how this fascinating mayhem concludes (or begins).
Director:

 Sukumar

Star Cast: 

Allu Arjun, Fahadh Faasil, Rashmika Mandanna, Dhananjay, Sunil, Ajay Ghosh

Available On: 

Theatrical Release

Runtime:

 179 minutes

What's Good: 

When a three-hour-long Movie doesn't let you bother about the time pending, that's an achievement in itself

What's Bad: 

Depends too much on Allu Arjun, hence losing the ability to keep the same high with other characters (apart from Fahadh)

Loo Break: 

It's 179 minutes, you'd naturally need one plus there are a couple of songs you can skip (NO, NOT THE Samantha one)

Watch or Not?: 

If the runtime doesn't scare you, jump in and get lost!
Pushpa: The Rise Movie Review: Script Analysis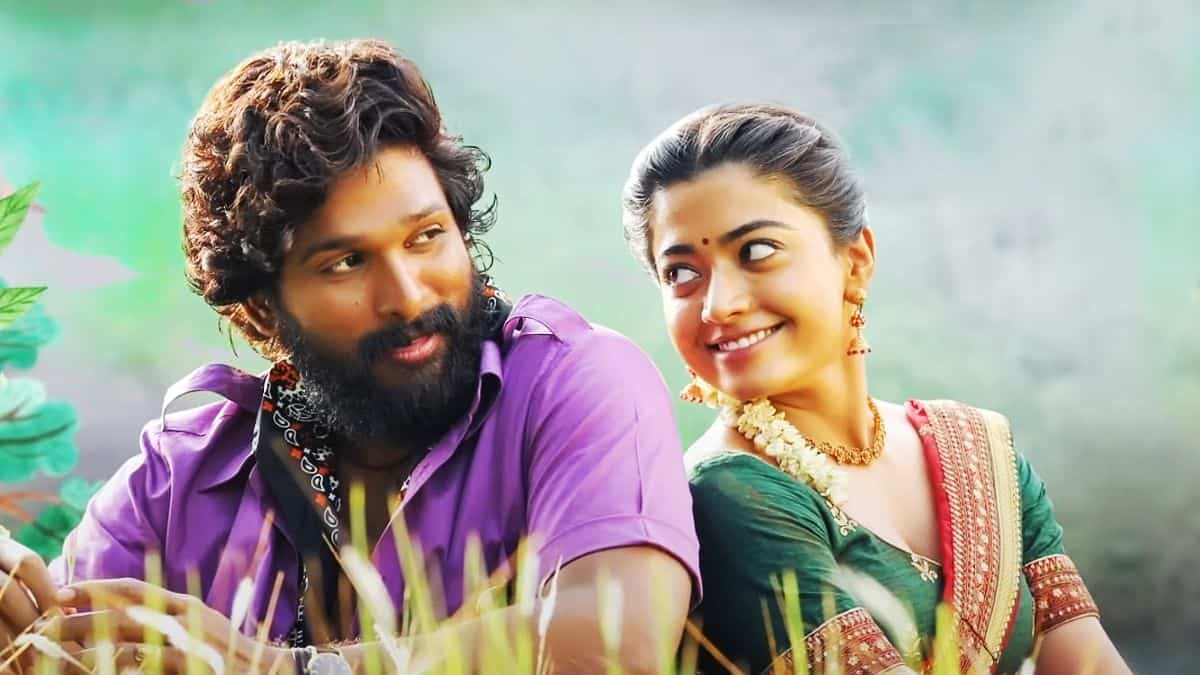 Sukumar has written the characters extraordinarily effectively to make a distinction, despite following all the rules one could to convey the 'from beggar to crowned king.' From the way Pushpa negotiates while beating up the thugs to the style he's unabashedly cocky about, Sukumar adds too many exquisite layers to Pushpa's messed-up world.
Well, The director does not want you to see Pushpa as your everyday dashing, immaculate hero of the movie, and he wants you to accept him for who he is, flaws and all. The 'tilted shoulder' feature works wonderfully for the character, as evidenced by numerous action sequences and even Sekhar Master's choreography based on it. Pushpa stripping his chappal while dancing in a song and then putting it back on while completing the step is a funny choreographical touch.
Unfortunately, the almost-180-minute length stings you in the most inconvenient places, including some jarring scene shifts (and songs). Mirosaw Kuba Broek, a Polish cinematographer, enjoys swaying his camera between various objects. The slo-mo sliding through leaves action moments aren't tacky, and they're done in such a pleasant way that they've elicited a wave of settings from AA fans. Shreyas Talpade deserves special mention for adding another dimension of brilliance to the lead role with his Hindi dubbing.
Pushpa: The Rise Movie Review: Star Performance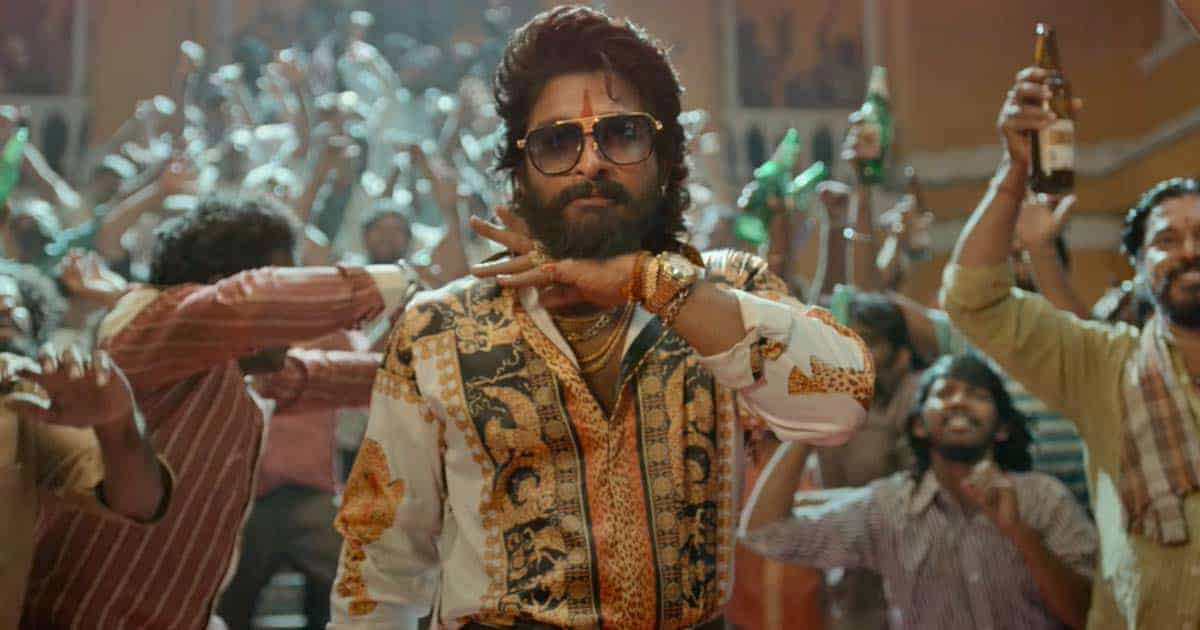 This is Allu Arjun in all his magnificence, demonstrating that a strong script isn't required to create a thudding impact through a character. I'm not saying the writing is terrible, but Allu's character overshadows everything else in the film. His charming personality, mixed with all of his surprising qualities, such as sitting cross-legged and having 'beedi' in the most inconvenient of places, will keep you intrigued for 179 minutes. 
Fahadh Faasil arrives late to the party, announcing a significant role in the sequel, but effortlessly slips in to compete with Pushpa. Unfortunately, unless you're Fahadh Faasil, you won't be able to enter the movie in the last 30 minutes and share equal film time with the already established star.
And, Rashmika Mandanna, with all of her sweetness and also natural acting talents, continues to be the movie's speed-breaker. This is also because her character didn't develop as well as Pushpa's, exposing the script's flaws throughout her scenes. To oppose Pushpa, Dhananjay as Jolly Reddy, Sunil as Srinu, and Ajay Ghosh as Konda Reddy supply just the proper amount of evilness. Of course, they all get the same treatment, but that doesn't stop them from producing an intriguing annoyance on screen, which Pushpa addresses in his unique approach.
Pushpa: The Rise Movie Review: Direction, Music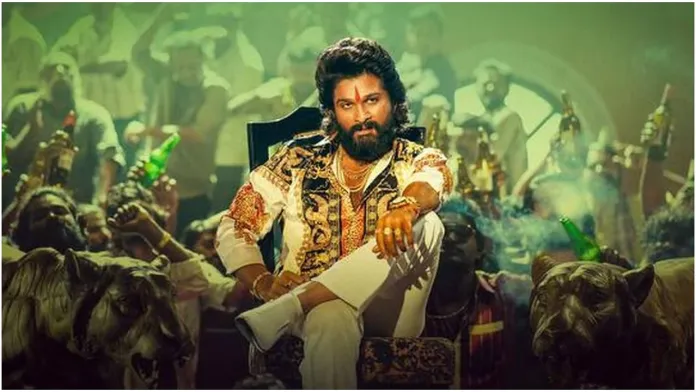 When Sukumar decides to pen Pushpa's character in the most straightforward way possible, he most applaud-worthy work in the writing stage. This makes 'Sukumar the director"s work much easier in the grand scheme of things. He doesn't do much with the story's fundamental outline, keeping it very consistent with what we've seen previously. Still, he does many subtle, fascinating things on the inside to keep you captivated.
Sukumar's tenth collaboration with veteran music director Devi Sri Prasad demonstrates how well DSP understands the director's movie. DSP's symphonic settings manage to evoke the joy of Pushpa's presence without becoming too loud. Unfortunately, too many songs add to the film's lengthening as it approaches the three-hour mark. For example, Here you won't be capable to listen to Samantha's item song since her burning presence on stage drowns out any emotions. I am not trying to be detailed, but I think I heard a BGM piece that sounded suspiciously like something utilized by B. Ajaneesh Loknath in Avane Srimannarayana. It could be a lack of confidence, but it's there, and please let me know if any of you experience the same thing.
Pushpa: The Rise Trailer
Also, Check :
The Last Word on Pushpa: The Rise (Movie Review)
Pushpa: The Rise is a true MASStertainment and also a valuable lesson for all those directors who sell trash under the pretext of making pictures for the masses.