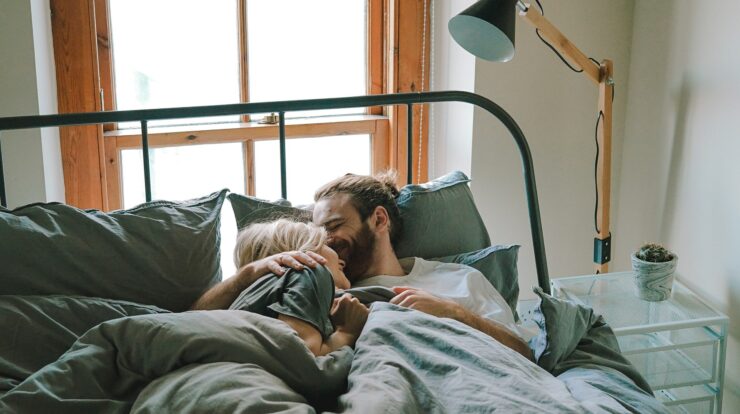 We all have our own comfortable way of drifting off to sleep. Perhaps the most elusive sleeping style is back sleeping. Only around 8% of the population sleep on their back in the soldier position (5% starfished), whilst 40% sleep on their side in the fetal position (15% side log, and 13% on the side arms in front) and 7% sleep on their stomach. However, back sleeping has tremendous benefits, not least because it helps maintain proper spinal alignment. It is of course harder for many people to sleep on their back, with many people having to train themselves how to do it.
A back sleeping position is not recommended for everyone, as it can lead to issues with sleep apnea. However, those that benefit from this sleep position can improve their comfort levels by simply choosing the right mattress.
There are even mattresses out there specifically tailored to people who love to sleep on their back.
This article will delve into the benefits and complications associated with back sleepers. It will also highlight the best mattress for back sleeping customers, and why.
So what is the best mattress?
Best Mattress for People who Sleep on their Back
Sleep experts at SFGATE found that The Saatva Classic is the best mattress for back sleeping. Not only is the mattress perfect for those who sleep on their back, but most sleep positions can be sure of a good night's rest on this mattress. Back and stomach sleepers, and side sleepers, can achieve proper spinal alignment, even if they switch positions. Four main elements helped this mattress to be crowned champion in its category. This includes:
Luxurious top layer
Durable design
Support
Breathability
The Benefits of the Saatva Classic Mattress
Luxurious top layer. As standard, the mattress is fitted with a three-inch luxurious top layer of cushion providing pressure relief. This layer is named the Plush Euro Pillow and has a three levels firmness scale. These are Plush Soft, Luxury Firm, and Firm mattresses which help customers tailor their cushioning to their needs. The comfort of the mattress is backed by a 180-night guarantee.
Durable design. This innerspring mattress is designed to provide supportive pressure relief without breaking down and sagging with age. The mattress has a coil on coil construction of steel dual-coils, that is three times tempered. The mattress has individually wrapped coils that respond to the curvature of the body and any movements. This provides pressure point relief in all sleeping positions. This makes it the perfect mattress for motion transfer, and sleepers with back pain. Saatva is so convinced of the durable design of this mattress that they offer a 15-year guarantee.
Support. This supportive mattress provides excellent pressure relief in all sleeping positions but especially for back sleepers. Experts also conclude that this is an excellent mattress for back pain. The Congress of Chiropractic State Associations has awarded this mattress with a seal of approval. This is due to its patented Lumbar Zone technology. The pocketed coils are surrounded by a memory foam layer, to further provide pressure point relief. The entire mattress has firm edge support, making it easy for people to move out of bed. This is especially for people with medical problems such as chronic back pain and arthritis.
Breathability. The mattress is covered with breathable organic cotton, which also makes it hypoallergenic. The innerspring mattress and its dual coil design mean there is more airflow around the mattress. This means that this sleep cool technology provides excellent sleep quality for hot sleepers.
The mattress is highly regarded by the general public. From 2326 reviews it has a five-star rating with an average score of 4.9.
The Benefits for Back Sleepers
As we have established the Saatva mattress is the best mattress for back sleepers. However, back sleepers are the rarest kind of sleepers. So, what benefit do back sleepers have over any other sleeping position?
This is the best sleeping position for maintaining spinal alignment. This means sleepers with back pain can find the greatest relief sleeping on their backs. This also means that tension headaches associated with neck, and back pain, are less prominent. Chronic back pain is largely reduced as the spine can better decompress in this position. Back sleepers are also less likely to experience neck pain, as the head, neck and spine are in a neutral position.
In general, this sleeping position provides the greatest pressure relief for sleepers. For example, back sleepers experience less pressure and compression on their chests. Hip pain, knee pain and shoulder pain are better dealt with in this position because of the increased pressure relief.
It further improves health by stopping or stemming sinus buildup. Back sleepers may even have more youthful skin.
Back sleepers do not irritate their skin, and experience less facial wrinkling, and creasing when sleeping. The position may also prevent breakouts of spots as you are not rubbing your face on a pillow or bedsheet. Furthermore, as the diaphragm is not compressed back sleepers may experience enhanced breathing function.
The Drawbacks for Back Sleepers
As we have discussed there are a number of benefits for back sleepers. One of the main benefits is that back sleepers experience less back pain because there is better spinal alignment. However, for some people, it may increase lower back pain. However, placing a towel or pillow beneath your knees can help eliminate this problem by giving better spinal alignment.
For others sleep apnoea, and snoring may be increased when they sleep on their back. It is also advised that late-term pregnant women should avoid this sleep position. Also, people that experience sleep paralysis should avoid this position.
The phenomenon is a terrifying experience where someone is between the conscious and unconscious realm of sleep. This means the person is completely paralyzed and unable to speak whilst their brain is awake – often still experiencing hallucinations from dreams. A back sleeping position can increase the chances of experiencing this.
More of the Best Mattresses for Back Sleepers
The study has established that the best mattress for people that sleep on their back is the Saatva Classic. However, there are other options that may suit customers better. For example combination sleepers who mainly sleep on their back but often change positions may prefer different mattresses. In this case, shoppers looking for a new mattress may look for options that cater to back and side sleepers or back and stomach sleepers rather than being exclusively recommended for back sleepers.
Amerisleep AS3
The Amerisleep AS3 is recommended as the best memory foam mattress overall. Most importantly it is best for combination sleepers. It is perhaps the best mattress for couples and those that switch positions as they sleep. For example, if your partner moves into a new position the mattress keeps its support to maintain spinal alignment. The Bio-Pur memory foam quickly responds to mold to new shapes and snaps back into place after motion transfer.
This is an incredible mattress for back pain and is recommended especially for side sleepers and back sleepers. This cooling mattress also helps hot sleepers sleep cool. An open-cell memory foam design and a heat-dissipating cover mean a nice cool sleep for all. It can be described as a medium-firm mattress as it provides softness without sinkage for maximum pressure relief.
This is a best-selling, multi-award-winning mattress, with a 20-year warranty, a 100-night trial, free delivery, and returns.
Purple Hybrid Mattress
The Purple Hybrid mattress is another exceptional mattress for people who prefer back sleeping. This is especially effective for sleepers with back pain. The number one benefit of this mattress is its ability to provide incredible pressure relief. The Purple Hybrid mattress is in fact rated as the best mattress for pressure relief by SFGATE.
The reason it is the best mattress for pressure relief is down to a number of factors. Firstly the supporting pocketed coils are springy and responsive to motion. This reshapes the hybrid mattress to each new position to maintain pressure relief.
Among layers of memory foam and pocketed coils is the Gel Flex grid. This grid-like layer provides pliable responsive support specifically targeted for pressure relief from joint pain. Common areas of discomfort such as hip pain, shoulder pain, and back pain are targeted for pressure relief. This is because it cradles round areas of joint pain whilst maintaining support for the rest of the body. This grid also makes it a cooling mattress, as air can flow through this grid, without being trapped as heat. This also makes it a good choice for hot sleepers.
As has been shown, sleeping on the back is perhaps the best way to tackle back pain. Sleepers with back pain will find tremendous benefit from this mattress especially if they or their partner moves a lot during sleep.
Other features of the Purple Hybrid mattress include:
Hypoallergenic
Nontoxic
Durable
Made in the USA
10-year warranty
100-night trial
Free delivery and returns
Summary
With only a small percentage of people achieving the back laying sleeping position, it is one of the rarest positions to sleep in. Yet, even though not many people choose to sleep in this position, it has a tremendous amount of benefits. So much so that some will try and train themselves to sleep that way.
For example, it is the best way to keep your spine properly aligned. For this reason, it is exceptional for joint pain, especially shoulder pain. This is because the spine and chest are less compressed leaving the shoulders in a relaxed open position. This is incredible for sleepers with back pain for the same reason, the spine is de-compressed allowing it to stretch and relax. Hip pain and knee pain are also alleviated. This is because body weight is spread out allowing better overall support for these pressure points. Lower back pain can be a problem, however, using a pillow or towel under the knees can re-align the spine. Thus, removing low back pain.
This position also prevents sinus buildup and can improve diaphragmatic breathing. It has the further benefit of not irritating the face against pillows and bedsheets which should lead to healthier less wrinkled skin. It does however have drawbacks.
However, if under-knee support such as a pillow is not used it can create lower back pain. It can also increase the likelihood of sleep apnoea, and snoring as well as, sleep paralysis, which can be terrifying.
The Saatva classic mattress is built for luxury, durability, support, and breathability. As well as being an excellent mattress for back sleeping positions it supports all other positions. Combinations sleepers work particularly well with this mattress as do side sleepers and stomach sleepers. As it is an innerspring mattress it provides relief to pressure points, even when there is a lot of motion, such as with combination sleepers. As the mattress provides pressure relief it is the best mattress for back pain, as chosen by experts. This range of innerspring mattresses is also great for hot sleepers as there is an organic cotton layer and pocketed coils that allow for better airflow.
With the Saatva Classic, each customer can find the right mattress for them as it can be customized by firmness scale. They may select medium-firm mattresses, softer mattresses, or a firmer mattress, such as an extra firm mattress.
The Amerisleep AS3 and the Purple Hybrid mattress are other options. The AS3 is a memory foam mattress of the highest caliber. It is recommended for combination sleepers and those that sleep in a variety of positions. It is also a recommended mattress for back pain. In comparison to traditional memory foam, the Bio-Pur memory foam has rapid response and reformation. Again, unlike traditional memory foam, the AS3 has open cell memory foam which is great for hot sleepers as it cools.
The Purple Hybrid mattress is the number one recommended mattress for relief from pressure points. This is why it is an excellent mattress for back pain. And, because it is a hybrid mattress, the could support the structure whilst, a grid of elastic material makes it responsive to movement, and memory foam layers achieve softness. As it specifically targets pressure points this may be the best mattress for stopping joint pain. It may also be the best mattress for back pain, behind the Saatva Classic.