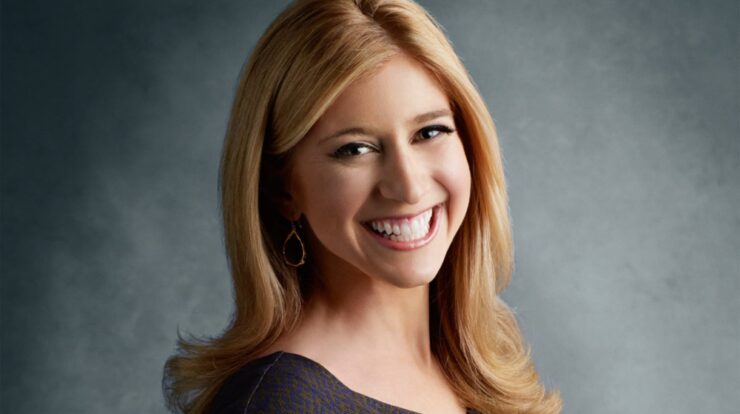 Well, Sara Aliza Eisen is an American television journalist who works for CNBC. She co-hosts the channel's programming 'Squawk on the Street' and 'Closing Bell.' She was an Ohio native who was uninterested in markets and currencies in college. However, while studying at New York University, she interned for a startup website called ForexTV.com. It was there that Sara Eisen got her first taste of business news. Sara Eisen later earned a master's degree in broadcast journalism from Northwestern University's Medill School of Journalism. She then completed a four-month internship with Bloomberg TV in Hong Kong.
She returned to the United States and began working in Bloomberg's New York office. She eventually became a TV anchor. CNBC hired her as a correspondent in December 2013. She formerly worked as a co-anchor on 'Worldwide Exchange' and 'Power Lunch' before joining 'Closing Bell' in 2018. Since 2014, Eisen has co-anchored 'Squawk on the Street.' Since joining CNBC, she has become one of the most well-known business journalists, with a major focus on global consumer news.
Childhood And Early Life
Sara Eisen was born in Cincinnati, Ohio, to dermatologist Dr. Drore Eisen and pediatric dentist Dr. Jane Eisen. On her birthday, many details are known. Some websites claim she was born on August 7, 1984, while others claim she was born in 1985. Some sources claim it happened on December 9, 1970, or August 7, 1970. Those are inaccurate, according to a 'New York Times' piece about her wedding published on May 29, 2016; she was 31 years old at the time. Sara Eisen attended New York University after graduating high school to study televised reporting and business coverage, where she received her bachelor's degree. At NYU, Sara Eisen worked as an intern for ForexTV.com, a startup website.
ForexTV.com
During her undergraduate studies, Sara Eisen began her career in business journalism after interning as a broadcaster for a startup website called ForexTV.com. ForexTv.com was a website that focused on the foreign exchange market and currencies. It was here that she developed an interest in Forex.
Bloomberg TV
Sara Eisen continued her studies after completing her degree by studying business journalism at Northwestern University's Medill School of Journalism. Sara Eisen interned at Bloomberg Television in Hong Kong while studying the school. She worked in this job doing behind-the-scenes production, creating and editing packages, and general production assistant work. She was situated in Hong Kong for around four months and had the opportunity to travel throughout the area. She also traveled to the Philippines, covering stories such as the 2008 global rice crisis.
Sara Eisen traveled to New York City after graduation to work full-time as a production assistant for Bloomberg TV in 2008, amid the Great Recession. She frequently contributed to stories regarding the increasing US dollar at the time. She began covering currencies for Bloomberg Radio while working as a production assistant, doing a daily one-minute currency update. She began covering currencies on Bloomberg TV after her breakthrough on Bloomberg Radio.
Later, Sara Eisen and Tom Keene co-anchored Bloomberg Surveillance. During this time, she began covering more international stories, including the European financial crisis, and interviewed key political leaders and finance ministers. In addition, she has reported on the aftermath of the 2011 Tōhoku earthquake and tsunami and the Fukushima Daiichi nuclear accident in Japan.
CNBC
She joined CNBC in December 2013 as a global consumer correspondent. She co-anchors CNBC's Squawk on the Street (M-F, 9 AM-11 AM ET), which is broadcast from Post 9 of the New York Stock Exchange. Sara is also a co-anchor of Closing Bell. In addition, Eisen was designated co-anchor of CNBC's Worldwide Exchange (M-F, 5 AM-6 AM ET), which airs from CNBC Global Headquarters in Englewood Cliffs, New Jersey, in January 2016. According to Glassdoor, CNBC anchors earn $600,000-$700,000 annually.
According to a note from Dan Colarusso, senior vice president of CNBC Business News, Eisen began working primarily on Closing Bell alongside Wilfred Frost on June 22, 2020. "We want Sara to be able to focus on a period of the day that, although always important, has become much more important to our viewers in these turbulent times," he added.
Writings
Sara Eisen edited and provided commentary on the undergraduate textbook "Currencies After the Crash: The Uncertain Future of the Global Paper-Based Currency System" by McGraw-Hill in January 2013.
Charity Work
She supports the Simon Wiesenthal Center, an organization that teaches people about the Holocaust in the face of anti-Semitism and other forms of hatred. Her grandparents, who were also Holocaust survivors, inspired her to join the organization. She is also involved with Room to Read, a foundation that promotes reading and education for females and children in neglected regions worldwide.
Personal And Family Life
Sara Eisen is the wife of Bloomberg Television managing editor Matthew Levine. The couple has 2 children and resides in New York City. In 2011, Eisen met fellow journalist Matthew Stone Levine. They both worked for Bloomberg TV at the time. Soon after, the two began to form a connection. After four years of dating, the pair announced their engagement in 2015. They married in a Jewish ceremony on May 29, 2016, at Weylin B. Seymour's event venue and historic site in Brooklyn, New York. Levine previously served as Bloomberg TV's head of US programming. He joined Brunswick Group as a director in March 2019. Sara Eisen is well-known in her field for her wide understanding of financial markets and the global economy and her regular news-making interviews with some of the most prominent figures in finance.
Also, Check: