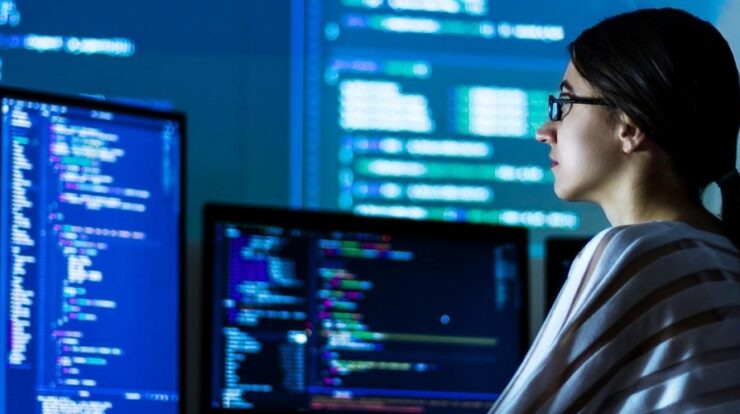 Server monitoring is, without a doubt, the most crucial duty that every IT Professional will perform in their daily routine. The procedure ensures that all production servers and apps operate at peak performance without interruptions. You may produce automatic reports, run scheduled scans, and receive pre-emptive alerts about the decreased health of servers in your operating system by using the best server monitoring tool. Depending on what the program will monitor and run in what environment, the software employs many layers of technology, complex algorithms, and protocols like SNMP, WMI, ICMP, PerfMon, and others.
How Can Server Monitoring Software Assist?
You can check practically everything about your device with Server Monitoring Programs, including CPU use, RAM consumption, Hard disk utilization, Device temperature, Hardware health warnings, Monitor user logins, suspicious server activity, Virtual machine alerts, and so on.
Top Server Monitoring Software & Tools To Try
Here's a list of the best Server Monitoring Software & Tools To Try.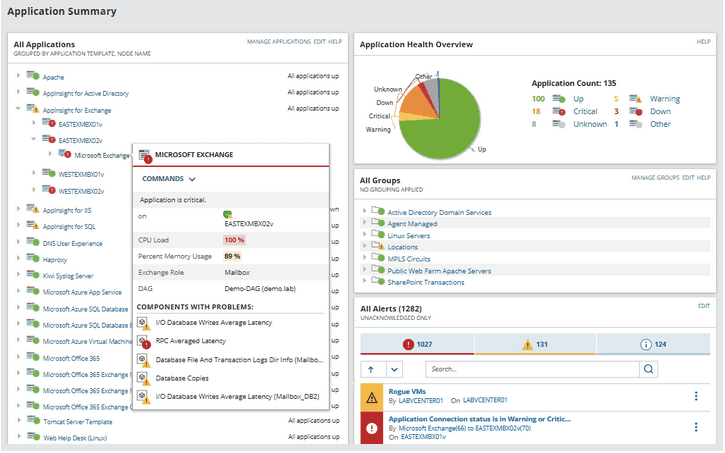 SolarWinds Server & App Monitor is one of our top recommendations for a server monitoring system, with impressive features and price options. System administrators may use the software to manage and control essential services and apps on Windows and Linux servers. In addition, you may rely on the tool to manage hard disk management, memory use, and other vital performance indicators in real time.
FEATURES: 
Monitoring of Hyper-Visor statistics, cloud, and other SaaS products.

Apps and dependencies are automatically mapped and discovered.

More than 200 apps for Windows and Linux are supported out of the box.

There are over 800 custom user-generated monitoring templates available.

Granular monitoring of RAM, hard disk utilization, CPU usage, general hardware within servers, etc.

Out-of-the-box cloud monitoring for Amazon EC2, Microsoft Azure, and Rackspace.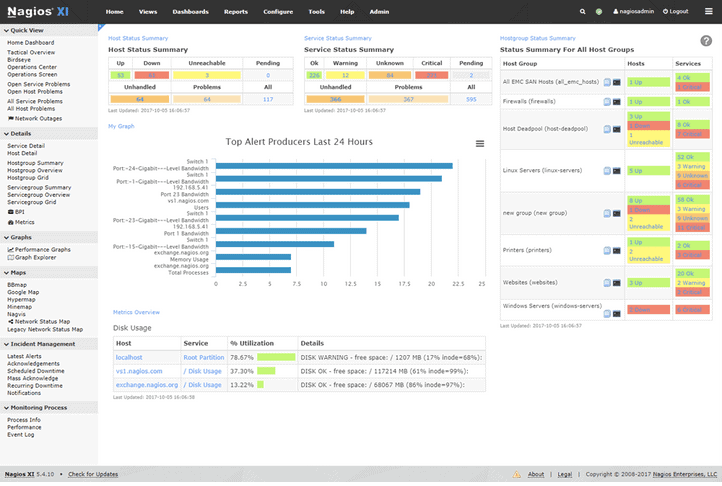 It provides best-in-class network monitoring solutions, with Nagios XI and Nagios Core among the best tools available. Nagios Core is a lower-end version that is offered at a lesser cost. On the other hand, Nagios XI is designed to meet enterprise-level demands with sophisticated reporting such as SLA reports, improved performance graphs, and more.
FEATURES: 
A dashboard that may be customized to meet the needs of each user.

Get immediate remote host access.

Monitoring of servers, network components, apps, system metrics, and bespoke services is possible.

Provides intelligent alerting systems for email, mobile, RSS, custom, and other platforms.

Prepare automatic reports for graphs of performance, SLA reporting, capacity planning, and other purposes.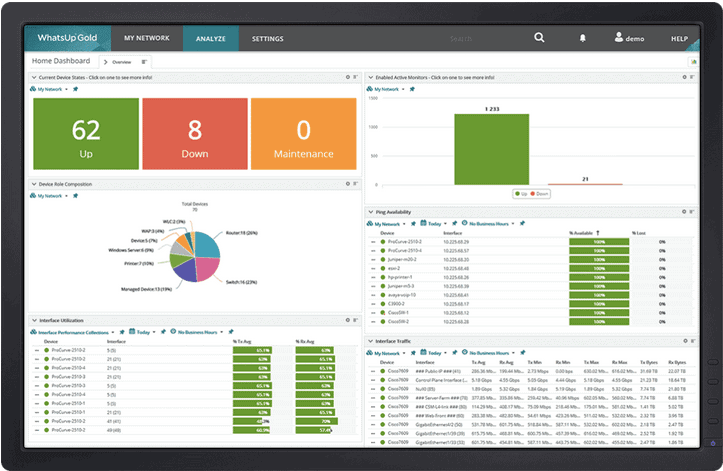 WhatsUp Gold is another fantastic server monitoring program designed to administer and monitor servers using the Windows operating system. It includes powerful layer 2/3 discovery capabilities. The tool can monitor web servers, apps, virtual machines, and traffic flow in Windows, JAVA, and LAMP systems.
FEATURES: 
Not only does it scan the network, but it also understands network architecture.

Removes redundant devices from the network.

Inventory reports on network assets, hardware, and warranty status are provided.

Continuously monitor servers, detect any issues, and resolve them as soon as possible.

Aids in monitoring performance, CPU utilization, traffic load, temperature, and other parameters.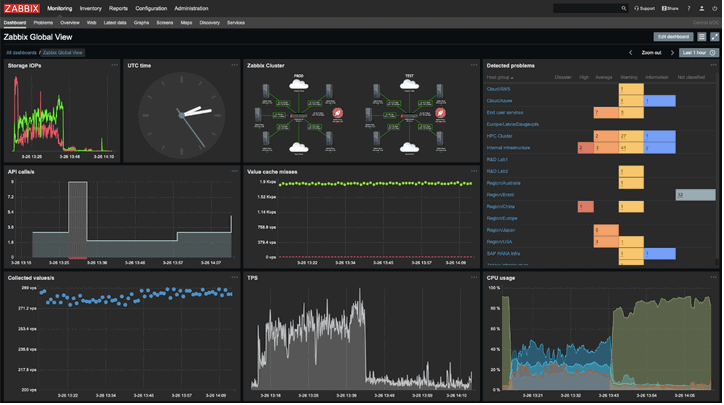 With the motto "Monitor Everything," Zabbix provides many solutions and services for every type of IT infrastructure. These include Network Monitoring, Server Monitoring, Cloud Monitoring, and Apps & Services Monitoring. In addition, it provides enough alerts and alarm modules in a user-friendly layout.
FEATURES: 
The graphical user interface (GUI).

A server monitoring system that is accessible through the internet.

A single package contains many monitoring modules.

Provides various indicators like CPU use, free disk space, fan condition, and more.

Ready-made templates for common servers such as HP, IBM, Dell, and others running Linux, Ubuntu, and Solaris.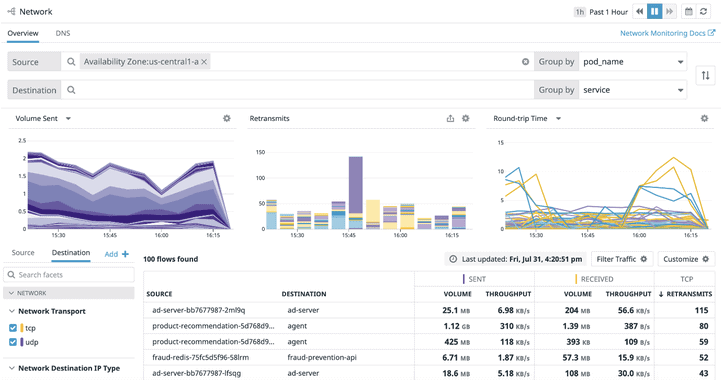 Forrester Wave named us a leader in Intelligent App and Server Monitoring in 2019. It has a centralized dashboard that is jam-packed with monitoring and control metrics. It provides a variety of essential server apps for web servers, operating systems, and database app servers.
FEATURES: 
A comprehensive collection of connectors makes it simple to deploy on any server.

Tool for monitoring performance in real-time.

Obtain specific information from servers, databases, services, apps, etc.

Provides a drag-and-drop dashboard for simple examination and comparison of various performance indicators and events.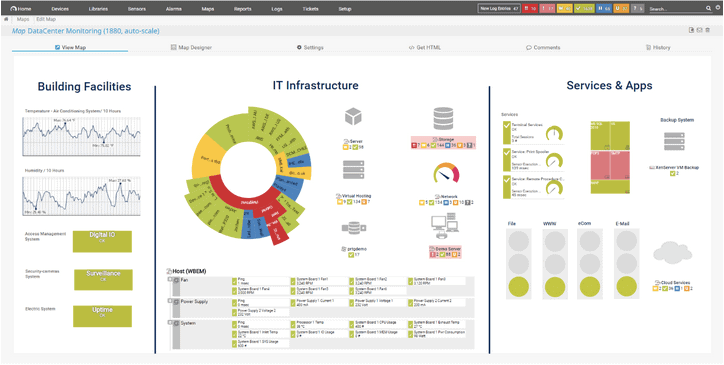 PRTG is an all-in-one infrastructure monitoring software that uses sensor-based algorithms to scale on demand to meet the demands of your company. As a result, it ranks among the best server monitoring software for small, medium, and big businesses. With all three capabilities to monitor the network, server, and apps, you may discover all the appropriate features for your aim.
FEATURES: 
Desktop apps can have many user interfaces. Customize as needed.

Maps and dashboards in real-time.

Monitoring systems that are distributed to manage several networks in various places.

Advanced, in-depth reporting with statistics, graphs, and other features.

Push notification, Slack chat, email notification, and other alerting technologies are built in.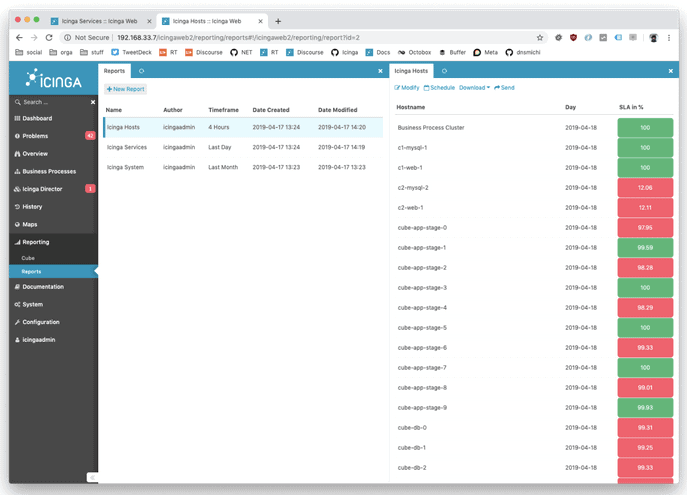 Icinga is a free and open source server monitoring software that operates on the most popular Linux distributions, including Ubuntu, Debian, and others. The tool provides a quick online interface with access to all important data. In addition, its integrated monitoring engine can monitor massive settings, including data centers.
FEATURES: 
Configurations based on rules.

Zone and Cluster monitoring are included in performance monitoring.

A dedicated alert-sending module with text alerts is available.

This a good option for customers who prefer not to use a command line to manage their monitoring software.
FAQs:
What Exactly Is Server Monitoring And Management?
Server monitoring is a specific technique for gaining thorough visibility into the activity on your real or virtual servers. You may use any of the best server monitoring software to guarantee that your organization's servers are operating according to your IT infrastructure's expectations and standards.
Which Is The Best Server Monitoring Tool?
Nagios XI is a great tool for managing and monitoring servers. It is a complete infrastructure monitoring system with effective server monitoring features based on the free Nagios Core.
Which Network Monitoring Tools Are the Best in Linux?
Right now, some of the best options on the market include SolarWinds NetFlow Traffic Analyzer, Nagios Network Analyzer, and Icinga 2.
Conclusion:
Many other Server Monitoring Software & Tools are available, but these are some of the best. Please leave a comment if you know of any others that should be on this list.