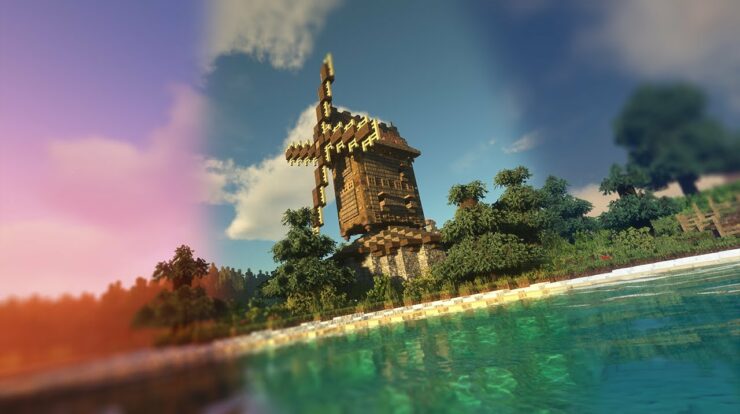 Over the years, hundreds or even thousands of shaders have come into the game of Minecraft. While some have been quite great in terms of the changes they bring, others are lagging in many ways. There is no doubting that you want Minecraft shaders that have managed to earn lots of positive reviews from users. The truth is that such is not an easy task since you will need to choose from various shades. You may end up downloading and installing something that is not good enough to bring about the ultimate gaming experience.
There is no need to bother discovering top Minecraft shaders that seem to be making headlines in the Minecraft community. This is because our goal in this post is to help you find them. In other words, we will be revealing some of the most popular shader packs in Minecraft. You will be blown away by what they can offer.
How To Install Any Shaderpack 
Install Optifine
Run the installer for the new Minecraft's new version to get added to the Minecraft launcher
Run Minecraft's new version
Download the shader pack
Go to video Settings – shaders – Shaders Folder. The downloaded shader should be dragged into the shaders folder
Continuum Shader
Continuum shaderpack is known for one thing. This ensures that your world has very bright visuals. When it comes to high-quality graphics that can make a huge difference in your world, this is one of the best shaders that you can download. You will see how daytime has improved tremendously in terms of the lighting effects. Also, night periods will appear much darker than they were with vanilla. The changes that continuum brings are pretty obvious.
Sildur's Vibrant Shaders
Just as the name implies, this mod or shaderpack makes your world very vibrant. The colors and other effects are going to become very lively. The best part about this shader is its high level of customizability. For instance, it comes with various options that enable every player to take advantage of its unique features. Whether you are using a low-end or high-end pc, this is the right shaderpack.
Chocapic13's Shaders
Do you want to enjoy the features of both continuum and Slidur's explained above? The only way such can happen is by installing Chocapic13's Shaders Pack. This is because it tends to combine the features of both in one place. You will notice how the daytime is looking quite yellowish. If you are using this shaderpack, always use a torchlight during night periods. This is due to the dark effects that it usually creates.
Sonic Ether's Unbelievable Shaders
Talking about a mod that has managed to attain legendary status, Sonic Ether's Unbelievable Shaders ticks all of the boxes. Despite being introduced into Minecraft as early as 2011, it is still highly competitive with unique and stunning features. The sunlight and night periods are clean. The best part is that it is constantly updated to give players the very best of effects. In terms of performance and compatibility, it is fair enough to say that SEUS is one of the best. It remains one of the most reliable Minecraft shaders around.
Nostalgia Shader
There is something unique about Nostalgia Shader. This is because it can take your graphics and visuals to another level entirely. If you have been thinking about how to enhance your visuals, this is the right shaderpack that can do such magic. It is just like the SEUS mentioned above. For instance, it adds volumetric fog. Also, it can be fine-tuned and adjusted to suit your gameplay. Performance-wise, it can be said that this is one of the best shader packs around.
BSL Shaders
Significantly few shaderpacks can bring about the beauty in Minecraft like BSL Shaders. It doesn't just play this role as such is done to perfection. The effects that it brings are detailed. You will find perfect reflections, crisp lighting, and other crucial changes. If you have got a moderate system, this can work. However, note that systems with high features and functionalities are the best to explore this kind of shaderpack. This shader pack is recommended along with realistic texture packs.
Lagless Shaders
Have you got a low-end pc? Do you know it is possible to experience improved visuals without worrying about lagging issues? If you do not know, this is what lagless shaders are all about. The reflections you will notice with this shaderpack are pretty out of this world. This is a moderate and simple shader to have your graphics upgraded even with a low-budget system. It is still capable of doing what other premium shaders can do.
Complementary Shaders
The best Minecraft shaders are always known to bring something unique that players will remember for years to come as they explore their worlds. This is what Complementary Shaders has achieved over the years since getting released into the Minecraft community. If you have used BSL shaders and liked its features, there is every reason to believe you will appreciate what this one offers. This is because both are based on the same concept.
Oceano Shaders
If you love this game's natural aspect, it is high time you have it improved or upgraded. Of course, vanilla oceans aren't looking great at all. Due to such, they have only attracted lots of negative comments from players. Oceano shaders will change all of these for good. This is because it is one of the most realistic shaders around. Water surfaces will get the necessary makeover that makes them appear real. They look crisp and bright. This is one shader every player needs to explore.
ProjectLUMA Shaders
This shaderpack tries to achieve one thing – providing the best visuals without having to affect your PC's performance. You will see some positive results in your world by installing this one. Even if your PC is a low-budget one, it is still worth giving a trial. This is due to the massive changes that it can bring.