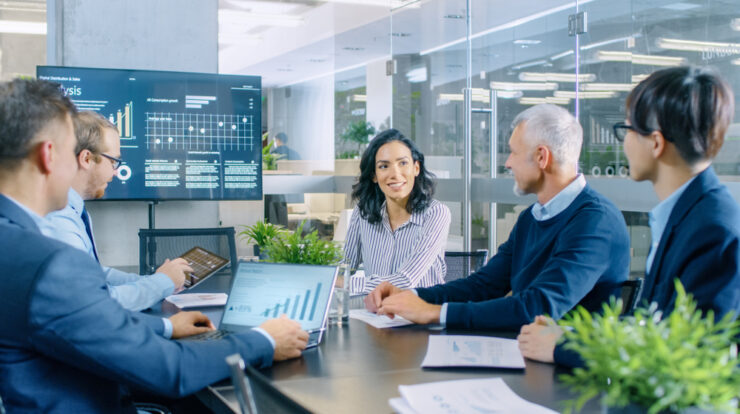 Virtual data room (VDR) services have grown in popularity in recent years. VDRs enable firms to undertake even the most complex mergers and acquisitions (M&A) remotely, without meeting in person. They offer a secure online place for sharing and storing massive data, and only a few people have access to a highly secure, regulated environment. When selecting a VDR provider, consider the supplier's reputation, how data is handled, the degree of customization available, and the quality and accessibility of customer assistance, among other factors. So, without further ado, here is a list of the best Virtual Data Room Providers in 2023.
10 Best Virtual Data Room Providers You Should Try In 2023
Here are the 10 Best Virtual Data Room Providers You can Try In 2023.
1. Drooms
With its excellent work over the previous two decades, this Germany-based VDR supplier has established itself as one of the best in Europe. Drooms offers its users a wide range of functionality for various purposes. You may tailor the features you require and pay for only those you will use This company's customer service is also excellent, offering live chat help for any of your queries and requirements. This company, which takes pride in creative ideas, was the first to use blockchain technology for an additional layer of security in its virtual data rooms in 2018.
2. iDeals
IDeals entered the VDR market in 2008 and quickly rose to the top of the list because of its excellent security features and customer service. IDeals offers its services to persons with varying degrees of VDR experience. Even inexperienced users will find it easy to explore the area because of the straightforward and user-friendly design. With offices in over 20 countries and a website available in 13 languages, it's easy that customer happiness is the company's first focus, making it one of the best virtual data room providers available. Customer support specialists are always ready to walk you through every process step, making M&A or other transactions a snap.
3. Merrill
Merrill Corporation, doing business as DataSite, provides data room services to a diverse variety of clients of various sizes all over the world. The company's first goal is the security of transactions in DataSite's VDR. As a result, they employ numerous levels of security, including encryption and strict control over printing permissions. Furthermore, Merrill DataSite offers its users a Q&A forum, making it easy to receive answers to your queries without waiting for an email response. Aside from excellent virtual data rooms, Merrill also offers various essential services, such as data management, translation, and nearly anything else a large organization would need.
4. Intralinks
Intralinks is a real industry titan with a portfolio of over two decades and includes some of the world's top companies. They are undoubtedly one of the most well-known corporations in the sector, having handled over 34 trillion USD transactions. Intralinks generally cater to the demands of transnational and multinational enterprises, with excellent customer service and offices in various countries, leaving young entrepreneurs and small businesses better off with the services of other companies.
5. Digify
While Digify has only been on the market for more than ten years, it has made good use of that time to establish itself as one of the best VDR providers. Digify, in contrast to Intralinks, is aimed toward small and medium-sized enterprises. They have excellent customer service and a platform that is simple to use even for inexperienced dealmakers. Digify also offers top-tier security features, file management, and VDR customization choices, which lend a personal touch and brand recognition to your VDRs.
6. DealRoom
Well, Despite being on the market for a shorter time than most of its competitors, this Chicago-based company has managed itself as one of the most effective tools for every step of the M&A process since 2013. DealRoom's significant customization for multiple procedures earns it a position on our list. Functionality and access to documents may be adjusted and made easy for both parties to M&As. In addition, customers benefit from additional security provided by 2-step verification and data encryption.
7. Citrix
Citrix Systems has been in the market for more than 30 years. Aside from virtual data rooms, the cloud software company has users all over the world and offers a variety of services. Citrix Systems has been offering VDR services since the acquisition of ShareFile in 2011. With numerous high-profile enterprises in its portfolio, Citrix Systems is an excellent choice for those searching for one-stop solutions for their online data management. In addition, it targets middle- and large-sized businesses with extra services to VDRs, making it a top option for many directors worldwide.
8. Ansarada
Ansarada, named by its four founders' first two letters, has been an Australian VDR service in the market since 2005. The Ansarada platform, developed by entrepreneurial software engineers and accountants, is extremely user-friendly and offers excellent security for due diligence and mergers and acquisitions. In addition, the AI-powered SaaS platform includes everything you could need for a successful, trouble-free deal-making process.
9. Firmex
Firmex offers highly configurable cloud services, including VDR, to its users. Each year, the company promises to service over 15,000 new VDRs. Firmex offers numerous services to its customers based on their size and demands, using a simple interface and high-quality security protections. Firmex is a strong VDR service solution for small and large organizations in nearly all sectors, thanks to its viable customization options.
10. SecureDocs
SecureDocs, another user-friendly platform, is a US-based company that has been on the market since 2012. It offers excellent customer service as well as industry-standard security measures. The platform is excellent for newbies to test their talents, as it offers a free one-week trial and a free demo. SecureDocs is easily available on all platforms, making it an easy, safe, and adaptable alternative for individual users.
The Bottom Line: Virtual Data Room Providers
Choosing a VDR provider to whom you can entrust your most sensitive data and documents can be a daunting task. To evaluate data room providers, you must first understand what you want. Once you've decided what's most essential to you, you can make a more informed selection by picking the virtual data room provider that best meets your needs.