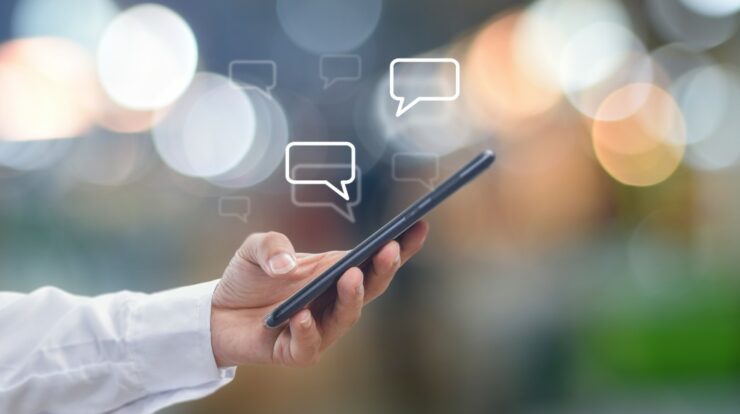 SMS Marketing is a kind of marketing that uses text messages to interact with your customers. It mainly disseminates promotional material through permission-based text messages. This is performed by using a web-based tool that enables you to send bulk text messages to your customers in order to engage them.
SMS Marketing's purpose is to build a list of subscribers from whom you may draw to promote customer loyalty. This implies that by opting into your SMS Marketing Campaign, customers give you permission to send them messages about your company. Customer loyalty is earned when customers connect with your company through SMS and accept the offers you send them.
SMS Marketing is an effective technique since practically everyone has access to a mobile phone, and consumers read the messages they get almost immediately. This implies you'll be able to enter a market that is virtually always interested in what you have to offer. Phone calls, emails, and leaflets, on the other hand, are easily disregarded and forgotten.
What is SMS Marketing?
A keyword and a shortcode are the two most essential components of any SMS Marketing Campaign. You've probably seen it before! Here's an easy example: Have a fantastic weekend! Check out our weekend deals by texting "SATURDAY" to 101010!
The Saturday is the keyword, and the shortcode is "101010." Customers fill up the message body with the keyword and the recipient box with the shortcode. What your customers are signing up for is indicated by the keyword. This enables you to persuade your customers to take part in your campaign.
After your customer opts into your campaign, you'll be able to send them text messages about special discounts or offers you're having at your business, which should entice them to come in! This leads to more sales, which is usually a good thing.
What Does SMS Marketing Cost?
Expect to pay $5 to $25 each keyword utilised. Text messages will cost you between $0.01 and $0.05 each message. Most SMS Marketing businesses offer monthly packages that contain a certain number of text messages (2,000 and higher) as well as a handful of keywords (2-10)
While the ultimate cost may vary based on the company you pick, two costs must be considered: the fee for sending the text message and the price for renting keywords. Typically, you'll pay a monthly fee that covers a set number of keywords and the number of text messages you may send.
Best SMS Marketing Strategies
There are no hard & fast rules on who should and should not utilise SMS Marketing; there are just scenarios and marketing objectives that lend themselves best to this strategy. Now that you understand how SMS Marketing works, here are some applications for it:
Send Coupons
Send out unique offers to customers. By employing special coupon codes, non-subscribers are prohibited from taking benefit of your request.
Maintain Contact
Clients that need or appreciate scheduling, appointment, or other confirmations should send reminders and alerts. It's a terrific method to guarantee that everyone is on the same page, and it also shows that you're on top of your customer service.
Make Drip Campaigns.
Send automatic text messages depending on how long customers have been subscribed. In the instance of coupons, you may send a 5% off coupon immediately after signing up, a 10% off coupon after 3 weeks, and a 20% off coupon after 2 months. You don't have to keep sending separate messages since this is triggered immediately when a customer joins up.
Survey Your Customers
Customers may vote by texting different keywords. The majority of providers allow you to conduct polls that gather answers over time and graph them from your web dashboard.
Organize a Sweepstakes Contest
Customers should be able to enter a contest by texting a specified keyword. On the dashboard, you may examine a list of phone numbers and choose one at random.
Send Pictures and Videos
Marketing through Multimedia Messaging Service (MMS) is a relatively recent product that allows you to send customers photographs and videos. This is very beneficial if you want to send a flier or a restaurant menu to a customer.
Implement Location-Based Marketing
Send various messages to customers depending on their location. Geofencing is a more sophisticated technology that records your customers' positions and sends them SMS when they are near your store. Unfortunately, geofencing is rather costly. Because each "ping" to monitor your clients' positions costs more than sending a text message, geofencing is not yet cost-effective for widespread adoption.
SMS Marketing Advantages
Texting has the most significant engagement rate of any marketing media. Unlike emails, phone calls, and leaflets, which are sometimes ignored, text messages are virtually always read and read fast. According to Forbes, "95 out of 100 of your customers who have opted into your text messaging programme OPEN and READ your mobile messages within 3 minutes," says James Citron, CEO of text messaging provider Mogreet.
The essential term here, though, is "opted in." In text message marketing, sending unsolicited text messages is not ethical (or legal). Only customers who have subscribed to your message list will be able to text you. Fortunately, most text marketing providers enable customers to opt in and out immediately from their phone.
Final Thought : SMS Marketing
SMS Marketing uses today's technological breakthroughs to deliver your message to your customers. This is done in an easy and straightforward way. While it is not free, it is a good investment that, when utilised correctly, can be an excellent tool for increasing sales and generating more money.