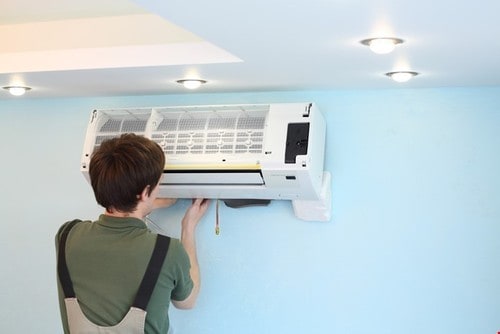 There are several causes why you would want to purchase an air conditioning system for your home and property. You may have recently acquired a new home and want to prepare it for hot summer days. Perhaps your existing cooling system is obsolete, and you'd like to replace it with a more energy-efficient system. Regardless, a few factors will influence the cost of your AC installation, ranging from the location and size of your home to the type of system you want to install. A domestic central air system, for example, will cost between $3,800 and $7,500 at the low end (including the price of the unit itself and the installation service charge) and several thousand dollars more at the high end.
Suppose you're looking to cool down your home with a window air conditioner, a ductless mini-split system, or a central AC unit. In that case, you'll want an experienced company that can answer all of your questions and offers high-quality service.
Top 5 AC Installation Companies in 2022 are list below:
We've produced a list of the Top 5 AC installation Service Companies to get you started on enjoying your new cooling system for your peace of mind.
American Residential Services, LLC (ARS) was formed in 1975, and its headquarters is in Memphis, Tennessee. It has over 60 sites in 21 different states around the country. In 1998, the firm began providing air conditioning solutions, including residential installs, repairs, and maintenance. It may also aid you in selecting the best cooling system for your house if necessary.
ARS employs qualified specialists who can install and replace many AC units and systems. All AC installations are backed by the company's "Exceptional Service Guarantee," which assures that your installation is done correctly. You may get a free estimate to determine how much your installation will cost. Furthermore, if you need a speedy installation, it frequently has same-day availability and offers 24/7 emergency repairs.
ARS is a BBB-accredited business that offers payment options for all services. You may contact the firm by filling out the service request form on its website, calling your local ARS office, or using the live chat feature on its website.
Aire Serv was established in 1992 as a heating and air conditioning company that provided services around the country. The organization, a Better Business Bureau (BBB) recognized entity with an outstanding rating, offers AC solutions to residential and commercial buildings, including installations, replacements, repairs, and maintenance. Aire Serv is a renowned provider of AC system installations, specializing in several major brands such as American Standard, Armstrong Air, Coleman, and others. Its skilled, qualified experts can install all types of AC systems, including ductless mini-splits, central AC systems, and window and wall units. Before beginning any work, the organization gives you transparent pricing to precisely know what to expect for your budget. It also provides several forms of assurances, such as its "Performance and Satisfaction Guarantee," to give you peace of mind that the work will be done correctly.
If a problem with your cooling system develops, Aire Serv also provides emergency repairs 24 hours a day, seven days a week. You can obtain an estimate by contacting your local Aire Serv office or calling the company's nationwide hotline.
Reliable Energy is a family-owned business in California that started in 1995 and provided HVAC services in the more excellent Los Angeles and Orange County areas. It now has over 25,000 clients and is still growing, offering AC solutions for residential and commercial locations throughout Southern California.
Reliable Energy specialists in AC brands such as Trane, Daikin, and others. Its crew can install and replace a wide range of air conditioning systems, including ductless mini-splits, central air conditioning, split heating and cooling, and more. Its experts have been trained to offer you the highest quality of service. They are qualified to handle HVAC equipment by North American Technician Excellence (NATE) and the Environmental Protection Agency (EPA).
Reliable Energy also offers AC supplies, repairs, tune-ups, and maintenance services. In addition, it collaborates with financial institutions to provide financing choices. Call the company's main office number or fill out the contact form on their website to receive an estimate. You may also get in touch with the firm via its live online chat, which provides multilingual English and Spanish service.
Custom Air & Plumbing, headquartered in Sarasota, Florida, was founded in 1986 and served Sarasota, Manatee, and Charlotte Counties. The organization is an Air Conditioning Contractors of America (ACCA) member and offers AC installation services for residential and commercial premises.
Custom Air & Plumbing, in addition to installation services, will help you locate a suitable AC unit for your home. All technicians are NATE-certified and specialists in brands such as Trane, so they will ensure that your AC system is fitted correctly and that you are pleased with the service performed. The firm also provides replacement AC system designs, maintenance, and repairs. If you want an emergency repair, you can call its 24-hour hotline.
Custom Air & Plumbing also provides financing and will build your loan to meet your needs. You may contact the company's main phone number for further information or to seek an estimate, or you can make an appointment by filling out a form on their website.
Interstate Air Conditioning & Heating has been providing AC solutions for business and residential locations in New York City and New Jersey since 1978. It is an EPA-certified HVAC equipment company with offices in both locations above.
Regardless of the size of your property, Interstate Air Conditioning & Heating professionals are licensed and trained to handle any AC unit and system installation. It caters to both single-family homes and high-rise complexes. When you work with Interstate Air Conditioning & Heating, they can assist you in determining the most acceptable new AC solution for your house. In addition, if necessary, the organization conducts repairs and maintenance for existing AC systems.
Contact your local Interstate Air Conditioning & Heating office or fill out the contact form on the company's website to obtain a free quote for your AC installation service. You may also contact them using an online chat support facility.