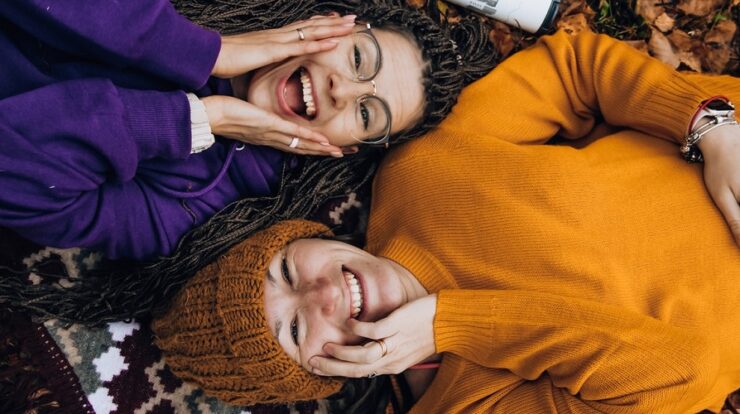 Will you create a YouTube channel with your BFF (Best Friend Forever) or make a video? Because you both understand each other and can assist each other in making a fantastic video, making videos with your best friend is usually a good idea. But first, you need BFF video ideas; then, you must research a topic and choose a niche. I've included several BFF video ideas in this post to make things easier for you.

13 Best BFF Video Ideas To Make YouTube Videos
1. Challenges

Challenging videos are usually entertaining to watch. You may complete a lot of difficult YouTube videos with your best friends since it will be more fun. The following are some hard YouTube BFF video ideas.
Draw On My Back Challenge  – The basic goal of the Draw On My Back Challenge is to draw the same thing that is drawn on your back. You will need white paper and a pencil to draw on, and your closest friend will tape the paper to your back. Then, your friend will draw something on your back, and you must feel it to see if you can draw anything similar. Then, repeat the process with your best friend. Finally, compare their drawings to discover who successfully depicted the same thing.
Try Not To Laugh Challenge  – Although this challenge may be completed alone, it is more fun to complete with a BFF. The main purpose of this challenge is to remain serious while your closest friend tells you jokes or vice versa.
Ghost Pepper Challenge  – Although this is an old reaction idea, viewers will still like both of your reactions. However, I recommend not doing this challenge since you will need to consume ghost pepper, which is extremely spicy and can harm your health. However, if you and your closest friend decide to take on this challenge, ensure you have enough milk.
Blindfolded Makeup Challenge  – This is a unique and fun YouTube video challenge, especially for female YouTubers. The main goal of this video idea is to determine who can perform a better cosmetic job on each face without being seen, you or your closest friend.
2. DIY Project
It is possible to create a superb DIY project you ordinarily need help doing independently. When making your video, think about recording the process in depth and how you intend to finish your project.
3. Comedy Series

People need entertainment to lift their spirits after a long day. A source of entertainment can be anything, and one such source is viewing funny videos. People like watching humorous videos. If you and your friend can make people laugh, you should collaborate on a comedy series.
4. Experiment Videos
Experimenting with various things, especially science-related, is one of the most popular YouTube BFF video ideas. Suppose you both have a scientific background. Some experiment video ideas include a baking soda volcano experiment, an air pressure experiment, a foam eruption from a large underground swimming pool, and Coca-Cola and Mentos on a sled. However, before performing these types of experimental videos, both of you should take precautions.
5. Parody Video
Lip-syncing or parody music videos are always incredibly popular on YouTube. As a result, parody music videos may draw a lot of attention to the YouTube channel. Gather your friends, dress accordingly, and choose the tunes users seek.
6. Cooking

You can collaborate with your closest friend in cooking, another niche. If you know how to cook, this video idea is perfect. Making a dish and then uploading it is a difficult undertaking. You and your closest friend can split your chores; for example, if you are going to cook, your friend can photograph with a camera. Later on, you both assist each other in the video editing process. People all around the world enjoy watching culinary videos for both entertainment and cooking lessons. However, this niche is competitive, with thousands of cooking videos under a certain dish. Before choosing a dish, conduct thorough research for ranking reasons.
7. Funny Games

Playing amusing games is one of the best BFF video ideas for a YouTube channel. You may challenge a friend to hilarious games. Many humorous games are played worldwide, and you may select any of them to play with your friend. In this niche, you will always have ideas. Pyramid of Party Cups, DIY small basketball, coin in fork game, Never Have I Ever, movin' on Up, Lemon on a Spoon, truth or dare, and other fun games are available.
8. Movie Scenes

One of the most intriguing YouTube BFF video ideas is replicating movie sequences. Here, strong acting skills and good cinematography and editing screens are required to interest viewers. You may achieve this by reproducing situations on a low budget. Still, if you have a large budget, you should buy certain equipment, such as a nice camera and lens, a Steadicam or gimbal, lighting equipment, and so on, to video it like a pro.
9. How To

Nowadays, when we encounter problems with laptops or mobile phones, we quickly search on YouTube with the phrase "How to fix…" and attempt to solve the problem by watching some videos. This is one of the best YouTube BFF video ideas if you and your master are good at solving these problems. You may create 'how to…' videos on various topics, such as how to survive, build your life, make money, stay inspired, and so on.
10. Pranks

Pranking videos have recently taken a particular position on the YouTube timeline. This niche has a wide range of viewers since people enjoy watching these videos for entertainment. There are numerous fun pranks to perform with friends that you may use for making movies, some of which can be done at home and others outside. For example, you and a friend can prank family members or strangers and video their reactions, but avoid harming them and avoiding severe prank ideas.
11. Tech Reviews

You and your closest friend can evaluate technology or mobile phones, laptops, or vlogging starter packages such as cameras, lenses, stabilizers, and batteries. This is one of the best BFF video ideas regarding both views and economics. This is among the most competitive vlog categories; however, there are several methods for you and your friend to obtain views or make money. Aside from standard ad money, you may pursue alternative options such as affiliate marketing, sponsorship, etc.

12. Reaction Videos

A reaction video is created by recording a person's or a group of people's reactions to a video and then uploading it to a video hosting platform. You and your closest friend do not need to put a lot of effort into making this video; sit down and record your reaction to other videos, which might be content from an original video or someone else's channel. People usually react to popular videos that are trending when recording, such as movie trailers, music, movie scenes, etc. However, there are several disadvantages to creating reaction videos, such as copyright issues or monetization problems. Nonetheless, there are many YouTubers that make money from these reaction videos.
13. Travel Videos
People like seeing new places worldwide for various reasons, including education, entertainment, and so forth. This video idea is also perfect for establishing a channel with a BFF because you need to buy certain equipment before making any video, which is important for a vacation video channel. Traveling to new places may cost you money, but if you collaborate with your closest friend, you can split the costs. This is also one of the most successful YouTube categories, similar to tech reviews. You and your friend may make different types of trip movies, such as cinematic footage of places, moto vlogging, travel guide videos, and so on.
Final Words:
The above BFF video ideas have a great potential of attracting an audience to your YouTube channel. Please comment if you have any recommendations for YouTube BFF video ideas.