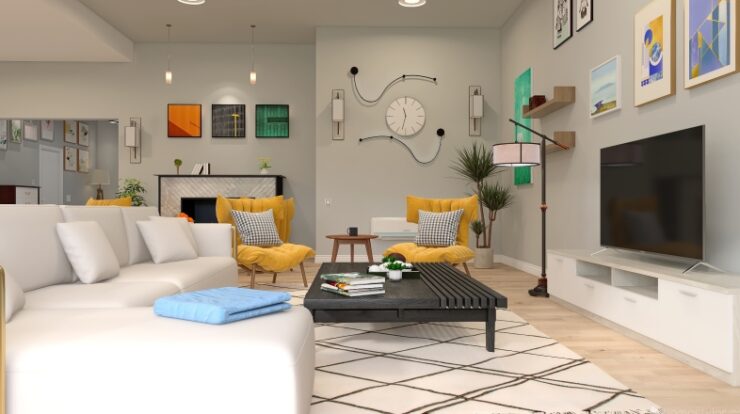 Are you looking for floor plan software? For those of you who are not sure how to deal with flooring ideas for your new wonderful home, we have provided you with free floor plan software that will assist you in designing and modeling the flooring correctly. Some people may not consider flooring particularly significant when designing a home; however, others may begin to think about how to create appropriate flooring to complement the home's overall style.
Flooring is one of the parts of house design that must be meticulously planned and executed. In general, the more appropriate flooring you place in your home, the more comfortable you will feel while staying in your home. In this regard, professionals and homeowners should investigate, select, download, and apply floor plan software to assist them in designing the floor, including the method by which they visualize spatial concepts.
So, In this reference, various programs or software may be downloaded and used by anyone at free cost. This post will provide information on the finest free floor plan software for interior designers. Please read the following recommendations carefully before continuing! 
Floor Plan Software: Best Free Interior Design Software
Here are the 6 BEST FREE FLOOR PLAN SOFTWARE FOR INTERIOR DESIGNERS that help to make Best Plans. Now lets Gets started.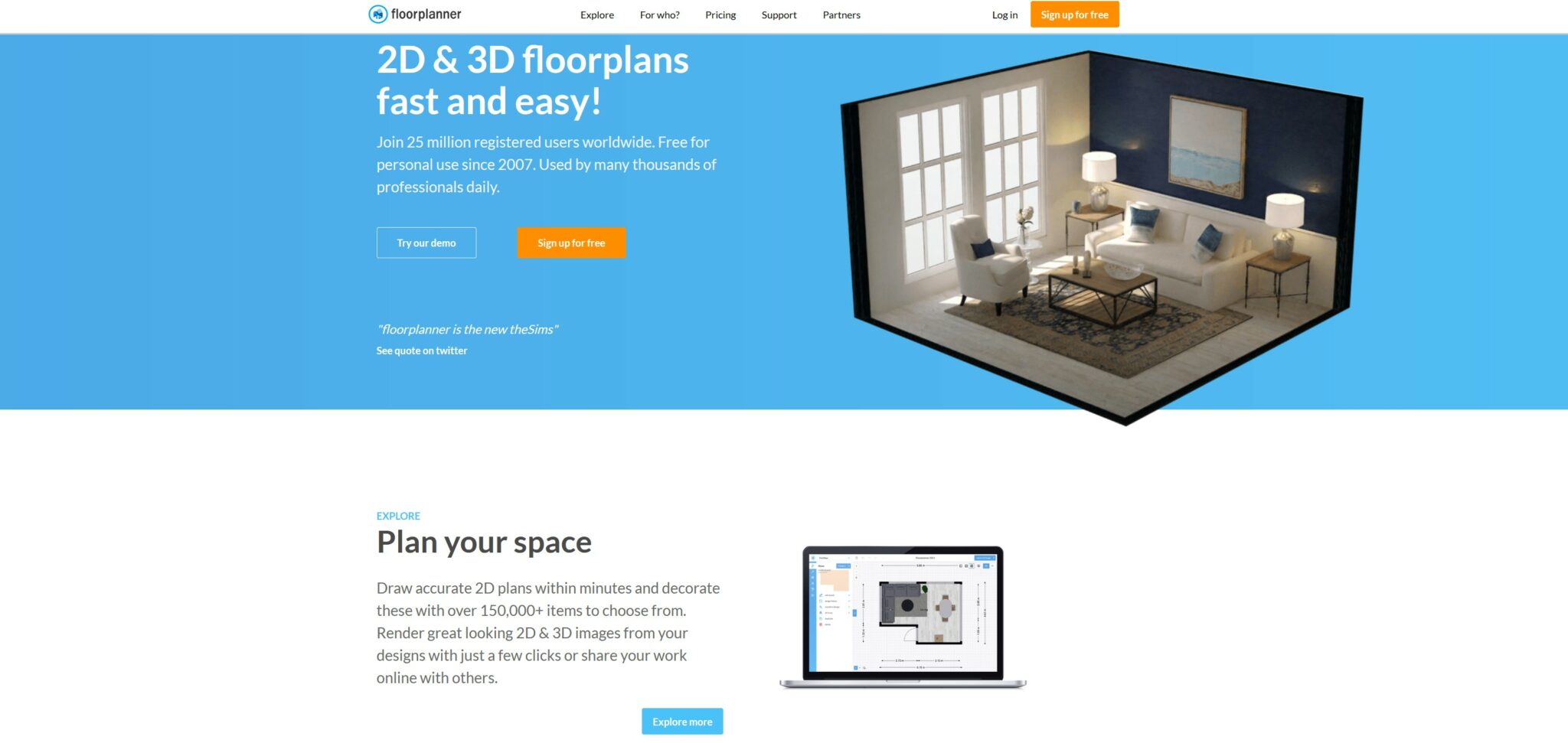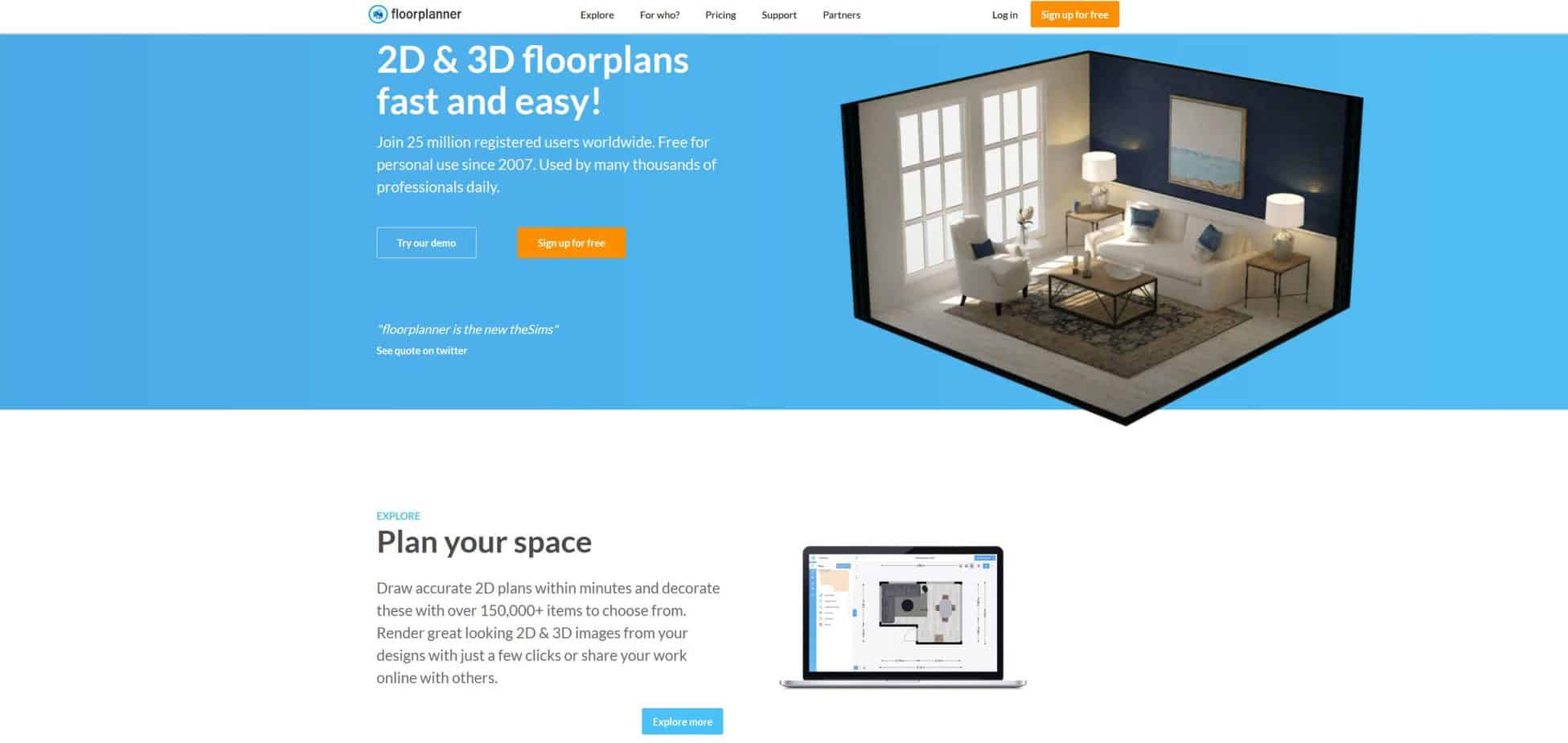 Which free floor plan software is the most effective? Floorplanner is the finest of the best in terms of floor plan software, and real estate brokers and interior designers frequently use it. Floorplanner is simply one of the solutions available to assist customers in creating their own flooring plans as well as remodeling the room to accommodate the flooring model. You will be able to create a detailed 2D/3D floor using this flooring if you use it. This software has features that will assist you in making your dream a reality.
Several excellent features can be enhanced immediately after downloading and installing the software on your computers and mobile devices. These include an intuitive editor that allows you to easily and quickly construct a floor plan, an auto furnish function, easy import and export design, a space planner, and an interactive viewer to publish your work quickly.
Payment plans for Floorplanner are available in three varieties, including Pay as you Go, Pro Plan, and Business Plan. With a pay-as-you-go price scheme, consumers can download 2D and 3D floor plan plans in SD resolution at their leisure. Users can also take advantage of all of the software's capabilities under this pricing level. However, if you want higher-quality photographs, you can upgrade to the premium edition of the software.
Pricing
The price for individual use is $40-24.

For companies, the price ranges from $49-499. 

It offers a free demo as well. 
Features
Floorplanner has 2D and 3D floorplans. 

It is compatible with all browsers

It works on all laptops and tablets. 

IFloorplanner offers systematic guidance. 

It has to offers about 150,000 3D items

Roomsktecher is the second-best floor plan program you may use for construction and home design needs behind Floorplanner.com. This software is a cloud-based application that home designers extensively utilize because to the ease with which it can be used as an architectural design tool, which is particularly beneficial for architects, real estate agents, and interior designers.
User-friendly tools such as RoomSketcher make it possible for users to generate gorgeous floor plans, real estate property designs, and office projects and visualize them in 3D and panoramic views. Because of the simple-to-edit platform, this program is becoming increasingly popular. Using this method, you can quickly resize, add, and move items while also customizing your home's style by just clicking and dragging. You will undoubtedly come across a variety of hues and textures.
RookSketcher, which is listed as one of the free floor plan software options, provides you with interactive 3D walkthroughs that assist you in creating detailed floor plans that have intricate depth and perspective. The most interesting aspect of Roomsktecher program is the fact that you will be able to request that the seller develop a floor plan just for your needs. This is one of the reasons why consumers enjoy using this program to assist them in the design of their flooring projects.
What are some of the program aspects that you can improve?
This time around, you can look forward to a simple way to create 2D, 3D, and Live 3D floor plans, tools to assist you in making gorgeous 3D pictures, and an easy way to examine your home designs and real estate projects in panoramic 360-degree views, among other things.
Pricing
The VIP plans costs around $49 annually. 

The Pro $99 annually. 
Features
It is compatible with iPad, Android, Mac and Windows

It offers snapshots

The software offers 2D and 3D plans

It offers 3D photos

It provides 360 views

The software can print floor plans to scale

It can brand your floor plans. 

Roomsktecher can calculate total area

It can also draw from a Blueprint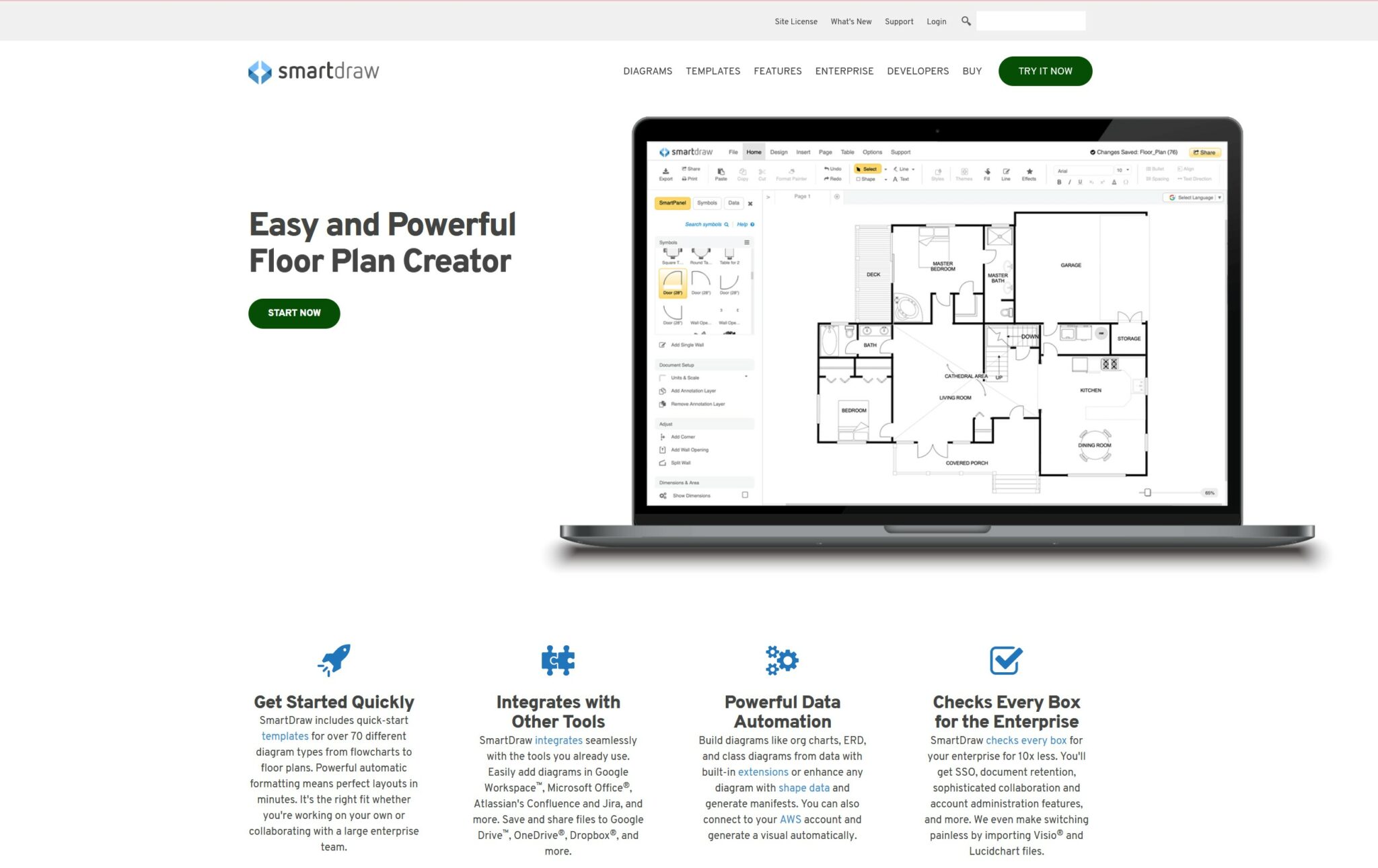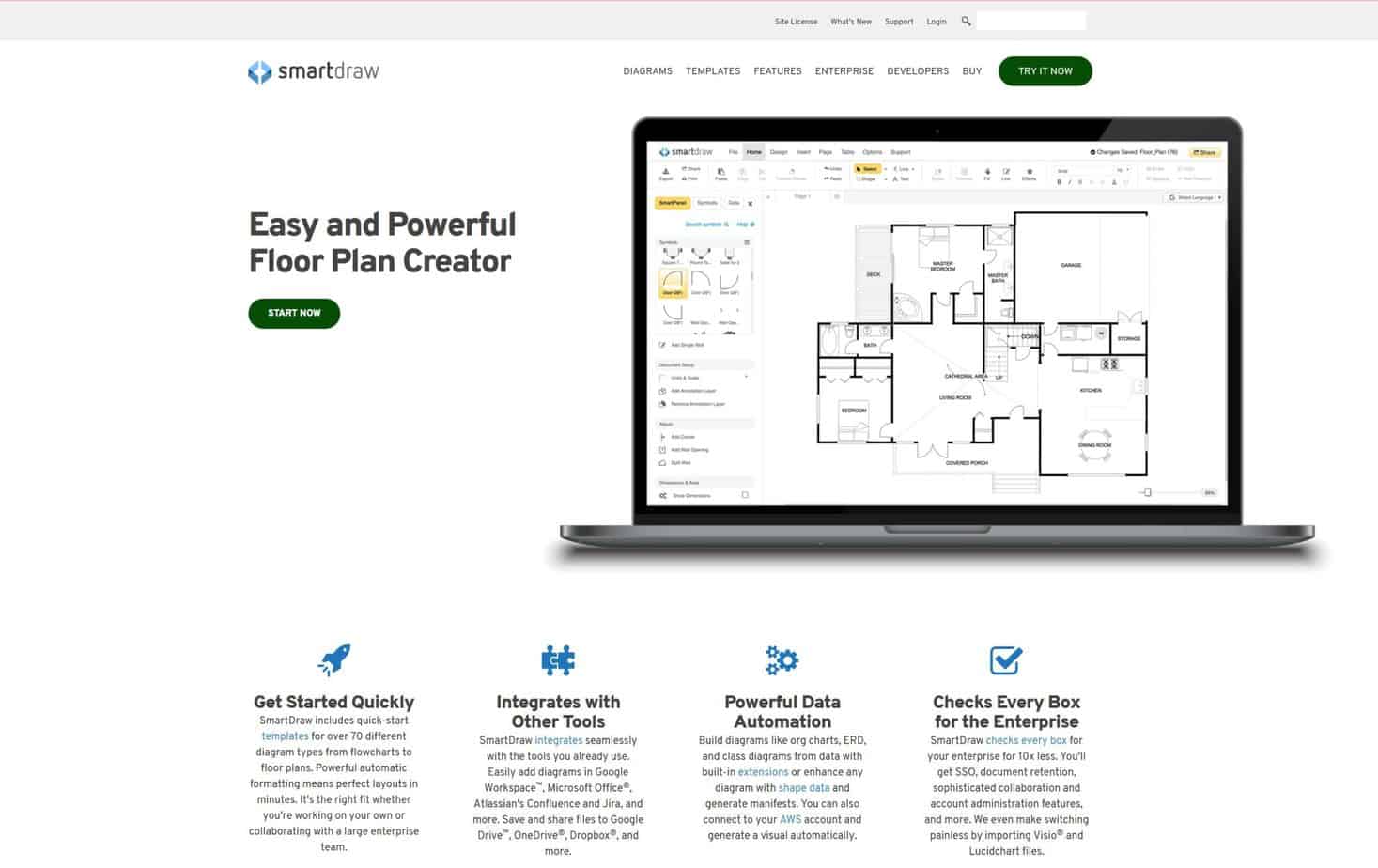 SmartDraw is another excellent floor plan software program that can be downloaded for free. Everyone who needs to create diagrams will find this tool useful because it concentrates on being a floor-plan designer, organizational chart maker, and flowchart maker. As a result, this program is appropriate for real estate agents and project administrators. It is intended to be a robust tool that allows you to effortlessly create complicated visuals using online browsers or any of your devices, such as Windows, tablets, or Mac.
SmartDraw provides more than 4.500 diagram templates, file sharing, and other collaborative features than any other product on the market. A free and simple online editor is available to users through this service. Users will be able to construct amazing layouts with the help of the quick-start templates, intelligent as well as automatic formatting, and other features. In addition, there are over 34.000 architectural symbols and CAD-like drawing tools to assist users in creating floor plans in a matter of minutes with no effort. As a result, it is widely regarded as the most effective software for designing floor plans.
SmartDraw deserves to be included in this list of the top free home design software because of the following features:
It offers effortless integration with Box, Dropbox, OneDrive, and Google Drive

SmartDraw offers easy diagram printing for scaling purposes.

It has an effortless online editor to assist the users in accessing the software without any issue. 

SmartDraw offers smart formatting for streamlining the design and having a full plan. 

It has more than 4.5oo plus templates and 34.000 plus architectural symbols, letting users design more architectural floors. 
We recommend you optimize different features for getting the best result. In addition, if you work as an architect who processes client requests, do not forget to satisfy your clients by offering the best design. 
Pricing
For single users, the amount is $9.95 per month. 

For more than 5 users, the price is $5.95 per month. 
Features
It offers smart formatting. 
It provides automatic spacing, alignment, sizing and color schemes for a professional finish. 
SmartDraw works with MS Office, Google apps, Jira, AWS, etc. 

The software offers more than 34,000 symbols and more than 4,500 templates. 

It has CAD-like drawing abilities with standard engineering scales. 

It offers built-in extensions and the ability to create custom extensions with the help of VisualScript SDK. 

SmartDraw can collaborate with teams, including sharing ideas, visuals, and feedback.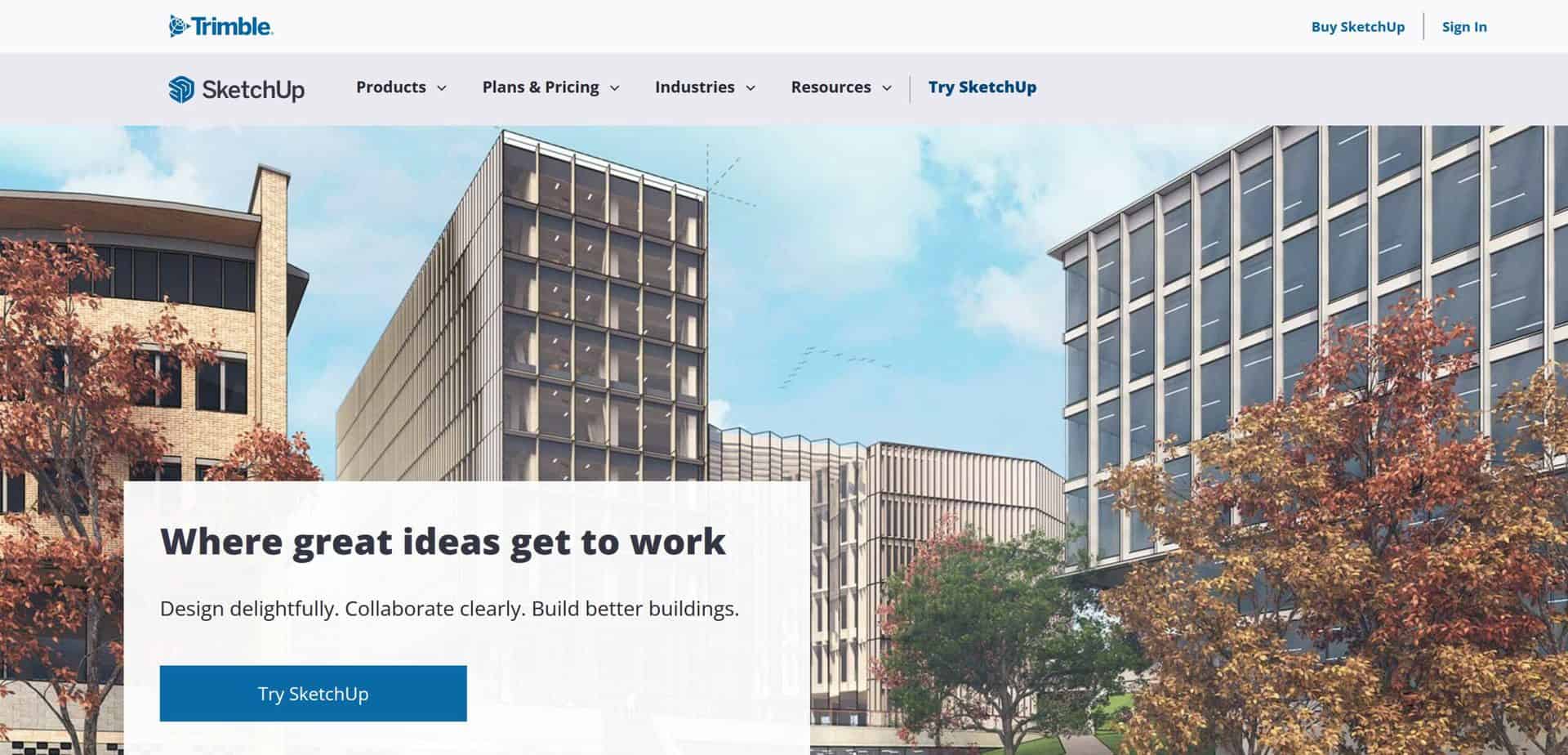 Do you want to have a stunning home design? SketchUp is another floor plan software program available for free and is widely used. SketchUp is just another piece of software you're familiar with from past projects if you have been working on a flooring plan for one of your projects. If, on the other hand, you are a first-time user, it is highly recommended that you read this review before considering SketchUp as one of the free floor plan tools to assist you in the creation of your floor layout.
SketchUp is a 3D design software developed by Trimble with the goal of streamlining 3D creation for use on the web. It is designed to provide a solution that is comprehensively compatible with the drafting and modeling aspects of the software. Because of this, the software is fantastic because it provides you with a plethora of functions for interior design, architectural space design, video production, and civil engineering. As a result, any of the designers, architects, builders, and engineers will be able to figure out the design using the software readily. SketchUp is distinguished because it is available in a free, introductory version. 
In this scenario, free version software does not always imply that you are restricted in your ability to use its features. On the other hand, SketchUp provides a free basic edition that includes all of the tools necessary for users to build 3D models in a simple manner quickly. In addition, this software is a web-based application that is accessible thanks to the core 3D modeler that is included in the package. Therefore, you will be able to access the software from any location and at any time.
SketchUp is one of the most generally used floor plan software programs to consider because of its capacity to envision the user's ideas on paper and turn them into actual projects on a computer. Finally, the users will be able to bring their projects to fruition. Do you have any idea? Also included is the combination of 10GB cloud storage with a 3D models library, mobile viewing, and a powerful 3D modeler to assist the way you design the floor plan. As a result, you may collaborate on 3D models, access them, store them, and illustrate them at any time and from any location.
Included in the features of SketchUp that you may use to its fullest extent for free are support for a variety of file formats for import and export, a powerful 3D modeler, 10GB of cloud storage space, 3D model viewing on mobile devices, and a big collection of user-generated 3D models. 

Free floor plan program for interior design, Sweet Home 3D, bears its name. Architecture and interior design are two of the best uses for this software. Designing house layouts and arranging the furniture more efficiently helps them a lot with this. It's a convenient way to sketch up your design and experiment with various design components, such as wall thickness and size and floor color and texture.
Using Sweet Home 3D's annotation, lighting, and lighting optimization tools, you can create photorealistic renderings of your home's inside and exterior.
Sweet Home 3D is open-source software that gives you access to the software's source code, unlike its competitors. As a result, you can tailor the design plan to your own workflow. The plugin can also be used as an additional feature, making it even more useful.
The best feature of this software is that it is completely free, regardless of whether or not you intend to use it for business purposes. You may use it on a variety of platforms, including Mac, Solaris, Linux, and Windows, thanks to its cross-platform compatibility.
Easy-to-use drawing tools for sloping, round, and straight walls (as well as a compass rose to aid annotate the layout and software's ability to add and rearrange furniture) may be tapped into to their full potential.
Isn't it wonderful to have a floor plan program like this? 

Civil 3D is an additional free floor plan software option. Construction firms, civil engineers, and architects will find this program quite valuable. Additionally, this is a BIM program created with new features to improve workflow and collaboration, extending from infrastructure design to the actual construction. In addition, the solution's integrated features allow users to improve both the construction and design documentation of their projects.
Engineering tools and the capacity to speed up civil infrastructure projects are two things you'll be pleased with after using this software. The Civil 3D, with its traverse editor, corridor overlap resolution tool, plan sheet generating support, labeling tools, and dynamic offset profiles, will be the most noticeable feature for you.. Thus, Civil 3D software is highly suggested for floor plan creation.
Final Words:
Has the finest free floor plan software piqued your interest? If you're interested in using a 3D interior design program, you'll need to purchase a product license.