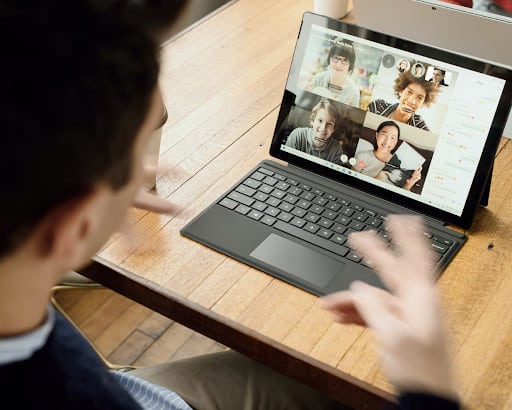 Video calls entered our lives quite recently, but they've managed to replace real communication if needed. The pandemic changed our lives dramatically, and today many people and businesses use online video calls. At first, it was unusual, and we failed to call properly as there appeared some troubles with connection and equipment.
You can use different video call devices and software but consider the situation. For example, a business conference requires a full image and specific communication options like video chat PC that is ensured by a computer screen. People can make online video calls using a computer camera or a separate webcam for a professional image.
In this article, we prepared a guide on how to communicate online, using appropriate video call devices and software.
Preparing for a Video Call
Here you will find useful tips on how to get set up for online video calls and conferences. You can find a quality webcam for a reasonable price or use a built-in camera, so let's find what you need for a video chat PC.
Connection
You need a high-speed internet for online video calls, so make sure you have a proper connection, so the conference is not disrupted. Some video call services take a lot of traffic, and when the connection is weak, the video may lag. Check your internet speed in advance and take necessary measures to look well and achieve the communication aim.
Equipment
Consider that you need to prepare a microphone, choose a good webcam, keep the headset nearby, and set lighting. You should test all the equipment before the conference starts. It is recommended to use a computer or laptop for online calls as your smartphone limits communication possibilities. People may need such features as chatting or slide viewing for a business conference.
Place
Before going live with your partners, boss, colleagues, etc, make sure your webcam setup captures everything needed. It means your background should be clear, and anything can distract people from the call topic. You can find a video platform that offers virtual backgrounds if your setting is too informal. You can launch a webcam controller, use autofocus and apply noise reduction technology for smooth and professional look online video calls.
Communication Rules
Firstly, you need to introduce yourself before speaking as sometimes, when registering, people fail to write their full name. You can add your photo or create an avatar, so call participants recognize you easily. Make eye contact with the person you speak to and mute your microphone when someone else is speaking. Using Windows 10 screen recorder to capture the call or conference to review it later, make sure you inform the audience beforehand.
Appearance
Mind that a business conference, even if it is held online, requires an official dress code. You should look professional if the situation requires it. People often apply a webcam set up in a way that the camera captures their faces and shoulders. But we know many awkward situations when a person was captured in full growth in pajamas and a shirt. So please, dress appropriately to avoid such cases.
Choosing Services for Video Calls
Once we clarified what are the appropriate video call devices (laptop or computer), let's move to the best video chat PC.
Zoom
Zoom is a great service for online calls with a simple interface and free 40-minute calls. You can download the software to your computer or use it via the browser. The registration process is quite simple, and you can sign in through your Google or Facebook account.
The software interface allows users to create a new meeting or join the existing one by following the link or entering code and password that are unique to every meeting. The meeting participants can get the invitation via email. Then you allow every member to join the session or make it open for those who have the invitation.
This video call platform provides their users with a screen sharing option and the possibility to record the meeting. It is great for conferences as there is a chat for all members or you can write to a specific person in a call. Another advantage of Zoom is virtual backgrounds and image effects. Business conferences can benefit from the option of a raised hand not to interrupt each other.
Generally, it is good software with quality video and decent communication features.
Skype
Skype is a popular video calling service with unlimited free calls. You can have up to 50 people in one call. You need to sign in so that other users can see your name and photo. When registering, you have to make up a credible password to avoid cyber fraud. Be prudent and check if someone is using your account. Then it is possible to arrange meetings by copying a web address in the menu. Send the link to the potential meeting participants via email or social media.
Once people join the meeting, you can name it, and the call will always be on their lists. Start a call, and other people will get a notification and enter the conference. Here you do not have to allow every member to join the call, and they can do it freely. Users can benefit from screen sharing and chatting. There is a collection of virtual backgrounds and the possibility to switch view modes like a grid, speaker, together, or large gallery.
Pay attention that it easily captures background noise and provides moderate video quality.
Google Meet
Google Meet is perfect for quick online conferences and meetings as it provides a good quality video and sound. People with Google accounts do not have to download anything or register. You simply open my Gmail account and choose an option to start a meeting and share the link via email.
The distinct feature of this video call service is a language translation option. If you speak different languages, switch on subtitles and enjoy communication. It is a machine translation, but very often, it is quite helpful. You can also share your screen and chat with other participants in case of sound problems.
Google Meet is a great solution for spontaneous calls as it doesn't require registration or download and is easy to use.
As you can see there are lots of platforms for video conferencing to choose from. Having the freedom of choice is important as it allows you to work with a tool that fully corresponds to all of your requirements. Thus, we've created the list of best Atdhe alternatives to watch sport online and top Anime-Planet alternatives to watch anime series.
Conclusion
Now you know all the secrets on how to make a video call on your computer. Choose a full-screen device like a computer or laptop for more online communication possibilities. You need to ensure proper webcam setup, video conferencing software, and prepare yourself and your palace for the online call. The first time may not be as good as you planned, so make a video call to your friends or family to practice.