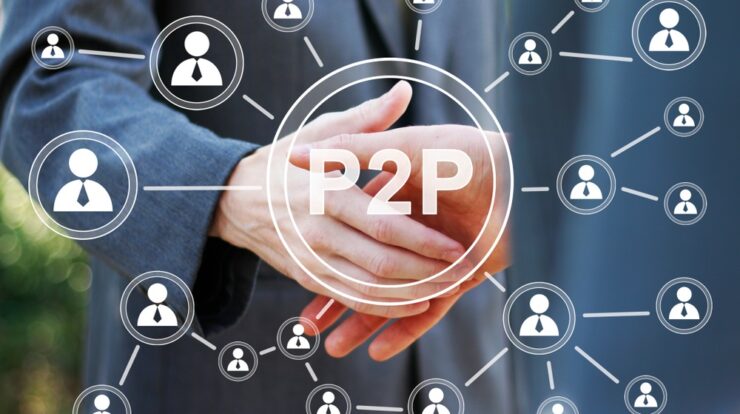 Ever since technology has brought over the world, people have abandoned manual methods and shifted to using technology for essential and everyday work. Know that when we work digitally, we have to share the work with our peers, and for that, we need a medium, and what could be better than Peer-to-Peer, commonly known as P2P Software. 
There are other ways to direct download and stream content; however, P2P file sharing is still in vogue and is considered the best sharing medium. Thousands of people are still using this software because of its convenience while sharing and accessing different kinds of content over the internet. In addition, the download lets you download games, movies, and different software free of cost. 
While sharing all the good stuff, we find it impertinent to tell you that P2P can also be vulnerable to viruses, spyware, adware, and malware. Therefore, we recommend you to be mindful while choosing the source and file-sharing applications for usage. 
Top 12 Best P2P (Peer-to-Peer) File Sharing Software
We have compiled the list of the best Peer-to-Peer Software for clean, safe, and fast File Sharing. Follow below. 
Soulseek is yet another peer-to-peer file-sharing system and program. The software is specifically used for exchanging music; however, it can also be used to share an assortment of files. Every time users search for any item, a list of results relevant to the search will appear. Additionally, the software also enables users to search by the folder name. Apart from that, unlike post-Napster clients, Soulseek does not support multi-source downloading. It only retrieves a requested file from one source. 
This software doesn't support multi-source downloading or"swarming" like other post-Napster clients and has to fetch a requested file from one source.
UTORRENT is hands down one of the best for downloading files via P2P protocol. The software is relatively easy to use and does not confuse the users. The software is also easy for beginners. Additionally, the program has a remarkable downloading speed, and it does not consume resources at all. Last but not least, UTORRENT lets users avail automation and remote-control features in the program. 
The next on the list of best P2P programs is BitTorrent. The P2P software is known for offering fast and trustworthy performance. The software proves to ace all its competitors. Additionally, the software is quite heavy for novices. The tool can be seen taking up a plethora of digital resources from the computer; however, fast speed and the commendable command measure up to the flaw. Apart from that, P2P also have a bandwidth booster for better acceleration. BitTorrent Remote also lets remote-control torrenting. 
Next up, we have SHAREAZA. This software conveniently runs on Windows that downloads all files available on a few popular P2P networks. This software is free of cost and does not contain any Spyware or third-party products. SHAREAZA also supports different networks, including Gnutella, Gnutella2, EDonkey Network, and BitTorrent. 
Moreover, the software lets users download files on FTP and HTTP protocols capable of managing magnet links, ed2k links, Piolet links, and Gnutella links, which are not updated anymore. In short, SHAREAZA has many users, and the amount of files shared through this P2P software network is countless. 
If a user is precisely looking for a multi-platform peer-to-peer file-sharing program, EMULE is the perfect software for you. It is one of the largest client apps and the best open-source tools for peer-to-peer file sharing based on the edonkey2000 client. The software is available in different languages and lets users connect to different servers. It also relates to a corrupt file detection system for ensuring your file security from all kinds of malware and viruses. The software is free of spyware and adware in the first place. Moreover, the software is available in a portable version to run from a USB flash disk as well. Emule is compatible with OS, Windows XP, Vista, Windows7, Windows8, and Windows10. 
KCEASY is yet another client app based on the P2P file-sharing protocol referred to as GIFT. The protocol increases the overall usability of the P2P network. It also increases the ability to download a single file from different peers simultaneously. The program is free from spyware. It is open-source and only works for Windows. The best part about the software is that it offers different file-sharing networks. 
qBittottent is an open-source program. The software has a straightforward interface and offers access to everything required for customization. In addition, the software offers access to useful information as well as entertainment, including movies, books, music, and much more. The software is compatible with FreeBSD, Linux, macOS, OS/2, and Windows. 
Bitport offers an innovative way to download and use torrent files. It directly transfers the torrent files to its own server instead of downloading them on your computer first. However, an option is available to whether flow the content or download it into your desktop, so the choice is all yours. The software is paid, but it also offers free services. Additionally, it has certain limitations. For example, users can download 1 torrent each day, and the size limit should also be 1GB. Overall, the software is great and provides the best. 
Ares Galaxy is yet another best program. The software may not be as gigantic as other P2P programs, but it does its work pretty well and is free of spyware, adware, and viruses. The software is small, offers fast downloading speed, and provides trustworthy performance. So, Ares Galaxy is compatible with Windows XP, Vista, Windows7, Windows8, and 10 operating systems. 
Frostwire proves to be the best option when you have the urge to download torrents through Peer-reviewed protocols. The software is fully functional and offers different terms of features. Frostwire is known for offering secure transmission processes. This software is compatible with Windows, macOS, Linux, and Android. 
Deluge is yet another best torrent-downloading client. The software, however, is not suitable for beginners. The software is best for professionals and offers manifold features. However, the software does not offer an attractive UI interface. Apart from that, the Deluge keeps adding new features as a module, as a plugin system has empowered it. 
Lastly, we have Windows Music Exchange, commonly referred to as WinMX. The software is authored by Kevin Hearn and the team at Frontcode Technologies. It is free of cost and offers free software peer-to-peer file sharing. 
Commonly, users connect to the WinMX Peer Network program as a primary or secondary source. The features are usually available to bother sources; however, the primary users would need to spend more bandwidth to have a better connection. Moreover, primary users also have the ability to host chat rooms. On the other hand, Secondary users scarcely use bandwidth, but their extended link lacks stability. 
Final Words:
In this article, we have studied P2P, which is a system of computer software applications, protocols, and software libraries using the internet to enable every computer to act as a node and provide network services. The software is also referred to as "distributed computing". In brief, it is used for different purposes, including file sharing, large-scale computation, and network security.