The necessity to protect your digital assets & network devices is becoming more important as hackers become more sophisticated. While IT security Services might be costly, a big breach can cost an organisation significantly more. Large data breaches might put a small business's health at jeopardy. IT security teams can use an incident response plan as a risk management strategy to gain control of the situation during/after an occurrence.
What is the Difference Between information Security (InfoSec) and IT Security?
Although the terms IT security Services and information security may appear to be interchangeable, they refer to various types of security. IT security directs to securing digital data through computer network security, whereas information security refers to the processes and methods designed to protect critical company information from intrusion.
What are the Dangers that IT Security Faces?
IT security Services threats can take many different shapes. Malware, or malicious software, is a widespread threat that can infect network devices in a variety of ways, including: • Ransomware • Spyware • Viruses
These dangers emphasise the importance of having solid security procedures in place. To stay safe, learn more about malware.
What are the Advantages of IT Security for me?
Malicious attacks and potential security breaches are prevented by IT security, which can have a significant influence on your business. When you enter your company's internal network, IT security ensures that only authorised users have access to and can make changes to important data. IT security Services works to ensure that your company's data is kept private.
Different Types of IT Security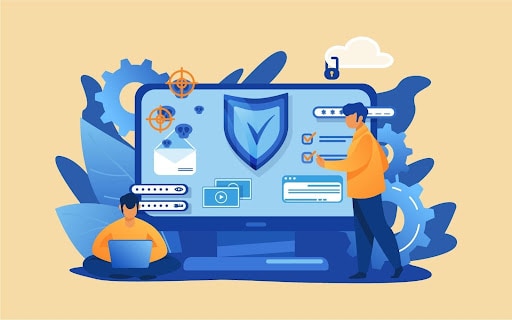 Network Security
The main goal of network security is to keep unauthorised or harmful users out of your network. This ensures that the usability, reliability, and integrity of the system are not jeopardised. This level of security is required to prevent a hacker from gaining access to data on the network. It also keeps them from interfering with your users' ability to connect to or use the network.
As enterprises expand the number of endpoints and shift services to the cloud, network security has gotten more difficult.
The Security of the Internet
The safety of information sent and received in browsers, as well as network security involving web-based applications, are all part of internet security. These safeguards are planned to scan incoming internet data for malware and undesirable content. Firewalls, antimalware, and antispyware are some examples of this protection.
Endpoint Security
Endpoint security protects gadgets at the hardware level. Cell phones, tablets, laptops, and desktop PCs are all examples of devices that could be protected by endpoint security. Endpoint security will keep your devices from connecting to hostile networks that could pose a security risk to your company. Endpoint security includes things like advanced malware prevention and device management software.
Cloud Security
Users are connecting directly to the Internet & are not secured by the traditional security stack as apps data, and identities move to the cloud. Software-as-a-service (SaaS) applications and the public cloud can both benefit from cloud security. Cloud security can be achieved through the employment of a cloud-access security broker (CASB), secure Internet gateway (SIG), and cloud-based unified threat management (UTM).
Application Security is important.
With application security, applications are expressly coded to be as safe as possible at the time of their construction, helping to ensure they are not vulnerable to assaults. This additional layer of security entails analysing an app's code and discovering any vulnerabilities that may exist.