This article is for you if you want to know how to activate Facebook Dating. This feature combines some of the functions of a few popular online dating apps with the world's most famous social media site. After you've activated this feature, you may start looking for your matches.
Activate Facebook Dating Steps
This article will explain how to activate Facebook Dating on Android and iOS devices. To get started, follow the steps outlined below to activate Facebook Dating.
Open the Facebook app on the device and tap the Three Lines or Menu button in the lower right corner.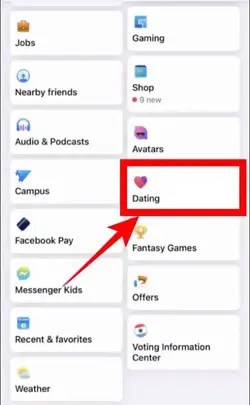 Select Get Started and follow the on-screen directions to set up your profile.
After you agree to share your location and upload a photo, your dating profile will be complete. The remainder of your information will be derived automatically from your Facebook profile.
What Is Facebook Dating?
Facebook Dating truly assists people in meeting their matches by connecting them over this worldwide social network. You don't need to create a separate profile for this; the dating profile may be generated using information from your Facebook profile. Based on the interests you've shared on Facebook, you'll receive recommendations for possible matches. Other persons with similar interests will be suggested to your profile. If you can only communicate with someone once you show interest in each other, Facebook Dating is comparable to Tinder or Bumble. You will not even receive recommendations for your current Facebook friends, and your dating profile will not be accessible to your Facebook Dating friends. However, because Facebook friends may add each other to the Secret Crush list, you may be matched with a buddy if they have added you to this list.
How Does Facebook Dating work?
Before using this feature, you need to understand how it works. In such case, if you do not already have a Facebook account, you must create one. Also, because Facebook Dating produces the profile using information from your Facebook profile, you should fill up your Facebook profile as much as possible. Furthermore, there is no distinct app for Facebook Dating. It is built right inside the Facebook app. On your Facebook Dating profile, the photos and other content you share on Facebook will not be displayed. Even the conversations over here are kept separate from those on Facebook Messenger. And if you become Facebook friends with someone you've previously matched with on Facebook Dating, you may still access their dating profile.
How To Use Facebook Dating?
It's now time to figure out how to use this feature. You'll be presented with recommendations one at a time. Through the Facebook app, you may open the dating area at any time. Follow these instructions to use this feature.
If you enjoy a user's profile, tap the Heart icon. If you wish to pass, press on the cross. You can start a conversation with someone you've loved once that person likes you.
If someone likes your profile, you'll be alerted. If you like them, match them and start a conversation by tapping the heart on their profile.
You may view your matches and conversations by pressing on Matches at the top of the app.
Scroll down to your profile and then tap Answer a Question. You may help Facebook improve its recommendations by answering these questions.
You may share your photos or Instagram posts at the bottom of your dating profile, much like on Tinder.
How To Adjust The Facebook Dating Settings?
You may change the settings for this feature to alter its usefulness.
To access Settings, tap the Gear symbol.
Under the Ideal Match page, customize the criteria to your liking.
The General tab allows you to customize what appears on your profile. Tap the Three dots next to Instagram to add your profile.
Facebook Dating Secret Crushes
Scroll to the bottom and add people from the recommendations to your hidden crush's list. They will be notified, but they will not see your name. However, if they add you to their list of hidden crushes, you two will be matched.
How To Delete A Facebook Dating Profile?
You may deactivate your Facebook Dating profile without also deleting your Facebook profile.
Select Settings.
Now, choose the General tab.
Then tap Delete Profile.
You may either choose a reason for deleting your profile or tap Skip and Next to delete your Facebook Dating profile.
Facebook Dating Safety
If you're planning to meet someone you know from Facebook Dating, make sure you notify someone. You can also communicate with them occasionally to ensure your safety. To block someone on Facebook Dating, go to the General page under Settings.
The Bottom Line:
That's all there is to it, but make sure you're over 18 to activate Facebook Dating. To use this feature, you must be at least 18 years old. This feature is not available on Facebook Web; however, it is available in the mobile app.