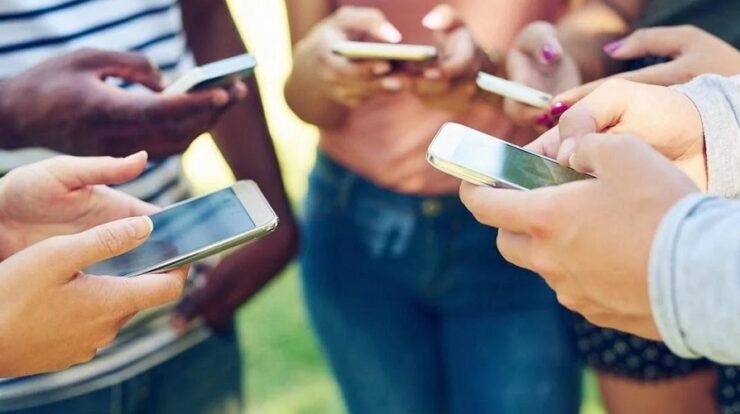 Are you seeking for anonymous chat apps to talk to strangers? Because we're going to talk about these apps today. It also offers apps for texting and video chatting. Everyone wants to have fun and be amused in this day and age of smartphones. Chatting with strangers is one of the best ways. If you are young, this article will excite you even more since we are searching for adventure and meeting new people who share our values. So you look for the best anonymous chat apps where you may communicate with strangers. Several chat apps are available on the internet, but we have selected the best ones and included them in the list below. Don't worry; they are safe and secure apps for chatting with strangers, so choose one and have fun.
Top Anonymous Chat Apps

For Smartphones

However, after much investigation and expertise in these apps, there are several anonymous chat apps for your smartphone. For Android and iOS, I've compiled a list of the best anonymous chat apps. I'll be able to assist you. Let's glance at the best anonymous chat apps list.
1. Rave
Rave is a great way to spend some leisure time with a stranger. This app allows you to watch YouTube and Netflix with a remote companion. Individuals must first create an account on Rave and then sign in to their Netflix or YouTube accounts. You may now join any public chatroom to watch the same show you are interested in. You may even start messaging while streaming if you create your chatroom.
2. Anonymous Chat App
Well, The anonymous chat app is one of the best smartphone apps for chatting with strangers. The best feature of this app is its user interface, which rapidly assists you in finding your match. As a result, you will chat with everybody immediately. All you have to do is tap your smartphone's screen to begin chatting with any stranger worldwide.
3. Whisper
Whisper is an attractive anonymous chatting app for Android devices. After downloading it from the Play Store, you may start chatting with anonymous people. While chatting, the user interface will be really useful. Opening separate tabs within the Whisper app lets you chat with many people simultaneously. So it would be best if you gave it a go.
4. MocoSpace
Mocospace is a user-friendly smartphone app for chatting with strangers. It has distinct features that allow you to select a stranger from a certain location. Users may select and filter out their matches on the app using the settings given. As a result, the two people speaking different languages should be fine while chatting.
5. RandoChat
RandoChat is a major fish in the field of Android anonymous chatting apps? It is ranked fifth on our list because of its user interface and the lack of specific features. The app needs a well-designed interface. That is the primary reason for this being ranked fourth on our list. Still, it's worth a shot.
6. Connected2.me
Connected2.me is an app that allows you to chat with anonymous users in your neighborhood. This app uses location services to find and link you with random users nearby. Launching the app displays a list of nearby profiles with whom you may chat immediately. And, much like Instagram, it includes stories from its users at the top. As a result, it's a fantastic and entertaining app to use.
7. HOLLA – Hay live video chat
No, I'm not a big lover of texting. Use this Android app to participate in live random video chats. It's one of the world's most popular anonymous chat apps, with over 40 nations having downloaded it. Holla is being used by more than 30 million people worldwide. Meeting people worldwide and learning about their cultures is a piece of cake with this software. Holla's live audio and video chat capabilities enhance communication. You may use this social networking app's 1-on-1 direct video call function to conduct a one-on-one video conversation with a stranger. You might also join a support group that fosters free and honest exchanges of thoughts and perspectives.
8. Omegle
Omegle is one of the internet's oldest anonymous chat apps. You may talk to strangers anonymously by using Omegle services. In contrast to the online version, you must create a separate account on the app by providing your username and email address. However, because much of the information is unverified, you may use any anonymous email or username. However, most features, such as manual gender filtering, are charged.
9. MeetMe
Meet Me began as a dating app, but it quickly rose to prominence as an anonymous chat app. Users should create anonymous online pals or chat with random people. Aside from meeting great new strangers, there are features like measuring the number of profile views, fans, and gifts you have gotten. More than 100 million people have used the service, so you may expect to see some unusual things.
10. Chatous
Meeting and getting to know strangers without revealing your identity seems appealing. Chatous allows you to accomplish the same thing from your smartphone. It is accessible on Android and iOS, and you may meet new people worldwide every day. Furthermore, using the #hashtag, you might find people who share your interests. Aside from that, Chatous allows you to alter your name and identity at any time.
11. ChatLive
Chat Live allows you to engage with people from all around the world. You will encounter a new stranger every time you go through the procedure. It protects your anonymity by displaying other users' nicknames and revealing no additional information. The app strictly prohibits any adult content and nudity. It does not, however, have a buddy list, so you cannot add people you chat with.
12. Wakie
Do you have the ability to change people's attitudes by providing them with optimistic advice? If you've such qualities and wish to help people, Wakie is an excellent platform. You may ask people questions and even advise them on solving everyday problems. It lets you start a conversation about any topic without revealing your identity. It also allows you to contact people worldwide and learn more about their cultural customs.
Consider The Following:
Conclusion:
So, after this article, I hope you have picked your favorite anonymous chat app from this list, and I believe the article is a comprehensive resource for making a smart choice. Assume you have any questions or concerns about the article's content. Please leave a note in the comments section below, and I will respond as soon as possible.