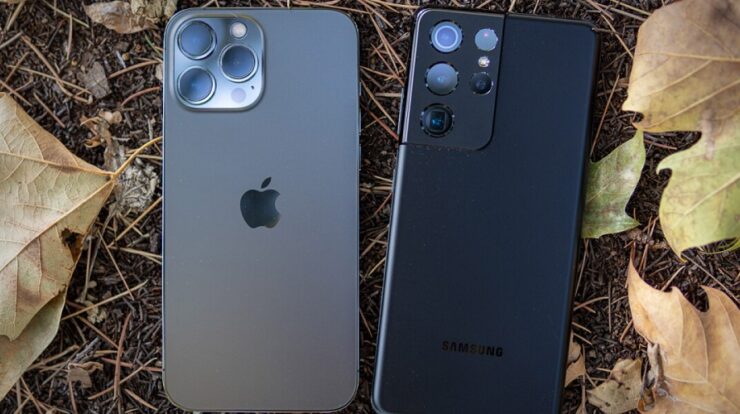 Have you ever questioned how to measure the speed of a vehicle using the GPS on your smartphone? Doing everything practically is feasible with smartphone apps, even if it requires keeping an eye on speed. Let us present you with the GPS Speedometer apps. These apps can measure the speed of time and the change in your location. This article has compiled a list of the best speedometer apps for Android and iOS. You can easily keep track of your speed with these GPS speedometer apps. Assess vehicle speed, runners speed, cycle speed, and more effortlessly.
Top GPS Speedometer Apps For Android & iOS To Try
Here's a list of the best GPS Speedometer Apps for Android and iOS. 
1. Speed Tracker: GPS Speedometer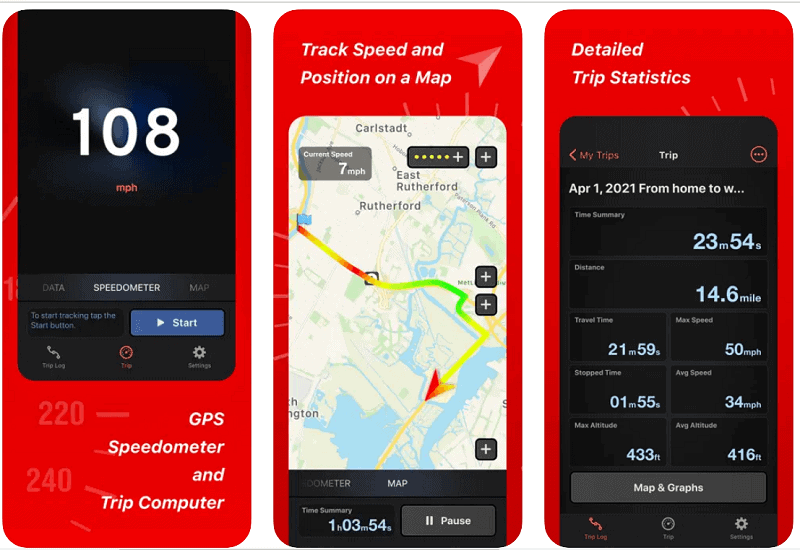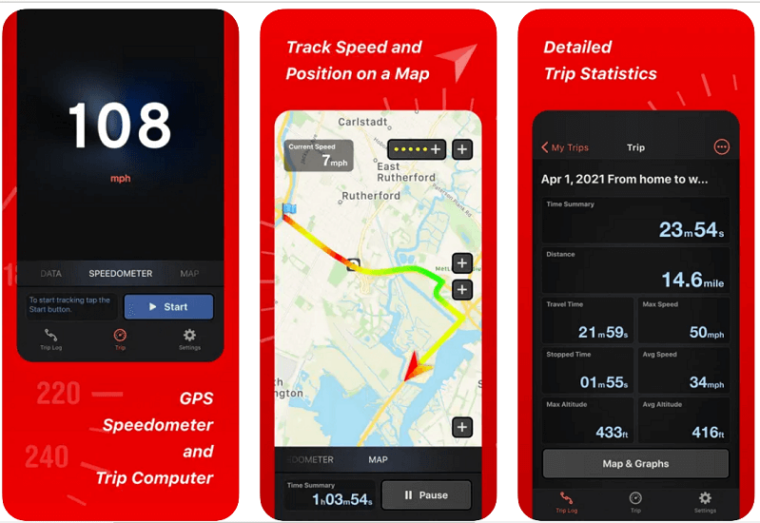 Speed Tracker: GPS Speedometer is a terrific app for iOS users because of its excellent speed tracking capabilities. Using this GPS speedometer app, you can accomplish traditional functions such as measuring speed, counting km, time spent on the road, and more. In addition, a built-in map helps track GPS position and provides the fastest and best routes. Head-up-display (HUD) is another intriguing feature of our iOS Speedometer app. This allows for accurate speed measurement even when the phone is placed beneath the windshield.
2. Sygic – GPS And Speedometer App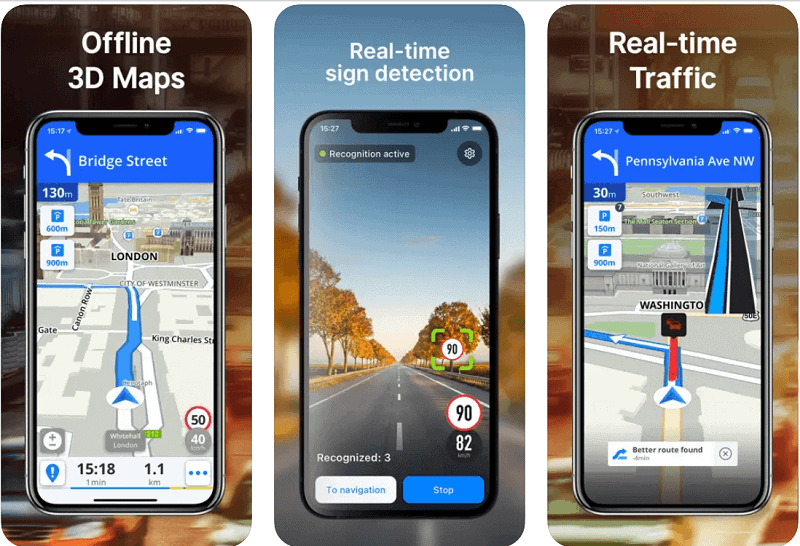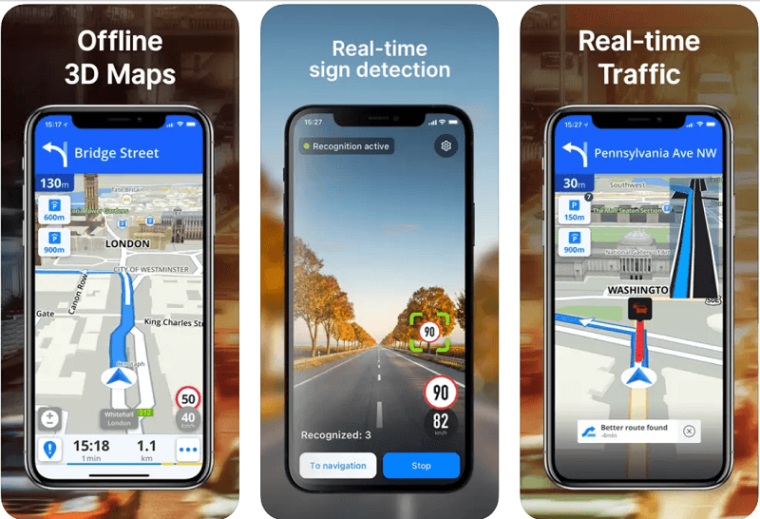 Available for Android and iPhone, this best GPS Speedometer app is trusted by 210 million drivers worldwide. It includes offline 3D maps; even when you don't have internet access, you can use it to get the correct route and remain below the speed limit. In addition, the app includes voice-guided GPS navigation and keeps watch on speed limits. You may also use this best GPS app to receive exact instructions while walking.
3. GPS Speedometer And Odometer (Speed Meter)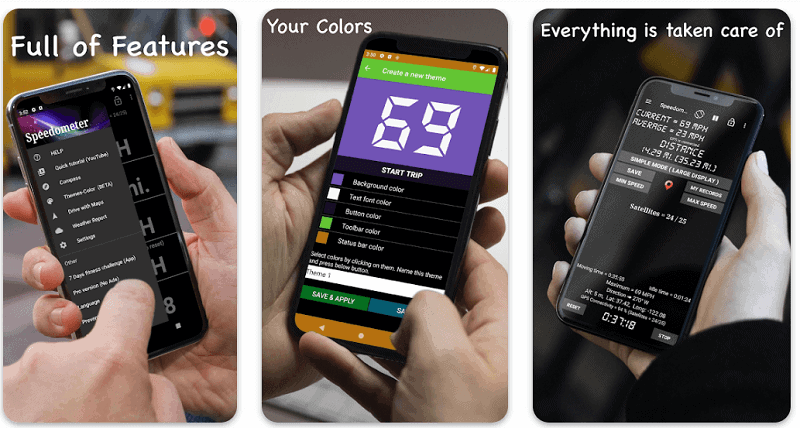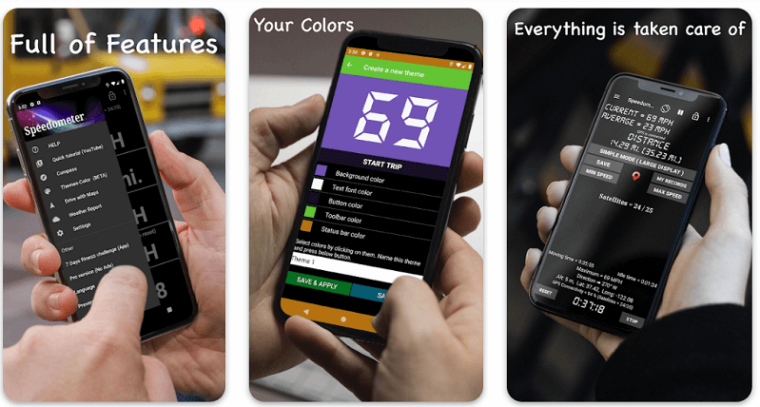 This GPS Speedometer app is for Android and may also be used offline. It is also compatible with GPS. It has a 98% accuracy rate. This best GPS Speedometer app is simple and ideal for bikers and cars. When you use the GPS Speedometer and Odometer app, it estimates your speed and displays the number of hours and kilometers you traveled.
4. Ulysse Speedometer App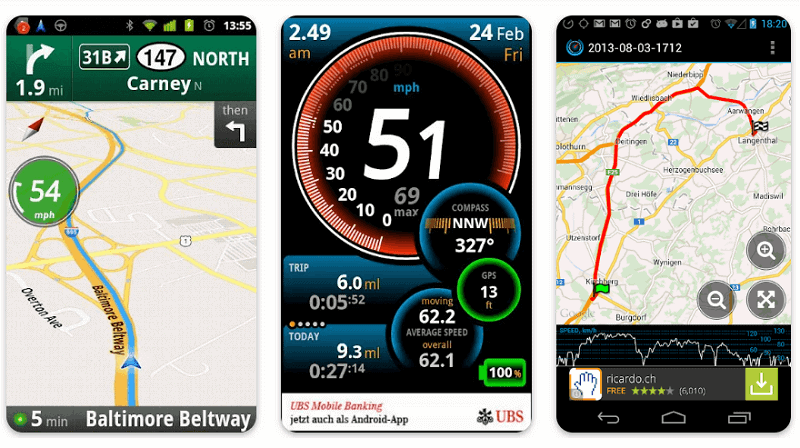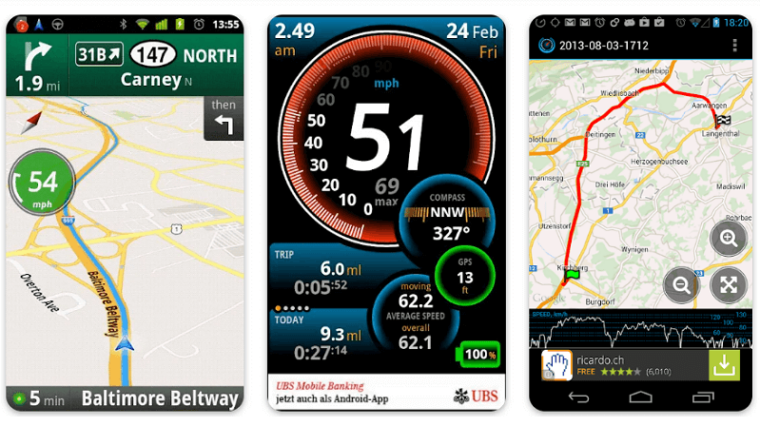 Next on our list is Ulysse, the best Speedometer app for Android that displays screen time, date, speed, and more. In addition, the app has two helpful buttons that blend nicely with the music player and navigation. This reveals a lot about the Ulysse Speedometer app, which serves as a one-stop shop for all driving tools. For example, when the speed limit surpasses the app alerts by creating a distinctive sound, you may examine a speed history of the same.
5. DigiHUD Speedometer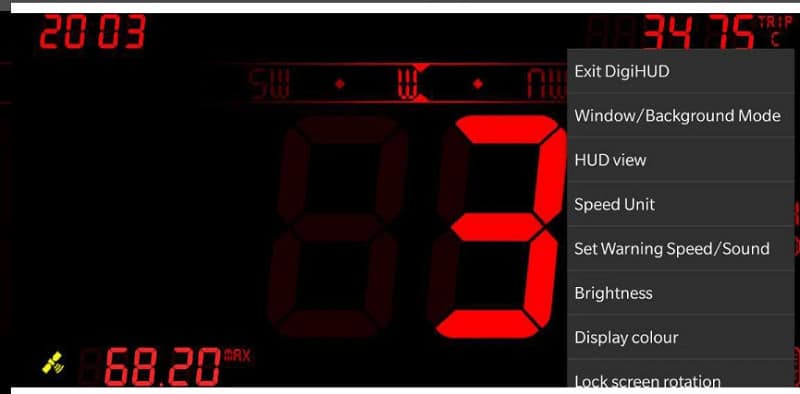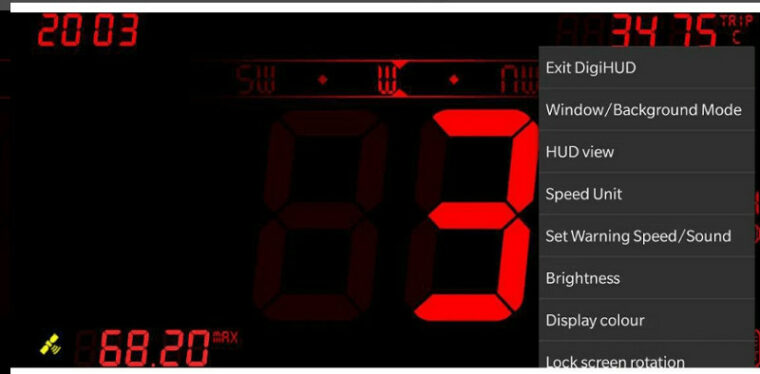 DigiHUD Speedometer is a nice simple Speedometer app for Android users. The GPS Speedometer app provides everything the best Odometer app requires. This means you may use it even when you're not connected to the internet, and it won't interfere with the working of other apps. You may also set a speed limit you don't want to exceed while using DigiHUD Speedometer, and the app displays driving information such as distance, speed, and more. It is the best Speedometer app with no unnecessary icons. In addition, this best Speedometer app allows you to choose between standard and HUD viewing modes.
6. Speedometer GPS Pro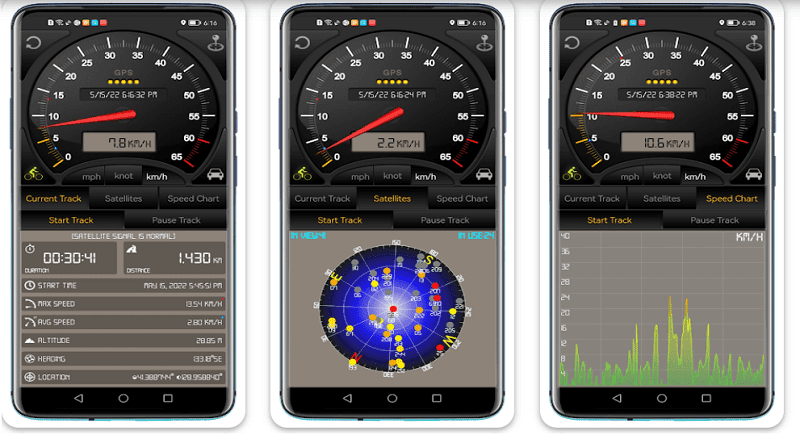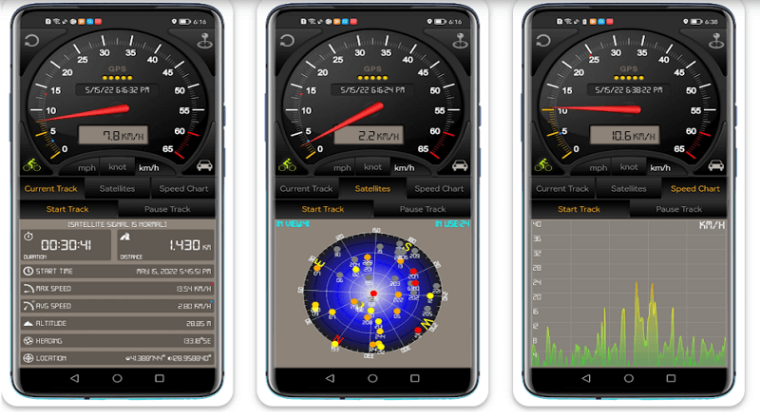 A premium Speedometer GPS Pro app, beneficial for vehicle drivers and bicycle riders, even offers a free version. Using this best Speedometer app, you can easily track speed and distance, and get alerts for elapsed time, maximum speed, and other vital features. This app is useful when your bike's or car's speedometer is broken or not working. The Speedometer app is available in two modes. Using the app, you may preserve driving and cycling information for future use. It works nicely with maps hence showing your present location.
7. Speedometer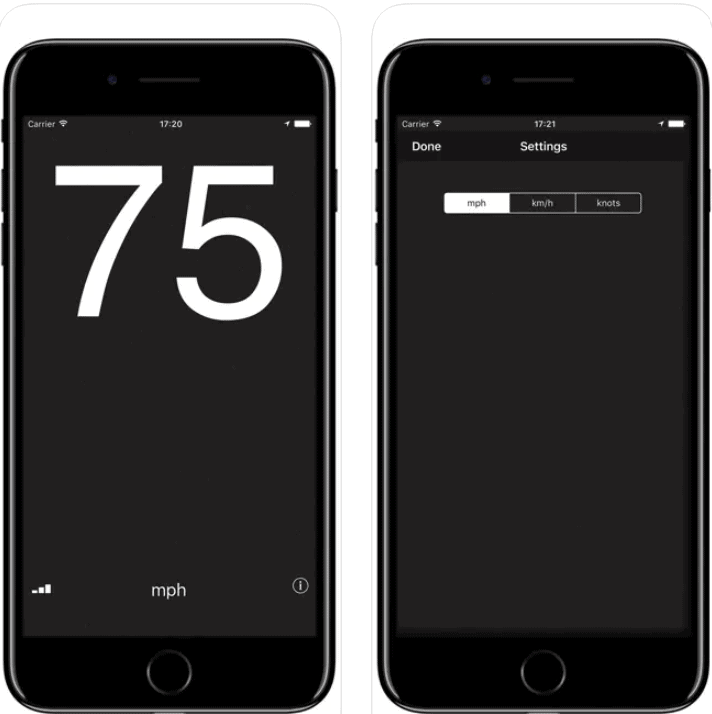 Available for iPhone users, this free GPS Speedometer app is the simplest speed tracking app with a large display. The app shows speed measurements in (mph, km/h, and knots), which is probably simple but easy. However, when the digit on the screen fades, it means that the accuracy has vanished, and vice versa. So, if you're searching for a Speedometer app with no frills, this is the one for you. Our fantastic iPhone Speedometer app lets you constantly track your speed.
8. SpeedView GPS Speedometer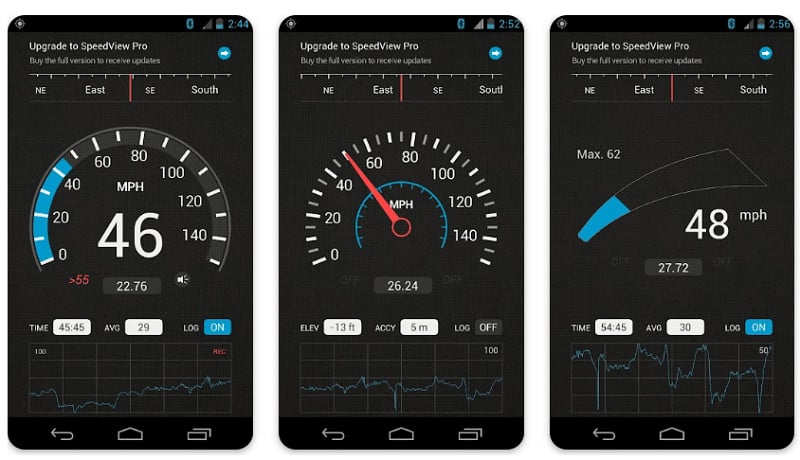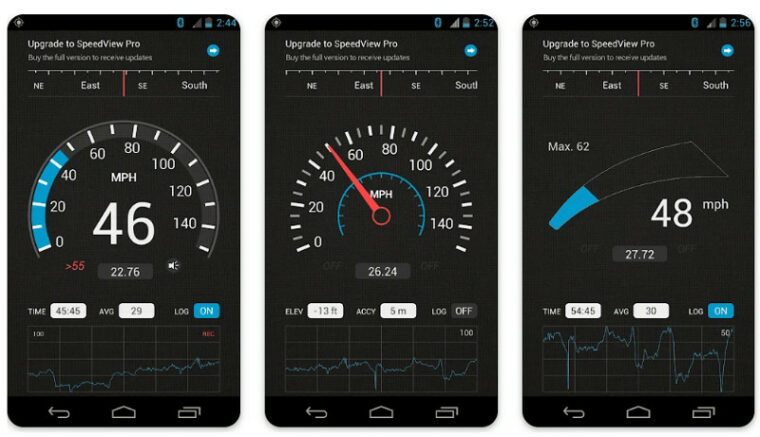 SpeedView is the next app in our list of the best Speedometer apps for Android users that leverage the phone's built-in GPS. You may avoid getting a speeding ticket by using this Speedometer app, which alerts you whenever you exceed the speed limit. You may also set your personalized speed limit and enjoy using this powerful Speedometer app by using this free Speedometer app with in-app purchases. Like DigiHUD, it also runs in the background, shows a compass, and shows driving history, including distance & speed. The information it offers is precise and shows the current direction of travel, making it suitable for jogging, hiking, bicycling, and driving.
9. Speedometer Speed Box App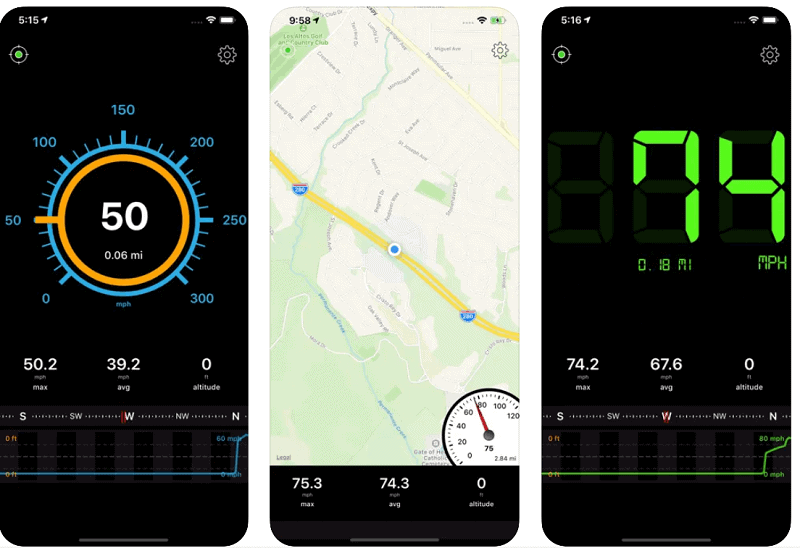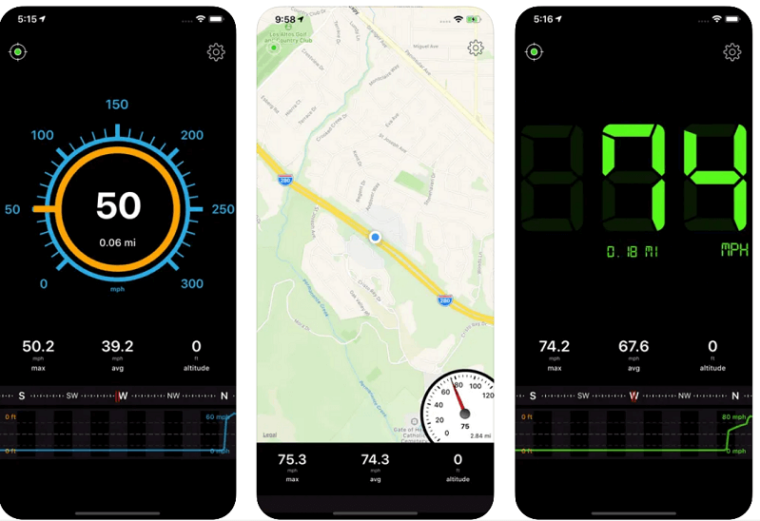 The Speedometer Speed Box app is the free and best Speedometer app for iPhone users that reliably measures distance and distance. This Speedometer, Odometer, and Compass app tracks speed and are the best. This speedometer app displays accurate data in kilometers per hour, miles per hour, and knots. The app offers three distinct Speedometers and comes with an embedded compass. In addition, the app monitors top speed, issues speed alerts, and automatically resets distance (day trip meter).
10. Speedometer 55 GPS Speed & HUD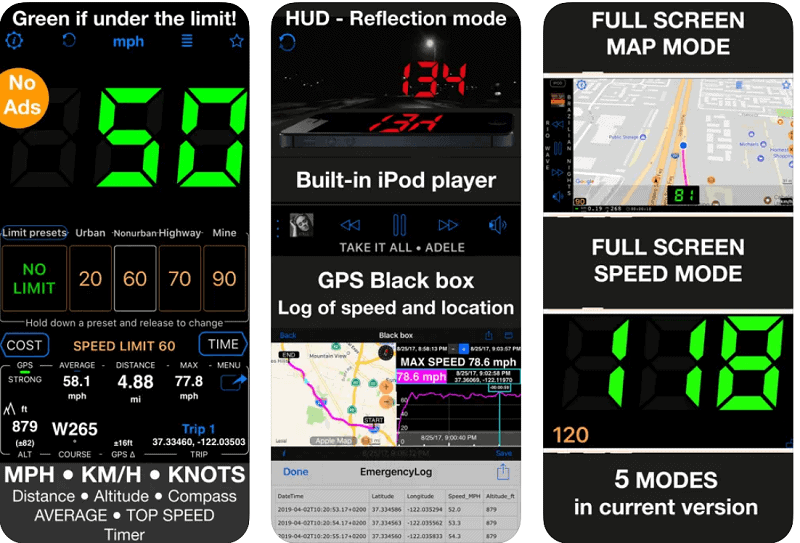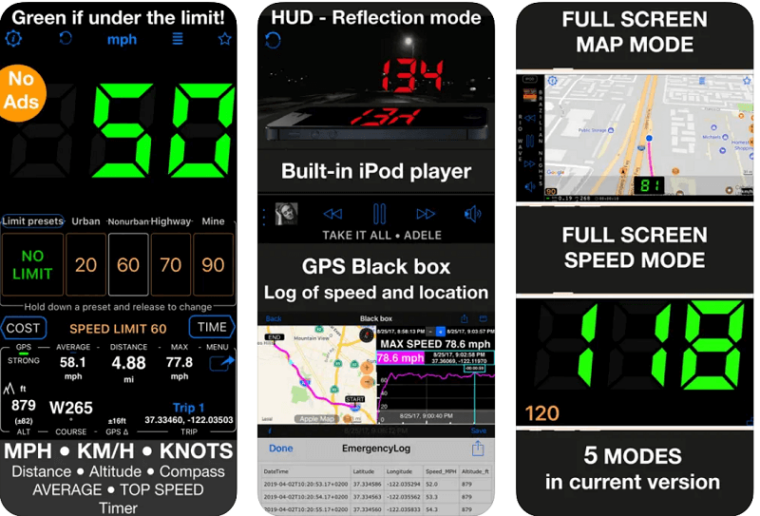 This Speedometer app for iPhone users offers all the key elements for safe driving. When the speed limit is exceeded, the digit color changes to red in addition to showing speed. The app alerts you if you exceed the speed limit with an alarm sound. You can know the limit of your vehicle when going to different areas using the altimeter provided by this best speedometer. The speed recorded by this app may be used to determine at what times you exceed the limit. This app is intriguing; it is named Speedometer 55 since it assists in avoiding a speeding penalty. Most importantly, the app does not gather any of your personal information.
Conclusion:
That concludes our list of the best Speedometer apps for Android and iOS. We hope you like the content and find it informative. Share your opinions, and please drive cautiously.