Bonjour is a really nice French greeting that literally means "hello". It is kind of a conversation starter. Now that we have an idea about the meaning of Bonjour, we can easily fathom what this article is about. Yes, you get it right; the article discusses Bonjour services created to make the sharing system easier amongst different networks. While it is easy to share items from one Apple product to another, sharing stuff from Apple to Windows and Linux is relatively complex, and that's where Bonjour Service kick in. 
With Apple products, searching for each other and also communicating with each other has never been a problem. Additionally, Apple products operate with an enormously high quality of interconnectivity. However, this quality of Apple products contradicts to Windows and Mac products that are not successful in sharing data from one gadget to another. This is why Bonjour service is important.
Bonjour Service for Windows10 creates a zero-configuration networking relation between different sort of devices. The Apple Company coined the Bonjour service, and it has offered a great convenience indeed. The Apple Bonjour Service is integrated with Apple devices such as MacBook and iPads, so one needs not install anything else to use Bonjour services. Since Bonjour is created by Apple, hence downloading it on Windows allows Apple software to search and communicate with other Apple products and services on your network. The Bonjour service, being the combination of various networking services, is essential for receiving links attached to Apple products. It would not have been feasible if it were not for Bonjour.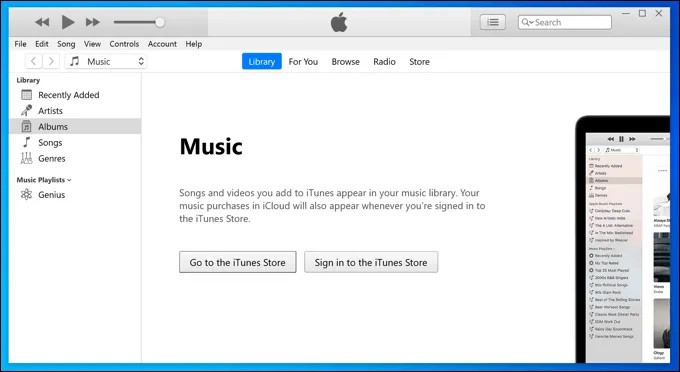 Amongst the few features that Apple Bonjour Services render, a few are file sharing, device sharing, and network configuration. Though, it should be noted that the services are available on only those applications that support these features. Despite not being an application, Bonjour Service for window10 renders great assistance in finding and communicating with other Apple products and services on the network. However, the support totally depends on the apps supporting these features, and Bonjour merely acts as a catalyst to let the communication take place.  
It is also pertinent to know that you don't necessarily have to get Bonjour service, as it is totally optional & depends on your choice and needs. Deleting it may hinder the normal functioning of Apple software, but it won't affect your computer anyway. If you don't have Apple products on your network, then you need not get Bonjour on your computer. It isn't something akin to ntoskrnl.exe, which you can't get rid of. You can either disable it or obliterate it. But before removing it you should know that by deleting it for good, you may lose excess to some Apple software; however, it is true for older software. 
You should also be aware that the Bonjour Service for window10 is not something with which you can directly interact; rather, it merely works in the background and grants permission to different apps and software to interact with other devices and services network. Therefore, to use it, the users will have to install software that supports Bonjour. Previously, the window devices required the installation of certain Apple software, like an older version of iTunes. However, it is somewhat difficult to find, as the newer ITunes version does not support Bonjour and it is also not compatible with the Microsoft software version. So, to get Bonjour service, you need to install the older version of ITunes first. 
Downloading other outdated Apple software is also an option. Like, you can download Safari, but it is better not to go for it. The logic behind not opting for the outdated version is that the outdated version is replete with bugs and viruses, accompanied by security issues that could make your computer vulnerable to malware. 
For the purpose of offering more convenience, Apple offers Bonjour Services as open-source, making it easier for you to search for integrated support into other third-party applications, hardware, and other such services. And this is the exact reason for Bonjour integration into products like printers in a broader basis lately. 
Disabling Bonjour Services on Windows 10
Is It Safe to Disable It? As mentioned earlier, the Bonjour service does not do anything except linking up your network to get any Apple products, and removing it won't be a biggie, of course. Though you may lose access to some of the Apple products but it isn't an issue as long as these products are not your cup of tea. Additionally, removing Bonjour service may become a requirement sometimes when it starts to consume the system resources in Windows Task Manager. However, this, too, does not happen frequently; this phenomenon only takes place when the service is in use to get connected to other devices or services with the help of software that Bonjour supports.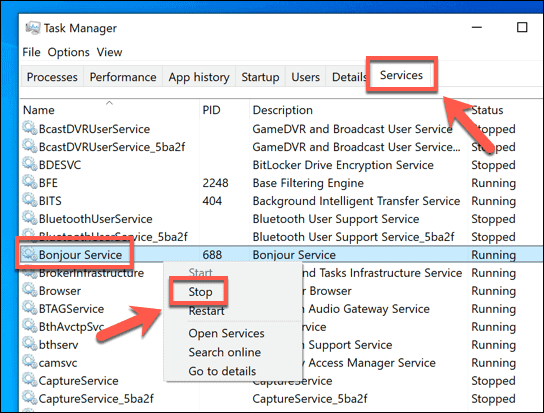 In case you do not like connecting to other devices with the help of Bonjour-supported software, you will ever have the option of disabling or removing the Bonjour service anytime you wish to do so. For stopping or disabling the Bonjour services, follow these steps.
If you want to disable Bonjour

 

for a certain period of time and not permanently, you will have to right-click the taskbar and then select the Task Manager option. 

The second step would be finding 

Bonjour service 

in the Service tab in the Task Manager window. Now, right-click it and opt for the option Stop. 

This will disable the 

Bonjour service 

temporarily, and you can always get it enabled either upon restarting your computer or enabling it manually. 

Right-click to open the Task Manager window and choose the Open Services option at the bottom of the Services tab.

Now, search for the 

Bonjour service 

in the Services window. For it, right-click the entry and opt for the Properties option. 

Now, switch the Startup type option in the drop-down menu to Disabled from Automatic in the Bonjour Properties window. If the 

Bonjour service 

is still functioning, better opt for the Stop button lying underneath the Service status information. 

Finally, select Ok to save your settings. 
To remove the Bonjour entirely, you may need to follow these steps.
Use the Windows Setting menu for removing Bonjour

. 

For this, right-click the Start menu and choose the Settings option. 

Now, select Apps> Apps & features in the Settings window. Search Bonjour either with the help of a search bar or keep scrolling through it till you find Bonjour listed. 

Now, choose the Uninstall> Uninstall buttons to initiate the process of removing it. 
Once you get rid of Bonjour, make sure to uninstall different other Apple software like iTunes, so all the traces of Bonjour are removed from your computer. 
Also, Check :
Final Words:
With Bonjour service on Windows 10, accessing music, pictures, and other files stored on Apple devices has become quite easier. Bonjour has made accessing Apple services on your devices so easier and of high quality as well. Besides installing Bonjour to create a connection between Windows and Mac, you should also check for the possible problems that may stop the devices from communicating with each other. For it, you should better troubleshoot by checking if the fireball is blocking the connection.