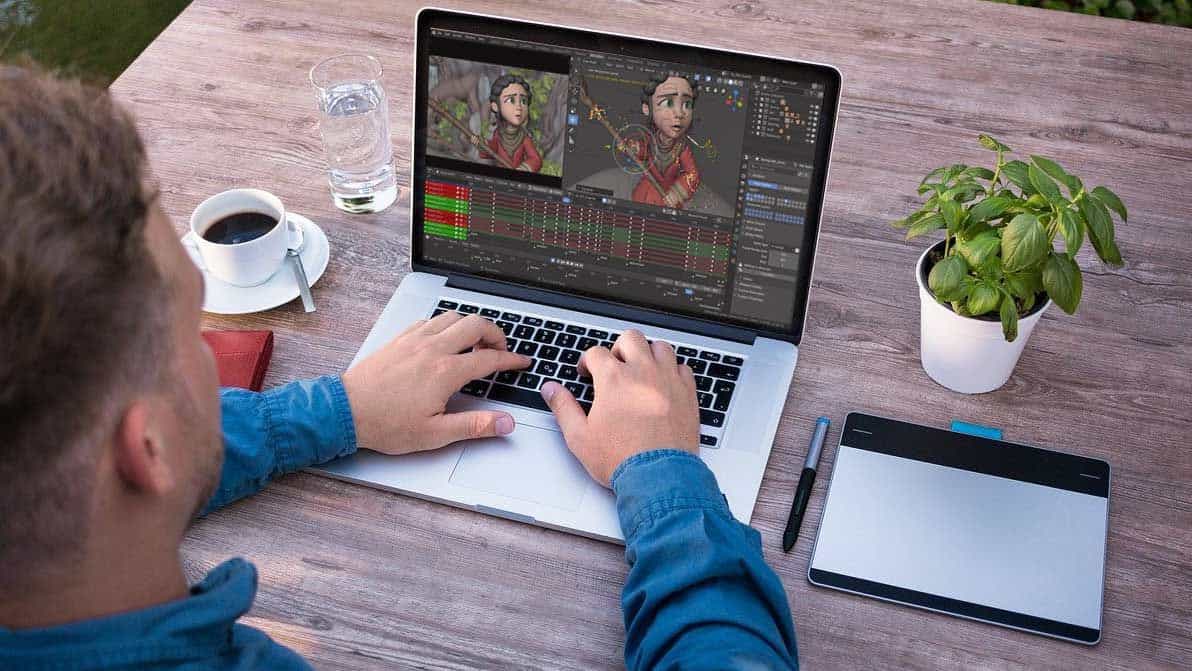 You no longer have to pay hundreds of thousands of dollars for the animation software you require. The Internet and accessible communities have given birth to a plethora of excellent free animation software both for 2D and 3D. Whether you're a beginner or a veteran, a Windows or a Mac user, there's plenty of free animation software to choose from, from the ever popular Blender with its extensive capabilities to the simplicity of Animation Paper.
Best Free 2D and 3D Animation Software for 2022
So let's get started using some of the best free animation software available in 2022!
The wonderful Pencil 2D is a robust vector and bitmap animation software, making it the ideal free animation software for beginners. This open-source, free 2D animation software's user interface is basic and easy, allowing you to create colour compositions with a pencil, pen, and brush tools. Anyone with little to no expertise with animation tools — even complete newcomers — will be able to tell what they can achieve with this tool at a glance.
Layers, a timeline with a simple keyframe manipulation system, So, onion-skinning, colours, pressure sensitivity, workspace toolbars and panels that you can rearrange to match your animation demands and workspace are all included in the program. Animators will love the clear, uncluttered timeline, which makes it simple to add new keyframes on multiple layers, duplicate, alter the frame rate, and work swiftly to create animations with little trouble.
Pencil 2D stays true to its name by only supporting 2D animation. But if that's your thing, this free 2D animation software is a no-brainer. You may always publish a project on Freelancer to leverage the potential of Pencil 2D and explore what's truly feasible even with free animation software. Even with the most basic instruments, professional animators can perform miracles.
This best free animation software is the successor to the extremely popular Plastic Animation Paper 4.0 (PAP 4.0) and has earned a position among the several free animation apps available. Unlike its predecessor, this newer, more succinctly named version – Animation Paper – is accessible for both Windows and Mac. But you'll have to act quickly because it's presently in alpha and will be free for the duration of both the alpha and beta versions. When it comes out of beta, you'll have to pay $79 to upgrade to the final version. However, you are not required to upgrade because you will continue to have access to the alpha or beta versions that you have already installed.
If you want a final result but don't want to pay, PAP 4.0 is always available for free. However, keep in mind that this previous software is only available for Windows. PAP 4.0 was completely redesigned by Animation Paper to create a more minimalistic and intuitive interface. This free 2D animation software will take you back to the days of conventional light-table animation, complete with onion-skinning, light setup, layers, and black, blue, red, and green pens for planning and creating poses and scenarios. The application appearance is uncomplicated and straightforward, yet it is jam-packed with tools for traditional animation. Many people will find it beneficial to watch YouTube tutorials.
When you become acquainted with the numerous little icons (displayed in well-designed minimalist windows around the workspace) and their capabilities, you'll discover that there is a lot you can do with this free animation software. The free animation app supports your pressure-sensitive Wacom pen, has touch-screen compatibility, and easy shortcuts for zooming, panning, and switching between draw and erase modes – as well as other small conveniences that can be difficult to be without.
Synfig Studio is a free 2D animation program with a lot of features. In addition to the standard drawing tools, keyframes, onion-skinning, and shape tools found in many other free animation software, allows you to create bitmap and vector animation, as well as some complex features that need a learning curve.
Another noteworthy feature of this free animation program is that it automatically appends keyframes, ensuring a smooth workflow. Although there have been complaints of tiny offsets between the Wacom pen pointer and the program screen, the tool works well with pressure-sensitive tablets and touch screen laptops.
You may also take advantage of several pro features that are unusual in a free animation tool of this type. For example, Synfig supports gradient routes, allowing you to shade your drawings, edit vector lines, use a grid, onion-skinning, and select from a range of blend methods. Overall, Synfig is an excellent program for folks with less familiarity with animation software. So, try out this free 2D animation software and let your imagination run wild!
Blender is a free animation software used by specialists, scientists, video game developers, studio artists, and other industry professionals all over the world. This free, open-source 3D animation program has been around for a while and has matured into a complex application. There is a learning curve for beginners may find the free animation tool unintuitive, and it may take some time to comprehend all of its features and capabilities.
However, once you get the hang of it, you'll find that constructing projects using Blender is a fun and easy process. This best free animation software includes tools for modelling, lighting, post-conversion video operations, other animation tools, and much more. So, Blender also works across all major platforms and operating systems, making it ideal for anyone willing to put in the effort to learn it.
Krita is yet another excellent free animation software for both beginner and experienced artists. It has a user interface designed specifically for digital artists. It is the best free animation software. Previously, it was a digital painting software akin to Photoshop and Paint. Because of the overwhelming support for a 2015 Kickstarter, Krita now enables animation via onion-skinning and frame-by-frame raster animation. Krita also supports drawing tablets and touch screens.
It has a robust open-source community with a wealth of tools to get you started, including video tutorials, vector graphics documentation, Japanese animation templates, and downloadable stuff such as brush presets and texture packs. Krita even has a programming feature involving scripting in Python's widely used programming language. All of this makes Krita free 2D animation software highly adaptable to your specific requirements. This free animation program is accessible for all operating systems, including Linux.
Clara.io is a free cloud-based animation software that does not require any plugins to function. It provides an excellent blend of basic stick-figure animation with polygonal modelling. This free animation tool provides a wide choice of mesh instruments for you to use. There are other capabilities such as sub-object editing, modelling features such as subdivision surfaces, and a plethora of realistic-looking materials that can be tweaked with adjustable lighting.
The UI is basic and has a clean appearance. If you still have questions, it's one of the only free animation apps with its own forums, so you can ask the 80,000-strong community that shares its artwork on Clara.io's cloud. That indicates you're not alone in trying out this free 3D animation software!
DAZ Studio is a best free animation software that allows you to pose, generate, and animate 3D models. Simply sign up, download the software, and you're ready to begin. This free animation program is easy to use, features a lightning-fast design engine, and a massive library of resources from which you can create high-quality animations. This enables its users to cover a large amount of information in a short period of time. DAZ Studio is not only for beginners, but also for professionals. After obtaining it from Corel, Daz 3D is the creator of DAZ Studio and was responsible for re-releasing the popular software Bryce 5.5 as freeware. That means if you decide to check out this free 3D animation software, you'll be in good hands.
OpenToonz is the ideal 2D software for any animator, beginner or veteran alike, wishing to enhance their talents. The features a great amount of customization and is frequently used by Studio Ghibli, the Japanese anime film studio famous for films such as My Neighbor Totoro, Spirited Away, and Kiki's Delivery Service. There aren't many other free 2D animation software with this much street cred!
This best Free Animation Software has a plethora of keyboard shortcuts for quick access to rendering and animating your projects, as well as an astonishing array of animation effects such as lighting effects and picture styles like AutoCAD. Some of the capabilities include onion-skinning and frame-by-frame animation, which eliminates the need for you to redo your work at each frame. OpenToonz is available for free download for both Windows and Mac. However, because OpenToonz has a lot of capabilities, you need have a lot of RAM on your computer before using this free animation tool.
Google's Toontastic 3D is a free animation software. Toontastic 3D is free to download and allows anyone, from novice to professional artists, to develop projects and have them rendered into spectacular 3D cartoons to share with friends and family. This free animation software includes features such as the incorporation of photographic images into 3D models, the addition of storyboards, and the ability to customize music in your projects. The easy-to-use tool is ideal for teaching children the fundamentals of animation and storytelling.
StyStykzkz, as the name implies, is the ideal Free Animation Software for stick figures, allowing you to modify vector figures into 2D animation. It's a great planning tool for your animation. Stykz, like the most of the best free animation software on this list, is cross-platform, running on both Windows and Mac (but not Linux).
Stykz incorporates functionality from the freeware program PivotStickFigure, including as support for STK files. You can import them into the software if you've already worked with STK files. Stykz also allows you to interact with frames and employs onion-skinning to create natural transitions. If you like stick figures, you'll adore this free 2D animation software!