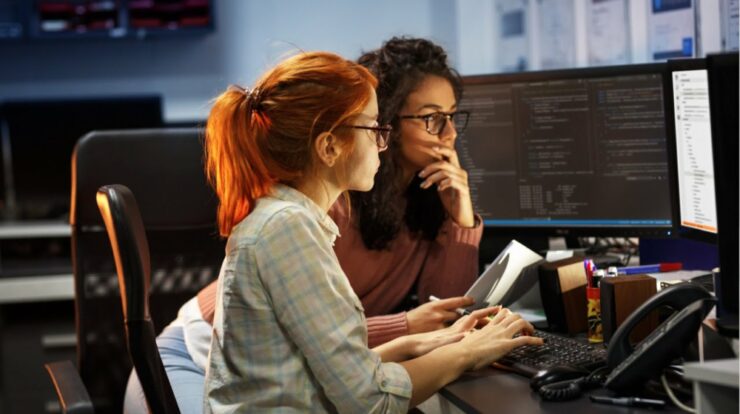 With the advent of technology and the whole digital revolution, the availability of high-paying jobs in technology has expanded considerably. Unfortunately, because there were few IT jobs or jobs in the United States, progression opportunities were limited. However, there are several opportunities for people to obtain certification while working.
Top 8+ Highest Paying Jobs In Technology 2022
Here are the top Highest Paying Jobs in Technology.
1. Big Data Architect
Even though users create 2.5 trillion data daily, this raw data is unavailable and useless. Over 98% of companies are investing in Big Data to analyze and comprehend this data. Well, this is why Big Data architects are needed. Big Data architects are in charge of developing, planning, and managing large-scale Big Data application deployments from beginning to end. This position necessitates programming, data visualization, and communication skills. A Big Data architect's average compensation in the United States is $140,000.
2. Data Scientist
Data is becoming a company's most valuable asset. The Data scientists are in charge of evaluating and identifying all acquired data and understanding the complicated variables and formats. Therefore, Data scientists must be well-versed in data visualization, machine learning, deep learning, mathematics, and computer science.
3. Software Architect
Software architects are in charge of streamlining the development process through design choices and technical standards. They are hired by the organization to test and build software. Software architects are in charge of comprehending client requirements and creating software prototypes. The Software architects must have good analytical, programming, and data modeling abilities. Software architects are in great demand. Organizations pay far more than $114,000 each year.
4. IoT (Internet of Things)
The Internet of Things (IoT) is one of today's most rapidly expanding technologies. Through AI and machine intelligence, it enables quick and smooth data exchange. The architect of IoT solutions bridges the gap between technical and non-technical responsibilities. The architect of IoT solutions leads and participates in all architecture and design elements. An IoT architect must have good programming skills and knowledge of Machine Learning. IoT architects may make up to $130,000 per year on average.
5. Artificial Intelligence (AI)
The job of an AI architect is to develop, plan, design, and implement solutions that boost efficiency and growth for companies through automation. Therefore, you must have a strong grasp of statistics and mathematics, strong programming skills in Python, R, and Torch, and knowledge of TensorFlow and other related technologies. The average yearly compensation for an AI architect is $110,000.
6. Blockchain Engineer
This technology is a link network that connects data and information chains. A blockchain engineer creates and executes structures and solutions using blockchain technology. A blockchain engineer must be well-versed in Ripple and R3, Ethereum, and Bitcoin. They must also be familiar with consensus mechanisms, security protocol stacks, crypto libraries, and functions. A blockchain developer may make an average of $150,000 per year.
7. Full-Stack Developer
A full-stack designer is in charge of developing and managing a company's front and back ends. Full-stack engineers must be knowledgeable with technologies such as MongoDB and Node.js. They should also understand the foundations of coding and scripting, web development, and how to design and maintain an API. The average full-stack developer earns $106,000 per year.
8. Cloud Architect
Cloud computing has become a widespread technology that people and businesses utilize daily. As a result, Cloud architects have several opportunities. A cloud architect must assist enterprises in developing a cloud strategy and architecture. They also oversee its implementation and execution. To become a cloud architect, you must thoroughly grasp cloud architecture and knowledge of Amazon Web Services, Microsoft Azure, or Google Cloud Platform. A cloud architect may make an average of $107,000 annually in this field.
9. Product Manager
The product manager aids the organization in identifying the criteria that will be utilized to construct a product. Well, the product manager is responsible for the product's development from conception to launch. Product managers define the product's vision and collaborate closely with marketing, sales, engineering, and information technology teams. Product managers must comprehend the notion of PLM and be able to handle technologies such as PivotalTracker, JIRA, or Asana. They must also have good analytical and time management skills to achieve deadlines. Product managers make more than $100,000 per year on average.
10. DevOps Engineer
The job of a DevOps engineer is to process the tools and processes needed to stabilize the software development cycle. DevOps engineers design and maintain a deployment strategy and leverage cloud services to automate Ruby and Python. To become a DevOps Engineer, one must be skilled in coding, scripting, deployment, and network operations. These workers earn between $95,000 and $140,000 per year on average.
Conclusion: Highest Paying Jobs in Technology
This brings my post on Highest Paying Jobs in Technology 2022 to a close. Thank you for your time! I hope you found this useful.