Just like most of you, I've tons of Chrome tabs open all the time. Blame it on lassitude, I hardly close them, in the hope of reading them later. The mere solution is to put my computer on hibernation, which slows it down over time. Although, I recently found out a new Chrome setting "On Start-up," which not only opens previous tabs and sessions but has a few other useful options also. So, here's the method to restore Google Chrome tabs after the restart and other options you might want to try.
Restore Google Chrome Tabs After Restart
Continue where you Left Off
It is the setting I use. It resumes the whole Chrome session as it is after you launch Chrome. It's great if you have dozens of tabs open, and all of them have useful info. In this way, you not only save the data but also make time to review them later one by one.
To enable, first launch Chrome and open settings from the top right corner of the page.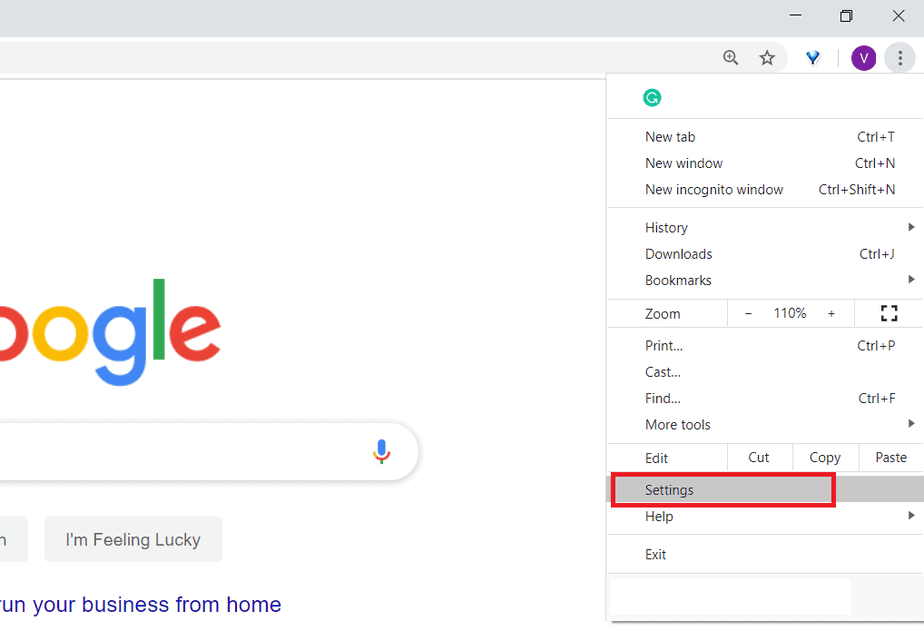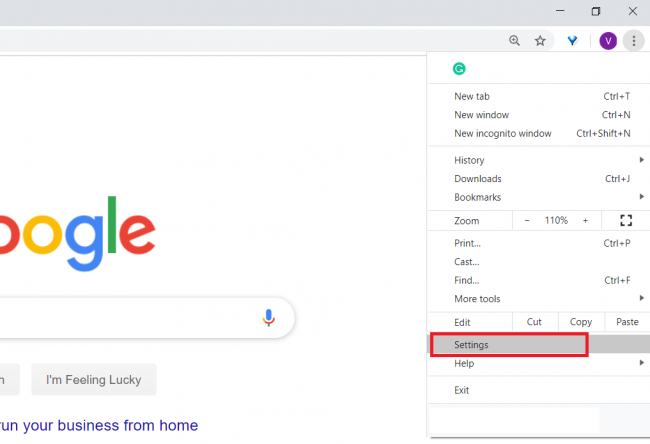 It will open Settings in a new tab. You can either tap on "On Start-up" settings from the left sidebar or by scrolling down the page.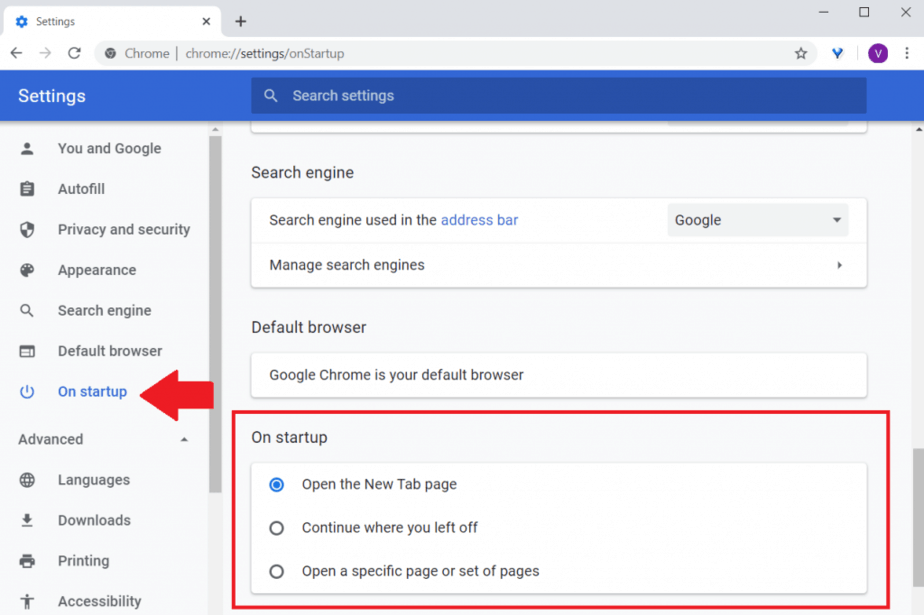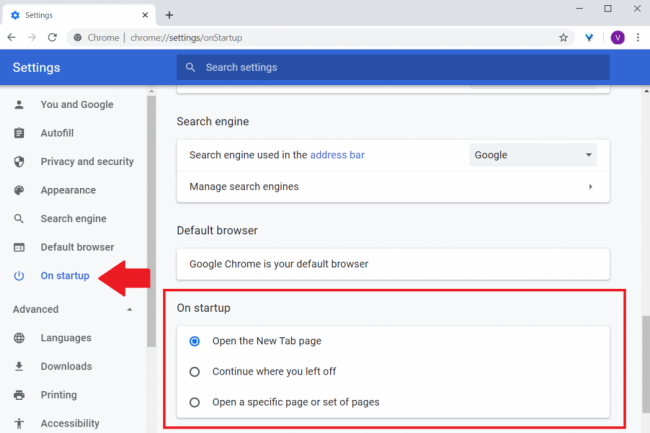 By default, you would have open the New Tab page selected. To enable restoring closed tabs, select the "Continue where you left off" option. Try it out by opening some tabs, closing and relaunching Chrome.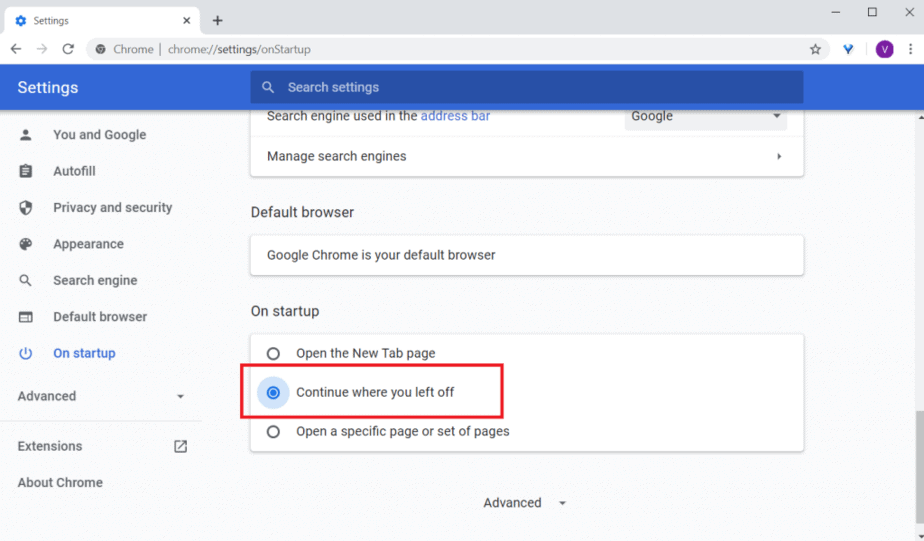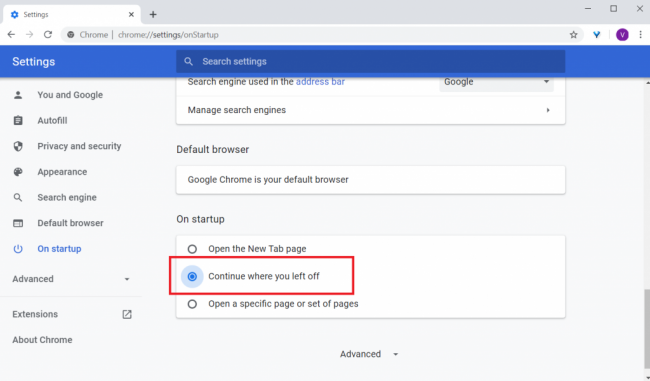 Open Specific Pages:
If you've certain webpages that you immediately open every time you launch Chrome, you should enable this one. For instance, I use WordPress and Slack mostly, and this opens both the tabs on start-up. It's easy and saves ample time.
Select "Open set of pages or specific page" option.  Which provides you 2 more opportunities, "Add a new page" and "Use current pages."
To add a new page, tap on the "Add a new page" option.
Now enter the URL you want to open and hit add. Similarly, you can add as many pages as you like, using the same option.
Next is the "Use current pages" option. I don't prefer using this. As it just launches the tabs that are currently open in the browser. For example, If I've Google and YouTube open, and I enable this. It'll open them every time I launch Chrome. It doesn't matter if I shut these tabs or add new ones. So, you'll have to manually select "Use current pages" over and over again, which defeats the entire purpose.
Closing Remarks
Well, this is how you set up a Start-up page on Google Chrome. My most-liked option, as I mentioned, is "Continue where you left off" as it keeps all the tabs updated every time I open Chrome. I do not see any use of installing an extension as this feature is customizable enough to suit everyone's requirements. I hope now you know the method to restore Google Chrome tabs after the restart. If you've any questions, do leave a comment!