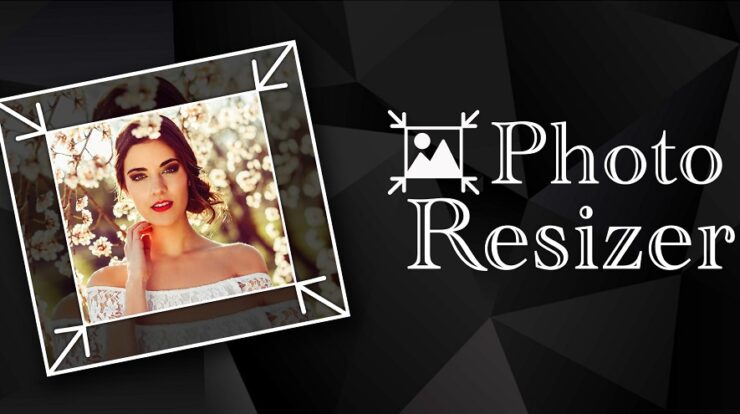 Rarely is a picture we tap or import the exact size and proportions we need. As a result, the necessity for image resizing arises, and image resizing apps come into play. This post is for you if you're looking to resize an image or conserve some space on your device. This article will examine the best photo resizer apps for Android and iOS users.
What Image Should Resizing App Have?
Image resizing has become a requirement, whether you want to post an image on social media, fill out an online form, or combine many photos. This may appear straightforward to some, but selecting the correct app for this can be not easy. As a result, when searching for the best app to resize images on Android and iOS, be sure that the image's quality is not compromised when compressed. Now, let's look at the best photo resizer apps for Android and iOS.
Top Photo Resizer Apps For Android And iPhone To Try
Here's a list of the best Photo Resizer Apps for Android and iPhone To Try. 
1. PicsArt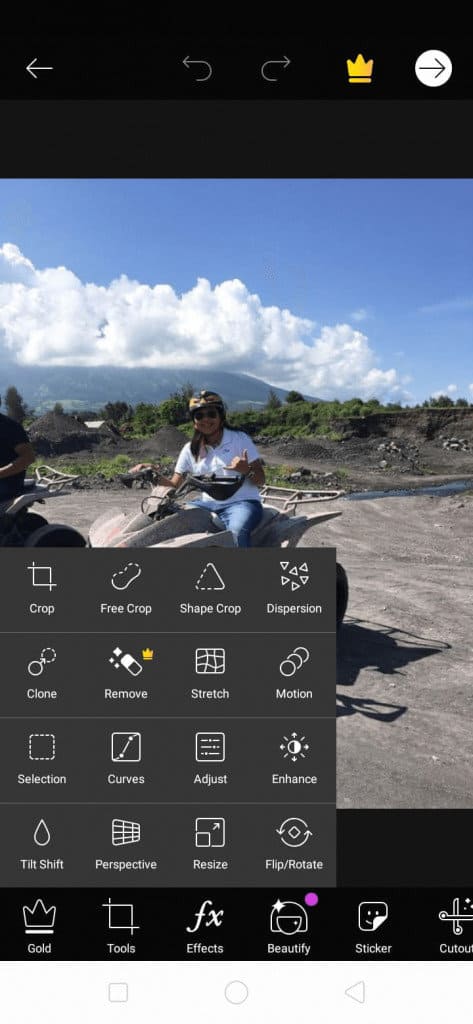 PicsArt is the best photo resizer app for Android and iOS. At first sight, it appears to be a photo editor, but its image resizing option is astounding. When using PicsArt, tap the Plus icon > Edit to resize an image. Next, tap the Tools icon once the image has been selected. You will now see the Resize option; here, you may input custom settings to resize an image, and you are done.
Features: 
Keeps image quality.

The best app for image resizing.

Image resizing app with high quality for apps and iOS.

Works with lower image resolutions.
2. Image Size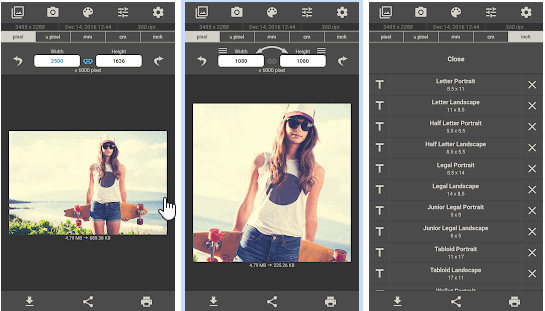 As the name suggests, the second app on our list allows you to resize images by choosing the output format in cm, inches, or pixels. You may also email, print, or share the resized image. Again, select an image from the gallery or tap it within the app to resize it using Image Size.
Features: 
There are four resizing options: inches, centimeters, pixels, and millimeters.

Easy to use.

The image quality is not compromised.

Resize using a percentage or a resolution.
3. Photo Compress – Shrink Pics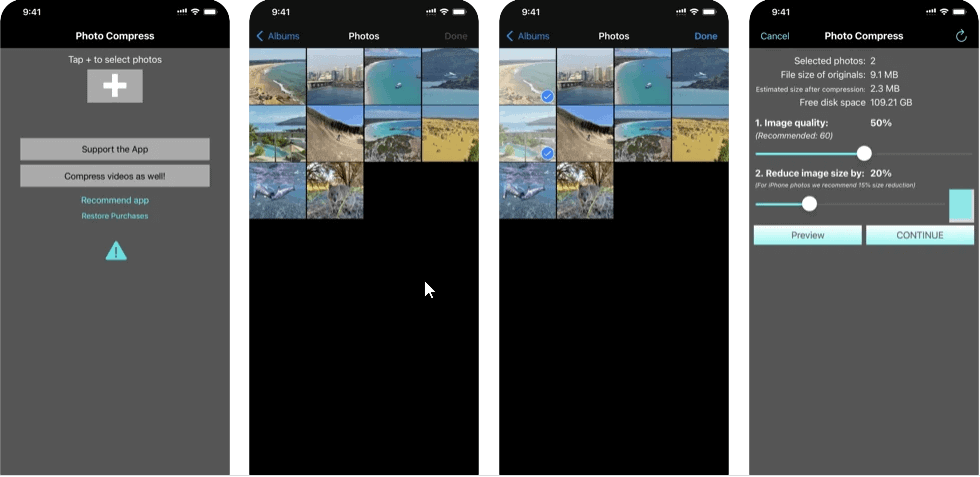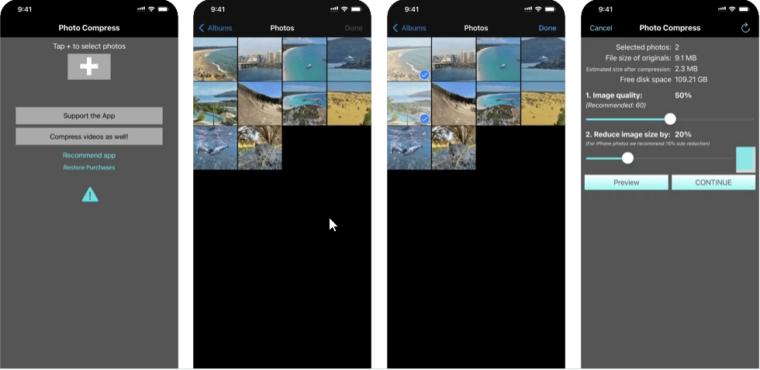 Shrink photos to conserve disc space. This fantastic image compression app compresses a single image, numerous images, or an entire album. It also allows you to choose the strength of JPG compression and compresses images without resizing them. You may also preview the image to determine its quality and the amount of disc space that can be restored.
Features: 
The UI is simple and easy to use.

Allows you to delete original images while maintaining resized images.

App for batch or single image resizing.

iOS is supported.
4. Resize Image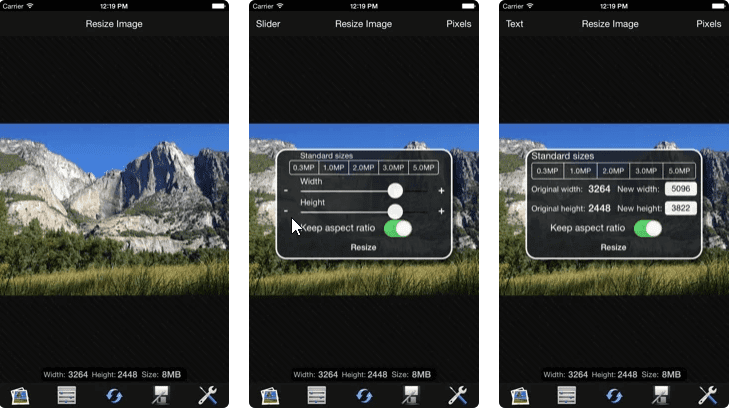 This image resizing app for iPhone has an interactive interface and enables rapid image manipulation. In addition, you may use it to share images on social networking platforms such as Facebook, Instagram, and Twitter. The app is perfectly optimized for all iOS versions and includes a trial version. This means you may test out the app before purchasing the premium version.
Features: 
iOS 9.0 or later is required.

Batch resizing is supported.

File resizing to your specifications.

Share the finished image.
5. Photo & Picture Resizer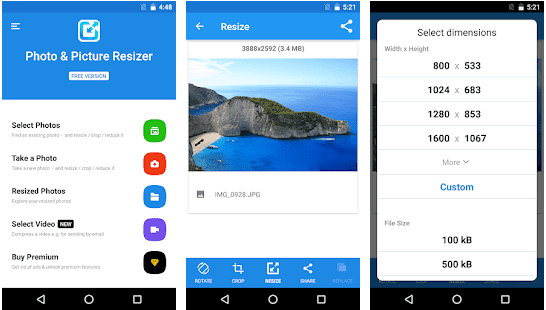 This easy and simple image resizing app works on Android devices and helps reduce file size. You may share the final version directly from the app when you have completed the image with the output result. The app reduces image size without compromising image quality. The photo and picture resizing app are intended to preserve the aspect ratio. This is one of the best and most intelligent image resizing apps available for Android users.
Features: 
The interface is detailed and easy to use.

A tutorial to help you understand the app.

Allows you to replace original photos with resized images.

It even has a cropping function.
6. Image Resizer: Reduce & Resize
Image Resizer: Reduce & Resize app for iOS allows you to reduce the image size to a particular KB or MB in a single click. This app allows you to input the desired size to reduce the app image without sacrificing quality. You may also reduce the image size proportionally (by percentage, for example, 50%) and save the resized image to the gallery. This makes it a fantastic app to use.
Features: 
Reduce the image size to KB or MB with ease.

Resize the image in pixels or percentages.

It is useful for resizing an image to a certain resolution.

Ad-free.
7. Best Photo Resizer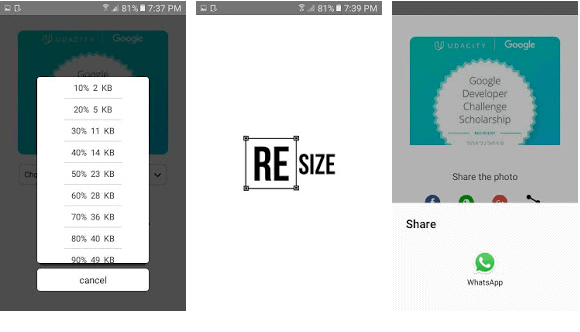 Best Photos Resizer is another excellent app for resizing images on Android. This app allows you to choose photos from the gallery or pictures using the camera. It also allows you to pick between the size and the reduced size for social media. In addition, you may shrink the image to a certain percentage and amount by using the drop-down menu.
Features: 
Reduce in reducing the image size to preserve device memory.

Reduce image size to meet the requirements of social media accounts.

Any dimension may be resized.

Crop and design a social media image.
8. Reduce Photo Size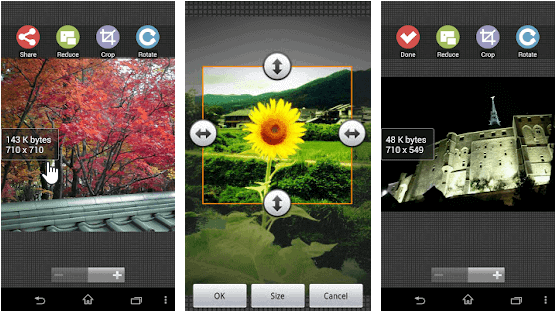 Reduce Photo Size app, with its simple and easy-to-use interface, offers astonishing features and makes you effortlessly compress images. In addition, this app allows you to select images from a photo gallery. Although there is no exact resize option, you may use the reduce option. This lowers tab provides several size-reduction options. Once the image has been resized, you may rotate, share, save, and do a variety of other things with it.
Features: 
It fits any simple image resizing needed.

The image quality is not compromised.

Multi-lingual.

Resize the image and share it on social media.
9. Photo Resizer HD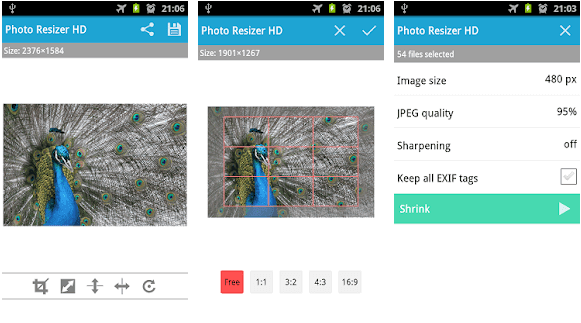 Photo Resizer HD offers a variety of image resizing options. It also has SHARPENING options, which may be set to Low, Medium, or High. You may use this app to resize, shrink, compress, and share modified images on social media.
Features: 
After resizing, sharpen the photos.

Size and quality can be customized.

Keep the EXIF tags.

Share and save shrink images to an SD card.
10. Resize Photo (Photo Scaler)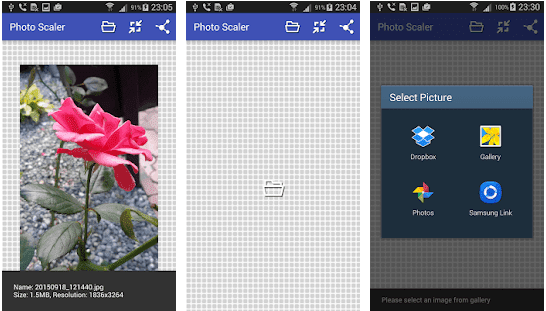 When you run the PhotoScaler app, you may tap anywhere on the blank screen to select the image to resize. To resize an image, this app provides several resolution options. It also helps you reduce photo size from local and remote storage media such as Picasa, Google Drive, and others. First, add an image to the app and select the resolution option to resize it. Then, tap on the photo to acquire information about the new size of the resized images. You may also replace original images with other similar-looking images in your gallery. Above importantly, it enables the distant location of files to be resized.
Features: 
Small, easy, and simple to use.

The best image resizer for reducing image size by a factor.

Allows image access from both local and remote sites.

Resized images should be saved to the folder.
FAQs:
Which App Is The Best Photo Resizer?
PicsArt and Image Size are the best apps for Android and iOS users to resize apps.
How To Resize A Photo On Android?

You can use it to resize images on Android.
Photo & Picture Resizer. 

Photo Resizer HD. 

Resize Photo (Photo Scaler). 

Best Photo Resize. 
To use these apps, go to the Play Store, download them, then upload the image to resize and choose from the preset options.
Conclusion:
Many other Photo Resizer Apps For Android And iPhone are available, but these are some of the best. Please leave a comment if you know of any others that should be on this list.