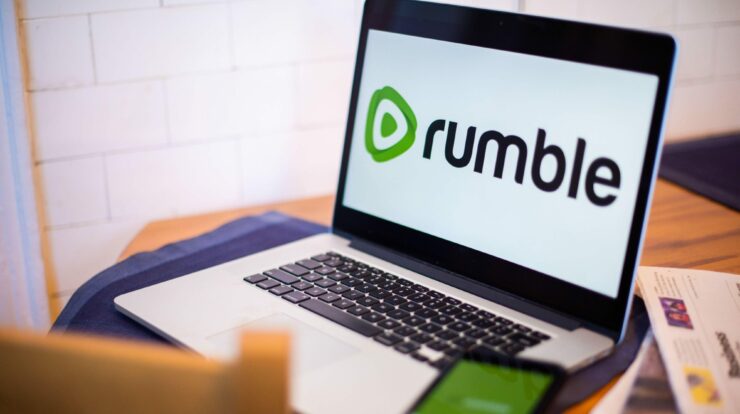 Are you a video content creator who loves making videos? Can't find a suitable platform other than YouTube to upload videos? Or are you among those who are tired of YouTube's censorship policy? If you are and are looking for a reliable alternative with a better service policy and reputation, in that case, this review is for you. Since YouTube began blocking particular videos from their search results, users have been seeking a new alternative that would allow them to broadcast their videos without being hidden from the YouTube audience. Rumble appeared as the most fantastic video management system at this time, allowing anybody to produce and publish content online and have it rank in search results.
Rumble is considerably superior to YouTube in terms of free expression and assisting smaller content creators in getting recognized. It has viral videos often found on YouTube and other social networking sites. But, it has fewer limits on what constitutes a video policy violation. Consequently, it has turned into a haven for hundreds of content producers who have had their YouTube videos removed for various ostensible reasons. Keep reading this blog if you want to know how rumble works and how you can earn tons of money through this video-sharing platform.
What is Rumble?
Rumble.com is a rapidly growing neutral video platform that builds rails and independent infrastructure to resist the cancel culture. Rumble's objective is to re-establish the Internet's roots by making it accessible and open once more.
It links video-makers to all Internet locations from a single centralized video platform. It gives the ability to host, publish, share, stream, and promote videos over the Internet. In this way, It enables creators to generate more income and improve distribution in a short period.
Because of Rumble's newfound popularity among Americans, a business looking to attract an American audience may choose to include it in its multichannel marketing plan. According to The Wall Street Journal, Rumble has a current value of around $500 million due to investments from many venture capitalists.
Many channels on Rumble include America's Funniest Home Videos, E. W. Scripps Company, Hodgetwins, link news stations Newsmax and One America News Network (OANN), and the global news agency Reuters.
Who Founded Rumble?
The service debuted as a desktop website in 2013 after some users complained that YouTube was making their videos challenging to locate because it prioritized clips from professional video producers.
It was launched by its tech entrepreneur CEO Chris Pavlovski, influenced by Google's internet video industry monopoly power through YouTube. He built the company on his own, beginning with only a few people and regularly reinvesting any earnings back into the business.
Chris is a successful international entrepreneur. He became a qualifier for the Ernst & Young Entrepreneur of the Year in 2010 after selling various firms and starting numerous profitable businesses. Soon after, he created one of the companies, a worldwide IT company operating in Europe and North America. The company was named the second greatest employer in Macedonia and has received various honors. 
According to Pavlovski, he launched Rumble because he wanted to provide smaller producers with a way to generate money with internet video material. His ambition was first deemed too risky by investors. But, rising anger toward big tech prompted a surge of interest in the alternative streaming service.
How Does Rumble Work?
Rumble differs from YouTube and Facebook in some ways. It was pitched as a streaming platform where creators may obtain attention without fear of oppression or discrimination.
It takes a softer approach to content control. However, users cannot publish films depicting unlawful actions such as pornography, child exploitation, or harassment. Yet, they can still post on hundreds of topics without the fear of being censored or silenced.
Rumble, like YouTube, allows users to submit videos and build their channels. The users see videos in chronological order based on who they follow on the network. Algorithms are not employed to screen high-risk video material; instead, humans manually review each video.
It uses algorithms to determine which videos are viral and need to be reviewed by humans before being distributed.
Rumble Media Player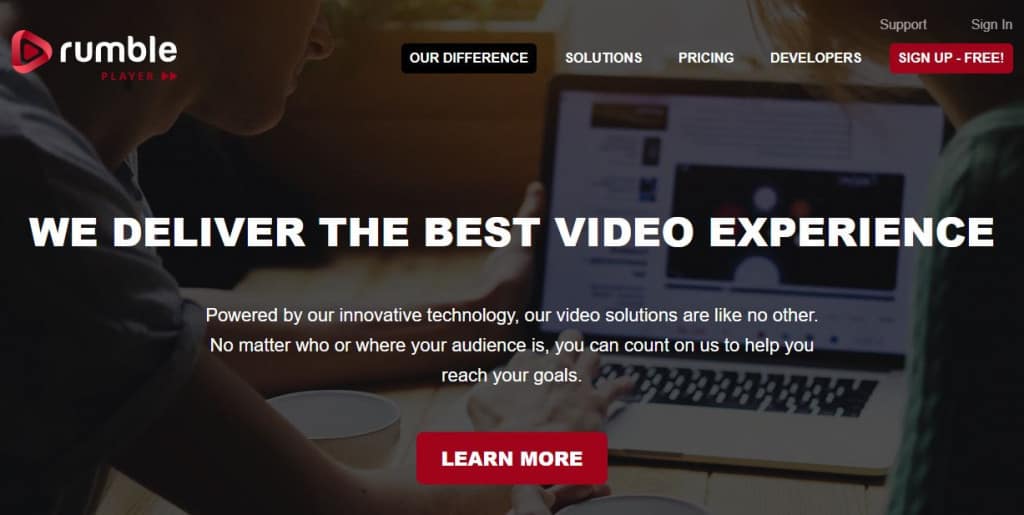 Rumble Media Player is the fastest player available in the market. It enables you to get millions of views while increasing your earnings effortlessly.
One of the primary benefits for publishers and brands using as their video management system or video player is their player performance. It is faster than the competition, resulting in more significant streams and money for publishers and artists.
It allows you to connect your adverts, manage numerous platforms, and monetize over one million video assets. You will also have your Dedicated Account Manager to help you through the process. You will also be able to distribute your work on Amazon and Roku.
It also provides 4K video hosting via the market's fastest media player, following your progress and analyzing your data in real-time.
How to Earn Money on Rumble?
Every video hosting service has its revenue guidelines, and is no exception. Rumble makes it considerably easier for video content providers to generate money because it has other sources than ad-based income.
Suppose a Rumble' partner licenses a content creator's video, such as MTV, Xbox, Yahoo, or MSN. In that case, the content creator can earn up to 90% of what the video makes YouTube. Plus an additional 60% through other partners.
The difference with Rumble is that it lets users choose how much they want to monetize. It does not require a minimum requirement of 1000 subscribers or 4000 hours of view time to generate revenue. 
It also uploads it to their many YouTube channels based on topics and shares it to their Facebook pages to make cash from your video. Following are the options to make money on Rumble:
Profit-Sharing : 

In profit-sharing, users relinquish all ownership to Rumble in return for up to 90% of the video's earnings on YouTube. Moreover, they also get an additional 60% of the video's profits from other partners, such as Ad revenue.

Non-Exclusive :

 In this, users retain full ownership of their videos and earn up to $500 for them. It provides rumble, a non-exclusive license to use the video, allowing Rumble and its partners to utilize it while the uploader retains ownership.

Exclusive : 

Users give up all of their rights to the website in exchange for the chance to win up to $1000.
Is Rumble a Scam?
There are different opinions about Rumble.com. Scamadviser has given rumble a positive assessment. Their positive trust score is the based on an automatic examination of 40 distinct internet data sources, such as the technology utilized, the company's address, other websites located on the same web server, and so on.
However, their official website lacks a reviews section. The users reviewing rumble on other websites have complained about failing to open the app. According to one user, the site continued crashing despite many attempts to reload it. Some users said that the app operated initially but then stopped responding.
But on the other hand, many users appreciated the fact that its content was not criticized and that it was a perfect alternative to established platforms.
Final Words:
We are all aware of how tough it is to become successful on YouTube. While it is possible, it takes a lot of time since you must have a certain number of users or watch hours. As a result, Rumble is an excellent censorship-free YouTube alternative. 
You may earn money on Rumble by publishing or monetizing your videos and utilizing Rumble's services such as Rumble camera, Rumble Lottery, Rumble video fights, and referring others to Rumble.
However, Royal Rumble 2022 needs to be more open about how its algorithms arrange and promote material to combat internet misinformation. Transparency regarding content filtering techniques is also critical for promoting accountability, public confidence, and democratic discussion.
FAQ's
Is Rumble App Free?
Yes, You can download Rumble via the Android Play Store and the iOS App Store. Rumble offers a variety of plans for users and creators, ranging from a free to a paid plan for creation. As a result, it is both free and paid.
Who Founded Rumble?
Chris Pavlovski, a Canadian entrepreneur and businessman, founded Rumble.com. He is also the company's CEO.
How do you make money on Rumble?
By creating engaging videos and applying for monetization. Every plan has a monetization capability, whether you have a free account, a Publisher account, or a Business account.
What does CPM mean on Rumble?
CPM stands for cost per thousand, and Rumble's CPM displays how much ad money you will earn per 1000 views on average. For example, if your CPM is $15, it is evident that your expected earnings per 1000 views are $15.
What is Rumble Viral?
Rumble viral is Rumble's official YouTube channel where they showcase stuff that has the potential to become viral.