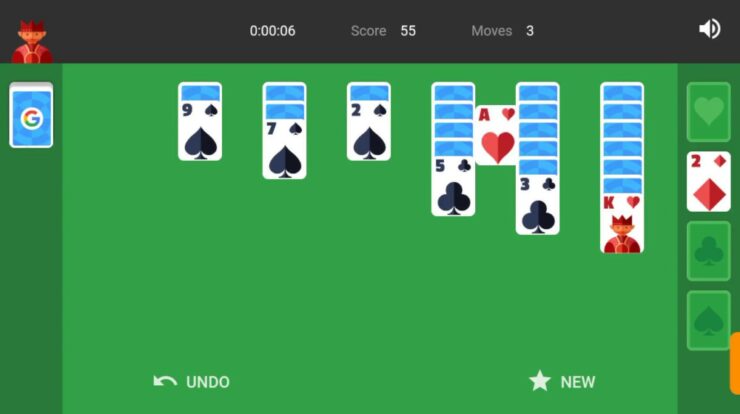 If you're a Millennial, you probably learned to play Solitaire on your desktop. As we grew older, we became more devoted to the game until online gaming became an option. But it's time to get back to the basics – Google Solitaire! You may now play it on Google to travel back in time! Everything you want to know about Google Solitaire is right here!
Google Solitaire Transports You Back In Time!
Google has always listened to what its users want. It has always considered how people wish to enhance their searches and what they view. As a result, Google has long been considered the best search engine. However, Google Solitaire has also captured people's hearts. On their official blog page in 2016, Google revealed that if a person searched for Solitaire, they would be brought to a page where they could play the game for free. Furthermore, users may play it on desktops, tablets, or any smart device. With this, Google also revealed that Snake and Tic Tac Toe would be available for download. The rules remain the same, and Google has even improved mobile phone images so people can view the game.
How To Easily Play Google Solitaire?
Do you want to download the game right now? Still, determining if you'll be able to play it the same way? You may play Google Solitaire in the following ways:
1 – Launch Google Chrome.
2 – In the search field, type 'Google Solitaire' or simply 'Solitaire.'
3 – In the first result, click the 'Play' option.
4 – Select the difficulty level you want: easy, medium, or hard.
Other Google Games To Attempt Include
If you enjoy Google Solitaire, here are some additional free online games to play:
1 – Snake. 
2 – Minesweeper. 
3 – Memory game. 
4 – Tic-Tac-Toe. 
5 – Google Atari.
Why Is Google Jumping On The Gaming Bandwagon?
Except for the fact that they evoke nostalgia in people, none of the games described are noteworthy. However, it will be an intriguing experiment to see if people would use Google for more than just a search engine. Google has previously included games in its interactive doodles, such as the Olympics or a playable Moog Synthesizer.
However, these games had a very short shelf life. It was something that people came into by coincidence without wanting to play it. This move to jump the gaming bandwagon is intended to keep Google relevant. People may acquire basic answers without using a search engine using the latest virtual assistant apps, such as Siri and Alexa. This suggests that our dependency on Google is gradually dwindling. This has an indirect influence on Google's ad business. So, while these new games seem nostalgic, they have an additional motive: to keep people returning to Google!
FAQs: Google Solitaire
Is Google Solitaire Available For Free?
It is, indeed, free. You may play the game on your Google Chrome browser without having to download or pay anything. Google Solitaire offers nine different games.
Is It Possible To Play Google Solitaire Online?
To play Google Solitaire online, search for 'Solitaire' or 'Google Solitaire' in Google Chrome and click on the first link. When you click the play button, you are sent to a game.
Can You Bring Back The Old Solitaire Game?
To play the classic Solitaire game, use the Microsoft Store app on your desktop or phone and search for Microsoft Solitaire. Windows will install the game for you when you click the update button. This, however, is only available to Microsoft users.
Final Thoughts: Google Solitaire
Who doesn't remember playing games like Solitaire or Minesweeper on their old desktop desktops? When our dial-up internet began connecting to the internet, it was one of the simplest ways to pass the time. Most millennials recall spending many hours playing Solitaire while waiting for our parents to hang up the phone or dial up to connect. But those were the days!
Everything now happens in a split second. We want answers now, and we want them now. But unfortunately, most of us don't have time to reflect on our childhood. But Google has devised a method for us to reconnect with our childhood – Google Solitaire. To play the game, search for it by searching 'Google Solitaire' and clicking on the first link that appears. And, best of all, it's completely free! If you want to play some additional free Google games, here are some options: Snake, Tic-Tac-Toe, Pacman, baseball, basketball, dinosaur game, and soccer are some of the games available. So have a good time reminiscing about your childhood!