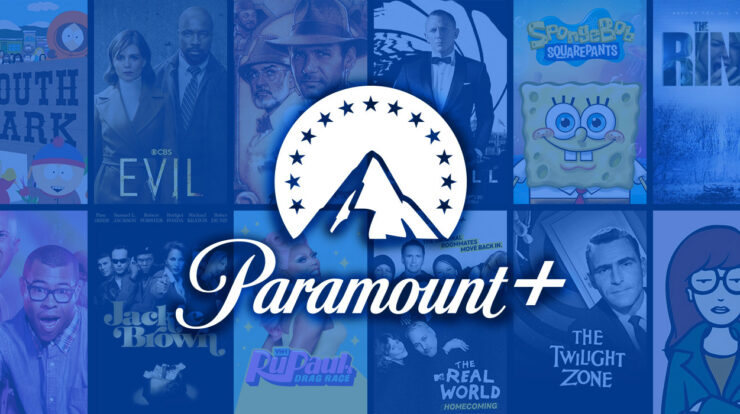 Who does not love streaming shows and movies online these days? Going to cinemas has become a thing of the past due to easy access to new and exciting content with just a single click online. But with various new and innovative streaming services being available these days, the question arises whether they are worthy of your subscription or not. And how to be sure that your money is not going to waste?
This is where a free trial service comes in. It allows you to use the service for a limited period to decide whether you want the service or not. And when talking about free trial service, Paramount plus comes to mind.
Whether you love watching award-winning originals or kid-friendly shows that everyone loves, this streaming service should be your choice. It gives you the access to thousands of Tv shows, movies, and even live sports or news for the whole family to watch.
Keep reading this blog to know everything about paramount plus and its free trial. We will also discuss what makes paramount plus better than other stream services.
What is Paramount Plus (Paramount +)?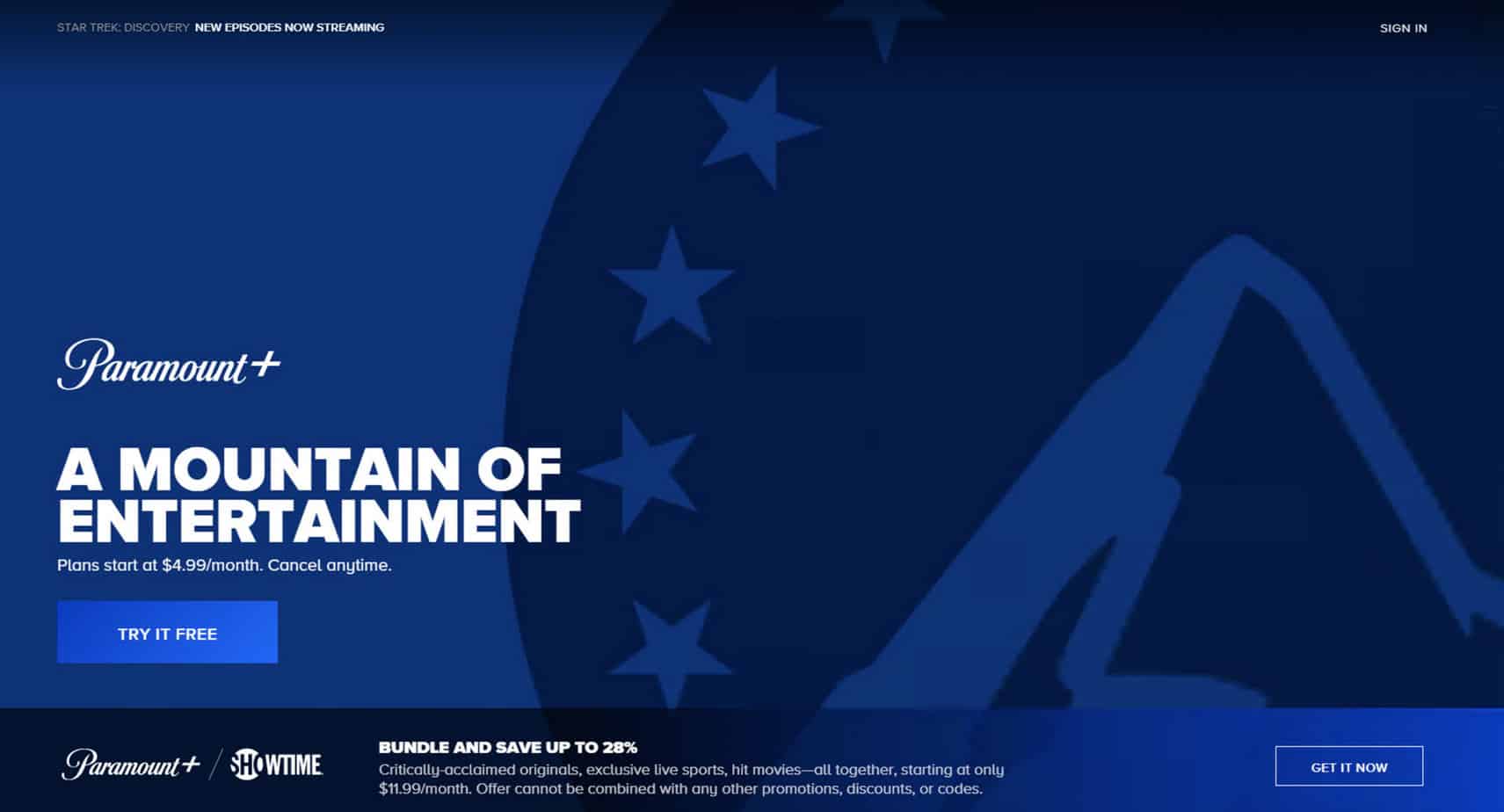 Paramount plus is a streaming service offered by Viacom CBS. In March 2021, CBS All Access was relaunched as Paramount Plus, continuing to house CBS Entertainment Group's media catalog while also launching unique content. It includes tons of new live sports, news, and on-demand content, with hundreds of new original shows set to arrive in the coming time.
It's jam-packed with unique and classic content from CBS, BET, Comedy Central, Paramount Pictures, and much more. It also includes CBS All Access originals like Star Trek: Discovery and award-winning reporting and sports coverage CBS Sports and ET Live.
It combines streaming services with live sports. Fans can watch the NFL and UEFA Champions League as well. It is practically heaven for the lovers of golf as they can stream live sporting events, including those of masters and the PGA Championship.
Paramount Plus Specifications and Features
The specifications and features of Paramount Plus are the same as that of before rebranding. Some of the features include
User-Friendly Interface-

 The user interface is straightforward to use. The home screen consists of a top menu, channel hubs, and rows of the latest trending shows and on-demand live streams of sports and news. All titles organize by genre and include episode descriptions, similar suggestions, and future trailers.

Multiple Screens-

 Paramount plus allows you to stream on multiple screens simultaneously. It enables you to screen on three devices rather than just two. The premium membership also allows you to download and watch the content offline.

Video Quality- 

The video quality of paramount plus tops at HD or even at 4k for some content. The most impressive thing is the quality of their live streams. It streams live content at up to 1080p and refreshes the screen at a rate of 60fps.

Compatible Price-

 They have different subscription plans for their user. On either plan, their pricing makes it a reasonably affordable streaming service.

Audio Quality-

 It provides standard 2.0 stereo audio, which makes the experience better,

Mobile Download-

 It allows you to access their content through mobile. You can also download the content on your mobile as well.
What Can You Watch on Paramount Plus?
Due to recent mergers and acquisitions, you can easily and conveniently watch hundreds and thousands of programs at a competitive price. This list includes content from Comedy Central, MTV, and even Nickelodeon. Along with this, you can also watch some exclusive and classic content.
It has a library of more than 35,000 TV episodes and over 2,500 movies. It has premiered over 36 original series in the first year alone, some of which have even won awards. The movies come from many famous studios like Paramount Pictures and even MGM.
The original content exclusively available on Paramount Plus include:-
    The SpongeBob Movie: Sponge on the Run

    Kamp Koral: SpongeBob's Under Years

    76 Days 

    For Heaven's Sake

    The Stand 

    Star Trek: Picard

    The Good Fight

    Star Trek: Discovery 

    Star Trek: Lower Decks 

    The Twilight Zone 

    George of The Jungle
Among TV shows and Movies include:-
    Big Brother

    SpongeBob SquarePants

    Teenage Mutant Ninja Turtles

    PAW Patrol

    The Adventures of Jimmy Neutron: Boy Genius

    Chappelle's Show

    Dora the Explorer

    The Backyardigans

    Bob the Builder Classic

    Adam Devine's House Party

    Young Sheldon

    Clarice

    Mom

    Max & Ruby

    Undercover Boss

    Indiana Jones

    The Godfather

    Mission: Impossible

    Nacho Libre

    Tommy Boy 

    Kate and Leopold

    Rat Race
Paramount Plus Pricing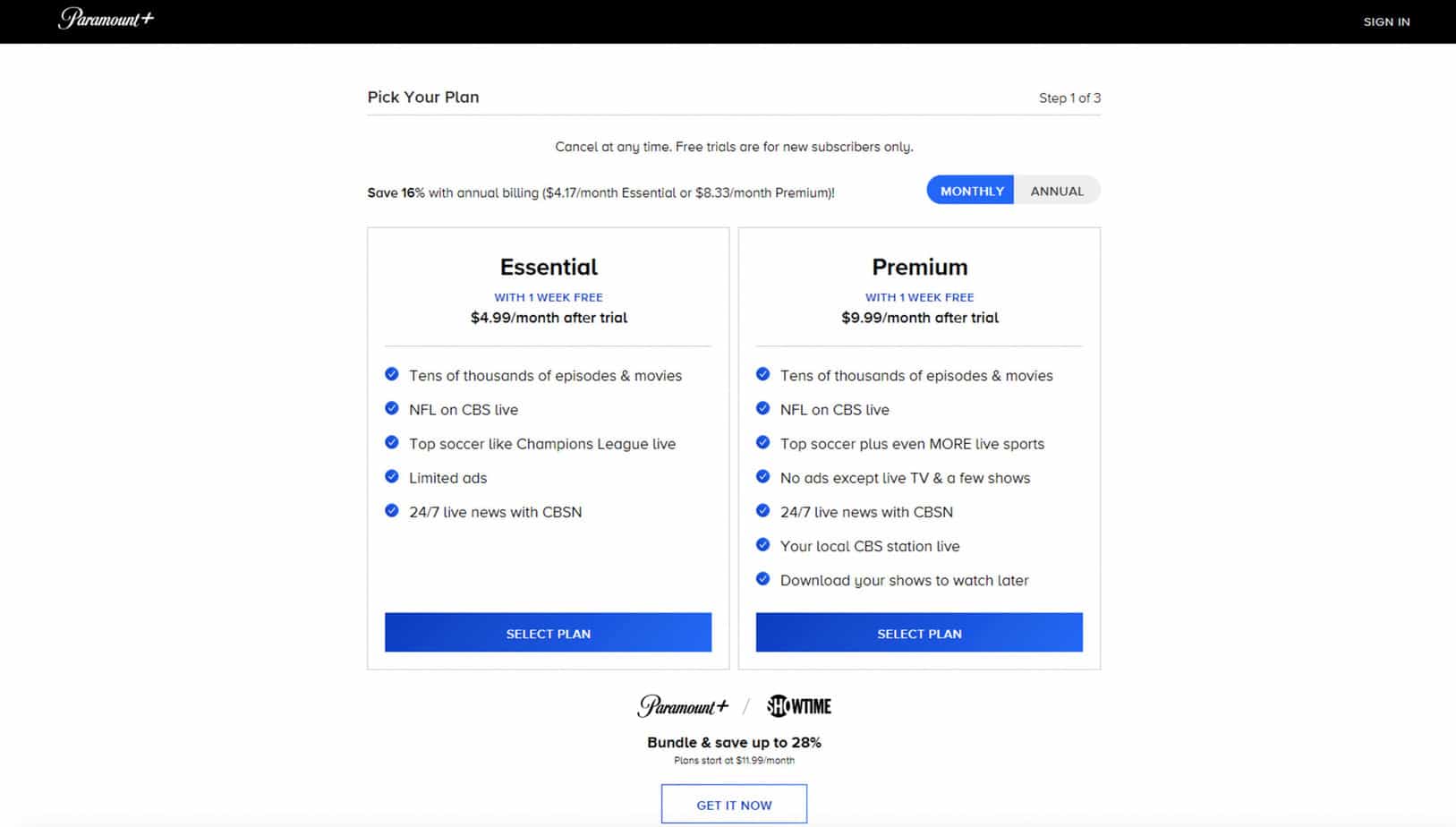 There are four Paramount Plus memberships offered. The prices are competitive. All of these options include a no-contract commitment, which means you can leave at any time if you want to. You can also get a 25% off if you are a student.
The Essential plan with minimal advertisements costs $5 per month. It is the most simple membership the paramount offers. This plan offers minimal advertisements, and if you don't mind a few commercials, you should acquire them.

The Premium plan costs $10 per month. It allows you to download material from the site to view offline at your leisure, making it an appealing proposition for many users. There will be no advertising to interrupt your fun, so you will be able to watch ad-free.

The Yearly Essential Plan costs $50 per year. It results in a monthly saving of 16%.

The yearly Premium plan, which costs $100 each year, will save you roughly a premium every month.
Compatibility
According to Viacom CBS, Paramount Plus is available on all smart TV devices and gaming consoles. Paramount Plus is the compatible with the following devices:-
    iOS

    Android

    Chromecast

    Roku

    Apple TV

    Fire TV

    Portal TV

    Samsung smart TV

    Vizio TV

    LG TV

    PlayStation 4

    Xbox One

    Xfinity Flex

    Xbox Series S

    Xbox Series X
How to Sign-up for Paramount Plus Membership?
It is effortless and straightforward to sign up for Paramount Plus membership. Follow a few simple steps to complete your subscription.
Go to paramountplus.com and select the "Try It Free" button.

Choose your monthly subscription and afterward click "Continue." After this, create a profile.

Fill in your username, email account, passcode, and preferred name, and then click "Continue" to register for the account.

Then you'll be prompted to input your billing information and choose to begin with the amount.

It's critical to remember that you will not have to pay until the free trial time has expired.
Advantage
The advantages of Paramount Plus over other subscription services include their affordable pricing and free trial period. Their pricing is reasonable. Its ad-supported subscription costs $6 per month, while its commercial-free plan costs $10. It also offers continuous broadcasting of live sports and news programming and good and closed captioning choices.
New subscribers are also given a one-week trial period before agreeing to a monthly or yearly membership. It allows them to verify whether the service meets their requirements before purchasing.
The premium membership also offers the option of offline downloads. It enables you to view your episodes at your leisure, making it possible for folks with hectic schedules to enjoy their shows still.
Paramount Plus Free Trial
A free trial is available from Paramount. In case you are a new member, you may join up for a free trial of their Basic or Premium subscription. Both packages provide access to the NFL on CBS, big soccer events, thousands of episodes and movies, available for a free trial.
There is now a 7-day free trial of Paramount Plus available, which you can sign up for. Following that, you may select either the monthly or annual plan.
It's worth mentioning that Paramount Plus occasionally runs special deals, allowing you to take advantage of a full 30-day free trial by quoting a coupon.
How to Get Paramount + Free Trial
To get a free trial, follow these few simple steps.
Visit the official sign-up page for Paramount Plus.

Choose the service (Essential or Premium) you want to get. Both come with a free 7-day trial.

Create an account with your Id, email, and password.

Enter your billing information.

Click Start.
How Can I Access Paramount Plus?
On March 4, Paramount Plus was released in the United States, Canada, and other Latin American nations. The preliminary date is still being tossed around in other locations, which is expected later this year.
Fortunately, you don't have to wait this long, and you may gain access to Paramount through a variety of alternative means, such as a premium VPN.
The Pros of Paramount Plus include:-
    Huge collection of TV shows and movies.

    Option of three streams and six profiles per account

    Live TV options, including a live feed from CBS station

    Early access to Paramount movies

    Live sports coverage

    Supports offline downloads and 4K streaming

    Tools for effective Parental control
Final Words:
The main appeal of Paramount Plus is its extensive library of episodes from CBS, Comedy Central, Nickelodeon, and MTV. The original series is also growing better, but Paramount plus will need to keep up with demand to fight with Netflix and Hulu.
It also appeals to fans of European soccer because it broadcasts live matches from both the Europa League and Europe's Champions League. You may also use their free trial option to utilize their service without spending anything. It has greatly aided the service's and its subscriber base's growth in recent years.