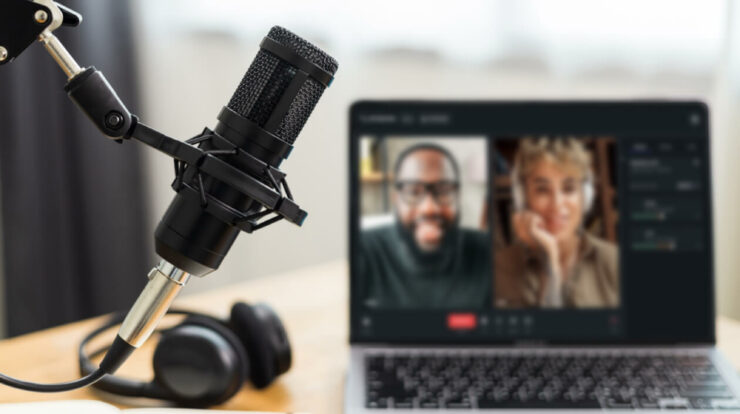 Podcast Recording Software: Apple devices have certain limitations regarding certain apps. These constraints might make certain tasks more difficult to do. One of these ideas may be to start a podcast. Some people prefer to use other devices to complete certain tasks, even if they own an iPhone or an iPad. Yes, Apple products include a Voice Recorder. However, if you are an aspiring podcaster, you may wish to provide a high-quality episode. The voice recorder alone will not be enough if this is the case. You must improve your app. Something that can perform the basic operations of audio recording and editing.
5 Best Paid Podcast Recording Software
Here is the best Podcast Recording Software.
1. Alitu
Alitu is the first iPad Audio Recording and Editing app on the list. It was made with aspiring podcasters in mind. It performs the essential operations of a recording and editing app. The best part about Alitu is that users don't require much knowledge to start. Its user-friendly feature lets a podcast episode appear to be mostly automated. This app lets the user record and edit audio. In Alitu, the user may also add their touch.
The user may add their branding, intros, and outros to improve their episode's quality. However, Alitu does not have the function of publishing the user's episode. However, the user can download the file and store it for later use. As a result, the user may publish their episode on various platforms. This software makes podcasters' jobs easier and easier. It is a terrific iPad app for getting started that is well worth the money.
2. Anchor
Anchor is next on the Podcast Recording Software list. It is a great app for people who wish to enter or are currently in the podcasting field. Anchor strives to improve its podcast software and tools to reach a larger audience. They made iPad users utilize their goods as well. Users using iPads may also record and edit their recordings. They can disseminate a podcast to various platforms after it is completed. iTunes and Google Play Music are two of the platforms. Anchor was designed originally for short-form audio. However, as previously said, Anchor continues to innovate.
They saw that their audience was expanding. As a result, they offered their audience some simple tools to utilize on their mobile devices. It lets the user record audio and input voice messages by pushing the button. Above and beyond those features, users may customize their work by adding music and transitions. Another important feature of this app is the ability to do trimming. They have the option of removing the beginning and conclusion of their podcast audio. These clips can then be moved or removed. The cutting function comes in handy when false starts or other extraneous sounds occur. Anchor lets users upload or drag and drop audio files from other apps. Additionally, while recording, the user may keep their notes open. When users are multitasking, they can use this feature.
3. Ringr
Ringr is one of the best editings and recording apps available. It has recording and editing features that might assist producers in creating their Podcasts. One feature that users appreciate about Ringr is the ability to invite a guest to a call. This guest can join the user remotely using the app. Ringr also lets the user schedule a call with its guest. A calendar invite will be sent to both the user and the guest. Once connected, they can push the button to begin their chat. They can share their views, opinions, and knowledge about certain issues without worrying about whether or not they will be recorded.
Many podcast makers benefit greatly from this function's simplicity and efficiency. Ringr contains the "mute" feature, and the other functions stated. It eliminates background noise on the other side of the speaker. When the guest speaks, the user can mute himself to minimize disruptions and vice versa. The user can edit the Podcast once the recording is complete. The user may improve the quality of the recording by trimming it and giving effects and music. After that, the user may publicly share it on other platforms or store it for later use.
4. Podbean
Podbean is another Podcast Recording Software. It started as a podcast listening and discovery app. However, when it grew in popularity, it was improved to cater to additional users. Podbean has introduced several helpful features for creating and publishing podcasts. Podbean, like the other recording and editing apps, provides the fundamental functionality of a recording and editing app. Podcast makers may use the app to record their audio. They can also apply effects from within or outside the app.
It is also possible to import effects or music. It's never been easier to create easy-quality episodes for users. While recording with Podbean, the user can pause and restart anytime. Topping and tailing audio is also available with Podbean while editing. However, cutting internally is not an option. The creator can publish after recording and editing. They may also save the file on their devices and publish it with others. After publishing the audio, the user may edit the podcast title, logo, category, or description.
5. Podomatic
Podomatic is the last app on the iPad Recording and Editing apps list. One of Podomatic's aims is to reduce some of the barriers to creating a high-quality podcast. So they created a pocket-sized studio that can be used anytime and anywhere. Because of this feature, the app is one of the market's most popular recordings and editing apps. The Podomatic podcast recorder and editor let the user record high-quality audio. Your recordings are leveled, compressed, and filtered.
This is ideal for users who dislike extra noise and want their speech to be heard clearly. Podcasters can instantly save the audio recording to the device's library. And the user has never been easy for podcast makers to improve the quality of their episodes. After editing, the user can choose to publish their episode or transfer it openly to other platforms. If you want to start a podcasting career, you don't need your studio; you only need the best podcast tools. All you need is an iPad, one of the software listed above, and you're ready to begin!