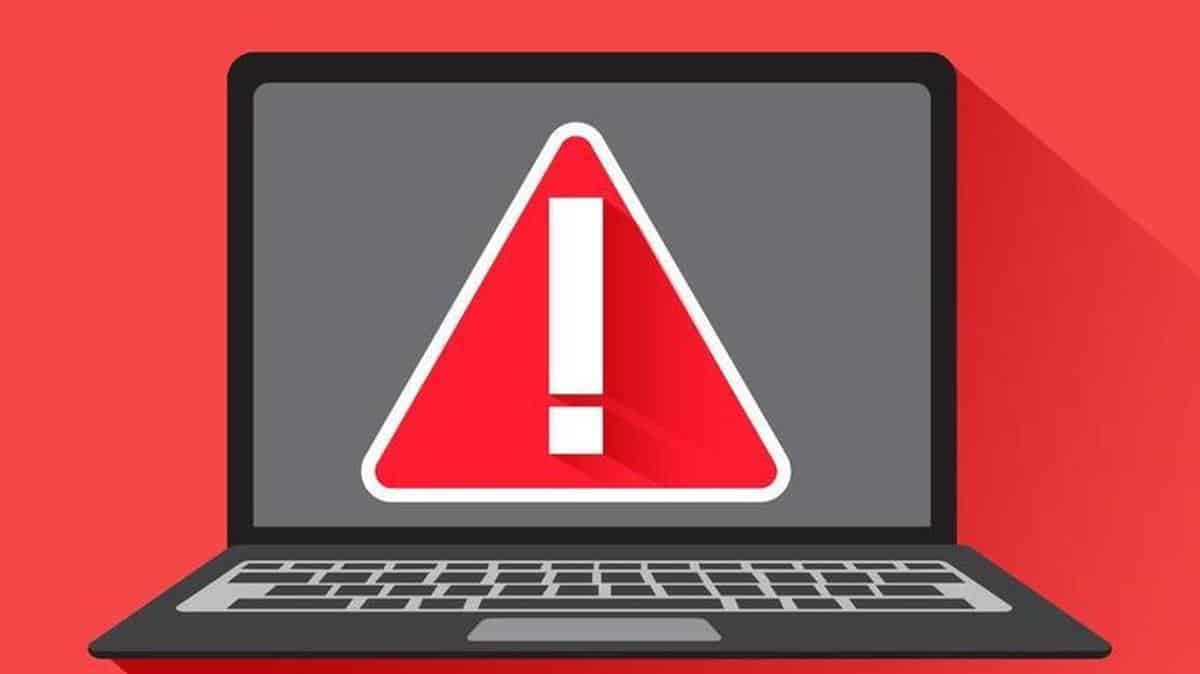 If you just got a crucial error warning from Google Chrome, the rule number one is NOT to contact the so-called support office or supporting agent as you should. Chrome's Critical Error Red Screen are either fake warnings to get you on fake help and malware installation on your device or hackers to remotely access your machine.
Harmful individuals and hackers can even seek to persuade you to pay for troubleshooting, a lame effort to get your pocket money.
The scam is incredibly persuasive and thousands of users fall because it seems like a legitimate message from Google Chrome. Users who have never seen similar red display errors are tempted to contact the false support agents who fear that they will lose their data if they do not act soon.
This is precisely the catalyst on which assailants depend. Don't fall into their trap, please, and don't be naive.
How to Remove Google Chrome Critical Error Red Screen?
In the worst case scenario, your Computer has adware compromised and it is the only way to get those vital error messages on your computer.
Delete Suspicious Extensions and URLs
Suppose the fake Critical Error Red Screen alert made its way on your browser through the extensions you installed or the sites you visited, you could remove it by deleting suspicious attachments and URLs.
Launch Chrome & click on the menu icon

 Move to More Tools → select Extensions.

Now, Check if there are any suspicious-looking plugins and extensions and delete them.

Here, Click on Chrome's menu icon and go to Settings. 

Then, Select Manage search engines and delete any suspicious search engines and URLs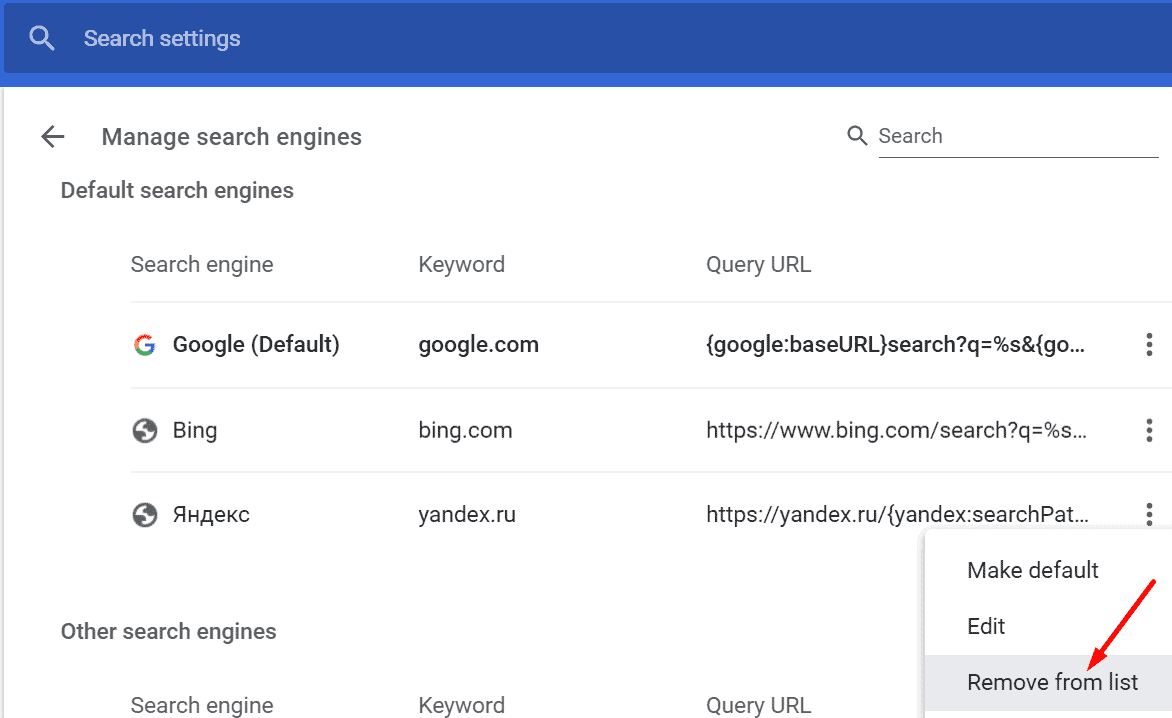 Next, Close the browser and relaunch it to test if the red screen error is gone.
Reset Google Chrome
If you want to be utterly sure nobody's playing with your Chrome settings, you can reset your browser to default settings.
Start, Open Chrome, click on the menu icon and go to Settings.

Then, Scroll down and click on the Advanced button

Next, Scroll down again to the end of the page and select Restore settings to their original defaults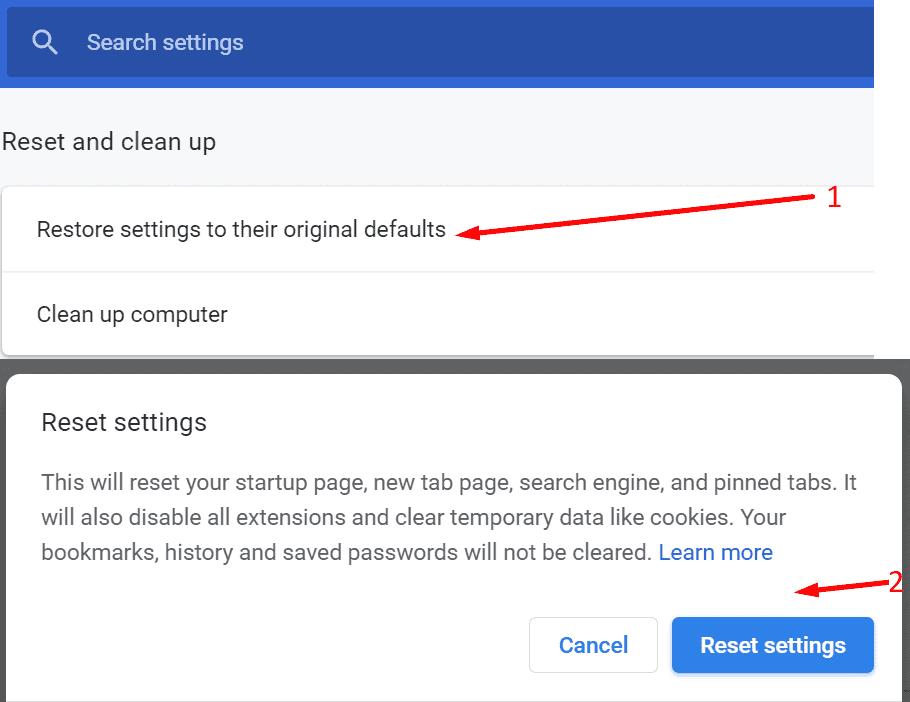 Here, Click Reset settings, wait until the browser settings have been restore to default settings, refresh Chrome & test if you are still getting Critical Error Red Screen alerts.
Run an in-depth antivirus scan
As well, To remove any possibility of getting red screen errors again, scan your computer for malware using your antivirus or antimalware tools.
Now make sure to select the in-depth scan option. You need to scan all the files and folders on your computer to make sure you remove any traces of malicious code.
Suppose you don't know what antivirus to choose, check out the guides below:
Uninstall suspicious programs
Suppose you often install various programs from all sorts of download websites and don't perform a custom installation, you might explain how you ended up getting red screen alerts on your browser.
Well, Open the Control Panel, go to Programs, select Add and Remove Programs, & then click on Uninstall a program.

Here, Uninstall all the programs that look suspicious, or you don't remember installing.
Telltale signs that a security alert is a scam
So, Your computer works perfectly fine, but the security warning suggests your hard drive is damaged, also your data or bank information is at risk.

Now, You are being prompted to immediately contact support using an impressive phone number that's not an official support number.

Well, The alert appeals to your emotions and suggests you need to act fast "Your urgent response is required ".
The important thing to remember is to refrain from doing what is asked of you. Removing suspicious browser extensions and programs, and running an antivirus scan should be enough to help you get rid of Google Chrome Critical Error Red Screen alerts.
Also, Check :
Final Thought:
Well, If you have additional information on "Google Chrome Critical Error Red Screen" virus or it's removal please share your experience in the comments section.