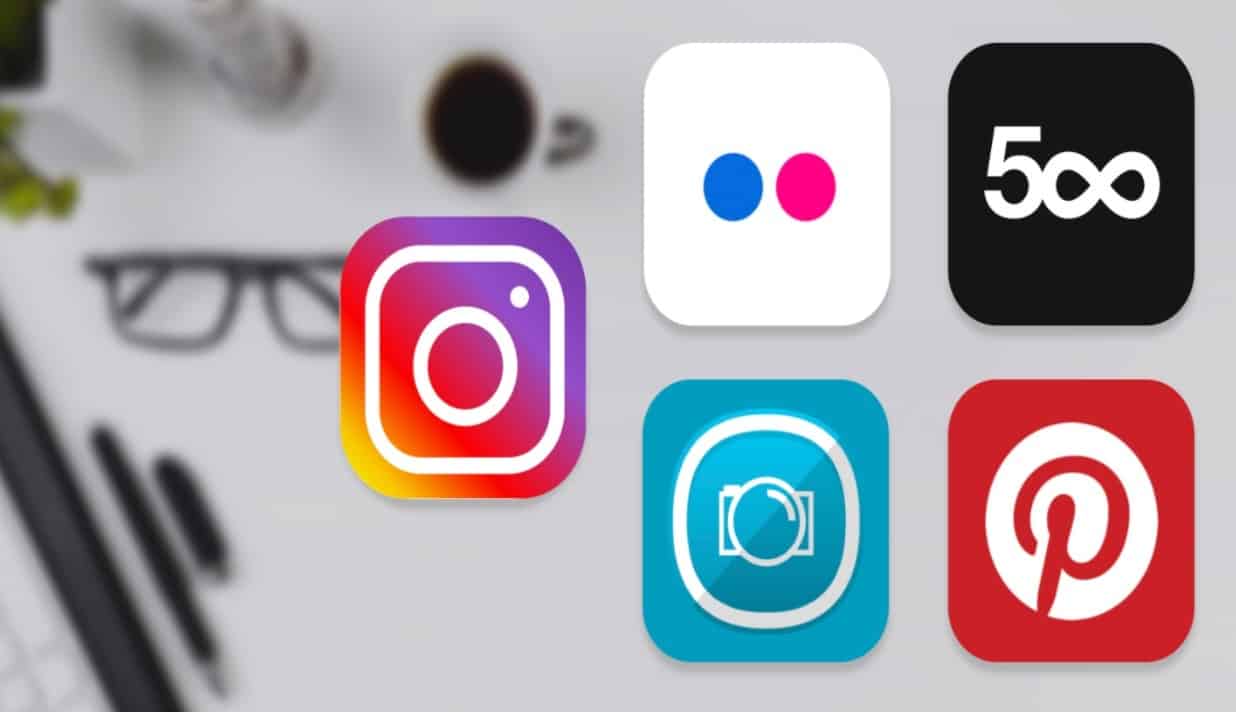 For some long time, people have been hunting for Instagram Alternatives. While some are unhappy with the recent changes to the app's privacy policies, others have lost interest in it after Facebook acquired it. Finally, instead of scrolling through a jumble of images, videos, Instagram Reels, and other content, some people want to try something new. If that's the case, don't worry; we've got you covered. We've collected a list of Instagram-like applications with creative new features and improved content. So, without further ado, here're the top 10 Instagram Alternatives for you in 2021. 
Best Instagram Alternatives (Updated July 2021)
Here, We've compiled the list of the best Instagram Alternatives for Android and iOS below. We've also mentioned apps made in India, Such as Instagram. Finally, we've included options for Instagram Reels. With a click, you can enlarge the table below and move to the respective app. 
Pinterest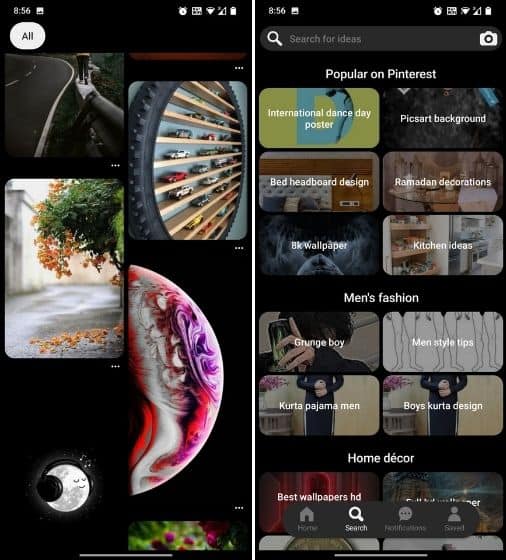 Pinterest isn't the finest Instagram Alternative, but it does have several features that niche users may find useful. If you use Instagram to offer new creative ideas, Pinterest will provide you with far more relevant content. It makes no difference if you're seeking for interior design ideas or a wedding theme. Everything can be found on Pinterest. 
There are more DIY concepts, lifestyle tips, fashion styles, etc., available on the platform in abundance. You can also create your design concepts and upload them on Pinterest. Additionally, you can save your ideas, organize them, label your saved posts and share them with your followers. Therefore, if you are one of these users, you will find a home on Pinterest.

SnapChat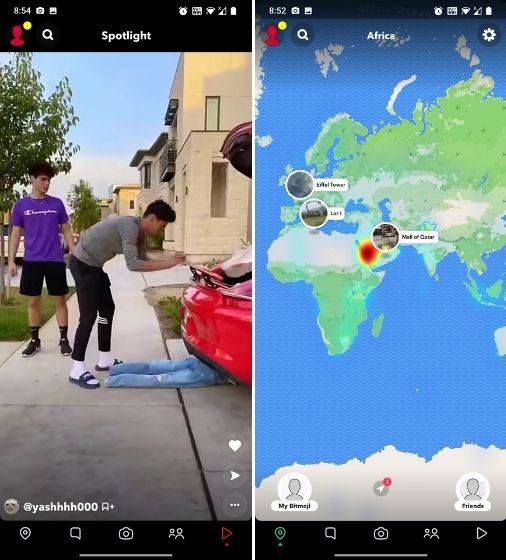 When it comes to Instagram Alternatives, Snapchat is rightly at the top of the list. After all, to keep users from leaving, Facebook cloned several of Snapchat's features and put them to Instagram. From Stories to disappearing texts, face filters, and more, there's something for everyone. So, if you want to utilise the original Instagram, I would strongly advise you to use Snapchat. The best thing is that Snapchat has recently updated its operations and included new features like Discover, which is akin to Instagram Feed.
Also, as we all know, Snapchat's AR filters are far superior to those on Instagram. Snap Map is also a terrific location to learn about upcoming events, breaking news, and other topics. To summarise, Snapchat is not a general social media software, but it may be able to predict the direction of social media in the coming years, namely, short video Stories. If you want to try out new features, Snapchat is better positioned than Instagram to do so.
Tumblr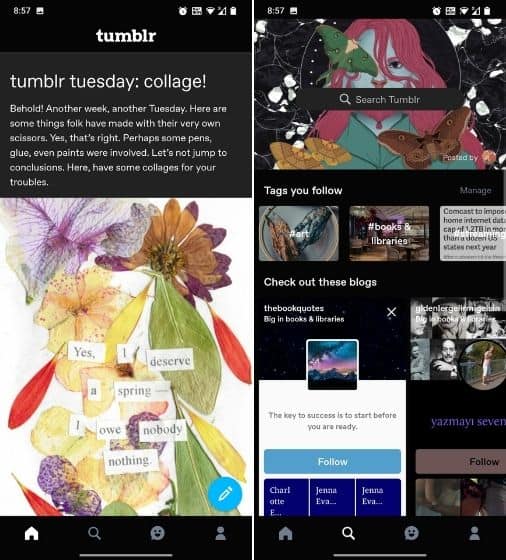 Tumblr is one of the Internet's oldest social media platforms, but it does not have the same level of popularity as Instagram or Facebook. Tumblr is commonly thought of as a microblogging platform, but it is much more. You can now post photographs, GIFs, movies, and other types of content. You may also use hashtags to search Tumblr, and you can build a community with support for private chats. However, there is no support for Stories.
Tumblr has been chastised in the past for having adult content on its site, but it was banned in 2018. Tumblr is a specialised social media platform that, when used correctly, can be a creative outlet for many users.
TikTok – The Best Instagram Reels Alternative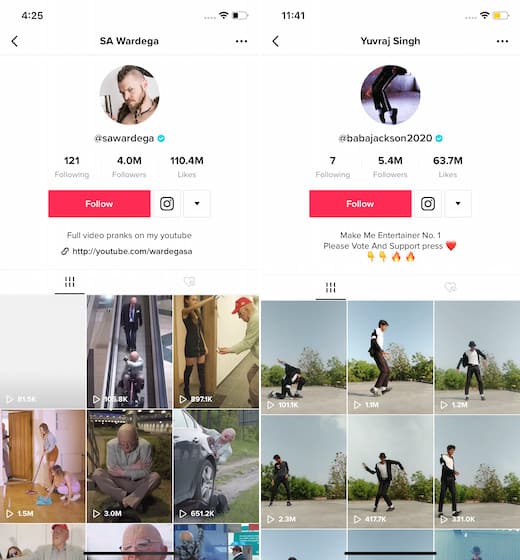 Facebook has taken TikTok's short-video Reels function, similar to how Instagram did with Snapchat. Many people are excited about the new feature, but if you want to see more originality than Instagram Reels, download TikTok right now. In comparison to Instagram's 1 billion monthly active users, it now has 689 million monthly active users. Due to TikTok's ban in India, the numbers are lower, although TikTok is still more popular than Instagram Reels. Alternatives to TikTok can be found in our list for users in India.
You also receive a slew of cutting-edge social media features like Duet (which evolved into Remix Reels), in-library music, AR filters, and more. For a more in-depth look at the features, check out our Instagram vs. TikTok comparison. Sure, TikTok lacks the ability to submit conventional posts, but that is the only flaw. TikTok also has a Direct Message function. TikTok, in my opinion, is a better Alternative to Instagram Reels for wacky short films. 
VSCO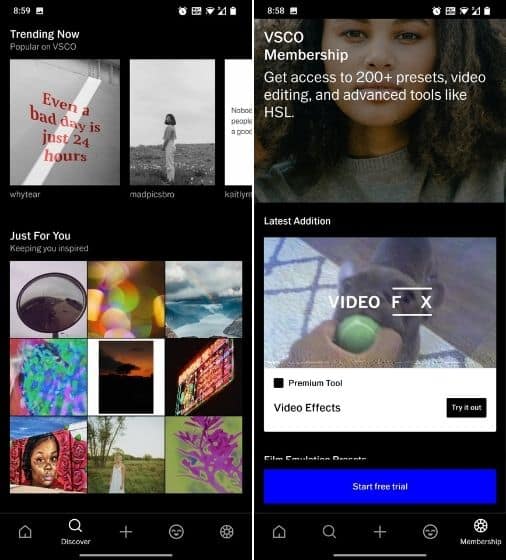 VSCO is one of the best photo editors for Android and iOS, but few users realise it also boasts a large creative community. You may share your work, connect with other artists, participate in the weekly challenge, and find a wealth of original content inside the community. The Discover area is amazing, with content that can be filtered by tags, location, and other factors.
Like Instagram, The best part is that VSCO has introduced a video effect tool, making it a multi-media platform in and of itself. However, bear in mind that costly features like as video effects and sophisticated settings are only available with the subscription plan. To summarise, if you're a professional digital artist or photographer looking to connect with others who share your passions, VSCO is a better option than Instagram.
Triller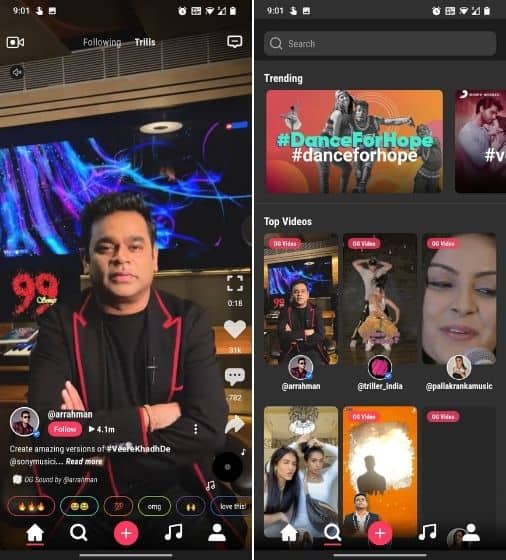 Triller is another short-video tool that you can use instead of Instagram Reels. It's a social video platform where you can create unique and creative videos. Triller allows you to create professional-looking videos in seconds and share them with your content. It contains all of the features that a good Instagram Alternatives should have.
You may create incredible music videos, take part in popular challenges, add filters, emojis, and drawings, interact with friends, and much more. Celebrities like as Justin Bieber, Rita Ora, Kevin Hart, and more use the platform. So, Similar to Instagram, you'll gain a tonne of exposure here. Triller appears to be a fantastic Similar to Instagram Reels, and you should give it a try.
Imgur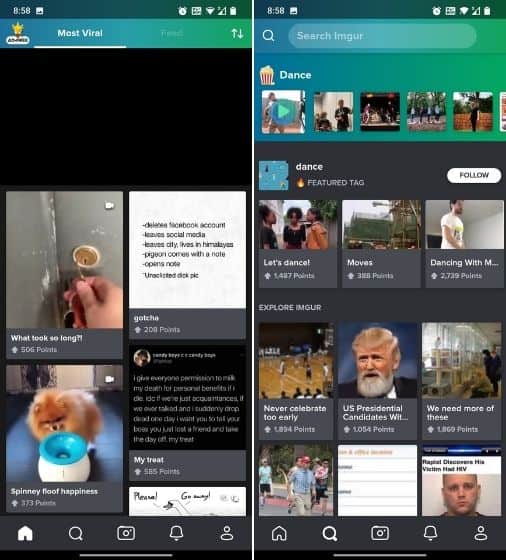 Imgur is a popular photo-sharing platform on the web. If you're seeking for a Website Similar to Instagram, Imgur gets the job done. Bear in mind that while Imgur is largely a public platform, you can conceal your photographs and videos so that they are not searchable. To share your content, you can create a private link. In terms of features, you may submit images, videos, and GIFs and tag them to share with your community.
Imgur is a hotspot for meme creators, and you can take use of it. The service features a fantastic explore option that allows you to search the web for viral content. Additionally, Imgur now includes a chat tool, so you're covered there as well. Overall, if you keep your account public, Imgur is a great Instagram Alternatives. 
500px – Best Instagram Alternatives for Photographers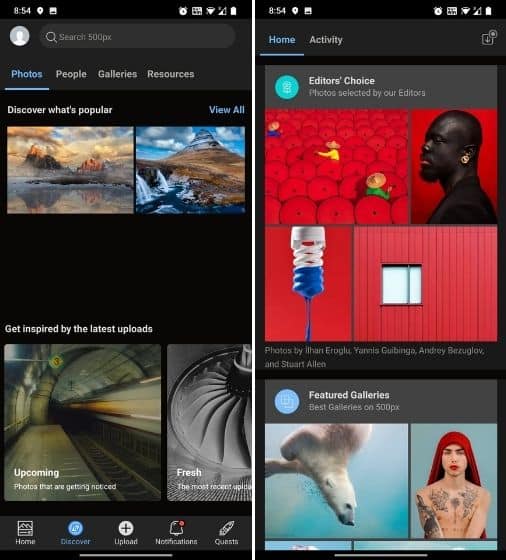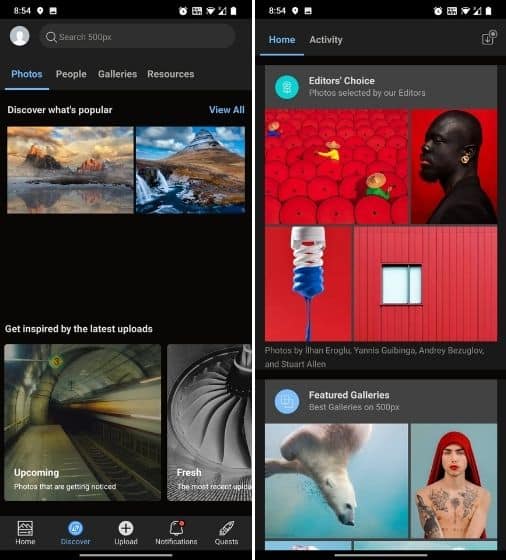 For photographers, 500px is without a doubt one of the best Instagram Alternatives. It is a community for digital photography aficionados and aspiring photographers from over 195 different countries. It lacks several social media features such as Stories and Reels, but it does offer an explore tab and the ability to create Quests, which are Alternatives to Instagram Guides. The best thing is that 500px also has a website where you can look through all of the best photos on a larger screen.
Bear in mind that on the free plan, 500px only allows users to upload 20 photographs every week. If you don't mind being limited, you can pay $25 per year to share as many photos as you want. Overall, 500px is not for everyone, but it is ideal for aspiring Instagram photographers looking to gain exposure for their work.
MX TakaTak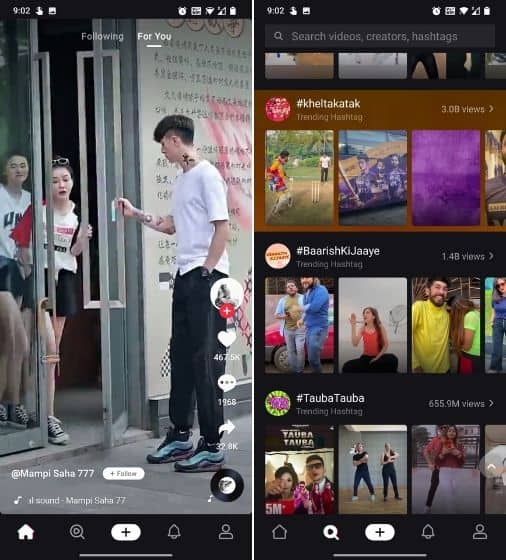 After TikTok was banned in India, a slew of made-in-India short video apps with comparable features arose. MX TakaTak is one of the most popular, and now that TikTok is unavailable in India, it competes directly with Instagram Reels. TakaTak, like Reels, allows you to create and share original content in order to acquire fans and exposure.
Many other Reels competitors in India, such as Roposo, Chingari, Moj, and others, compete with MX TakaTak. You can use any of these apps to obtain a similar experience. To summarise, MX TakaTak is a fantastic choice if you want an App Similar to Instagram that was built in India and features a short-video format.
SquadCam — An Instagram Alternative Made in India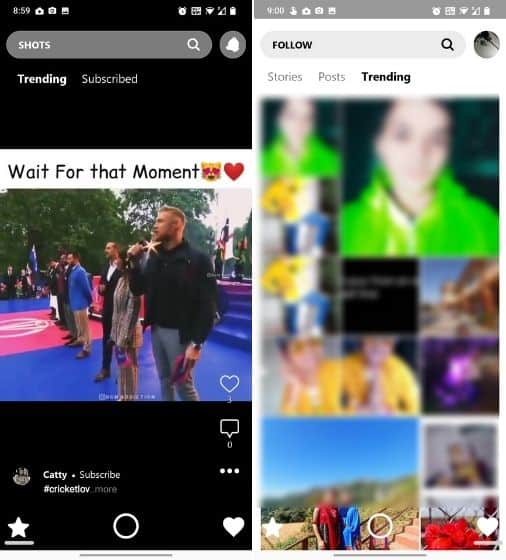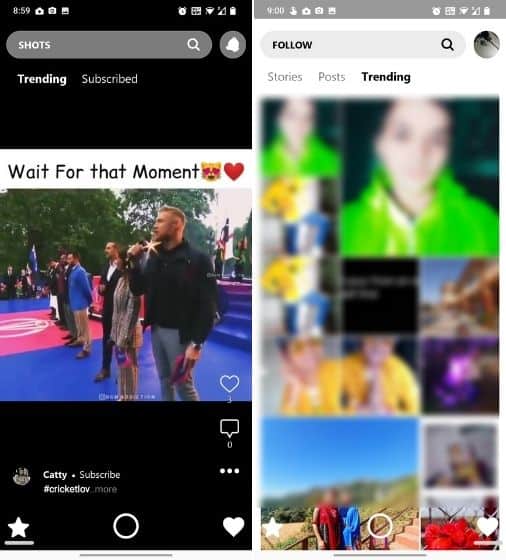 SquadCam is exactly what you need if you're looking for an Instagram-like Made in India app. The app's user interface is Alternatives to Instagram and Snapchat. At the top, you may communicate with your friends; swipe left to find your posts, stories, and trending content; and swipe right to see SquadCam-curated stories.
The user interface is sleek, and the gesture-based UX is smooth and intuitive, in my opinion. Having said that, keep in mind that it has a far smaller community base than Instagram. As a result, there isn't much content or creators to be found on the platform. Additionally, the app is not yet accessible on iOS. SquadCam is an excellent choice if you want to try out an Instagram alternative produced in India.
Also, Check:
Websites Like Instagram From Our List
Thus, there you have it, a few of the best Instagram Alternatives for Android and iOS. It's difficult to find an app that includes all of the features, including posts, short videos, and Stories, because Instagram has become an umbrella of features from several social media apps. Nonetheless, we have attempted to include some popular Apps like Instagram in this list. There are also independent apps that compete with Instagram Reels, which we've included at the bottom. That's all we've got from us. Follow these instructions in the linked article to learn new Instagram tips and tricks. Also, if you have any suggestions, please leave them in the comments section below.